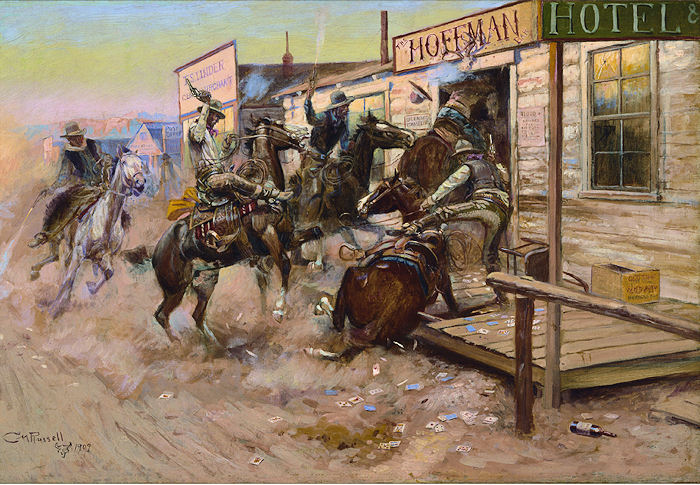 In Without Knocking, 1909, by Charles M Russell (American, 1864–1926) from the Amon Carter Museum, Fort Worth, Texas. Puzzle measures 29" x 20" when complete. Released August 2009.
The idea of the American West—rugged cowboys and unpredictable Indians, vast, harsh, and untamed lands—fascinated the inhabitants of the eastern part of the country long after the last covered wagon crossed the prairie. One of the finest chroniclers of that mythicized land, Charles M. Russell was still young during the West's heyday and produced much of his art long after the last great bufalo herds were gone and the Wild West had disappeared into history and legend. Born in St Louis, Russell developed an early interest in the West, and in his teens worked as a ranch hand in Montana. A few years later, one of his small watercolors sparked interest in his art, and his rise to fame began. He lived and worked in Montana for the rest of his life, creating over 2,000 paintings that provide an unparalleled journey into the Old West. The painting represented here is from the Amon Carter Museum, which houses one of the largest collections of Russell's works.
Thoughtfully conceived and engagingly intricate, Pomegranate's interlocking jigsaw puzzles combine superb color reproduction, stunning and unusual images, and heirloom - quality construction to delight generations of puzzle solvers.