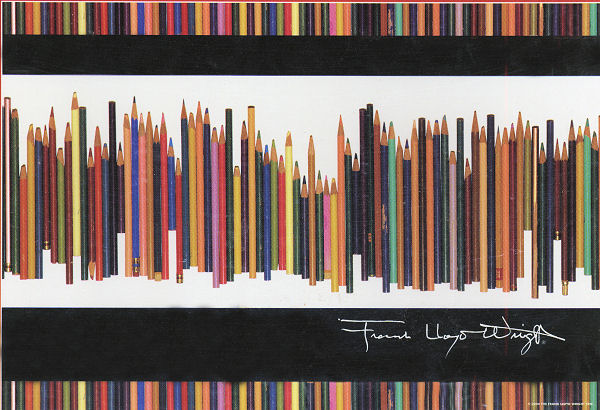 Frank Lloyd Wright's "Pencils. Puzzle size: 29 x 20". Thoughtfully conceived and engagingly intricate, Pomegranate's 1000 - Piece interlocking jigsaw puzzles combine superb color reproduction, stunning and unusual images, and heirloom - quality construction to delight generations of puzzle solvers.
Frank Lloyd Wright loved to draw, and his skill with a pencil is legendary. This colorful, challenging puzzle depicts the pencils that were on his desk at the time of his death in April 1959. "Colors--in paste or crayon--or pencils--always a thrill! To this day, I love to hold a handful of many colored pencils and open my hand to see them lying loose upon my palm in the light." --Frank Lloyd Wright
Frank Lloyd Wright spent more than 70 years creating designs that revolutionized the art and architecture of the twentieth century. Many innovations in today's buildings are products of his imagination. In all he designed 1141 works - including houses, offices, churches, schools, libraries, bridges, museums and many other building types. Of that total, 532 resulted in completed works, 409 of which still stand.