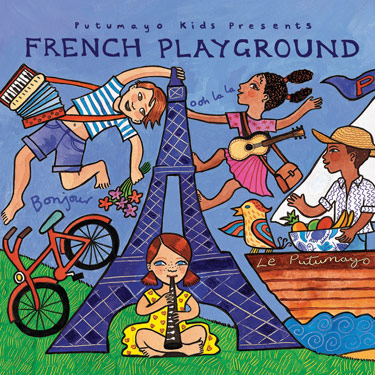 French Playground, a musical rendez-vous of fun French and French Creole songs that will delight children of all ages. French Playground reflects the rich variety of Francophone music. It features 12 songs by artists from France, the Caribbean, Africa and Quebec.
Bilingual families and children learning French or English will enjoy the fact that the complete lyrics for each song are printed in both languages. As with all Putumayo CDs, French Playground features full-color liner notes with artist and cultural information. The CD is a great resource for language and social studies teachers.
The artists on French Playground include successful pop artists such as Pascal Parisot, Thomas Fersen, Tryo and Ariane Moffat whose songs were selected for their all-ages appeal.
2007 Teachers Choice Family Award. 2006 NAPPA Gold Award. Listen to tracks and download lyrics here.