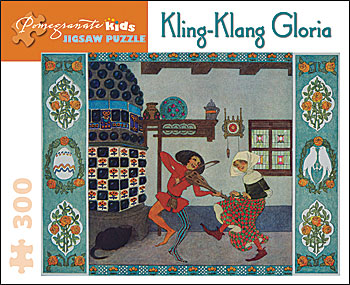 Kling - Klang Gloria - 1921 by Heinrich Lefler (Austrian, 1863 - 1919) and Joseph Urban (Austrian, 1872 - 1933). Published with the Museum of Fine Arts, Boston. Puzzle size 24" x 18".

This fanciful lithograph is from Kling - Klang Gloria, an illustrated book of German songs with musical notation. Kling - Klang Gloria is one of several highly decorated children's books in German Art Nouveau or Jugendstil style on which the two artists - Heinrich Lefler and Joseph Urban - collaborated.

Thoughtfully crafted with large pieces, PomegranateKids 300-piece interlocking jigsaw puzzles combine kid-friendly artwork, superb color reproduction, and sturdy construction to delight young puzzle solvers for years to come.