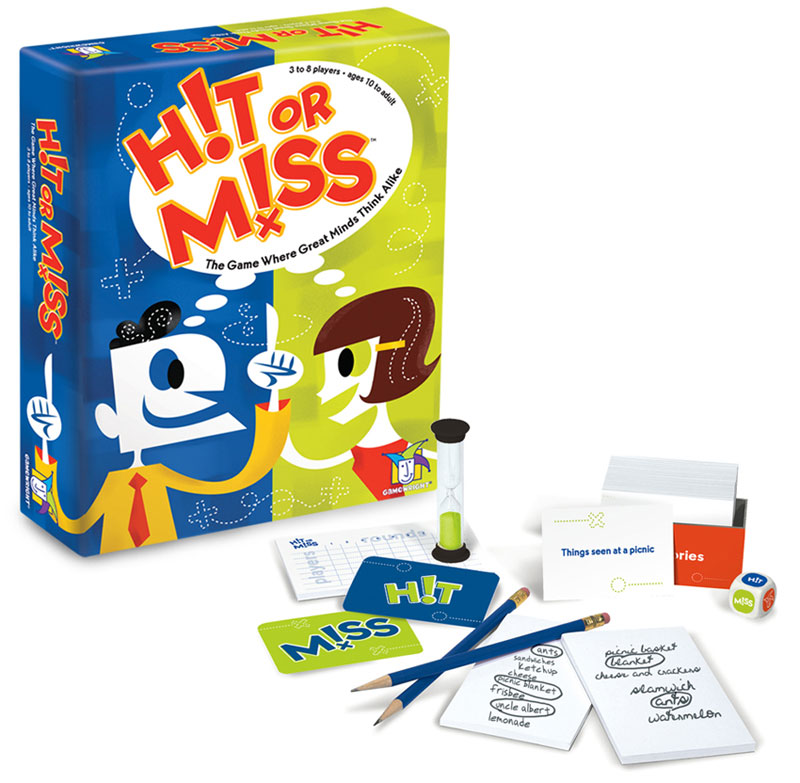 Sharpen your pencils--and your intuition--for this quick playing "think-in-sync" party game. Those that love Scattegories will love Hit or Miss's fun variation on this classic game!
Draw a category card and in 45 seconds, list as many related words that come to mind. When the timer runs out, roll the die--if it lands on HIT, pick a word that you think everyone wrote; if it lands on MISS, pick one that only you wrote. Choose wisely and score big points. The player with the highest score wins. Hit or Miss - the can't MISS game that will turn your next party into a HIT!
About this Game:
Had we included a category card titled "Great party games," Hit or Miss would surely be one of the top games on our list. We love how it incorporates many attributes that mark a fun party game: strong player interaction, opportunities to be creative, as well as a good combination of luck and skill. Strategy tip: This game rewards you both for being in tune with what your opponents are thinking as well as for creativity. Try to list an even number of common items as well as unique ones.
Recommended Age: 10 and up
Players: 3-8
Play Time: 30 minutes
Awards: Mensa Select, Dr. Toy's Best Product Award Winner, National Parenting Center Seal of Approval, iParenting Media Award, Creative Child Magazine Preferred Choice Award, Canadian Toy Testing Council *** (Highest Rating), Parenting for High Potential Magazine Recommended