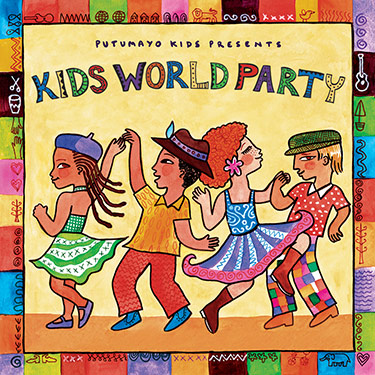 Putumayo Kids presents Kids World Party, a global medley of fun tunes from Trinidad to South Africa. Kids World Party marks a special partnership with Amnesty International, with 50 cents from the sale of each CD going to the Nobel Peace Prize-winning organization in commemoration of its 50th anniversary and in support of its work to promote and protect human rights worldwide.
Artists featured on Kids World Party include famed Indian pop and Bollywood singer Lucky Ali, who contributes "Kitni Haseen Zindagi," a song that celebrates life. South Africa's Sharon Katz and the Peace Train, whom Nelson Mandela appointed as a Cultural Ambassador of the nation, has thrilled international audiences with the beats and harmonies of their music, and delights listeners with "Sanalwami." Trinidadian children's musician Asheba contributes the calypso-infused "Recess Time."
Listen to tracks and see video here.