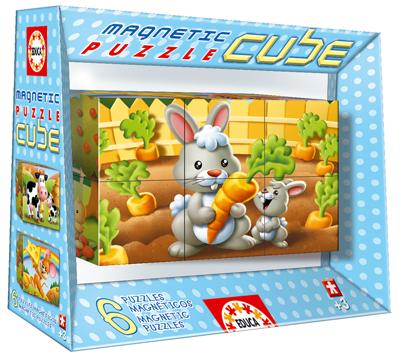 Animals cube puzzle features 6 magnetic cubes that make 6 different puzzle images of cartoon animals. Perfectly printed with infused images, so they won't peel over time, and the magnetic force makes it easier to fit together snugly. Great fun for little hands. Ages 3+. 
The six images include: Mouse Running with Cheese, Lamb and Bird, Cow and Calf, Mare and Foal, Rooster and Chicks, and Rabbit and Bunny.
Educa offers you the most complete collection of Puzzles for Children and Adults on the market, with sizes ranging from 5 to 24000 pieces and with the best pictures and the most entertaining characters. Released 2012.