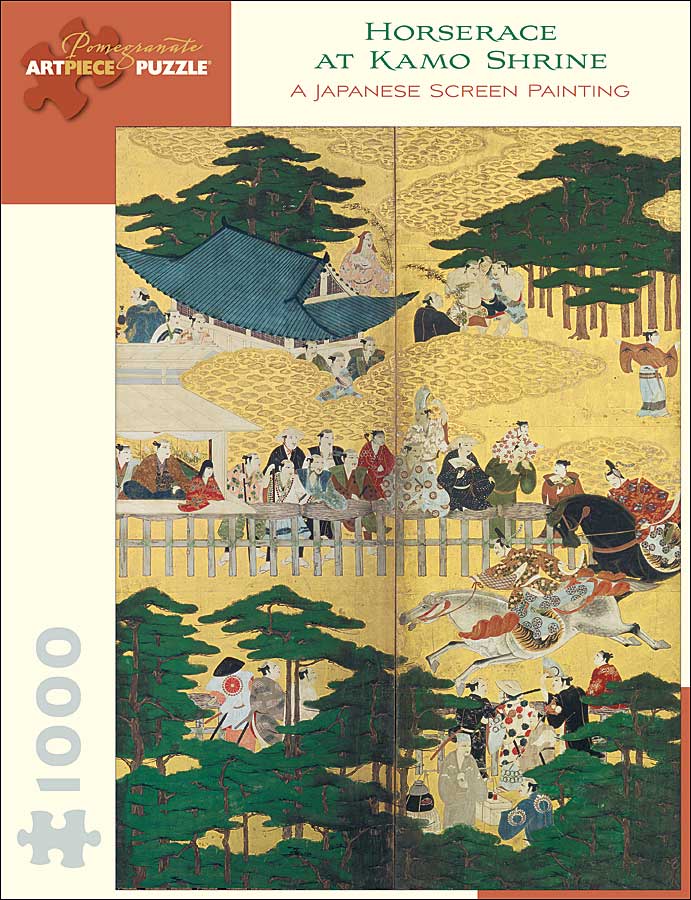 Horserace at Kamo Shrine, c. 1615–1650, Edo period (1615–1868). Published with the Asian Art Museum of San Francisco. Puzzle measures 20" x 27" when complete. Released 2010.
The folding screen is a large painting format that has been used in Japan for more than twelve and a half centuries. In the Momoyama (1573–1615) and Edo (1615–1868) periods, artists used ink, colors, gold foil, and other materials to create screens with a wide range of compositions and themes. The screen reproduced for this puzzle depicts a ritual horserace that has been held annually on May 5 at Kamigamo Shrine in northern Kyoto since the year 1093. The screen, by an unknown artist, is from the collection of the Asian Art Museum of San Francisco, one of the largest museums in the Western world devoted exclusively to Asian art.
Thoughtfully conceived and engagingly intricate, Pomegranate's interlocking jigsaw puzzles combine superb color reproduction, stunning and unusual images, and heirloom-quality construction to delight generations of puzzle solvers.