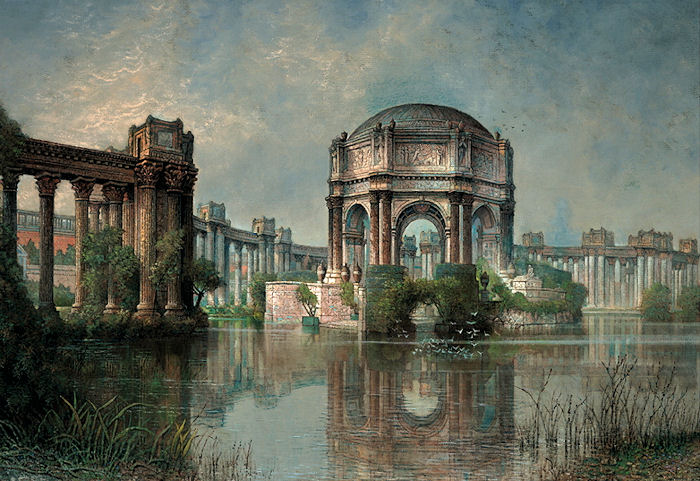 Detail from Palace of Fine Arts and the Lagoon, c. 1915 by Edwin Deakin (American, b. England, 1838–1923). Published with the Crocker Art Museum. 1000 Pieces! Finished size 29" X 20".
Born in Sheffield, England, Edwin Deakin (1838–1923) moved to San Francisco in 1870 and began producing beautiful, romantic depictions of California's early architecture and picturesque scenes of its wilderness. Equally stunning are his works inspired by trips to Europe in 1877 and 1888. The artist also produced magnificent still lifes of fruits and flowers. At seventy-seven, Deakin found inspiration in the buildings of the 1915 Panama-Pacific International Exposition. Delighted by Bernard Maybeck's Palace of Fine Arts, he painted the subject several times after the close of the exposition. He spent his later years in Berkeley, where today a street is named in his honor.
Thoughtfully conceived and engagingly intricate, Pomegranate's 1000 - Piece interlocking jigsaw puzzles combine superb color reproduction, stunning and unusual images, and heirloom - quality construction to delight generations of puzzle solvers.