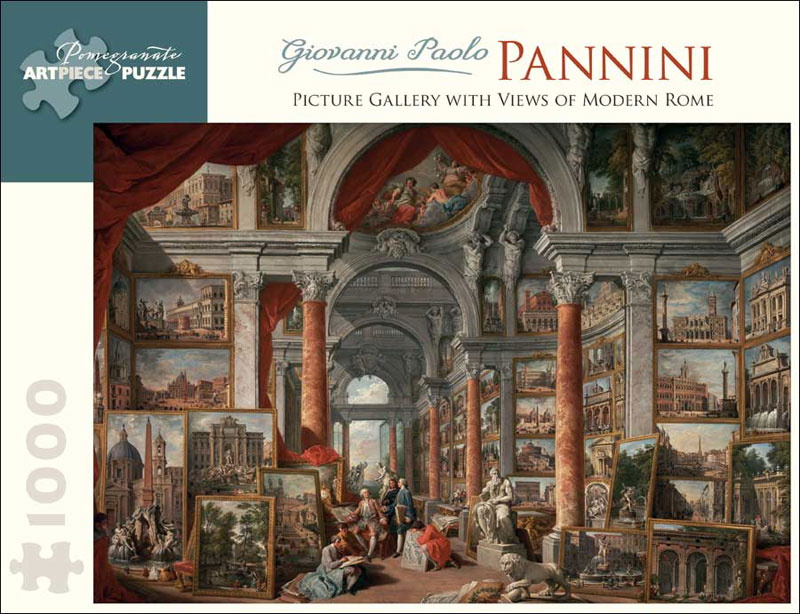 Picture Gallery with Views of Modern Rome, 1757, by Giovanni Paolo Pannini (Italian, 1691-1765). Puzzle measures 29" x 20" when complete. Released January 2011.
Giovanni Paolo Pannini was a painter and architect, who worked in Rome and is mainly known as one of the vedutisti ("view painters"). In Rome Panini became famous as a decorator of palaces, including the Villa Patrizi (1719–1725), the Palazzo de Carolis (1720), and the Seminario Romano (1721–1722). As a painter, Panini is best known for his vistas of Rome, in which he took a particular interest in the city's antiquities. Among his most famous works are his view of the interior of the Pantheon, and his vedute—paintings of picture galleries containing views of Rome. Most of his works, specially those of ruins, have a fanciful and unreal embellishment characteristic of capriccio themes.
Thoughtfully conceived and engagingly intricate, Pomegranate's interlocking jigsaw puzzles combine superb color reproduction, stunning and unusual images, and heirloom-quality construction to delight generations of puzzle solvers.