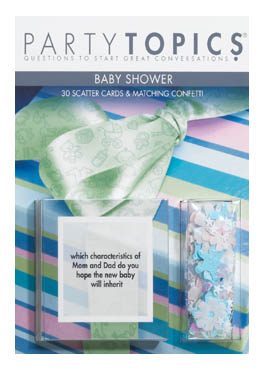 This is the perfect "party game" for any pre-baby event. Guests will love the chance to shower the parents-to-be with best wishes and fun thoughts about their soon-to-arrive bundle of joy!
Which characteristics of Mom and Dad do you hope the new baby will inherit?
If you had to eat a whole jar of baby food which flavor would you pick?
What was the new mother like when she was a little girl?
What's the best advice for getting through the baby's first year?
What's the most useful piece of non-essential baby equipment?
30 Conversation Cards, Matching Confetti