With adorable animals and only 6 symbols on each card, Spot it Jr.! is ideal for kids under 7. As always, there is one, and only one, matching animal between any 2 cards. But in this junior variation, each card has one big animal for easier spotting.
Spot it Jr.! is a fun way to sharpen kids' visual perception and cognitive skills. Little ones will love to spot these colorful animals and the variety of images will challenge all ages. Released 2012.
Recommended Age: 4 and up
Players: 2-6
Play Time: 15 minutes
Includes: 31 cards, illustrated rules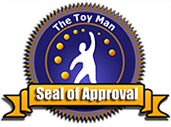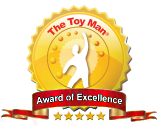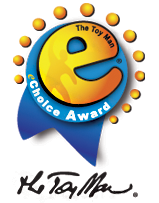 Read more about the Toy Man Seal of Approval and Awards here.
| | |
| --- | --- |
| Manufacturer | Blue Orange |
| Mfg. Part Number | 00414 |
| UPC Number | 803979004143 |
| Release Year | 2012 |
| Game Type | Card Games, Kids Games, Visual Perception Games |
| Recommended Age | 4 and up |
| Item Number | 61190 |
The in store location isn't a puzzle, but a set of coordinates to help you and our staff locate the item in our store. The item might be located in more than one place or could be in an area you don't have access to. If you have any problems locating the item, please ask for assistance and one of our friendly staff will help you.
Location(s): WH, 1, D -or- WH, 3, C -or- WH, 3, D