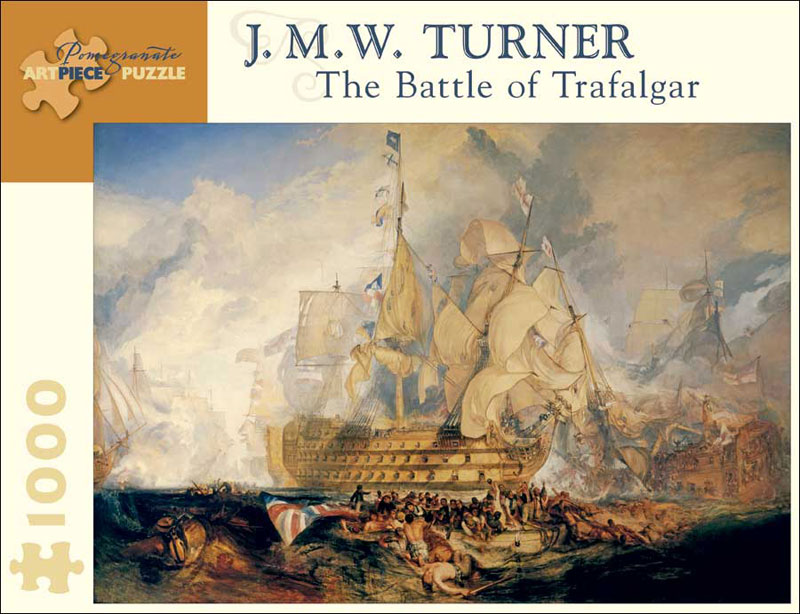 The Battle of Trafalgar by J. M. W. Turner (British, 1775 - 1851). The Battle of Trafalgar (21 October 1805) was a sea battle fought between the British Royal Navy and the combined fleets of the French Navy and Spanish Navy, during the War of the Third Coalition (August–December 1805) of the Napoleonic Wars (1803–1815). Puzzle measures 29" x 20" when complete. Released 2011.
The battle was the most decisive British naval victory of the war. Twenty-seven British ships of the line led by Admiral Lord Nelson aboard HMS Victory defeated thirty-three French and Spanish ships of the line under French Admiral Pierre-Charles Villeneuve off the south-west coast of Spain, just west of Cape Trafalgar. The Franco-Spanish fleet lost twenty-two ships, without a single British vessel being lost.
Thoughtfully conceived and engagingly intricate,Pomegranate's 1,000 - piece interlocking jigsaw puzzles combine superb color reproduction, stunning and unusual images, and sturdy construction to delight generations of novice and veteran puzzleworkers.