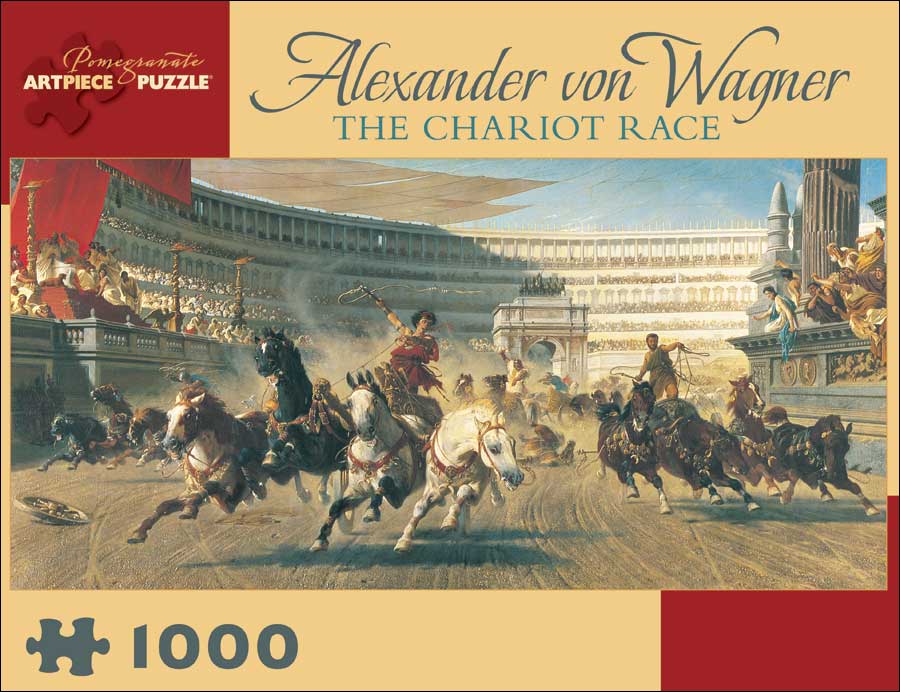 The Chariot Race, c. 1872, by Alexander von Wagner (1838 - 1919). Published with the Manchester Art Gallery. Puzzle size: 32 x 16". Released 2011.
During the twilight years of the moving panorama—a sort of early motion picture that involved vast paintings reeled past enthusiastic audiences—and the first wave of photography, easel painters confronted a crisis. Nothing short of the spectacular could seize people's attention. A spectacle is precisely what the Hungarian artist Alexander von Wagner (1838–1919) produced for the Vienna International Exposition of 1873: Roman chariots drawn by horses that seem to plunge out of the canvas and into our laps. From the flurry of shocked and excited gestures among the spectators to the gleaming medallions on the horses' harnesses, the artist crafted a climactic moment with virtuosic precision. An admirer wrote in 1877: "Alexander Wagner loves his technique, but his ruling passion is to get at the mingled physical and spiritual life, the action, the soul of the conception, and he subordinates all to its portrayal."

Thoughtfully conceived and engagingly intricate, Pomegranate's 1000 - piece interlocking jigsaw puzzles combine superb color reproduction, stunning and unusual images, and sturdy construction to delight generations of novice and veteran puzzleworkers.