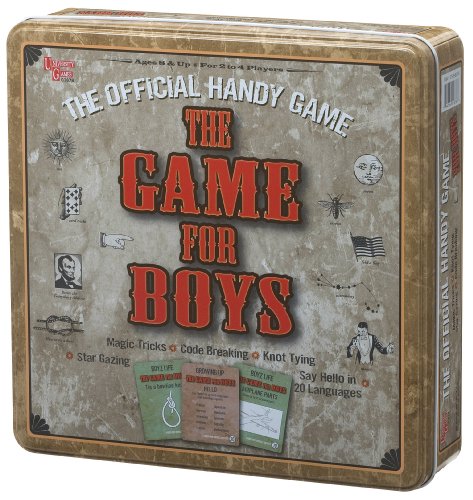 Join in on the fun of playing the first game in history to challenge boys (and their dads) to compete in a variety of traditional activities associated with a boy's life. How manly are you? Find out by:

* Identifying insects, trees and birds
* Solving headbanging brainteasers
* Performing amazing magic tricks
* Reciting classic rhymes, poems and limericks, and
* Deciphering coded messages

Players roll a die, select a category and answer an activity or question card within a set time. It's OK to ask a friend or pass the challenge to another player! The winner is the first to collect 100 boyzpoints by correctly overcoming a myriad of boyhood challenges.Contents include Game Board, Over 100 Topic Cards, Rope, Chips, Complete Guide to Useful Information, 4 Moving Pieces, Card Deck, Instructions and Timer. For 2 to 4 players. Ages 8 & up.