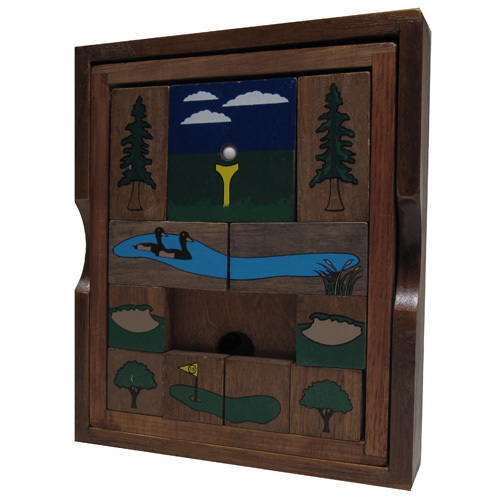 Although ancient documents mention contests with bent sticks and feather-stuffed balls as a favorite pastime of Roman emperors, it's the Scottish who get credit for inventing golf. But Scotland's harsh climate posed a problem for these early fanatics: how could they enjoy their favorite game when snow covered the link? The answer was to stay inside and play with puzzles like this one - simple enough to be solved by a determined duffer, but challenging enough for a scratch player.
Measures: 8" x 6 3/4" x 1 1/2
Ages 8+
Contents: 11 Wood Tiels, 1 Golf Ball, Wooden Lid, Instructions
For 1 player
SPOILER ALERT! If you're having trouble with the solution to this game, and want see how to solve, click here.