Game Landing Page Top
Set Junior is a two-sided board game! Start by matching cards to make SETs, then flip the board and have fun racing the SETs! Thick, tile like cards are made for little fingers. Point chips keep track of the scores.
This award-winning family favorite game is now adapted for younger children, ages as young as 3.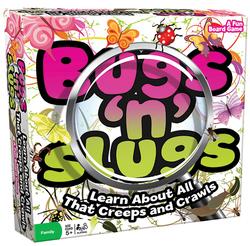 Bugs 'N' Slugs is an exciting educational board game about insects that's packed with interesting and occasionally disgusting facts about bugs. Players or teams take turns to move around the game board while attempting to correctly answer the multiple choice questions about all things that creep and crawl!