Toy Man Seal of Approval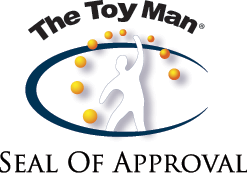 In August 2012, Puzzle Warehouse became the first retailer to submit products to The Toy Man Seal of Approval evaluation program. This program was established in 1971 by the International Parenting Institute and modeled after the Good Housekeeping Seal of Approval - as an emblem of recognition for products that meet the globally recognized high standards for quality. Previously, only manufacturers had submitted items for evaluation.
We hope that our new Seal of Approval from the Toy Man will show our customers that we take the quality of the products we choose to sell very seriously.
The emblem was designed to give recognition to items that met the strict evaluation standards of The Toy Man Product Guide. We are happy to announce that seven of our best-selling puzzles and games have passed the test had have been given multiple awards.
On August 3rd, 2012, Spot It. Jr. - a popular and fun card games for ages 4-7, and Flag Frenzy - a educational game about geography made for kids, were announced as New Inductees as recipients of the The Toy Man Seal of Approval. Read the Announcement here.
One week later - five more items passed the evaluation. There was one more game, Camelot Jr. - a building block puzzle game, and four of our jigsaw puzzles: 500 piece Dolphins by Clementoni, a Pomegranate Kids puzzle - Kathy DeZarn Beynette: Lions, one of our Animal Planet puzzles from Ravensburger, and lastly, Candy Kaleidoscope - a popular Family Jigsaw Puzzle made by Springbok. Read the announcement here.
We are excited to be inducted as the first retailer to submit and pass evaluations for our products - setting the bar for toy and retailers across the globe.
Visit The Toy Man's website to learn more about what each of the awards mean.