Game Landing Page Bottom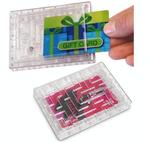 This is a bi - level maze that is specially sized to hold gift cards, credit cards, or phone cards. Simply place the gift in the amazing card maze, close the box, and present it. Then the fun begins!
In order to get the gift, the recipient has to roll a ball through a bi - level maze to unlock the gift! Talk about an incentive! It is so much more fun than just getting a gift card! Plus, it is fun to watch the person work to solve the puzzle. The card maze is made especially for gift cards! The card maze is 4 5/8"x4"x1". It is also sturdy and reusable - - and comes with complete directions. The card maze is a great gift idea for all ages!
Note: The card maze does not arrive with a gift card already in it!
Get it while supplies last! Only $4.99