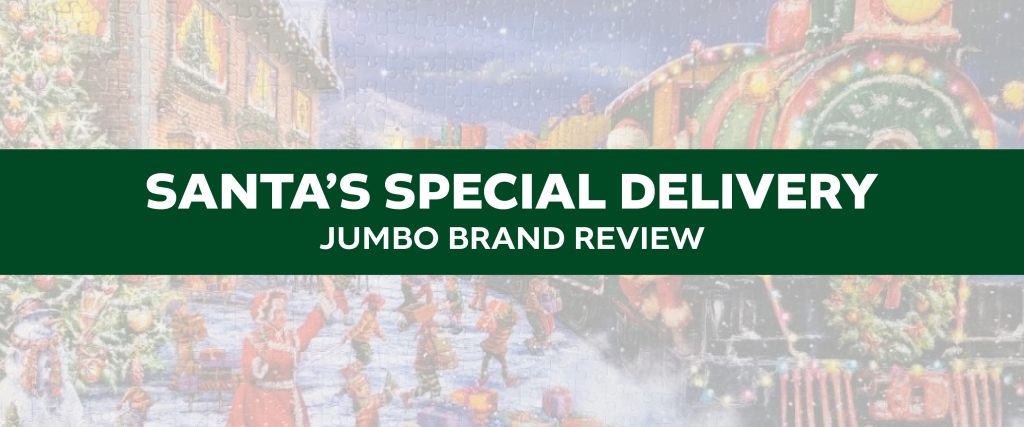 Santa's Special Delivery, Jumbo Review
My Rating: 10/10 Happy Holidays to all you Jigsaw Junkies. Like me I'm sure your all gearing up for the Holiday season. Also like me I'm sure your all trying to find the perfect gift for that special someone. Well look no further I have the answer for you , "Santa's Special Delivery", by Falcon...
My Rating: 10/10
Happy Holidays to all you Jigsaw Junkies. Like me I'm sure your all gearing up for the Holiday season. Also like me I'm sure your all trying to find the perfect gift for that special someone. Well look no further I have the answer for you , "Santa's Special Delivery", by Falcon de luxe. This I assure you is the perfect gift. Not only is this a limited edition puzzle from the Falcon de luxe Christmas collection, you are actually getting two 1000 piece puzzles in this limited edition puzzle. Yes you heard me right this puzzle contains two 1000 piece puzzles how fantastic is that. Two for the price of one you can't beat that! Daniela Pirola is the very talented artist behind this beautiful puzzle. Let me give you a little history on Falcon de luxe which is manufactured by Jumbo. Jumbo is a European company with its headquarters in Zaandam, Netherlands with offices in Belgium, Germany and the UK. Jumbo has a sister organization – Diset- which operates mainly in Southern Europe and its headquarters are in Barcelona. Together they form the famous European toy company JumboDiset. I am a big fan of European puzzles. The quality you will find remarkable. If you haven't already experienced assembling a European puzzle, I promise this one will not disappoint. As you can tell by my rating the quality is top notch. A big Christmas tradition in so many families, is gathering together to assemble their favorite Christmas puzzle. So make a list and check it twice for all the families that would love to add this to their Christmas collection.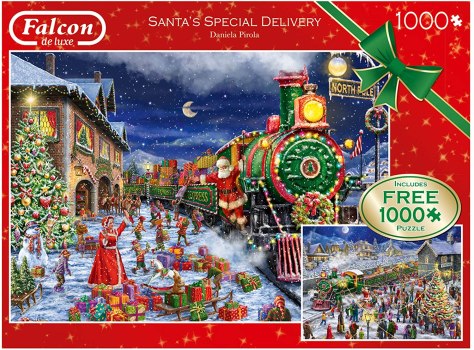 Box quality: 10/10
This is a larger box than average, which is to be expected since it contains two 1000 piece puzzles. The front of the box shows the first puzzles image. You will also find the Falcon de luxe logo as well as the artist name and the piece count. On the back of the box you will find the second puzzles image. On all four sides you will find images of both puzzles as well as the dimensions for the fully assembled puzzles, the logo, title and the artist name. This is a very well made, sturdy box. Included in the box is a double sided poster of both the images. Each puzzle is packed separately with a mini picture of each puzzle.
Image: 10/10
Classic Daniela Pirola. Her artwork is stunning. A beautiful image of Santa setting off from the North Pole. The artist leaves nothing to the imagination. Every aspect of Christmas is included in this whimsical image even down to the twinkling stars in the night sky. I love her twist on Santa's workshop. The train overflowing with gifts. The reindeer lining up to do their share. Elves busy at work packing the Christmas train. Off in the distance the snow covered mountains. Such attention to detail with every gift uniquely wrapped. Of course no Christmas puzzle is complete without a Christmas tree, snowmen and of course the dazzling Christmas lights. Look at the joy in the faces of Mr. and Mrs. Claus, as he sets off for another Christmas Eve delivering gifts to the worlds children. Each elf joyfully doing their part to make the Christmas magic happen. Rocking horses, teddy bears ,toy cars, candy canes, sleighs, it's all there. The warm steam blowing into the chilly night air its all there, every detail. In the second image you will find Santa arriving to the quaint little town to deliver all those Christmas surprises. See all the people gathered at the train station eagerly waiting Santa's arrival. All the towns people bundle in their warm winter garb to welcome Santa. Christmas lights hung with care. The first puzzle packing up to leave the North Pole and the second puzzle Santa arriving with a special delivery. Mission accomplished. Another successful Christmas Eve.
Puzzle Quality: 10/10
I have to say I have been puzzling for quite a long time. Over time as you become more experienced with each brand and manufacturer, you find their flaws. I must give credit where credit is due and I can honestly say, Falcon de luxe has no flaws. The quality of this puzzle is honestly perfection. The colors in the image on the box are exactly the same as the puzzle itself. Never will you be misled looking for a piece that doesn't match the image itself. Puzzle Dust you say, not here, not one speck of dust in these puzzles. A high quality cardboard is used in the production of these puzzles. This ensures that each individual piece maintains its shape. These puzzles have a flat finish which excludes any chance of glare. Each piece fits snuggly together which makes moving assembled groups around your board a breeze. Absolutely no shards of uncut pieces to deal with. Jumbo delivers nothing less than top notch quality here.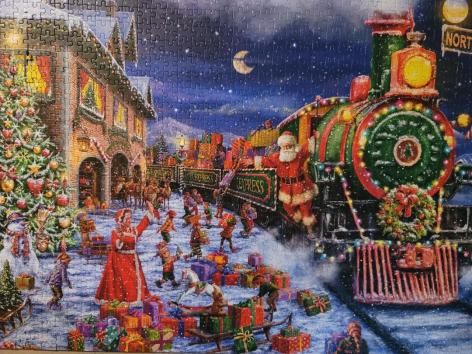 Assembly:10/10
I would rate these puzzles difficulty as moderate. After sorting all my edges' I began assembling the puzzling, which flowed together quite effortlessly. These pieces will fit together very tightly. Sometimes an added little push might be necessary. Don't be misled because of the tightness of the pieces that you may have a wrong piece. Just a little push and it will fit in nicely. After assembling the edges I began working on the night sky along with the steam from the train. Once that section was completed I moved onto Santa's workshop, which was rather simple using the windows as a guide. Then it was onto the large Christmas tree. Paying close attention to the details of the decorations, the tree was completed in no time. I then began assembling all the gifts from the bottom of the puzzle working my way up. As I mentioned earlier in my review each gift is uniquely wrapped which made assembling the gifts as easy as unwrapping one. Once all the gifts were assembled I finished up by assembling the train. Using the gifts ,Santa ,and the lights as well as the lettering it was finished in no time. I believe I finished each puzzle in about five hours. The quality of this puzzle being so high made the assembly quite enjoyable as well as relaxing. Remember piece by piece and you will be on your way. Happy Holidays to all of you. I hope Santa leaves some puzzles under the tree for all you Jigsaw Junkies.
Summary:
I hope all of you enjoyed these puzzle's as much as I did. I loved the idea of the extra 1000 piece puzzle for free. Jumbo carries more puzzles that include the extra 1000 piece for free. Check them out right here on Puzzle Warehouse. Check out Jumbos Line of "Wasgij" puzzles. The puzzle on the box is different from the puzzle you will piece together! Sometimes it's to solve a mystery, sometimes it's for a hilarious outcome. Wasgij, it's jigsaw spelled backwards.