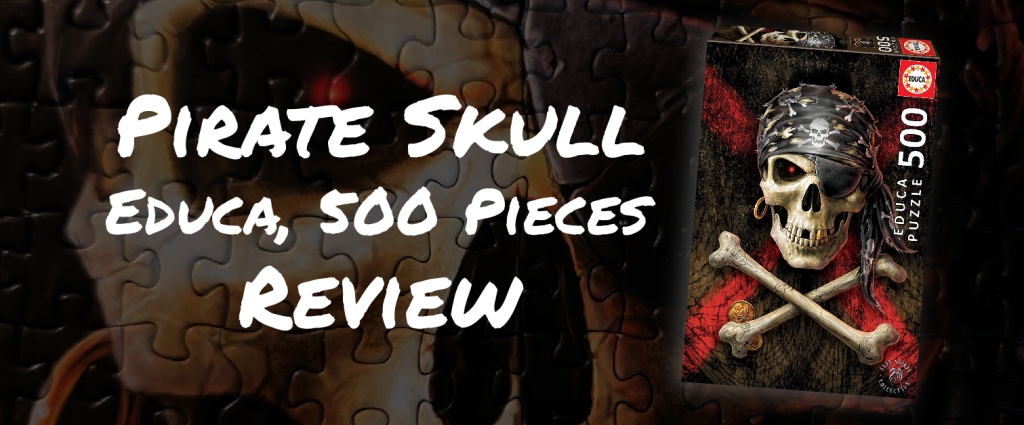 Pirate Skull, Educa, 500 Pieces Review
My Rating 9/10 Ahoy Mateys! Well shiver me timbers, do I have a great review for all me hearties. I know all you pirate fans will love this puzzle, "Pirate Skull", by Educa is the ultimate pirate puzzle. This 500 piece puzzle is packed full of details that will send a shiver up the spine...
My Rating 9/10
Ahoy Mateys! Well shiver me timbers, do I have a great review for all me hearties. I know all you pirate fans will love this puzzle, "Pirate Skull", by Educa is the ultimate pirate puzzle. This 500 piece puzzle is packed full of details that will send a shiver up the spine of even the bravest "Jigsaw Junkies". A little history of the skull and crossbones symbol, flags of skulls and crossbones flown on a pirates ship's mast was a warning that they were about to attack. In the early 1700s, these flags were often referred to as ,"Jolly Roger". One of the earliest reports of the skull and crossbones design dates back to December 6th, 1687. Emanuel Wynn, a French pirate captain, is often credited as the first pirate to use the flag. The skull and crossbones symbol has become such a popular symbol in pop culture. You will see this symbol on anything from t-shirts to symbols for poisons. I am sure you will agree that this image is stunning. I know this will make the perfect addition to any pirate fans puzzle collection. Educa who is based out of Sant Quirze del Valles, Barcelona, Spain. Educa carries a wide variety of products from puzzles to educational games, baby games, board games as well as arts and crafts. They sell a wide variety of puzzles and sizes ranging anywhere between 300 pieces to 42000 pieces as well as huge inventory of images. From Disney to Times Square, New York, I promise there is an image for everyone.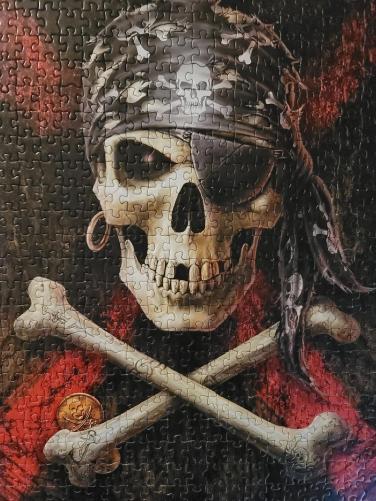 Box Quality: 10/10
The box itself measures 9″ x 13″. On the front you will find the complete image as well as the company logo, and the piece count, 500. Anne Stokes, the artist's name is printed on the front of the box as well as one of the sides. On all four sides you will find the logo, the piece count as well as a small boxed image and an elongated image of the skull's face. The puzzle dimensions 48 x 34 cm, are printed on only one side of the box. On the bottom of the box you will find the company's commitment to quality written in 18 different languages as well as images of other products they carry, the company logo, as well as the picture of the packet of glue that is included in the box. What I really liked about the inside of this box is that it's completely white. This came in very handy for me because I tend to use the bottom box as a puzzle sorter when I am puzzling. The contrast between the white box and the puzzle pieces really help when looking for that perfect piece while also being a well made sturdy box. The box itself is a little smaller than some of the other brands which really helps with storage. Included in the box are the bag of pieces and a packet of puzzle glue. The image on the front of the box has a flat finish, which adds to the authenticity of the image.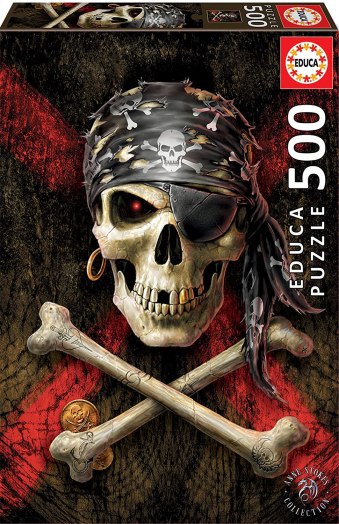 Image: 10/10
Anne Stokes is the artist responsible for this image. I am a huge fan of her artwork and I know you will be too. This artist's work covers a broad range of themes, from the dark world of gothic vampires to the enchanting magical forests. Anne Stokes is originally from London, England. Anne's art career started as a merchandise designer, designing tour products for bands such as Queen and the Rolling Stones. She has also worked as a jewelry designer as well as a sculptor. Her t-shirt designs have been worn by many bands. Not only are her shirts worn by many bands, but her skull tattoo t-shirt design was used in Tim Burton's, "Charlie and the Chocolate Factory". She then began working as a freelance illustrator. Her fantasy themed paintings have been widely acclaimed and licensed. You will find her prints not only just on jigsaw puzzles but also on calendars, t-shirts, book covers, greeting cards, mugs, and tarot cards to name a few. She has a brilliant imagination and her work never disappoints. Look at the attention to detail in this image the tattered bandana, the worn eye patch, the engravings on the bones, the gold teeth, the gold earring, the aged skull, the gleaming red eye, the gold engraved coins and of course the red blood soaked " X " behind the skull it's all there. It is truly a work of art.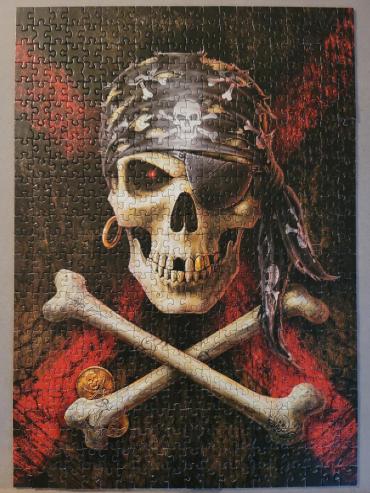 Puzzle Quality: 10/10
Educa prides themselves in using strict quality control when manufacturing their puzzles and other products. They use top quality, renewable and environmentally friendly materials for all their puzzles. A unique service they offer is the "Lost Piece Service", which provides replacement pieces when a piece is lost. I can easily give this puzzles quality the highest rating. The pieces are well made with no factory cutting issues at all. There were absolutely no shards at all. I found no pieces connected at all. No peeling backs, no lifting and almost no dust in the box. Though the pieces may be a little smaller than some competing brands, they certainly weren't too small for me to assemble the puzzle.
I didn't have any issues with pieces bending, they are solid, sturdy well made pieces but aren't as thick as other brands. There is a slight gloss finish on this puzzle, any issues I might have had with glare was easily solved by the slight adjustment of my adjustable overhead lamp. I consider Educa to be a top notch brand. I have many of their puzzles in my collection and definitely plan on adding more in the future.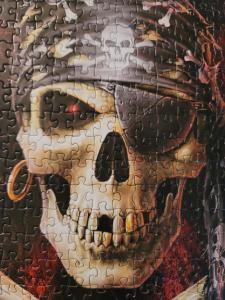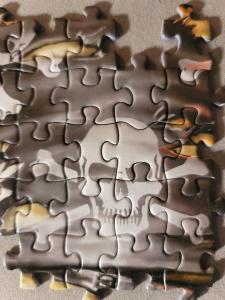 Assembly: 9/10
As I have mentioned in previous reviews my biggest pet peeve are loose fitting puzzles. Unfortunately I must take a point off here for the loose fit. I did have trouble with the piece interlock while assembling this puzzle. Throughout the entire assembly process, I am happy to report that the loose fit is really my only complaint here. The image reproduction is sharp and clear. No blurriness at all to report. The image printed on the box matches the image reproduction perfectly. I only experienced one, two at the most pieces that could have fit in the wrong place. As always I began by assembling my border first. I found the pirate image so intriguing that I had to begin there. The bandana was rather easy, as you can see the bandana on top of the skull is a lighter shade compared to the side of the skull where the bandana hangs down in the shadows. When assembling the crossbones if you use the engravings and the coins as well as the edge of the bandana as a guide you should have no issues there. The gold earring as well as the gold tooth should really help guide you when assembling the skull itself. You shouldn't feel intimidated when attempting the background here because the different shades of red will surely steer you in the right direction. The background also consists of so many different hues of browns, golds coupled with the different measures of red, it all simply flows together. When looking at the image on the cover you may be thrown by the darkness but I can assure there are more vivid colors here than you realize, the pieces will glide together quite effortlessly. I am a big fan of framing a lot of my puzzles for myself as well for gifts. The "Skull Pirate ", I think, would look awesome framed. I believe it's one of the best skull and crossbones images out there. I would rate this puzzles' difficulty as moderate. I completed this puzzle in less than three hours. I enjoyed assembling this puzzle as it is a unique fun puzzle. I will add this to the list of puzzles I will assemble again and again. Remember me hearties, piece by piece and you will be on your way.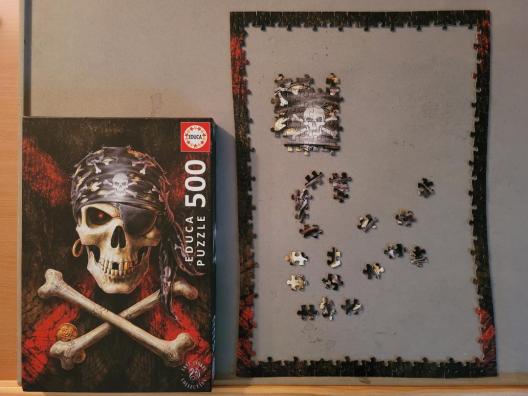 Summary:
Educa carries so many fun puzzles, and they would make a wonderful addition to your puzzle collection. From unicorns to mermaids, from Fifth Ave to Barcelona there carry something for everyone. Educa carries so many unique images such as shaped panda, lion and tiger heads, princess's, ghost houses, magic forest and even kittens. If you're really, really ambitious check out their 42000 piece, "Around the World", puzzle. That one will surely keep you busy as well as their 4000 piece "The World Executive Map", there's a challenge for you. Check out Educa at PuzzleWarehouse.com . Top quality puzzle I know you all will enjoy.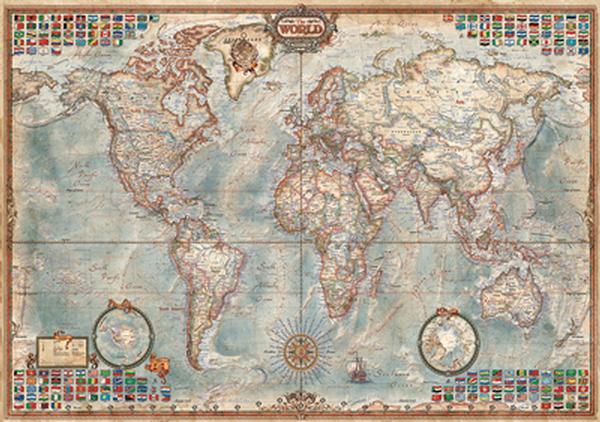 Donna C.