5000 Piece Jigsaw Puzzles For Family Fun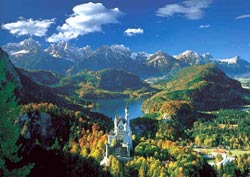 Are you looking for some clean, wholesome fun for the whole family? How about a challenge that you can all work on together? You should take a look at some 5000 piece jigsaw puzzles. You have probably put together at least one jigsaw puzzle in your life. There are simple ones for young children that just have a few pieces. Some people start small and work up over time to the bigger ones.
A 5000 piece puzzle is a big puzzle. If you decide to take on the challenge, you will need to reserve a big enough workspace for however long it takes to finish. Puzzles of this size are usually 40 inches by 60 inches, or 3.5 feet by 5 feet. Efficient working would require more space than that so that pieces that aren't in place yet can be laid around. You will need more than your typical folding card table for a puzzle like this. Visualize family dinners on the card table for a week or two while the dining room table is covered with puzzle pieces. Efficient strategies are important with such a large puzzle. One can reference a picture of the completed puzzle to get some idea of what general area a given piece might be destined for. If you are considering this as a family project, it would be best to try a smaller puzzle first to see how well that works. It can be challenging to find a role for smaller children in such a big project.
There are helpful roles they can have, but the younger ones are liable to run out of patience before the job is done. There should be some alternative activities for them if the rest of the family is going to be engrossed in working on a giant puzzle for a long time. A number of different designs are available. Most of them are designed to be visually different in different areas. This makes it easier to have a general idea of where a single piece might belong. Others are made deliberately difficult. Prices for this size tend to run in the $60 to $80 range, though PuzzleWarehouse.com has some great bargains on 5000 piece puzzles.
This is not a project suitable for just any family. There has to be an interest in working together and the ability to do so. A significant investment of time is required, though not everyone has to contribute equally. If it matches your family situation, you might enjoy the challenge presented by 5000 piece jigsaw puzzles.