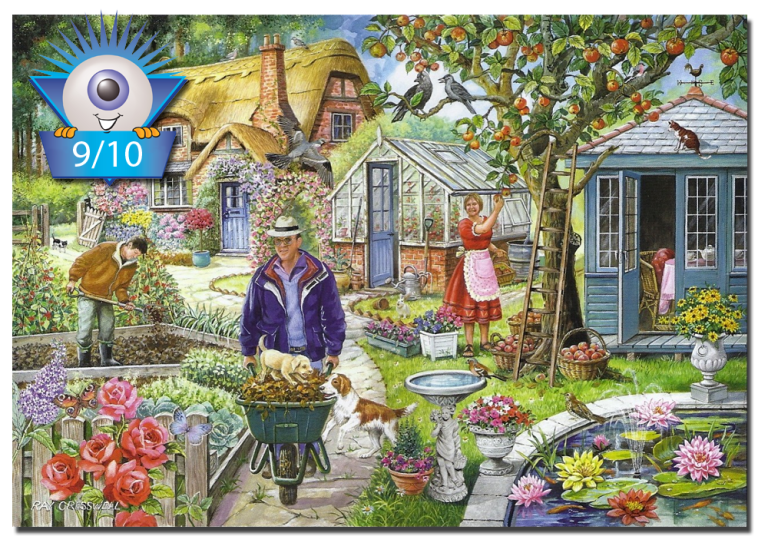 Review: "In the Garden" by House of Puzzles
"In the Garden"
Brand: House of Puzzles, Artist: Ray Cresswell
#1 in the series "Find the Differences"
The "Find the Differences" series of puzzles by HOP has a unique twist. The image you assemble is similar to the image on the box, but there are 15 'differences'. That gives a bit more challenge to putting the puzzle together, as you have to be aware that things can change, like a man's coat or the direction a bird is flying. It's not as difficult as a wasgij, where the puzzle image is not like the box image at all. But "find the differences" still offers something more compelling that a straight jigsaw. The picture below of the finished jigsaw has two differences. Can you spot them?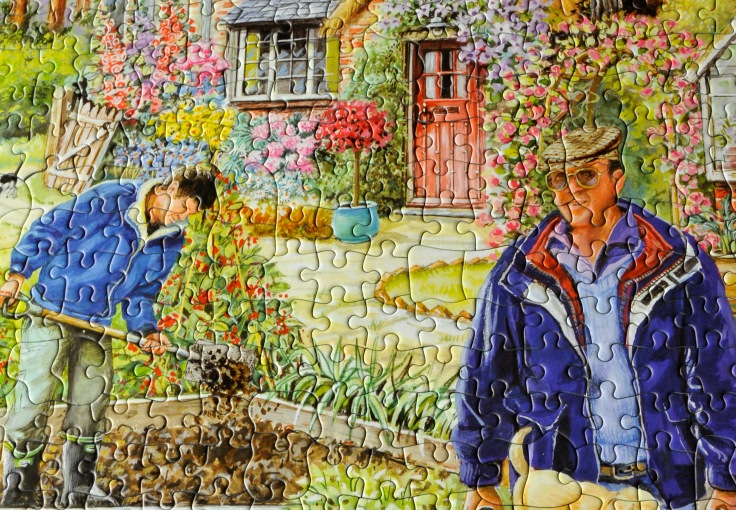 The other thing I quite like about HOP puzzles is the usual piece shape. The quality of HOP isn't QUITE as thick as Ravensburger or Gibson/Jumbo, but it's still good (better than the cheaper puzzle makers). And in addition, HOP has unusual puzzle piece shapes that make them one of my favorite brands to assemble. You can note in the image above the unusual shapes in the man's pants on the left and the man's face on the right. This lends a little more challenge vs a jigsaw with only standard pieces.
I'm not going to show the entire puzzle completed, because I don't want to ruin your challenge in finding all the differences.
For those in the US, here's a great place for some quality garden themed puzzles.
Jigsaw Junkie