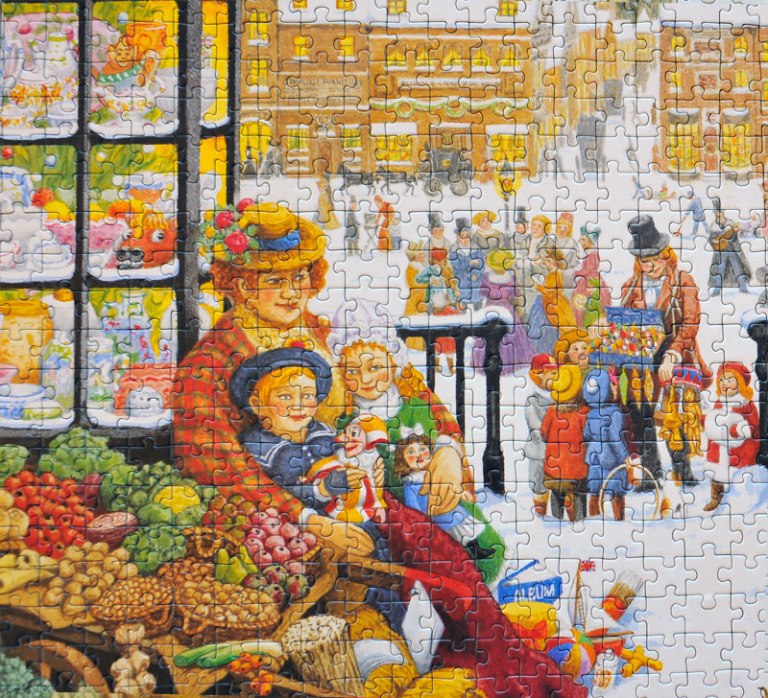 Review: Ravensburger's "Victorian Christmas" by Gale Pitt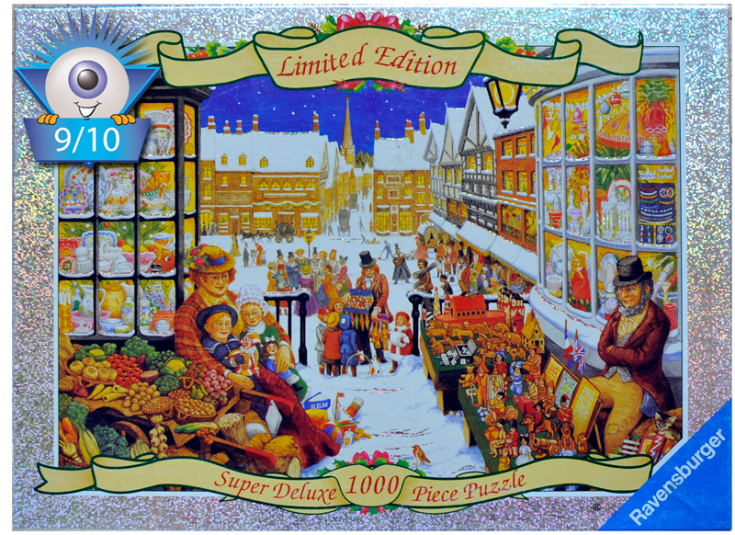 Front of box shown above. The back of this box is blank.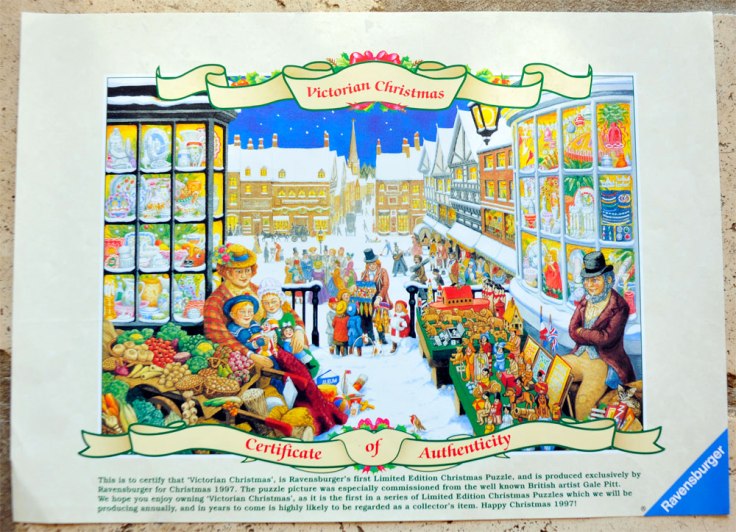 The certificate that comes in the box.
As you may be able to tell from this site, I collect the limited edition Christmas puzzles from Waddington, Ravensburger, Gibson, and more. I was recently able to find this puzzle to add to my collection. It's the very first Ravensburger limited edition puzzle, released in 1997. It's called "Victorian Christmas" and the box says it was specially commissioned from artist Gale Pitt. So how does the puzzle stack up?
Quite well! It's gratifying as a collector to note that, despite this puzzle being 17 years old, it still feels and looks great. The pieces have that thick Ravensburger feel and satisfying fit as you put it together. There were never any issues with pieces looking like they fit where they did not.
This puzzle assembles quickly as there's a lot of detail and separate areas of the puzzle have a distinctive look– the windows, the fruits and vegetables in the foreground, the large human figures, the small ones, the buildings, etc. The picture is more attractive that it looks on the box lid, and was quite pretty when assembled. Another lovely Christmas jigsaw worth keeping!
The only downside for me was that the box has pretty silver foil accents, such as along the snow on the window ledges, and in the snowy path that runs down the center of the box photo (see image below). I assumed this foil would also be on the puzzle itself, but it wasn't. There is no silver foil on the puzzle pieces at all. To be fair, the box doesn't say "foil" anywhere on it, yet because it's on the box lid, one assumes it's on the puzzle.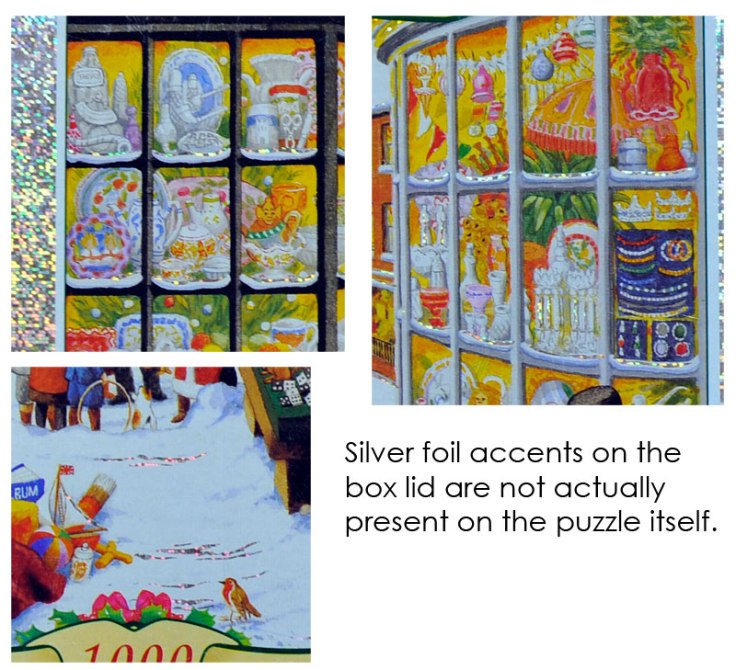 Still, this is a delightful puzzle to work. Here are some images of the finished puzzle (click on the images for a closer look).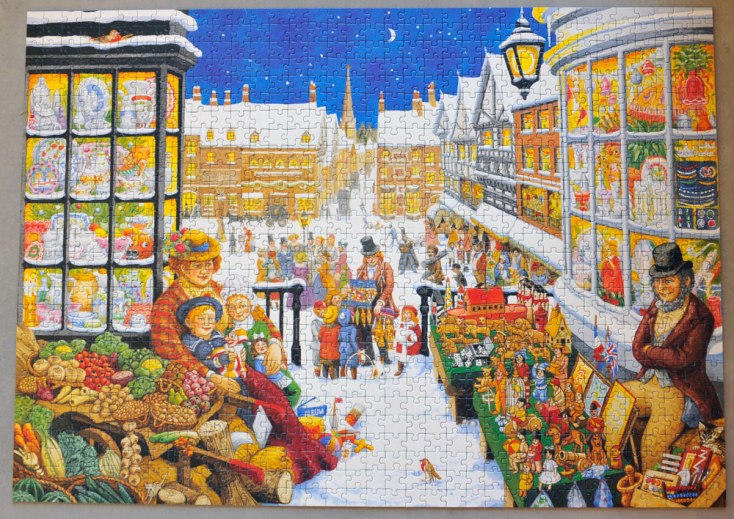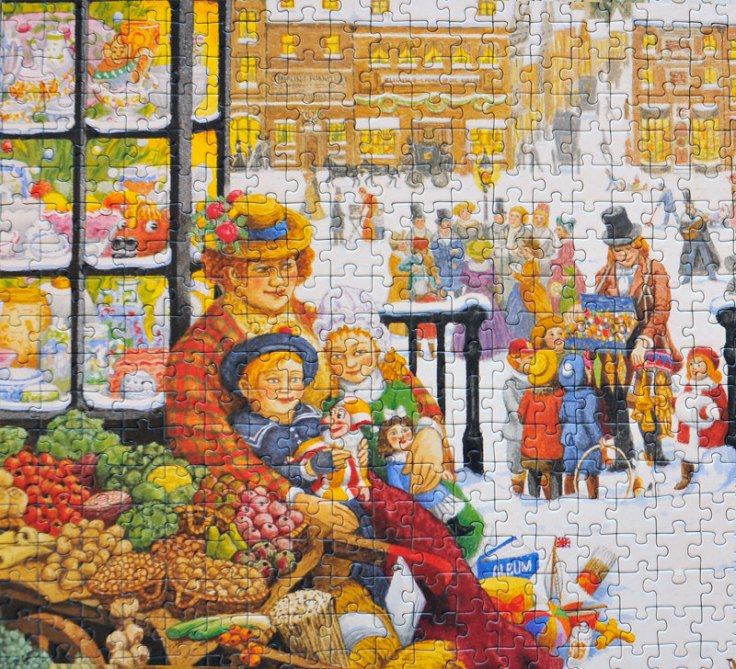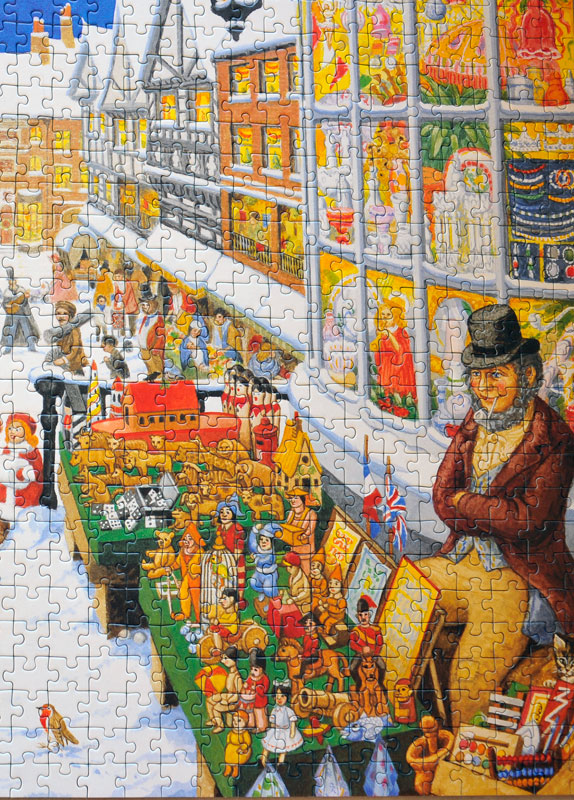 You can find these and other best selling Ravensburger Jigsaw Puzzles here.
Other resources:
* Our page on Ravensburger brand quality
* Our page on Ravensburger's limited edition Christmas puzzles