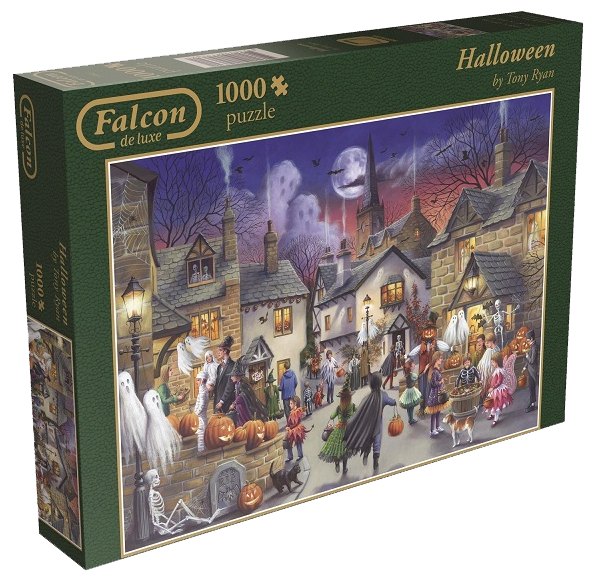 Best New Fall Puzzles 2014
There have been a lot of new puzzle releases this summer and fall. So what are some of the most outstanding? Here are my picks.
FALCON — "Halloween" by Tony Ryan. I love Halloween puzzles, and there aren't too many good ones out. So I was excited to see this lovely entry to the genre. It's a traditional English town square but with costumed revelers, ghost clouds, and pumpkins. Falcon is made by Jumbo, a good, solid German brand. This puzzle was not yet out at the time of this writing.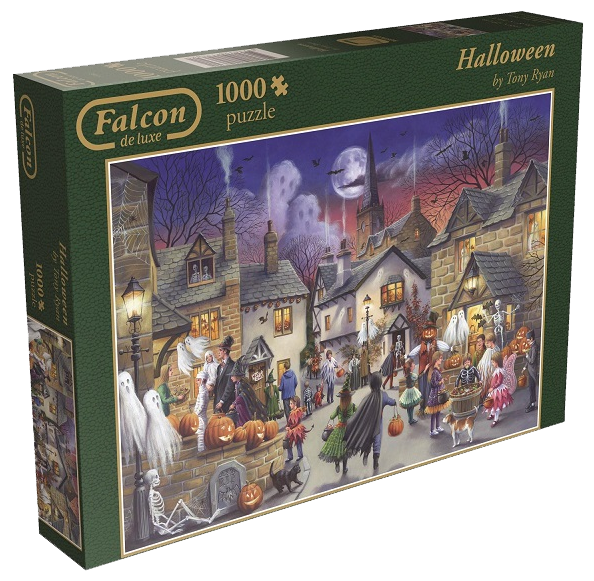 FALCON — "Santa's Christmas Present" by Simon Treadwell. I like this image even better than Falcon's 2014 Limited Edition Christmas puzzle. It's cheery and bright and the illustration quality is good. It comes with a 500 piece 2015 calendar puzzle and glue so you can put the calendar on your wall when done. The price point is also quite reasonable. A Christmas present from Falcon indeed!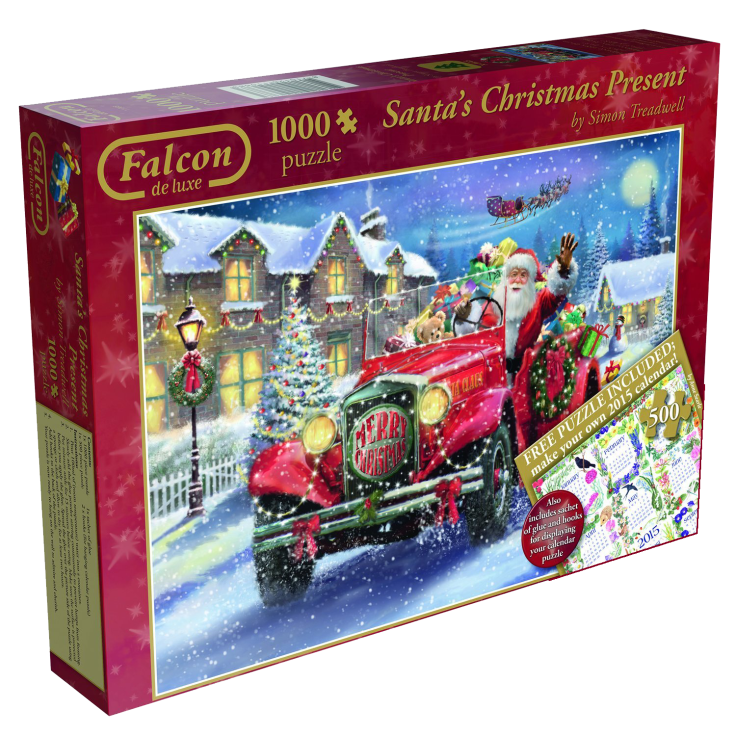 RAVENSBURGER- "Travel Shelves". This is one of these puzzles I take one glance at and say "please, take my money." I love all the gorgeous, colorful detail in this and all of the world monuments and symbols. Plus, it's Ravensburger quality. Plus, it's 2000 pieces, which is harder to find. Love it!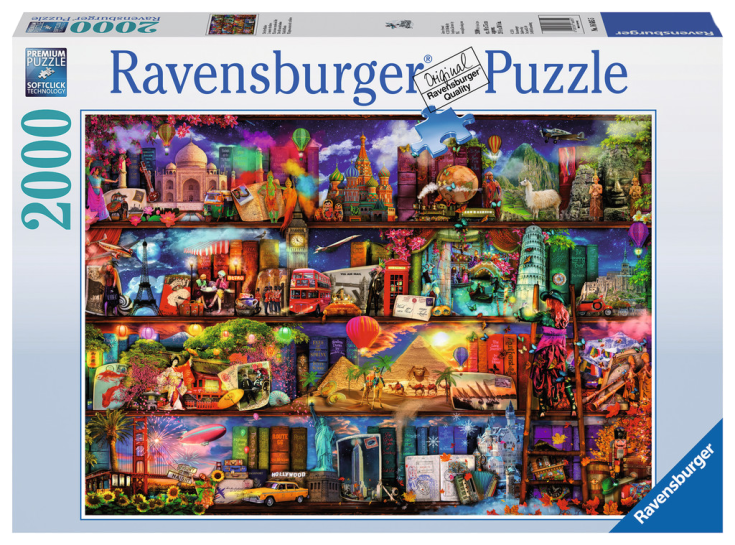 FALCON — "What If: Santa and Rudolph" by Geoffrey Tristram. Ravensburger's "What If" series is one of my favorite puzzle series. It's a fun challenge because the image you put together is not the box image, but a 'what if' take on the box image. I also adore the art of Geoffrey Tristram who does this series as well as Ravensburger's "Best of British". I was thrilled to see a fun Christmas themed puzzle in this What If line.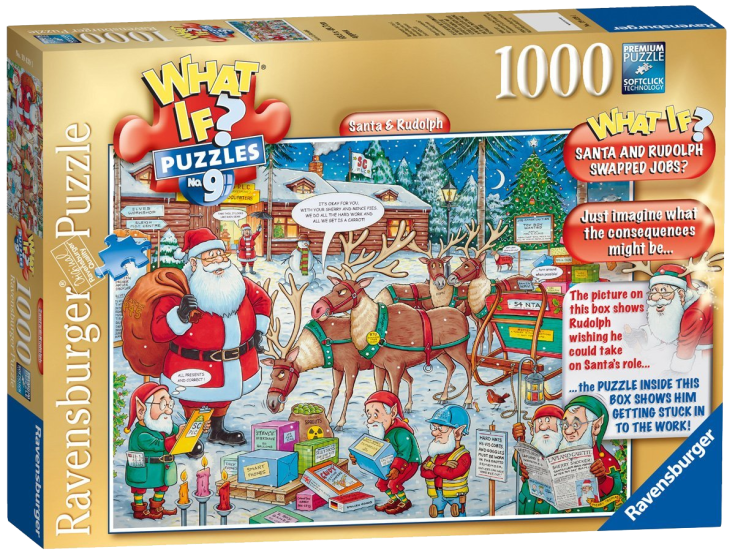 WASGIJ- "What if Dinosaurs Still Roamed the Earth". Of all the Wasgij releases this year, I liked this one the best. It's a very fun puzzle to assemble with the dinosaurs providing large, colorful patterns. The final image is really cute and humorous.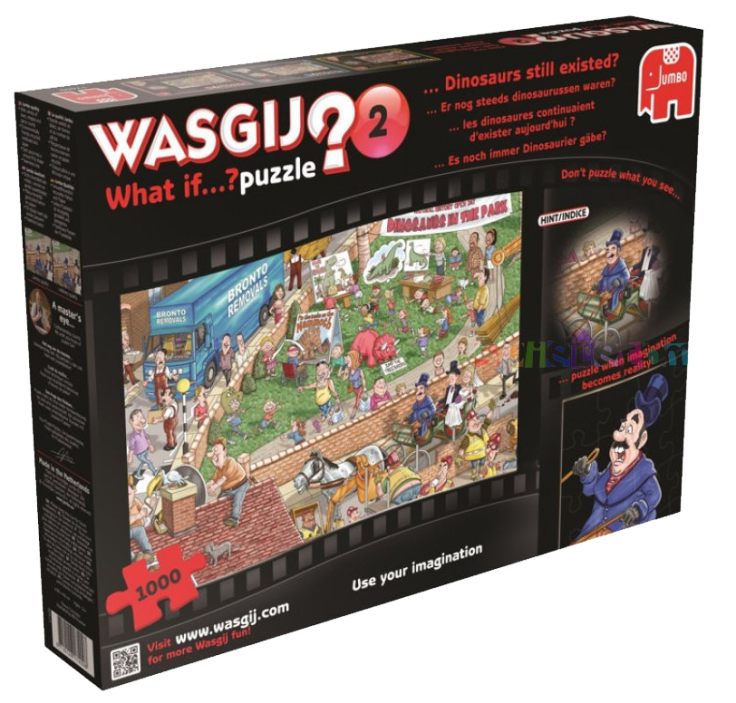 JUMBO- JVH "Food Frenzy" 2×1000 set. by Jan Van Haasteren. I love JVH puzzles and Jumbo quality. I'm finding I like even better the JVH puzzles that are more of a "medium shot" without huge crowds of people. I love the brand new "Clash of the Bakers", which comes in a 2 x 1000 piece puzzle set with "Seafood Supper". "Seafood Supper" previously has only been available in 500 pieces. And it comes with a JVH oven mitt! Merry Christmas, Jumbo!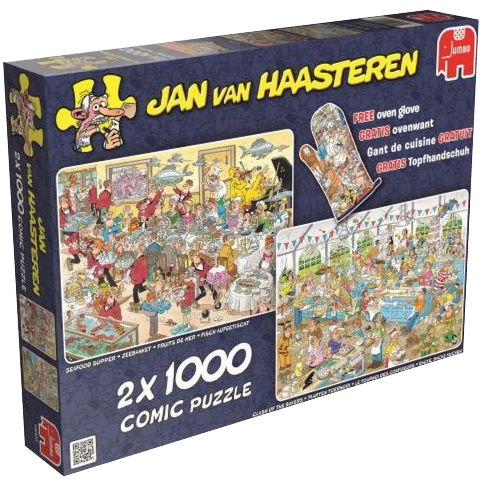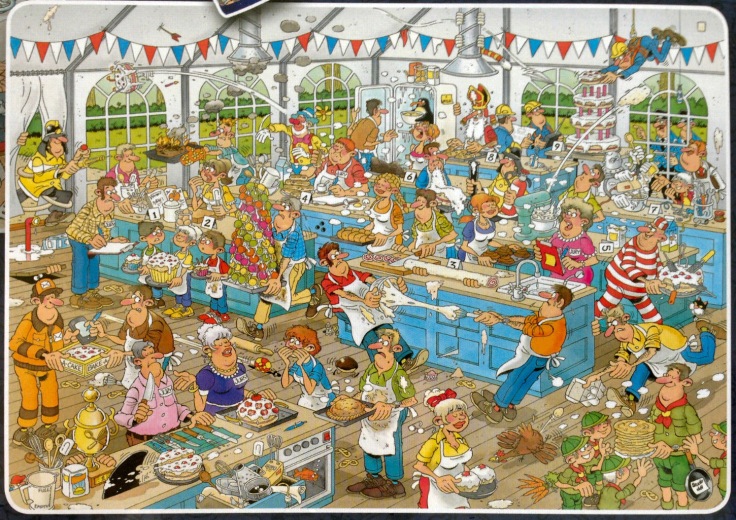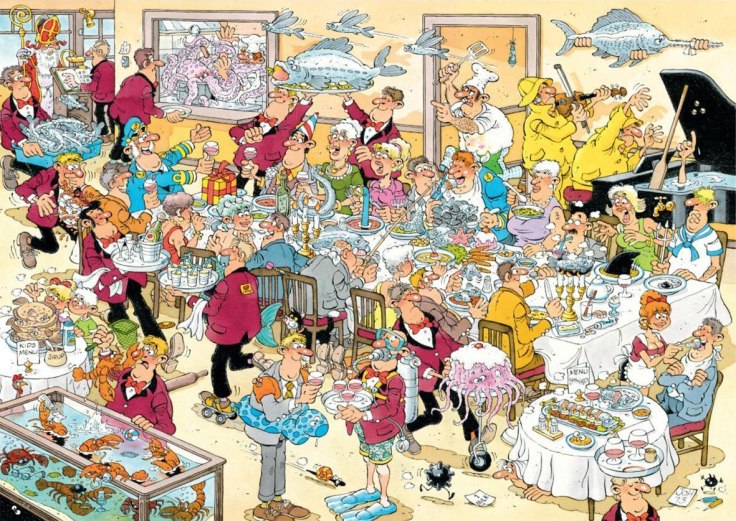 HOUSE OF PUZZLES – "Autumn Green" by Ray Cresswell. When House of Puzzles released their new line-up in July, this was the first puzzle to immediately have me going "ooohh!" I guess I'm not the only one, because this puzzle sold out fast on a number of sites (don't worry, it's back in stock now). I love the color, the fireworks, the art style, and cozy village. It's a winner!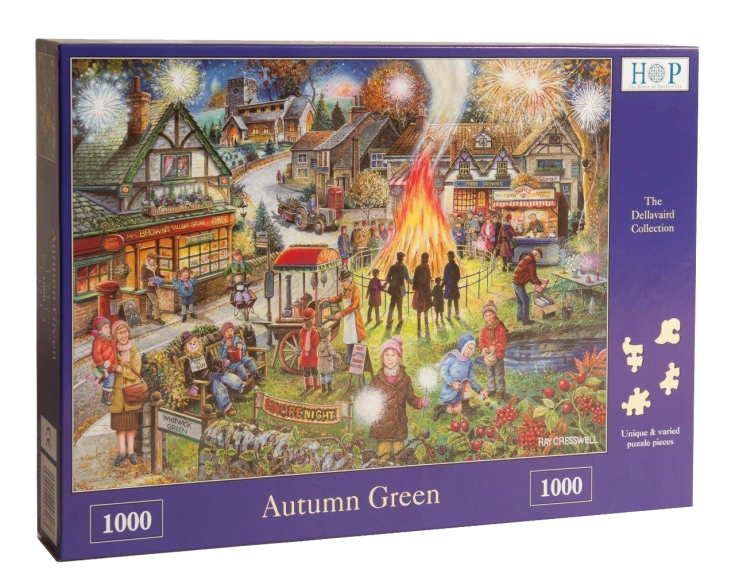 HOUSE OF PUZZLES – "Christmas Treats" by Ray Cresswell. House of Puzzles is one of the brands that issue annual limited edition Christmas puzzles. This is the one for 2014 and I love the unusual setting with a Christmasy store and ordinary people. Great colors and fun special-shaped pieces. Read my review here.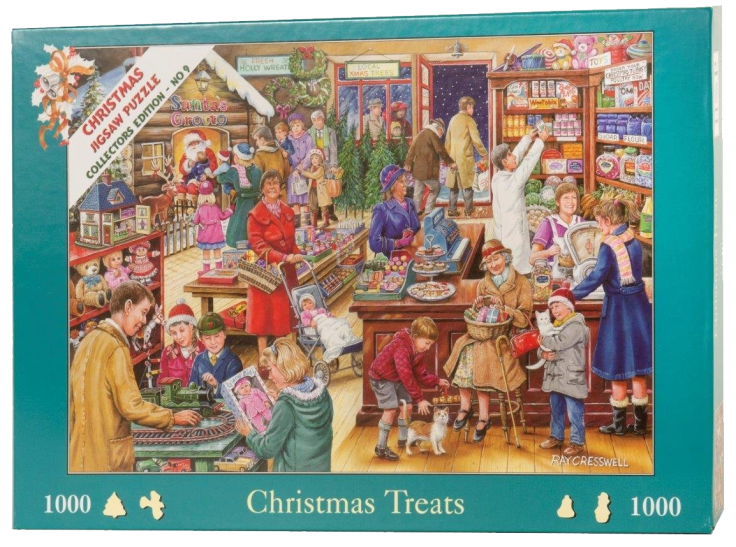 GIBSON – "Christmas Market" by Marcello Corti. Gibson is another high-quality puzzle company that does an annual Christmas puzzle. This year it's one of my favorite of all the Christmas releases. I love the busy scene, the soft sky, the sheen of the lights on the booths ,and all the different figures in their colored coats.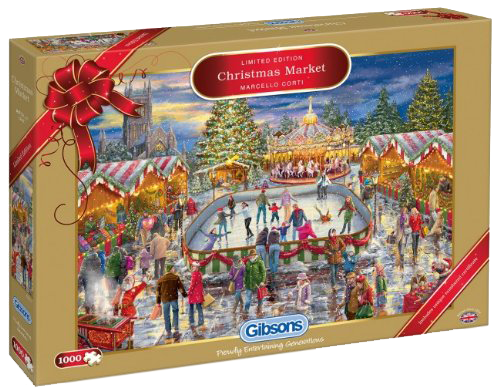 OTTER HOUSE – "Christmas Past and Present" . This was a surprise find online since I have never before bought an Otter House puzzle. They're a UK brand that does various products with animal themes like cards, mugs, puzzles, etc. They have two really interesting Christmas releases this year. This one is just a gorgeous illustration of a past and present scene.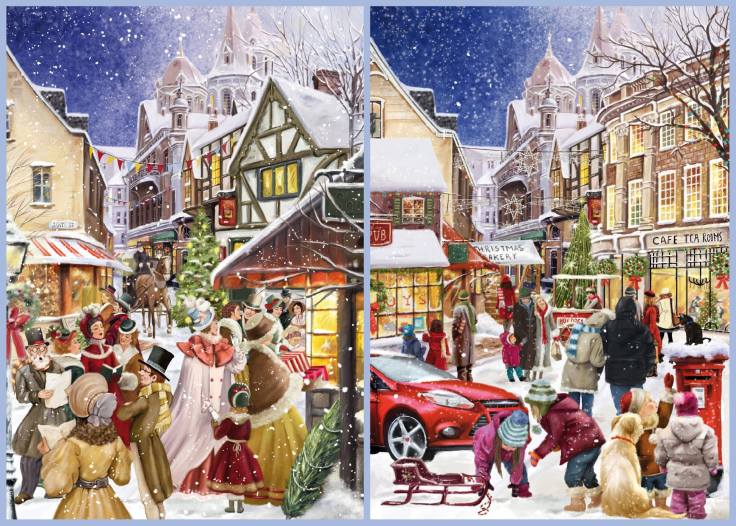 OTTER HOUSE – "Spot the Differences No 1" . This is the second Otter House Christmas puzzle that I found quite appealing. It's a 'find the differences' puzzle where the image you put together has changes from the box image. It's 1000 pieces.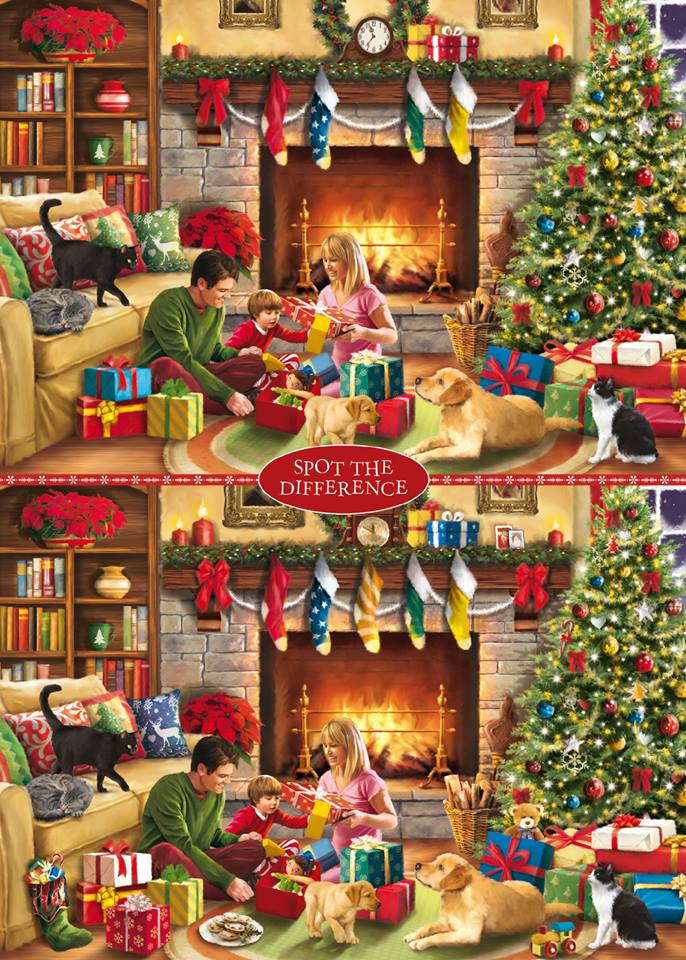 What do you think of these releases? Do you have other favorite new puzzles this fall?
JJ