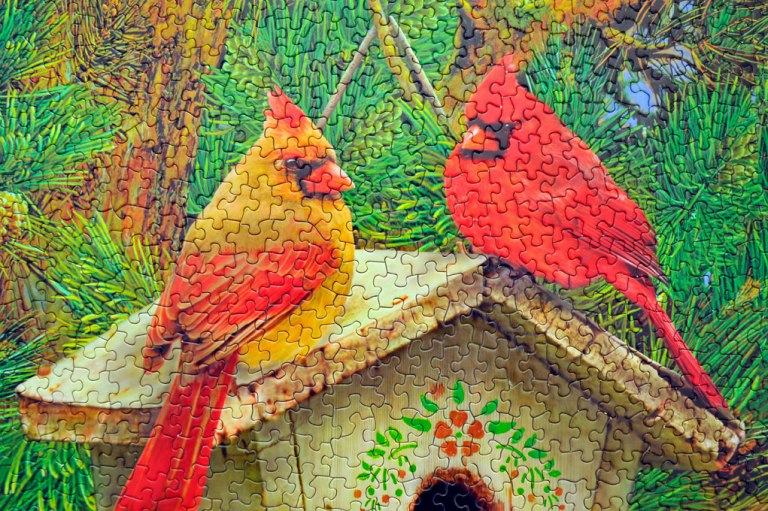 Review: "Feathered Retreat" by Springbok – 9/10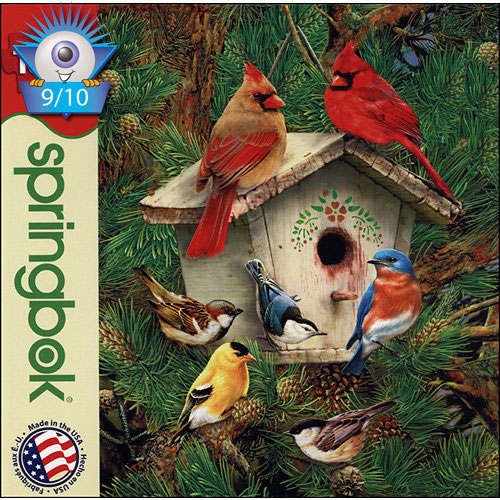 "Feathered Retreat", artist Greg & Company, released 7/2012 by Springbok. Our rating: 9/10
It's been a long time since I've done a Springbok puzzle, and I must say, I was impressed with the quality of this 2012 puzzle. The puzzle pieces are very thick–so thick, you can pick the entire puzzle up at the end and it stays together (a first for me). The piece piece shapes were unusual and varied, yet I didn't have any trouble figuring out if a puzzle piece fit or not. The final image was really beautiful. It's also larger than most 1000 pieces puzzles, at 24″ x 30″.
This is a fairly challenging puzzle. The inside area with the birdhouse and birds was easy. After that, however, the fun began in trying to assemble all the green/brown tree areas.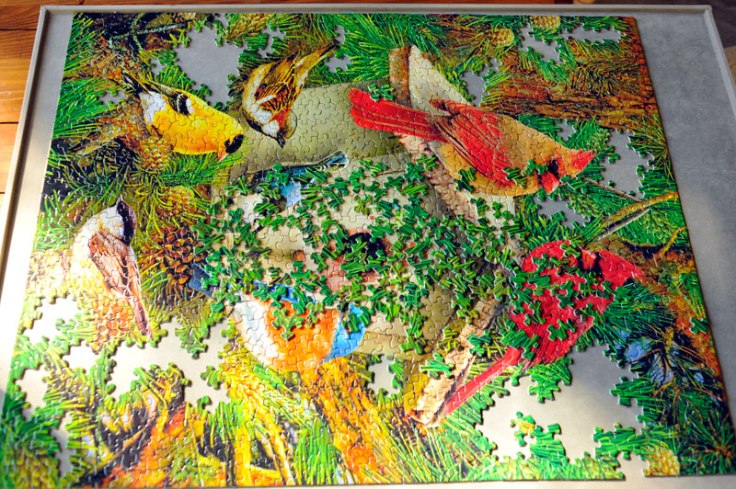 Above: a sea of greens left over.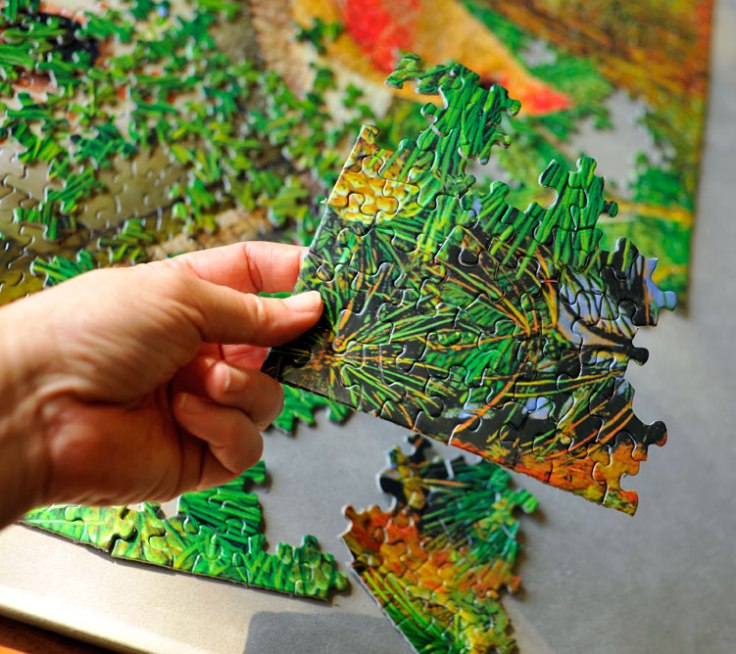 Above: The fit on this puzzle is very tight–so tight you can easily pick up a section without it falling apart.
Another point of note is the tight fit of the pieces. The fit is so tight you have to push down to get a piece into place. I did not find this a problem, as it was always clear to me if a piece was really a fit or not (and pieces that don't fit there don't push down well). In fact, I liked the tactile feel of that and loved how the tight fit meant you could pick up the puzzle or sections of it without it falling apart.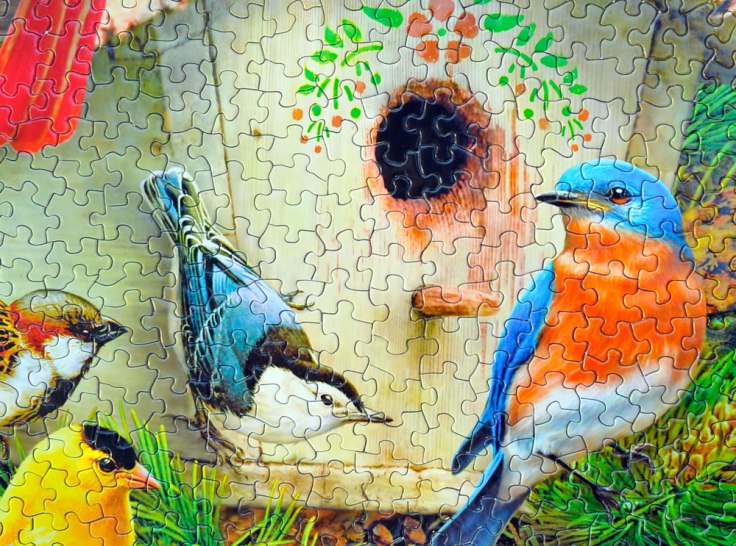 Above: Close-up detail.
I also enjoyed the unusual shape of the puzzle pieces — a nice change from the standard grid puzzles. You can see the shapes in the detail image above. Also note the nice color reproduction.
It's worth it to persevere through the difficult green bits. The final image is stunning. This is the first puzzle in a long time I considered hanging and keeping assembled. The photo below doesn't really do it justice.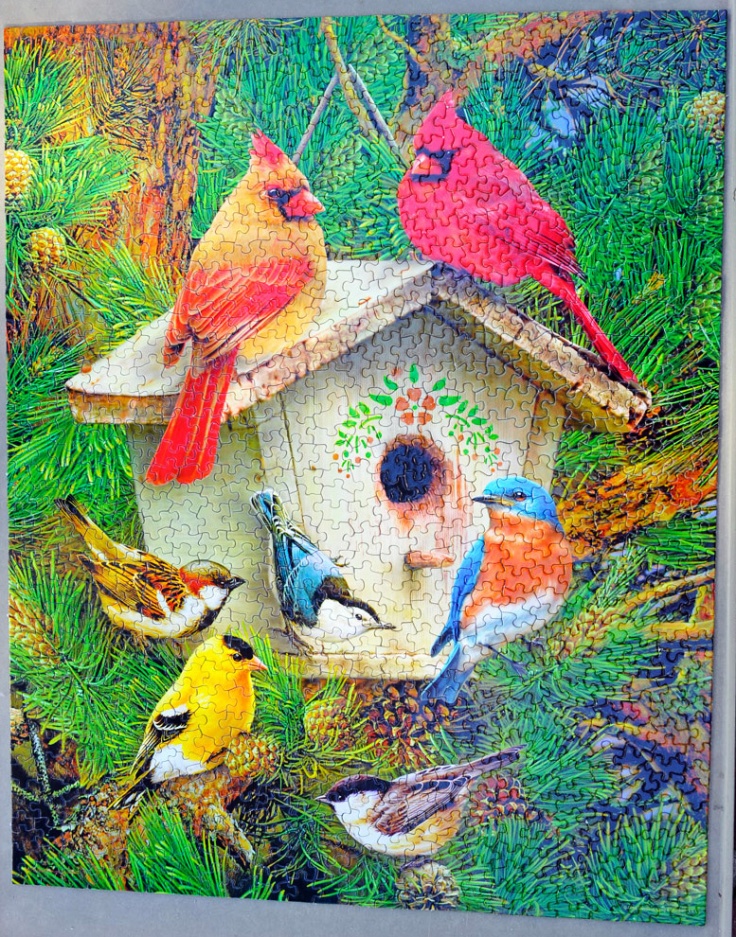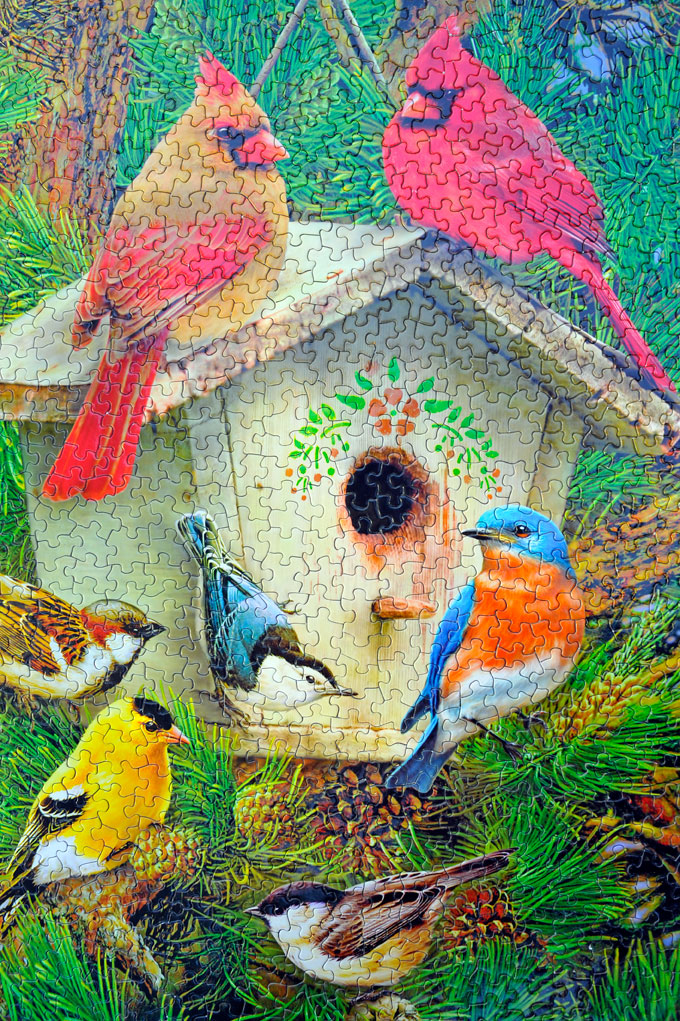 Click on any of these images to see them larger.
Summary:
Recommended, particularly if you like bird puzzles or pieces with a snug fit.
You can find this jigsaw puzzle here.