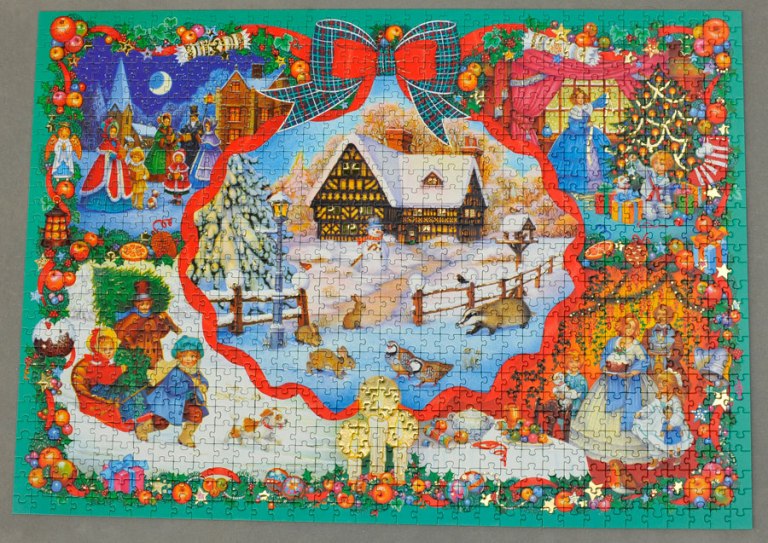 Review: Ravensburger's "The Holly And the Ivy" limited edition Christmas puzzle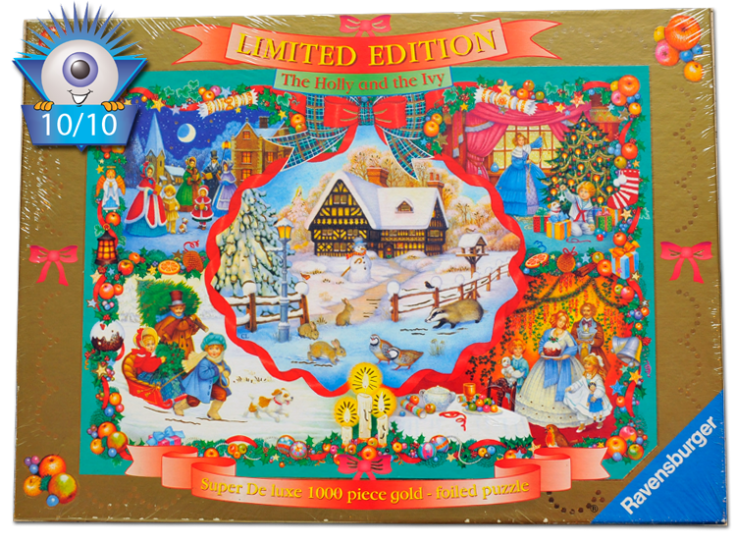 Carrying on my quest to find, purchase, and review all of the numbered limited edition Ravensburger puzzles! You can see the full list here.
This puzzle is No 3 in the series, and was released in 1999. The title is "The Holly And The Ivy" by artist Carol Lawson. Published by Ravensburger. It's 1000 pieces.
This puzzle is my favorite in the series and demonstrates why I love limited edition Christmas puzzles. This is an original illustration made for this purpose, not just a generic country scene or pet-and-flower image. You can tell a great deal of thought went into this as a puzzle design. Pointing out some key features:
* lots of bright colors (though the image above is slightly intensified by my camera)
* a central image surrounded by 4 scene vignettes, making essentially 5 'mini puzzles' to put together
* there is real gold foil on this puzzle and it gives it the feeling of being very special
* a fairly elaborate border that is festive and fun to assemble
This puzzle has held up well since 1999. There was no feeling or aging or smell to the pieces or heavy-duty box. Let's take a look at some details.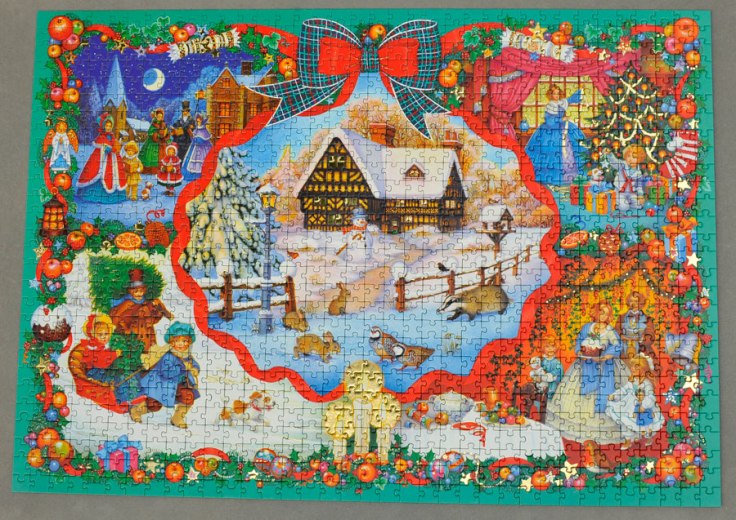 Above — The full puzzle assembled is 1000 pieces. There border is the most difficult part–but not too difficult. After the border is set, each vignetted scene in the puzzle is pretty easy to assemble. You can see the colors are bright and the gold foil adds a nice touch.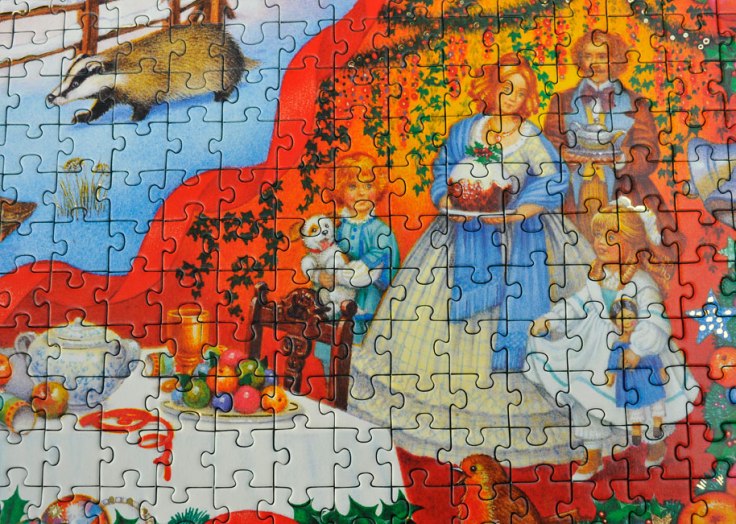 Like all Ravensburger puzzles, the pieces are of standard grid design, but with nice variation for standard pieces. It has the trademark "soft-click" feeling when you put two pieces together. The pieces fit snugly, though not as tight as Springbok.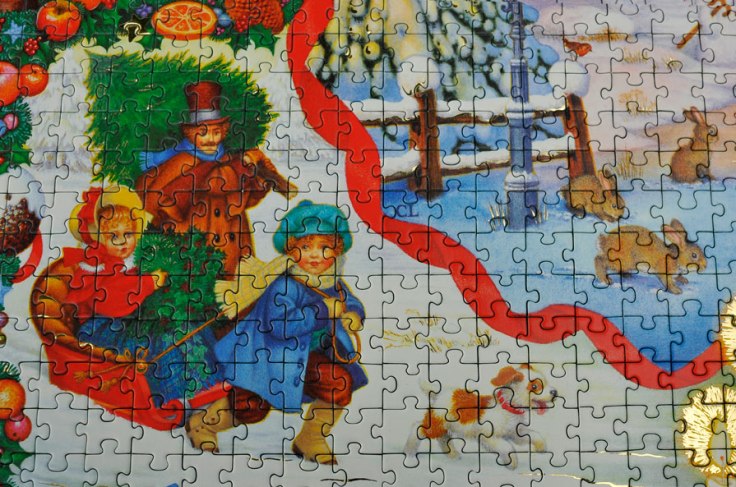 Above you can see some of the gold foil which is on the central candles and marking the blades of grass/texture on the snow.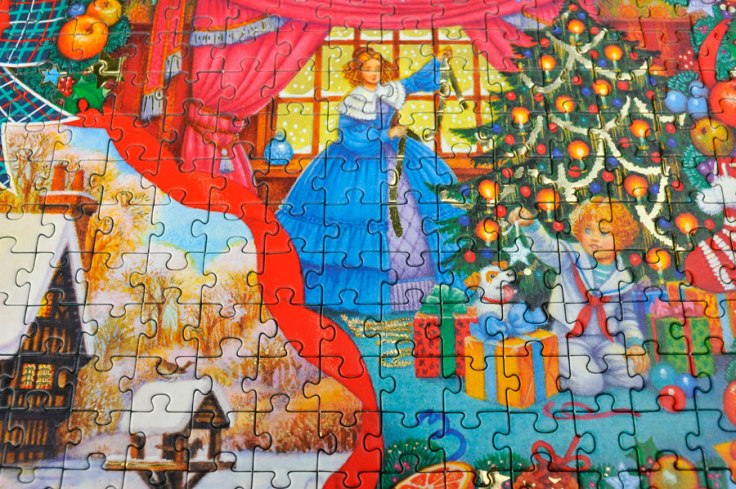 Above: There's more gold foil in the tinsel on the tree in the vignette in the upper right.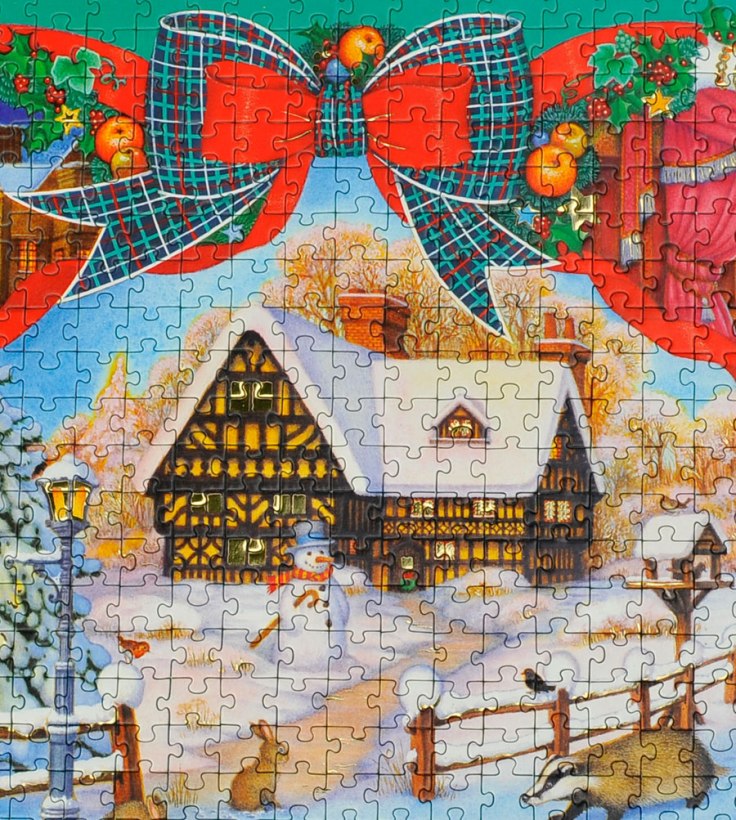 Above: There's also gold foil on the house in the center and in the stars along the border. The plaid and red bow is fun to assemble.
Summary: This puzzle is definitely worth tracking down and saving as a keepsake for generations! Just be sure you find a copy that has all its pieces because it's too perfect to do halfway!
You can find other amazing Christmas Themed Puzzles here.
JJ