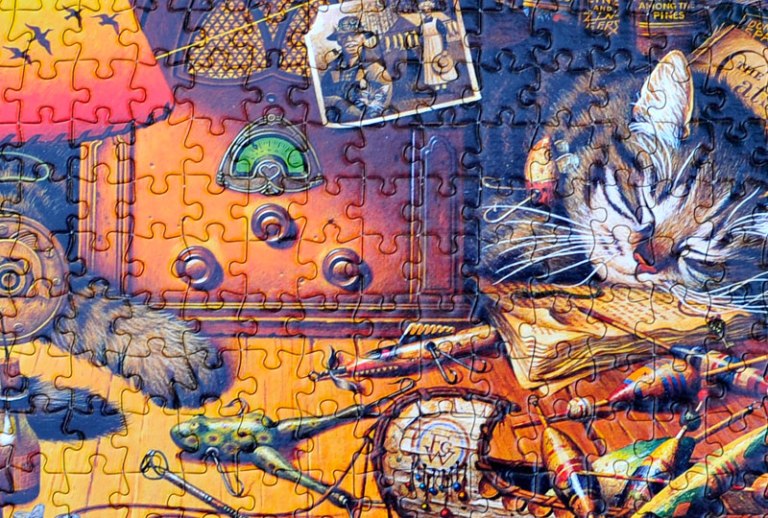 Review: Max in the Adirondacks by Charles Wysocki, Buffalo Games
I've been trying out some new brands of puzzles I've never done before for my Brand Comparison Review. Of the Buffalo Games offerings, I was drawn to this Charles Wysocki image. Wysocki normally does Americana landscapes, but I liked he fact that this was a much closer, more intimate view. I also was attracted to all the detail in the image.
So what's the verdict?
I'll be doing a full brand analysis for Buffalo Games soon, but for this review I can say that the box was attractive, sturdy and small. The puzzle pieces are on the small side, which I don't mind myself, though those with difficulty seeing may not like that aspect. While probably not up with the thickest brands, they were 'thick enough' to feel good while working the puzzle and didn't feel thin, fragile or flimsy. The image reproduction was quite good and the puzzle pieces had a semi-glossy finish that was appealing.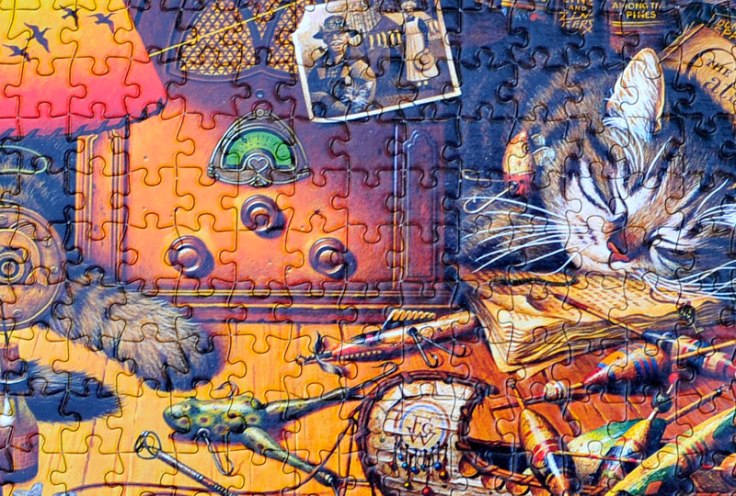 You can see in the above image that the piece shapes are a standard grid but with good variation for standard pieces. There's a good mix of 2-hole/2-knob, 4 hole, 3 hole, 4 knob, etc. In addition there is a piece shape that seems unique to Buffalo Games that has one zig-zag end. You can see this piece shape in the image below near the right side of the mountain in the doorway an again in the box with the "American Boy" in the right side of the boy's face.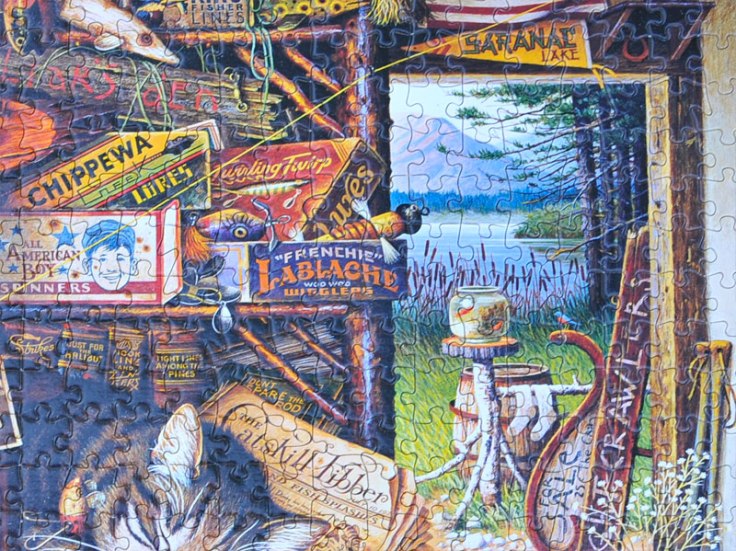 As far as the fun of actually assembling the puzzle goes–it's a good puzzle. There are plenty of written logos and adverts, colors, and textures to be able to piece together. There's humor in the picture, and it's enjoyable to spent time uncovering the details. There is a lot of dark in the picture though, but looking at the dark pieces closely, it's not hard to figure out where they go. At 750 pieces, this puzzle doesn't take that long to assemble. And it has a nice fall "camp" vibe, which I liked. I've dinged it a point for the amount of darkness in the image, but it is still a good puzzle. It's also quite reasonably priced at $13.99.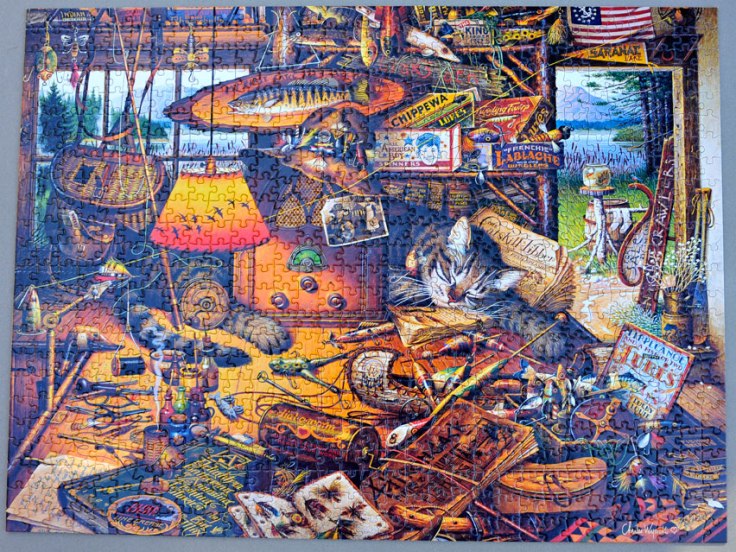 Recommended as a good, solid puzzle if the image appeals to you! Unfortunately, this puzzle is becoming harder to find as it's out of production.