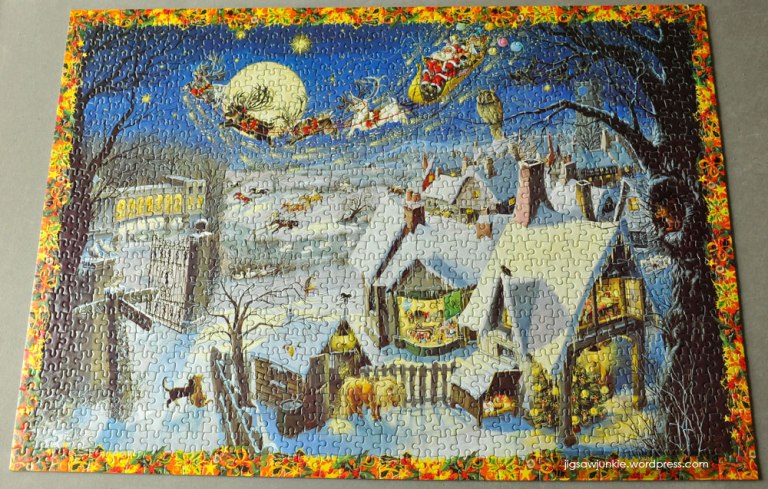 Review: "The Twelve Days of Christmas" by Waddingtons (1994)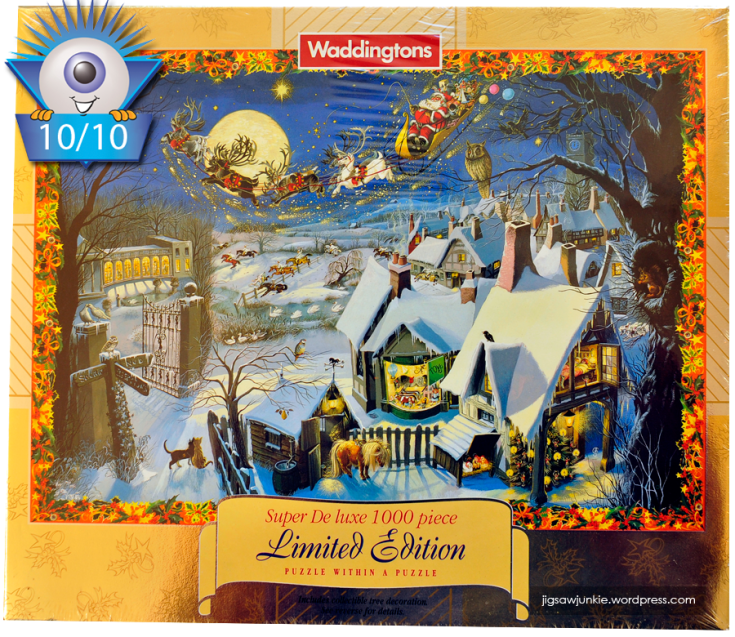 Publisher: Waddingtons (UK), Released 1994 Title: "Twelve Days of Christmas" by artist Anne Graham Johnstone, 1000 pieces OUR RATING: 10/10 This is the very first Waddingtons limited edition Christmas puzzle published in 1994. The back of the box says the image was commissioned by Waddingtons specifically for this puzzle from illustrator Anne Graham Johnstone. The image contains all the elements from Twelve Days of Christmas (ten lords a-leaping, etc). The box is gorgeous–very sturdy and with a gold and silver foil background (it's highly reflective and hard to photograph, but it's very nice in person!). Though the puzzle was made in 1994, the box is still in perfect condition due to this sturdiness of construction. The puzzle originally came with a certificate of authenticity and an ornament for your tree. The back of the box contains information on the puzzle (click on the image below for a close-up that you can read).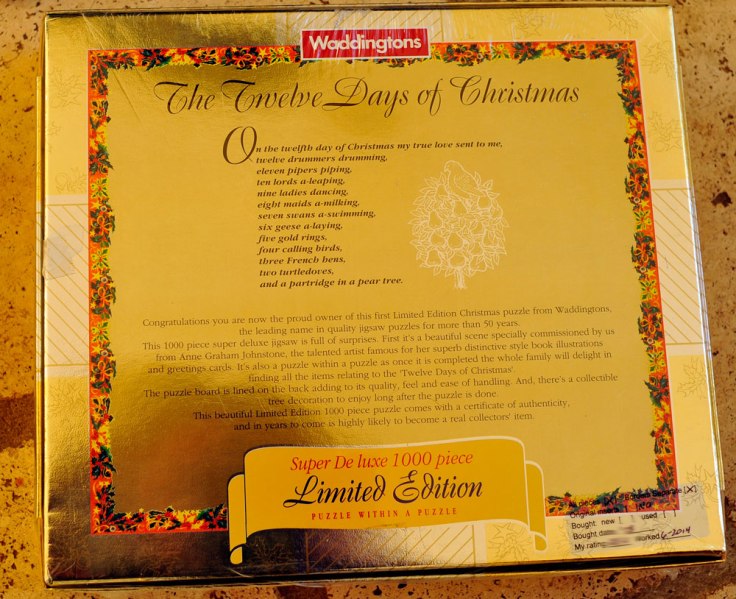 The puzzle image is lovely as well. It's obvious this was commissioned specifically for a puzzle, and was not originally a lithograph or greeting card. The art style has a slightly quirky feel. The image is full of small details. The sky looks dark on the box lid, but actually is more blue in the puzzle.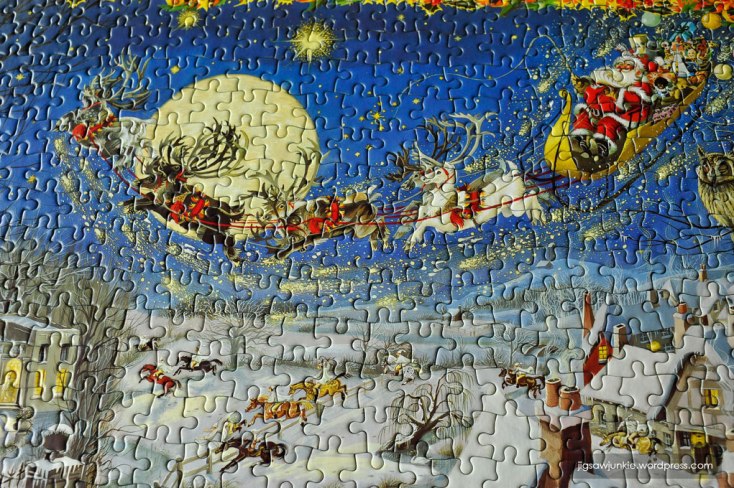 Click on any of these photos for a larger view. Puzzle quality: Very good. The pieces feel thick, similar to Ravensburger or Gibson. And while they are sort of on a grid cut, they have more variety and quirk than either of those two brands. As you can see from these images (taken in 2014), the image is bright and crisp, even though the puzzle is now 20 years old. There is no degradation in quality whatsoever. The puzzle fit is very good and there's no confusion about whether a piece fits or not. Assembly: The border of this puzzle is quite difficult to assemble, because it has a tightly repeating pattern. There are also a few dark and white areas which are a bit tricky. Most of the puzzle, though, has easy recognized elements. Overall, I'd give the puzzle a medium difficulty rating.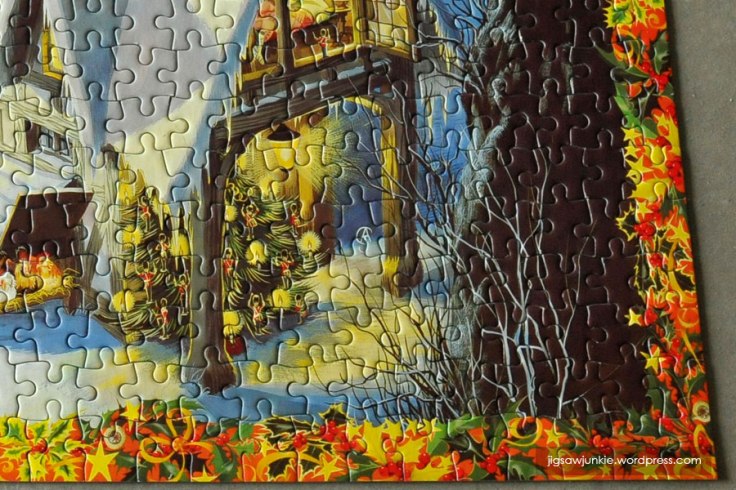 After you've assembled the puzzle, you can search for all the things in the Twelve Days of Christmas song. More photos: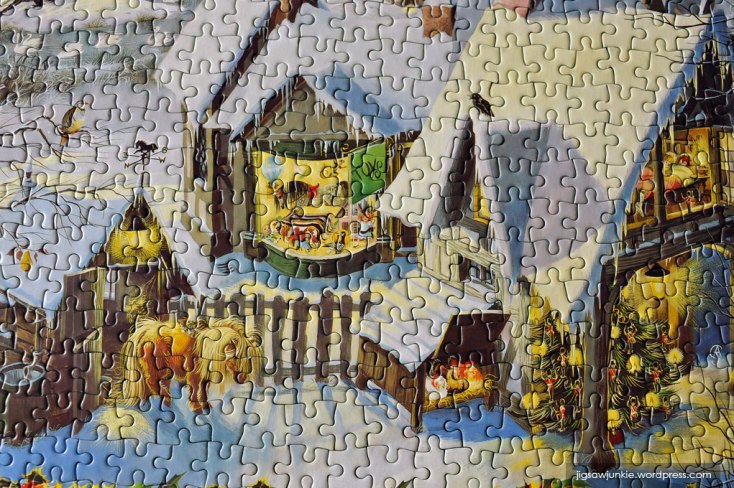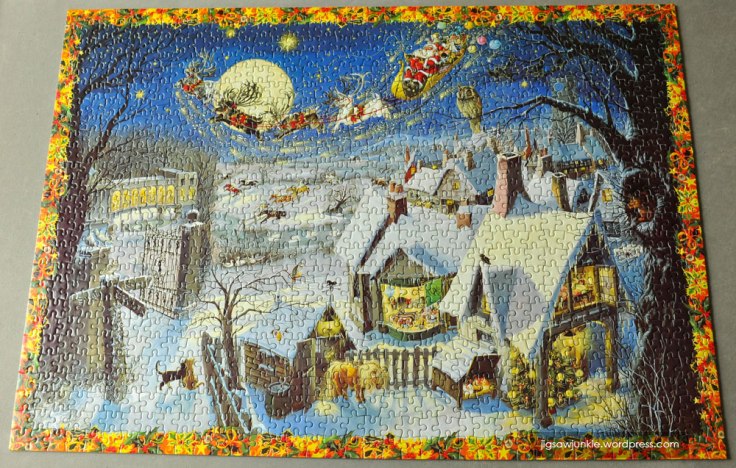 Finding the Puzzle: This puzzle is, of course, out of print now. B\ Make sure you get a copy with all the pieces. Summary: For anyone who loves the limited edition Christmas puzzles, this is a must-have. A lovely puzzle and the one that started it all! To see all of the Waddingtons Christmas puzzle, check out our page here. Also check out our page on the limited edition Christmas puzzle from other puzzle brands. JJ