Review: "Friends on Halloween" by Sunsout – 8/10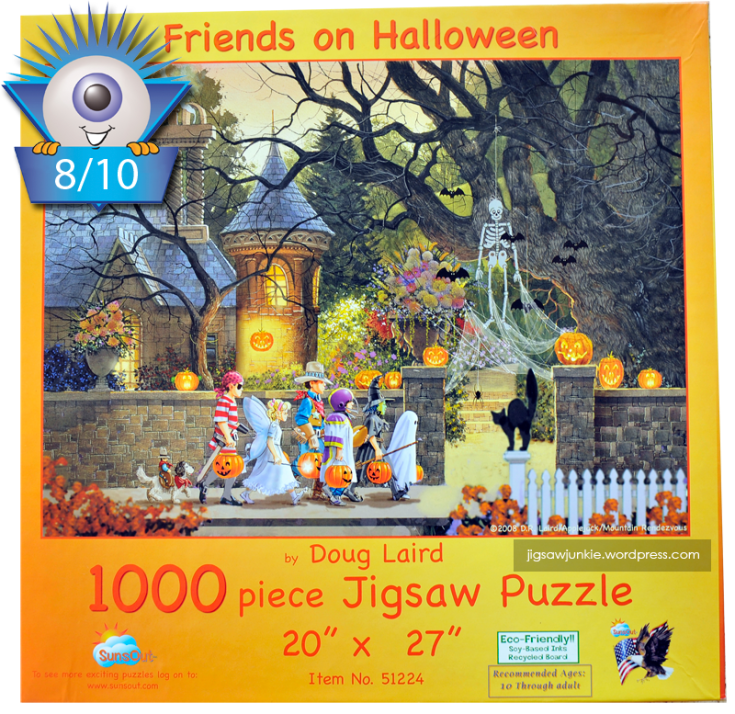 Publisher: Sunsout (US), Released ?? (There's no date on the box, but I think it was 2013.)
Title: "Friends on Halloween" by artist Doug Laird, 1000 pieces
OUR RATING: 8/10
It's October, the month for Halloween puzzles! I plan to post a round-up of Halloween puzzles a bit later, but for now here's a review of one of them I can recommend.
Box Quality:
As usual with Sunsout, the box itself is less than exciting. It's overly large (12.5″ x 12.5″), a bit on the fragile side, and has an uninspired design. The back of the puzzle box is blank and there's nothing except the bag of puzzle pieces inside the box.
Puzzle Quality:
The puzzle itself, though, is of excellent quality (and why I will continue to do Sunsout puzzles). The pieces feel thick and chunky. As always, I like Sunsout's unusual piece cut, which you can see well in the close-up below (click to zoom in). The colors are bright and, as you can see, the image is sharp. The puzzle fit is pretty tight, and you can move sections around without the pieces falling apart. There's a slight glossiness to the finish and the final puzzle is beautiful. Size is big and bold at 20″ x 27″.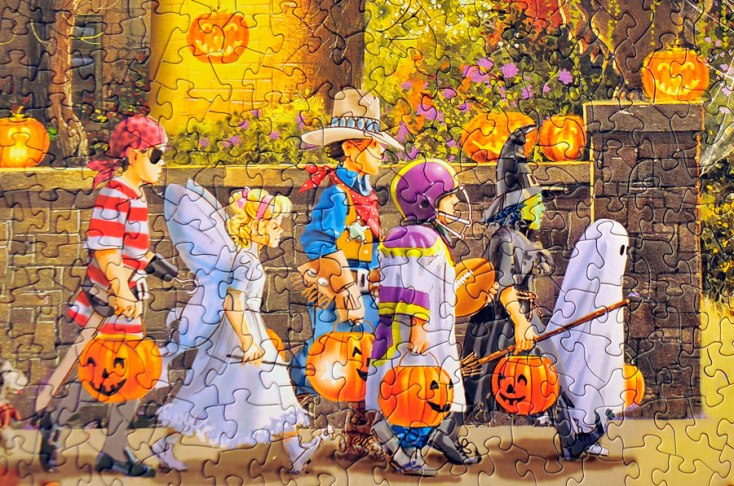 Assembly:
This puzzle earns an extra point from me for the Halloween theme. It's difficult to find good Halloween puzzles, and this one is very cute. I loved putting together the central area with the colors and light (see image below).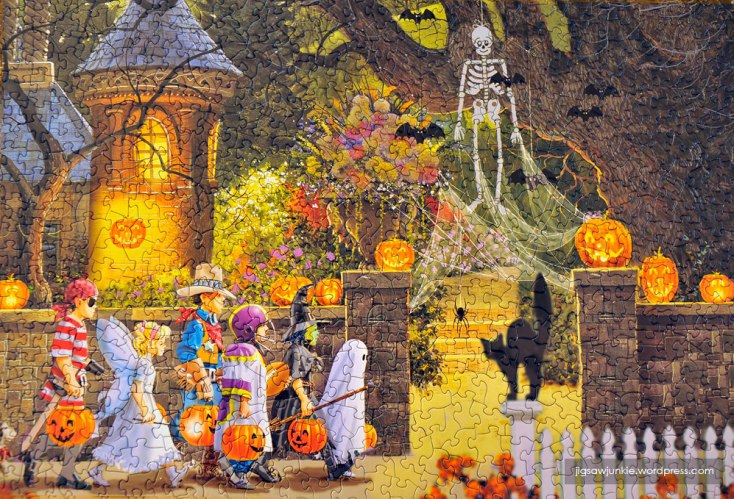 This puzzle loses one point, though, for the dark areas. The last 25% of the puzzle is pretty dark (especially the tree) and somewhat of a trail-and-error chore to complete. It would have been ideal if Sunsout and/or the artist had put more variation in the tree. Also, the fence and leaves in the foreground are very blurry, and I'm not sure I see the reason for that. It would have looked better if they'd been as sharp as the rest of the image.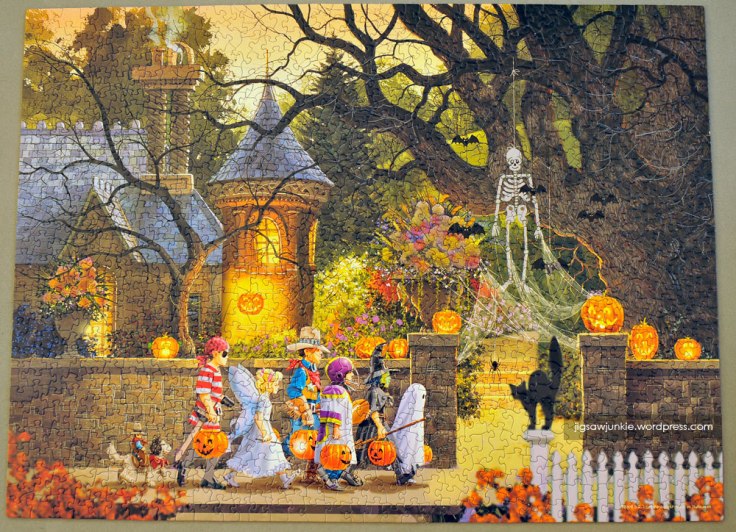 Conclusion:
If you like Halloween puzzles, and don't mind a wee bit of a challenge, this puzzle is recommended. I quite enjoyed doing it and it was nice to work on during an October evening.
You can purchase "Friends On Halloween" at Puzzle Warehouse
JJ