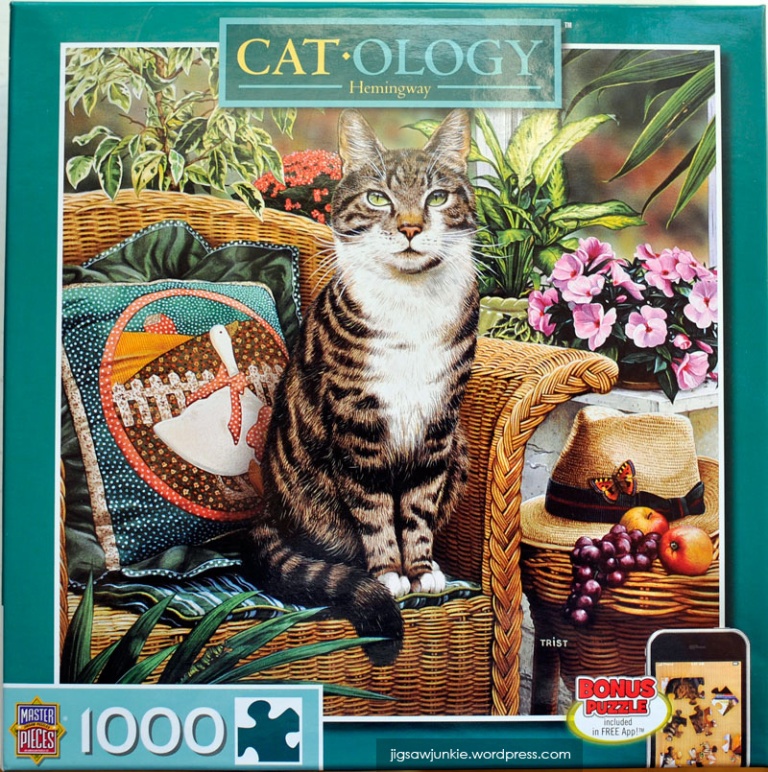 Review: "Cat-Ology: Hemingway" by Masterpieces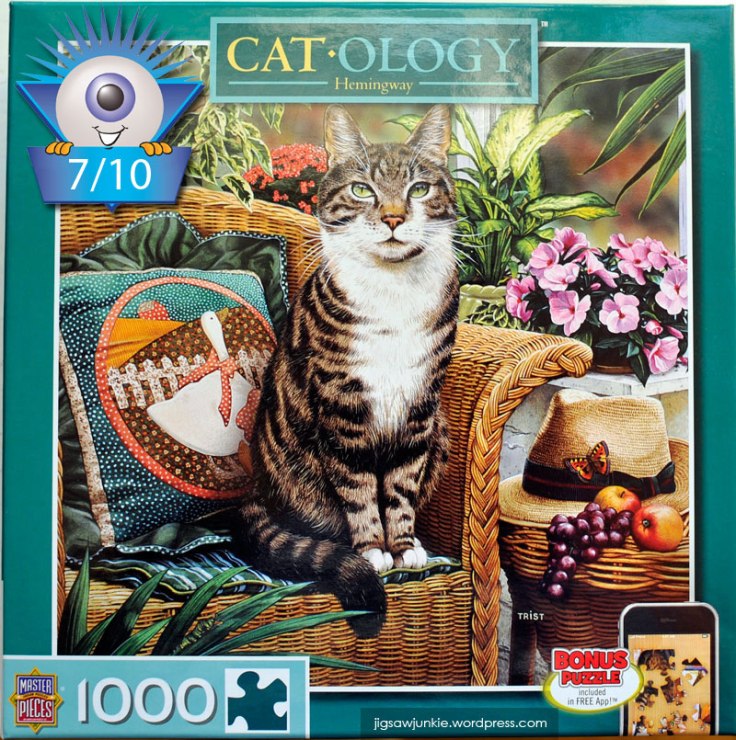 Publisher: Masterpieces (US), Released 2014
Title: "Cat-Ology: Hemingway" by artist Geoffrey Tristram, 1000 pieces
OUR RATING: 7/10
This is a bit of a departure from the puzzles I normally do, but I wanted to do another MasterPieces puzzle for my brand comparison–and I love Geoffrey Tristram. He is better known for his cartoony images. He does images mostly for Ravensburger these days (he's the artist behind their "Best of British" and "What If?" series, two of my favorites). But he also did a set of cat images that have published under different brands. Masterpieces had published 11 or so of these puzzles under the "Cat-Ology" label. Each image features a cat with a name that matches the items int he background. Below are a few other examples, "Leonardo", "Nelsen", and "Houdini".

Box Quality
The MasterPieces box is exceptionally nice. It's thick and sturdy, small (6″x6″), and well-designed. The back has information on Geoffrey Tristram and the series.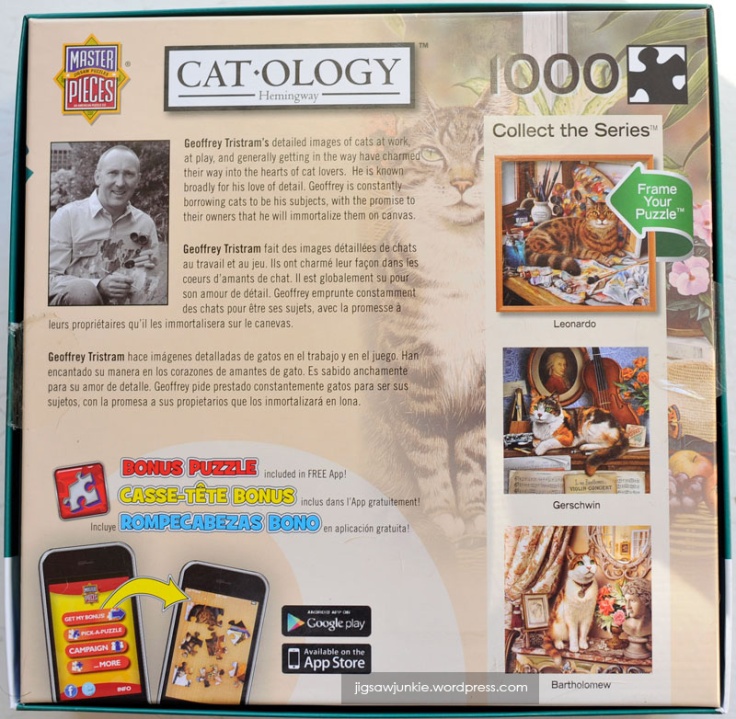 Puzzle Quality:
The pieces of the puzzle felt thick enough (not quite as chunky as Sunsout or Bits and Pieces, but close). I also like the non-grid, more unusual piece cut, which you can see in the image below. The surface of the puzzle was not glossy but matte, which removed any possibility of glare and reflection. Overall I found the quality good.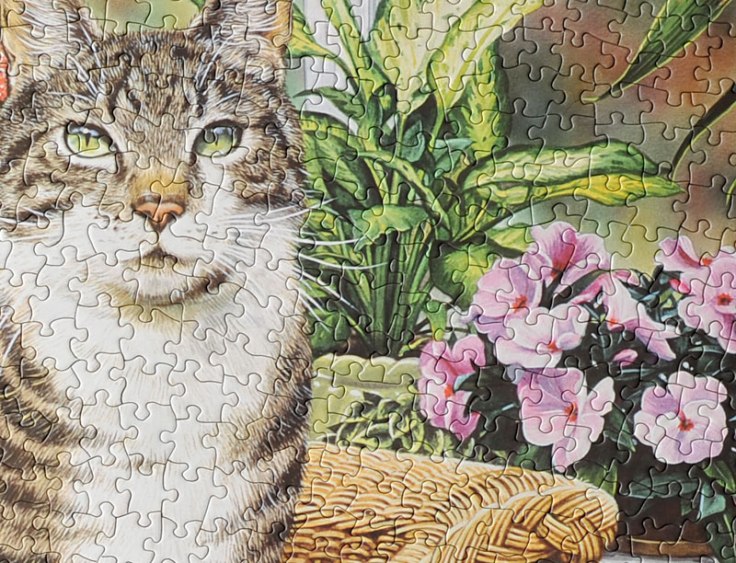 Image Quality:
The thing I liked the least about the puzzle was that the colors are very ho-hum. Some of this is the image itself which, granted, is not a high-color image particularly with lots of wicker and the large brown tabby cat. However, the image reproduction was also rather understated color-wise. Some vibrancy boost would have gone a long way. The greens are often more gray and even the flowers and the fabric pillow were washed out. The image was not very sharp, probably because it was blown-up to make the puzzle, but it wasn't bad. Really, the color vibrancy was the main issue and the only reason this puzzle did not earn a higher rating. If you compare these images of the puzzle with the box image above, the box looks much more colorful.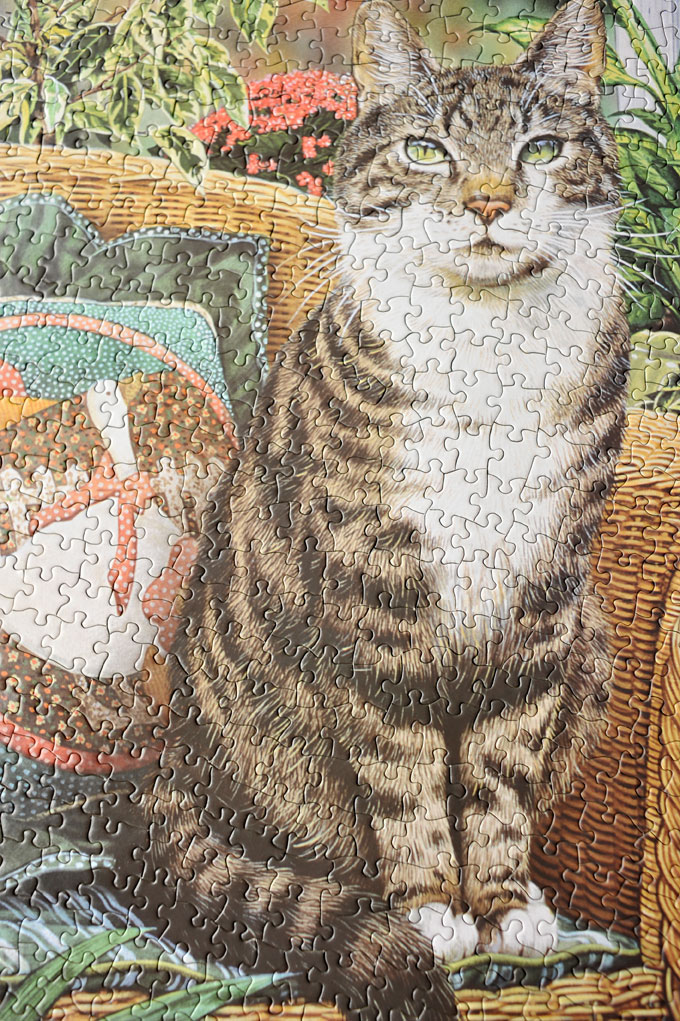 Assembly:
This isn't a difficult puzzle. The cat was the toughest area, but the stripes help. The wicker and the green plants have enough variation in color to be fairly easy to put together. I'd rate this puzzle "easy" overall.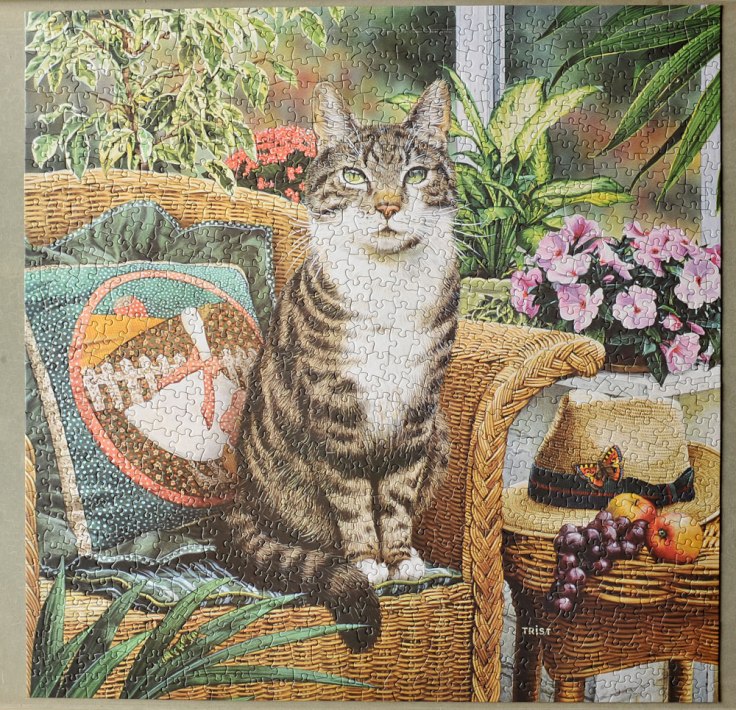 Conclusion:
I quite like the images in Geoffrey Tristram's cat series, and I plan to try more. Masterpieces has done a nice job with them in general, though I could wish for brighter color reproduction.
You can purchase "Cat-Ology: Hemingway" at Puzzle Warehouse
JJ