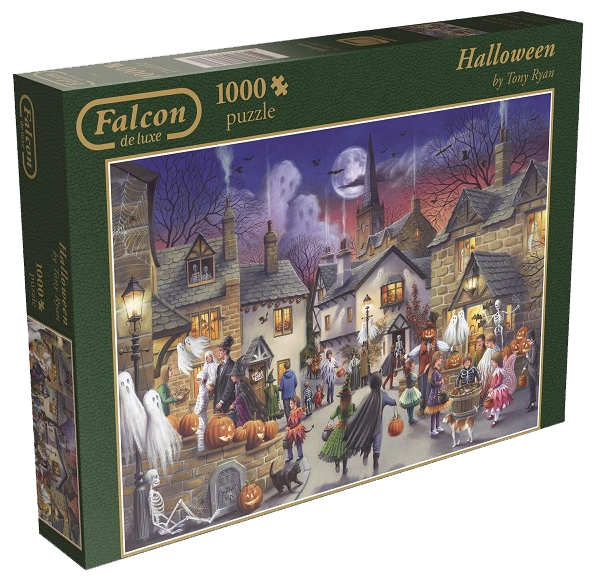 Feature: Halloween Jigsaw Puzzles
I love holiday puzzles, and next to Christmas, my favorite season is Halloween. While there is a veritable cornucopia of Christmas puzzles, the Halloween offerings are much more bare bones–pun intended.
Here are some of the best Halloween puzzles on the market.
NEW RELEASES FOR 2014:
Falcon: "Halloween" by Tony Ryan (1000 pieces)
A lovely English village scene with trick-or-treaters. The colors are nice and not overly dark.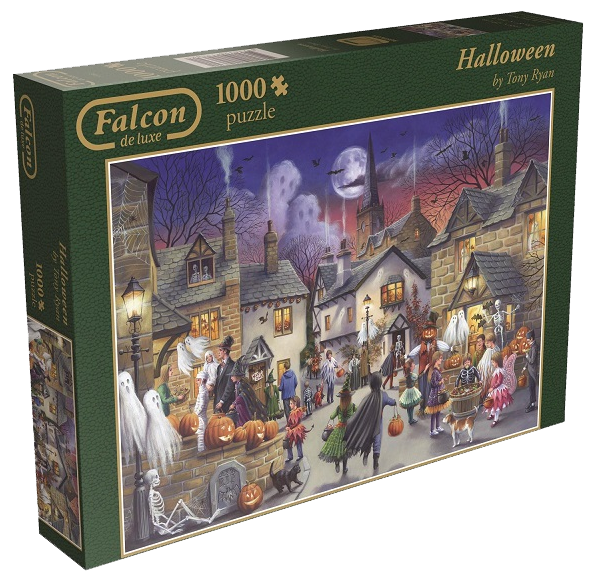 Sunsout: "Monster's Night Out" by Bill Bell (1000 pieces)
It's hard to get more Halloween-y than this cute scene from Bill Bell. The square puzzle format is a nice change as well.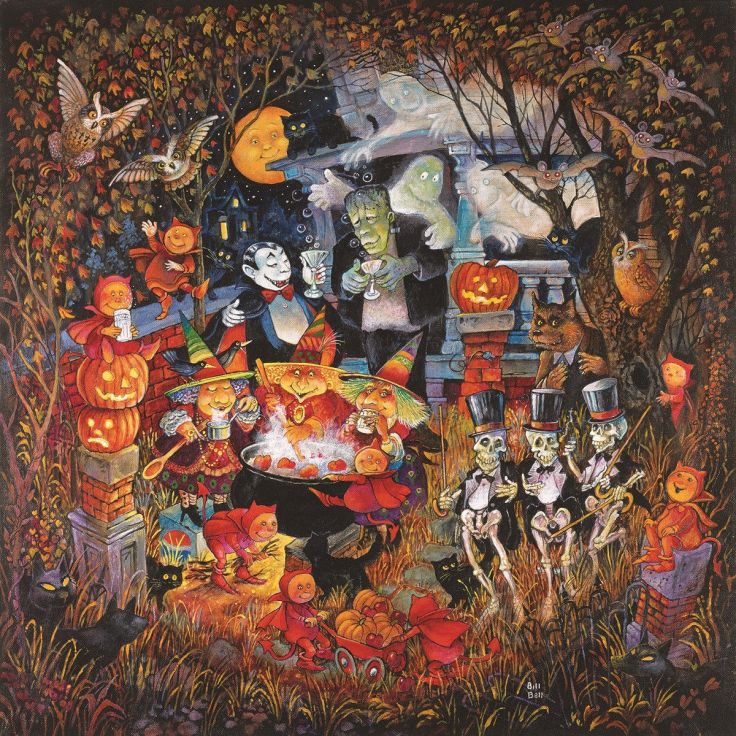 Sunsout: "Uninvited Guest" by Jeff Tift (500 pieces)
This one should be a challenge since it's monotone except for the pumpkins! But the 500 piece count should help. Nice Halloween design.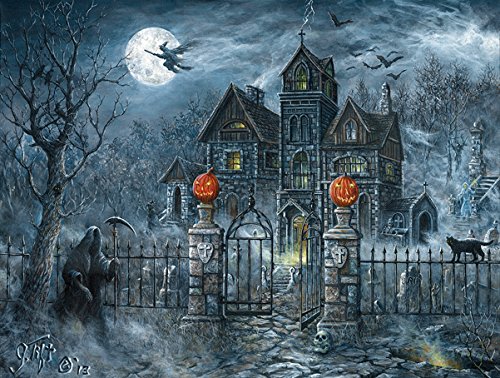 Bits And Pieces: "Zombie Mayhem" by Len Epstein (750 or 300 pieces)
This gets my vote for best new Halloween puzzle this year. It's creepy AND cartoony AND shaped. What's not to love?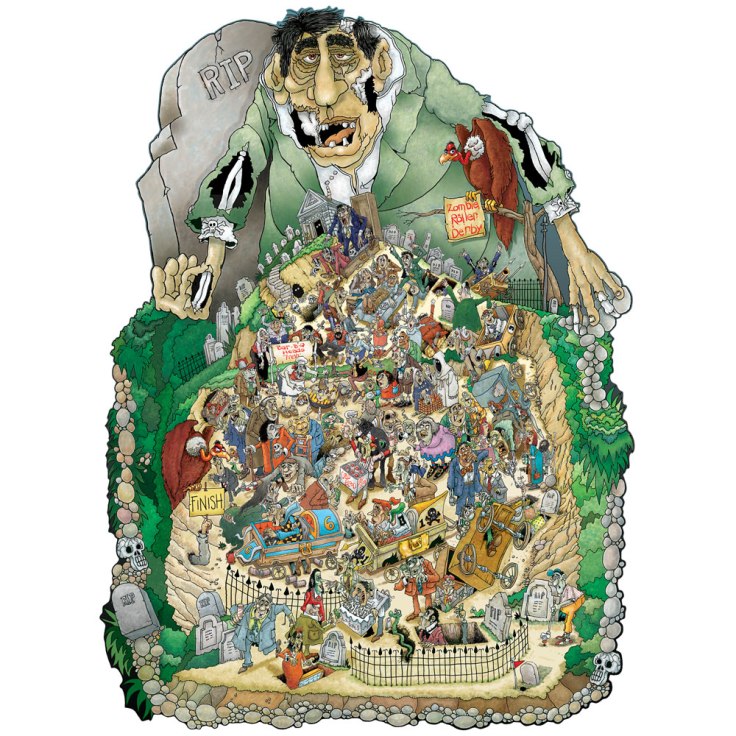 House of Puzzles: "Autumn Green" by Ray Cresswell (1000 pieces)
A gorgeous painted English village during a bonfire celebration. Lovely!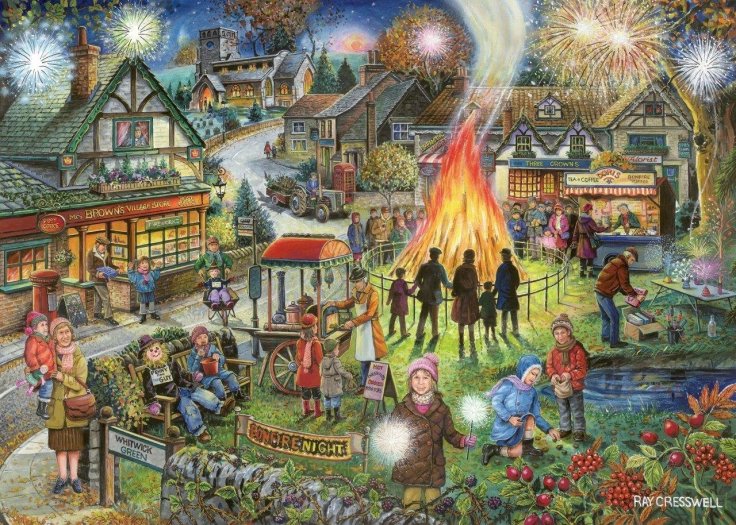 Vermont Christmas Company: "Halloween Cupcakes" by Jodi Rabidoux (1000 pieces)
If you prefer treats to tricks, you might like this cupcake puzzle. Very colorful!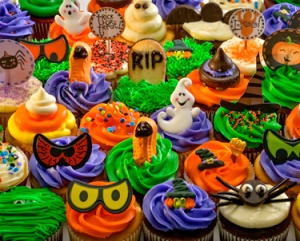 ——————————————–
OLDER PUZZLES STILL IN PRINT:
Heye: "Castle of Horror" by Jean-Jacques Loup (2000 pieces)
I love Heye cartoony puzzle, and this is one of my all-time favorites. It's large and a bit of a challenge, but you'll discover so many fun characters and scenes along the way.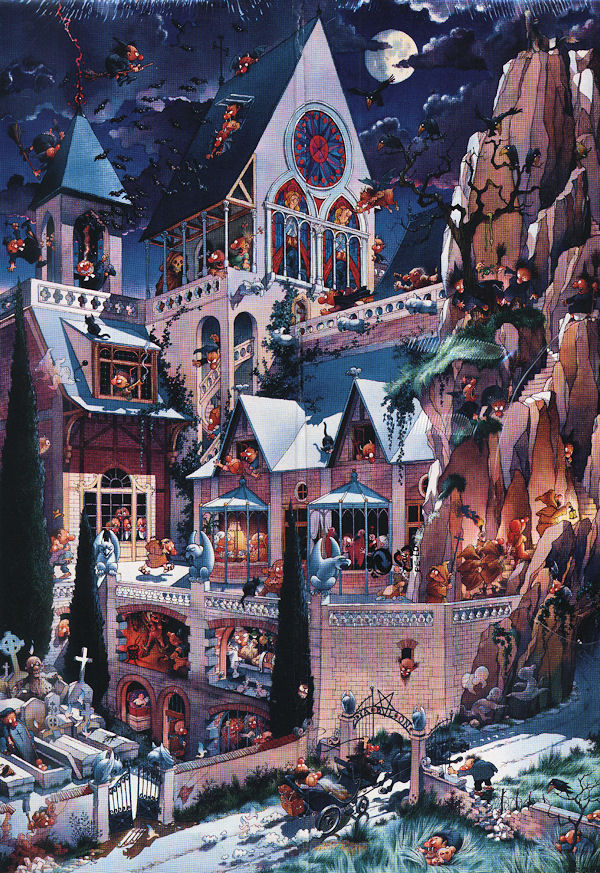 Bits And Pieces: "Witch Way to Halloween" by Kathy Jakobsen (765 or 300 pieces)
Another for the top five all time best Halloween puzzles. This shaped puzzle isn't easy but it's very fun and rewarding. Love the witch shape!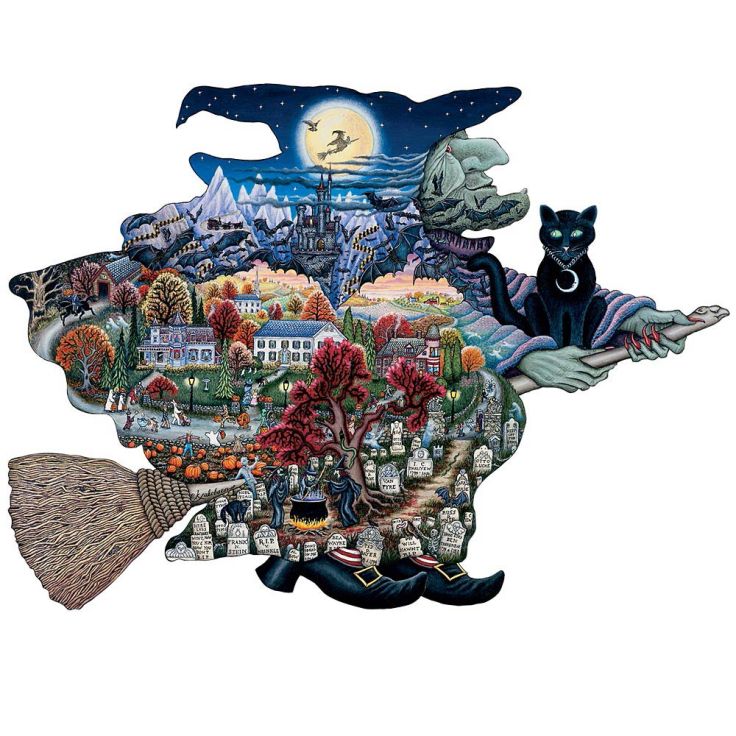 Bits And Pieces: "Halloween Night Flight" by Kathy Jakobsen (750 or 300 pieces)
In the vein of the witch puzzle above (no pun intended) comes this bat-shaped puzzle from Bits and Pieces. Very fun to assemble!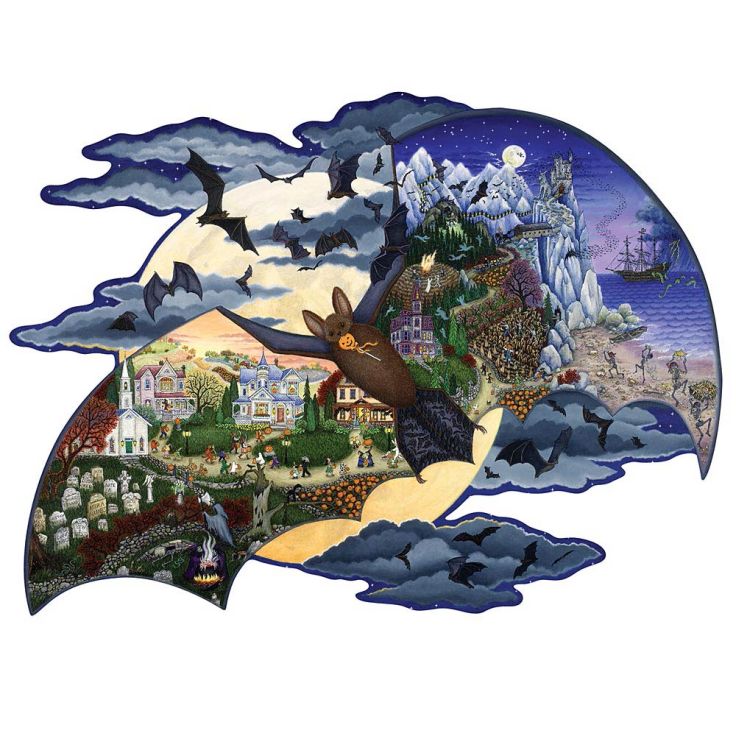 Sunsout: "Friends on Halloween" by Doug Laird (1000 pieces)
A sweet trick or treater puzzle from Doug Laird.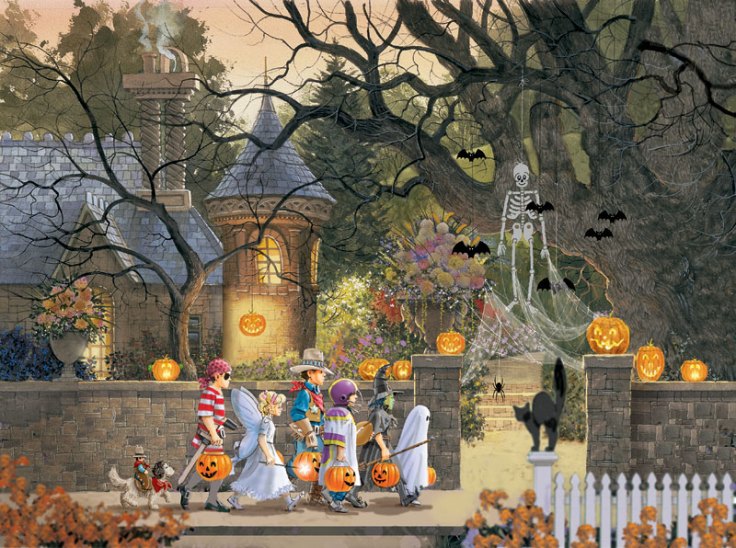 Pomegranate: Edward Gorey puzzles (300-1000 pieces)
If you like your thrills a bit more dignified, try one of the Edward Gorey puzzles from Pomegrante.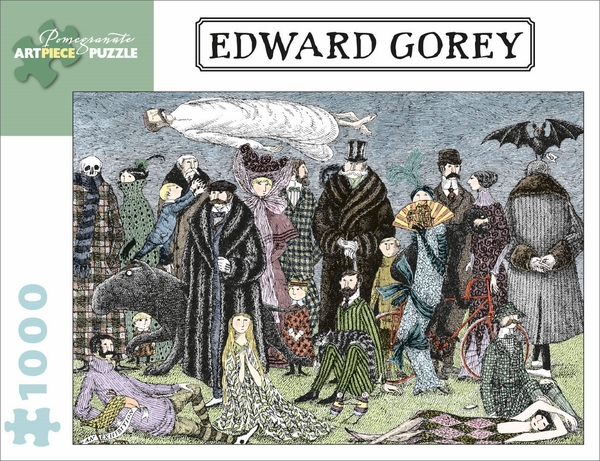 Heye & Educa's Victoria Frances puzzles (500-2000 pieces)
If you're into gothic and/or fantasy images, Victoria Frances is a good bet for the Halloween season. There are a number of her puzzles in print and out of print from Heye and Educa.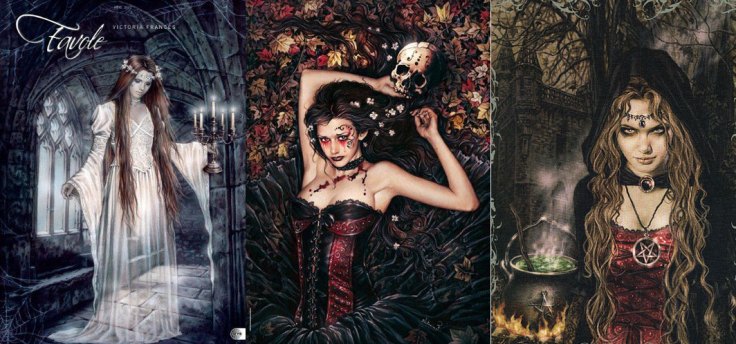 ——————————————–
OLDER PUZZLES OUR OF PRINT:
Heye: "Walpurgis Night" by Hugo Prades (1500 pieces)
A wild witchy scene from Huge Prades. This is one of my favorite Heye puzzles and hard to find.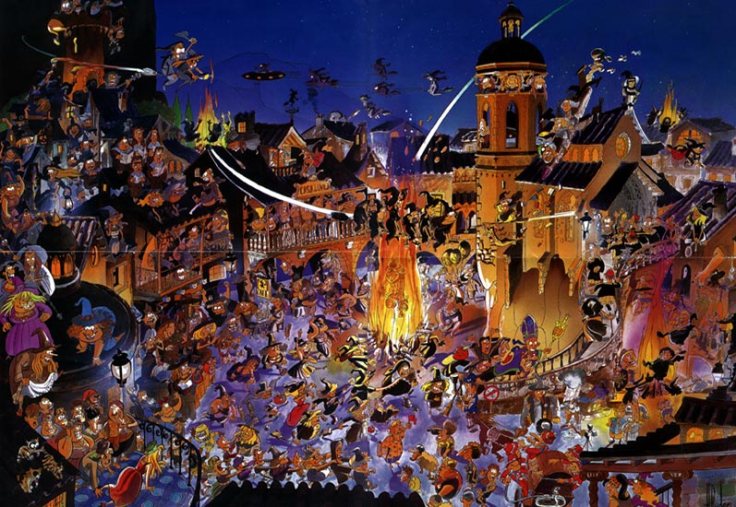 Did I miss your favorite Halloween puzzle? Let me know!
JJ