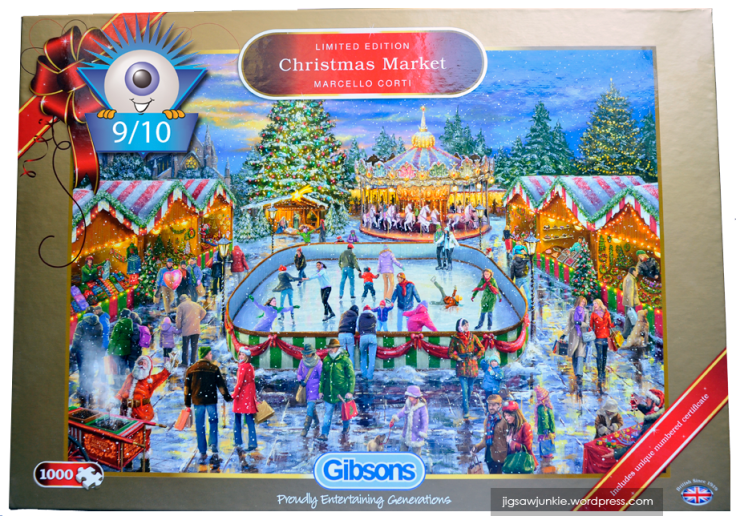 Review: "Christmas Market" limited edition Christmas puzzle by Gibson, 9/10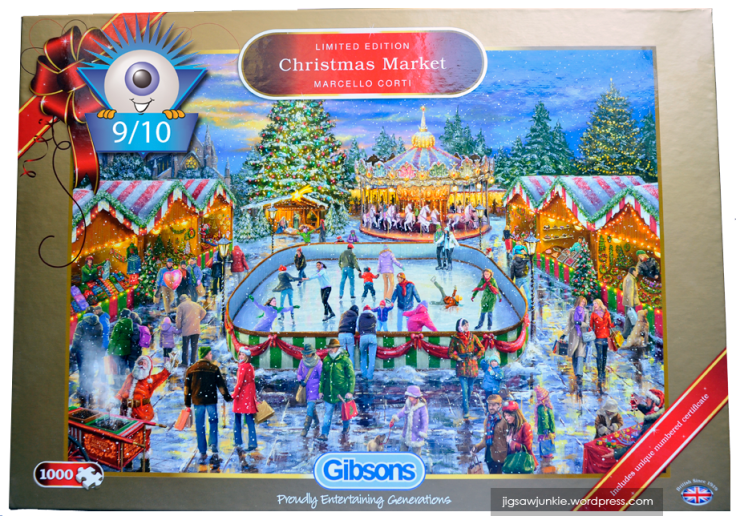 Publisher: Gibson (UK), Released 2014
Title: "Christmas Market" by artist Marcello Corti, 1000 pieces
OUR RATING: 9/10
Gibson ranks quite highly on our puzzle brand comparison. It's a UK brand with lovely thick boxes, sturdy pieces with a waxy finish, and a nice selection of images. Every year they do a limited edition Christmas puzzle and this year's is "Christmas Market".
Their Christmas puzzles are always done by artist Marcello Corti and I quite like the style of them. There's lots of color. The art style is fairly loose and 'brushstroke-y' up close, but the image contains a lot of detail. This particular scene is fun with the lit up booths, the shoppers, carousel, and ice skating rink.
Box Quality:
As always with Gibson, the box is keepsake-worthy– heavy-duty with a lovely design. All of their Christmas puzzles come in a gold box like this one, which makes for a nice display of the set on the shelf. The back of the box has another image of the puzzle and information on the company, artist, and this image. Nice!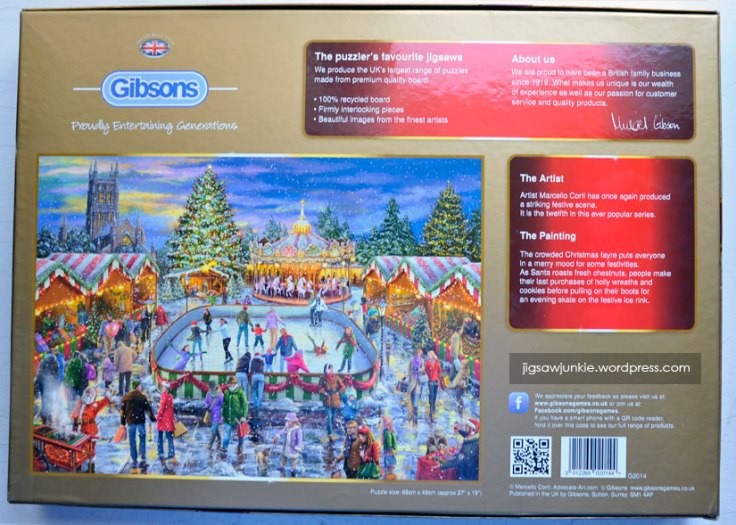 Certificate:
The puzzle comes with a certificate showing its limited edition number. Unfortunately, the certificate in my box got this crumpled just from being in the box (presumably when the heavy puzzle bag moved around inside). Perhaps a heavier-grade paper or something could solve this problem.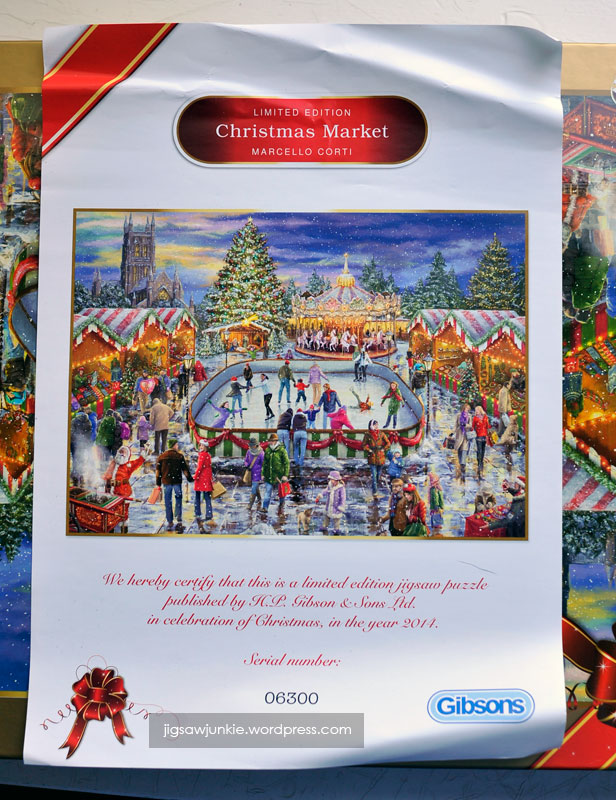 Puzzle Quality:
This puzzle is typical solid Gibson quality. The puzzle pieces feel thick and there's a waxy sort of finish to them which makes them fun to handle. The cut is a standard grid type with a lot of two-knob, two-hole pieces. As is typical with Gibson, there can be confusion over whether a piece fits in a particular location or not. In the case of this puzzle I only had difficulty in two areas — both of them Christmas trees near the sky, where the pattern on many pieces was so close that it took me a bit of figure out the right order. Some people may enjoy this challenge. I personally don't think it's great puzzle design, but I don't mind it if the areas with this issue aren't too large, and they aren't in this puzzle.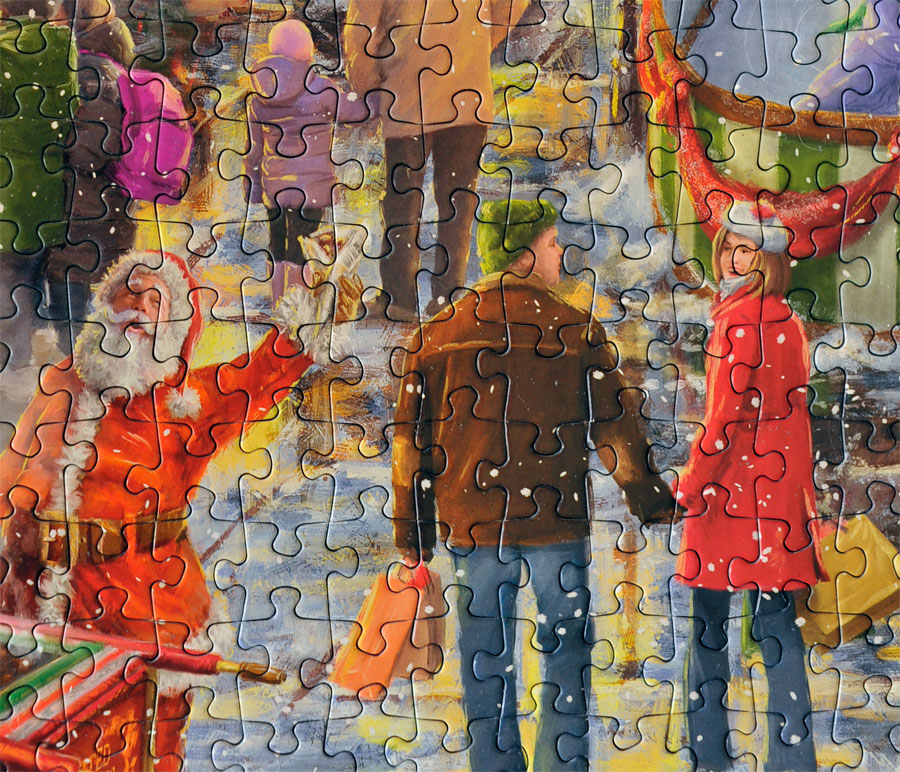 Assembly:
There are plenty of colors and patterns in this image which make it reasonably easy and fun to assemble. The sheen and reflection on the ground is particularly nice.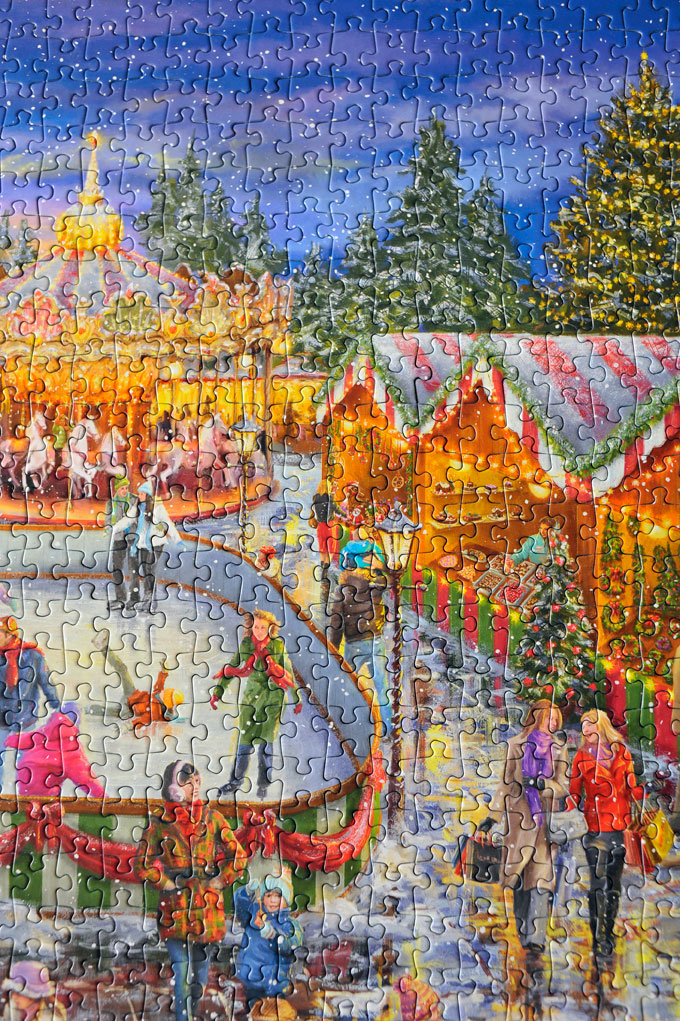 I really had no hiccups until, as I mentioned above, a few areas of trees/sky that were a bit tricky due to Gibson pieces tendency to fit multiple places. Overall I'd rate this puzzle as medium difficulty.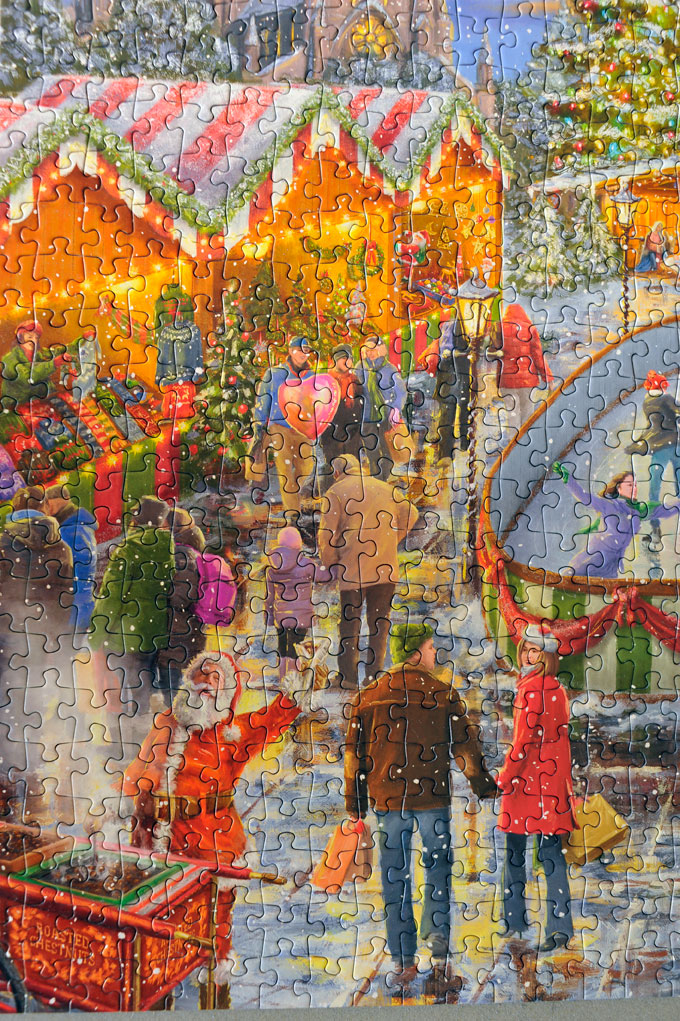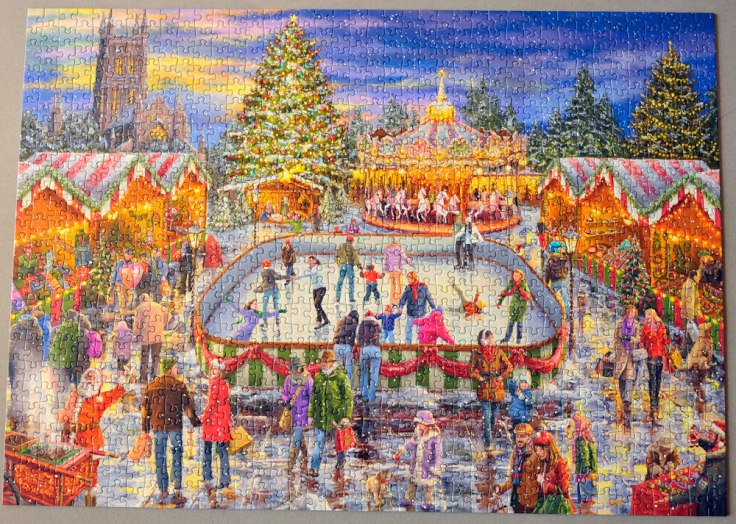 Conclusion:
Another beautiful, keepsake Christmas puzzle from Gibson. Very much recommended. Enjoy!
JJ