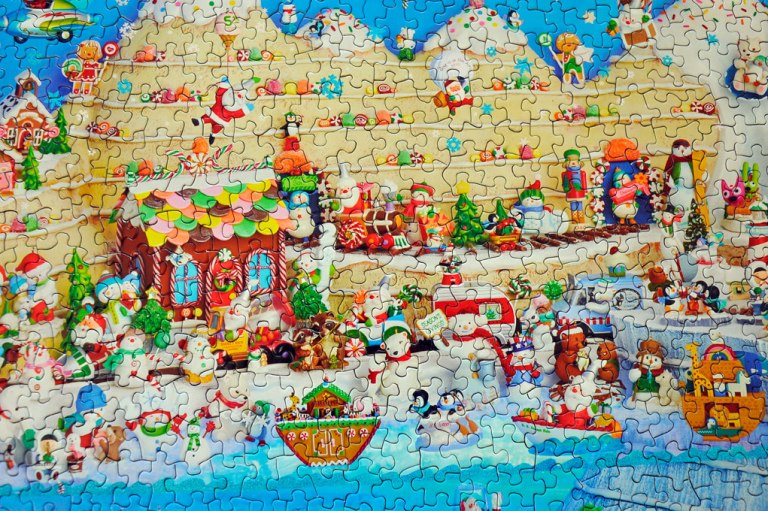 Review: "Ornamental Wonderland" by Springbok 8/10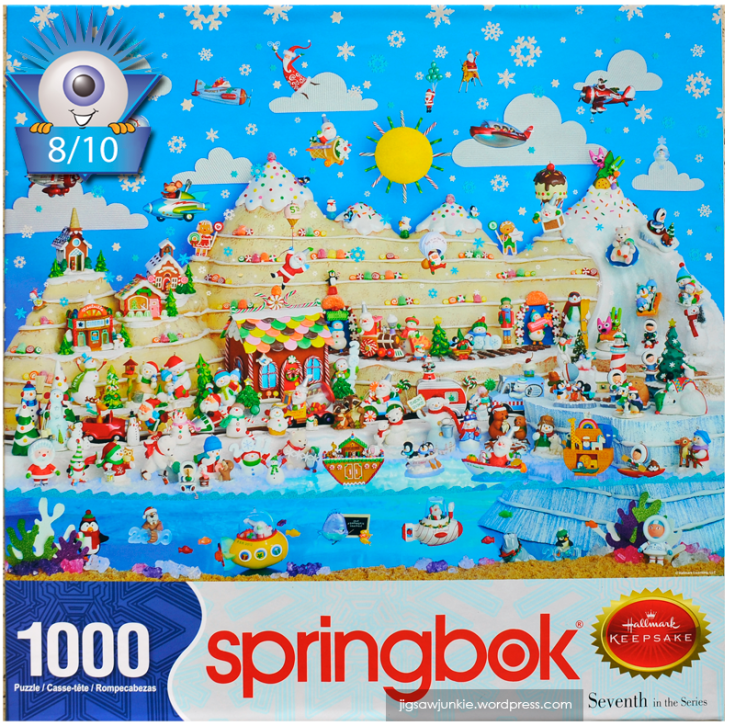 Publisher: Springbok (US), Released 2014
Title: "Ornamental Wonderland" by artist Tammy Haddix 1000 pieces
OUR RATING: 8/10
This is a brand new puzzle by Springbok, released for Christmas 2014. It's nice to see that the latest quality of Springbok is really quite high.
Box Quality:
Let's start with the box. It's a very sturdy box, both top and bottom, with a nice design on the front (above). I particularly loved the back, which has information on the artist and this puzzle series. The series features Hallmark ornaments and this is puzzle is #7 (though it's the first one I've done).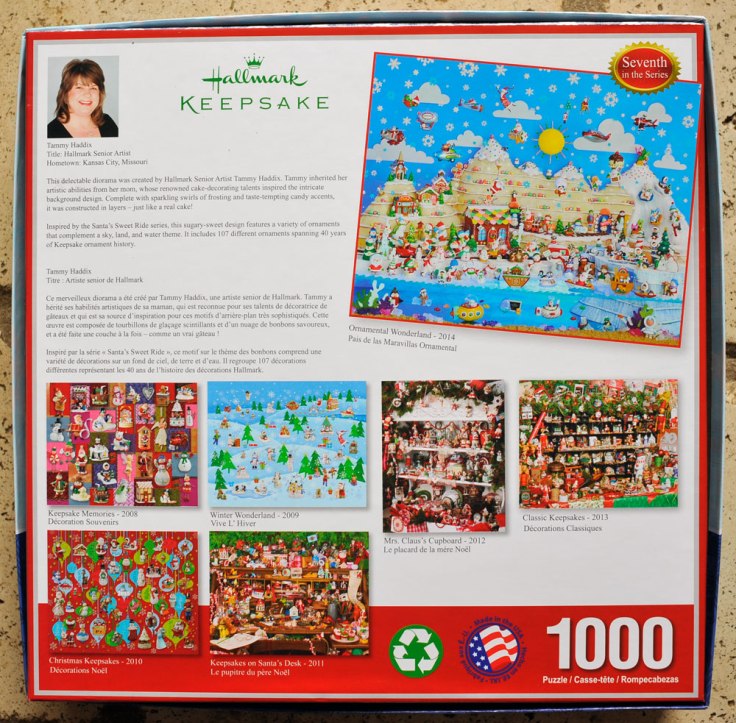 The side of the box is designed nicely for shelving vertically, with both the name and image of the puzzle prominent. In addition, I loved the snowflake design they printed on the inside of the box lid–quite a nice touch.

The Image:
This is a photo collage type image featuring dozens of Hallmark ornaments in a fantasy wonderland. There are a ton of small details and bright colors. The snowflakes, cloud patterns, and ornaments in the 'sky' prevent it from being a large area with the exact same color.
Puzzle Quality:
The puzzle quality is quite good. As in my review of Springbok's "Feathered Retreat", I found the puzzle pieces quite thick and the fit very tight. I like the usual cut of Springbok puzzles, which makes for a bit more challenge than the standard grid cut of many European brands like Ravensburger. The image reproductiuon, as you can see in the close-up below, is quite crisp and colorful. There was very little puzzle dust. I never had any question whether a piece really fit somewhere or not.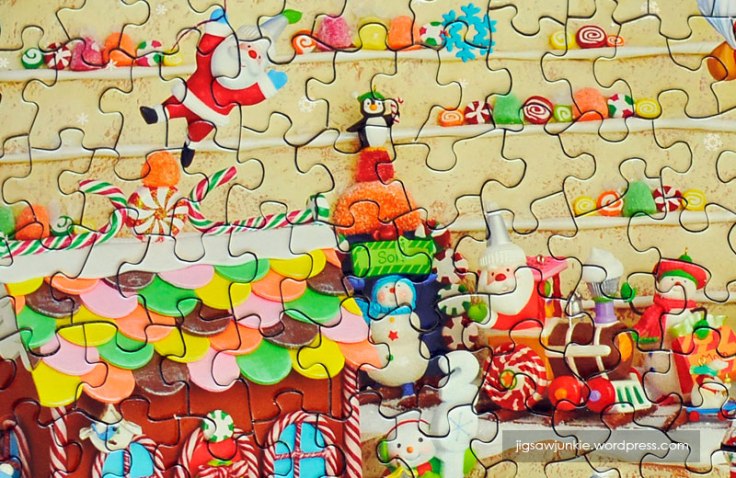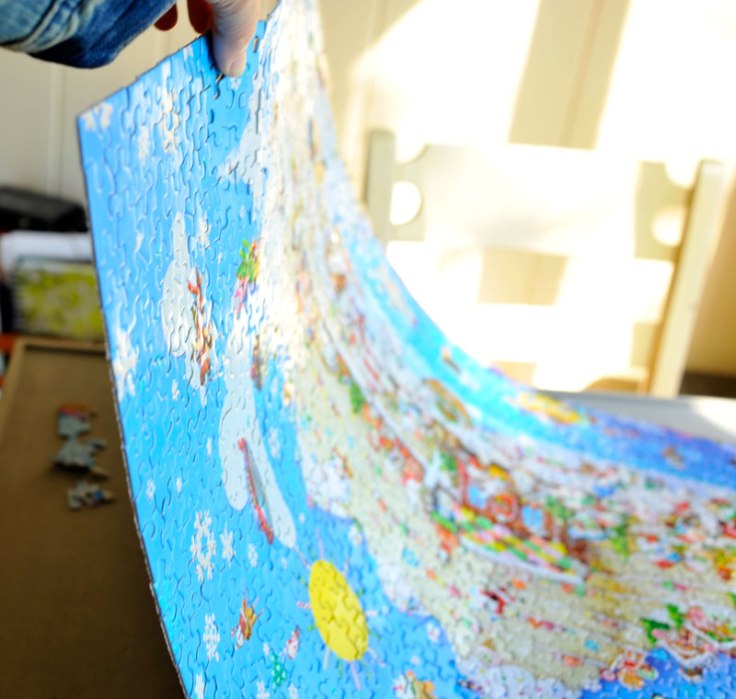 Above: The piece fit is tight enough to lift the puzzle without it breaking apart.
Assembly:
I'd rate this puzzle medium difficulty only due to the level of detail. There are a lot of white ornaments, so you need to focus on the colored scarves and other details of each ornament. However, I liked the general design. There are 3 distinct areas–the sky, 'cake mountain' and 'water' all have distinctive backgrounds. In addition, on the 'cake mountain', no two short rows of candies are alike, so you can match them to the box top easily. Overall a fun and not overly frustrating puzzle to assemble. Clearly a lot of thought went into the image layout.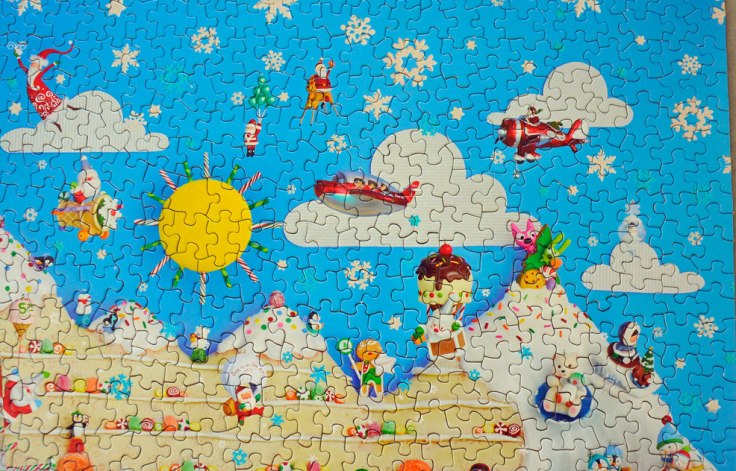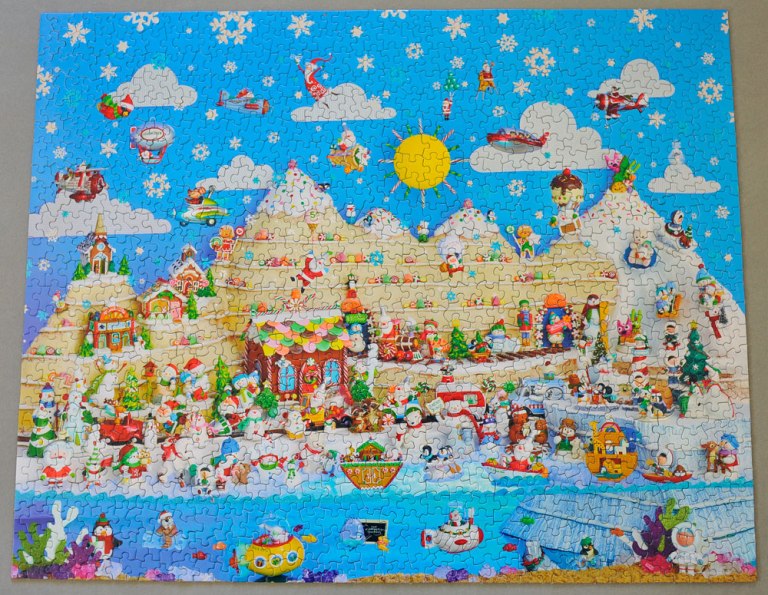 Conclusion:
A very high quality puzzle and nice keepsake if you are a fan of Springbok or Hallmark ornaments. I didn't rate the puzzle a 9 or 10 only because I'm not a collector of Hallmark ornaments so the image was not particularly drool-worthy for me. But if you like Hallmark ornaments, you have to have this. If you don't, it's still a very good high-detail puzzle.
JJ