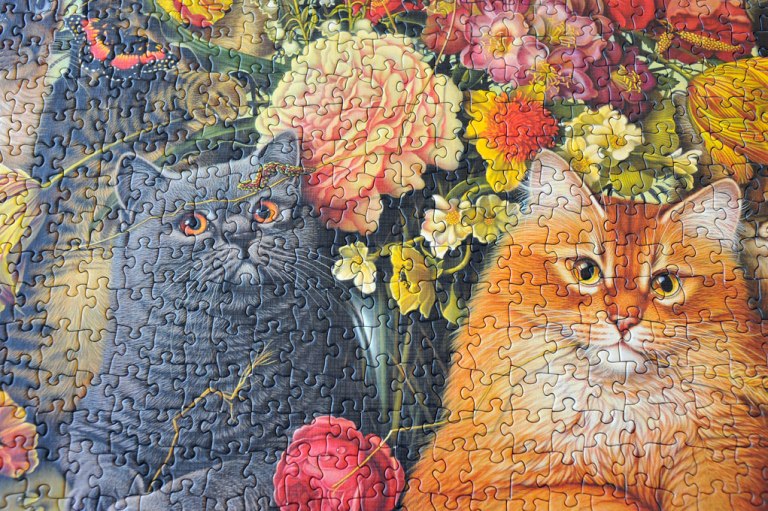 Review: "Boucat" by Cobble Hill 9/10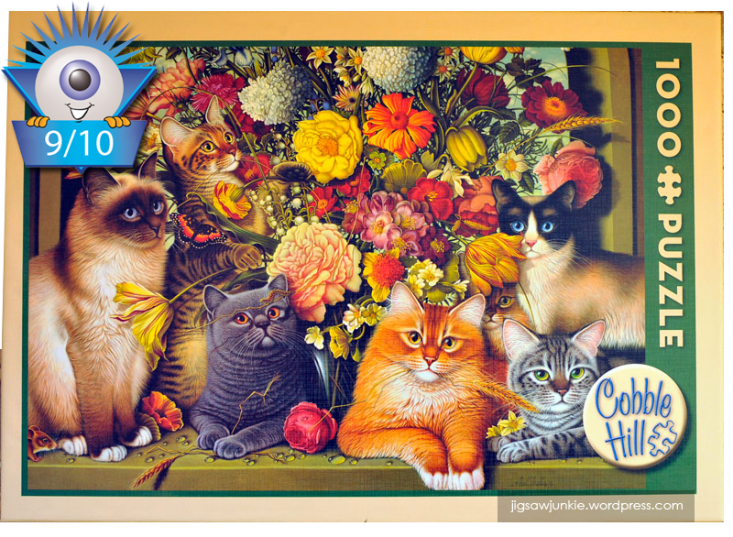 Publisher: Cobble Hill (Canada), no date on box
Title: "Boucat" by artist Braldt Bralds, 1000 pieces
OUR RATING: 9/10
This is a gorgeous puzzle with a wonderful image by Braldt Bralds.
Box Quality:
The Cobble Hill box is very nice. It's rectangular in shape and similar in size to Ravensburger puzzle boxes. It's very sturdy and has a nice linen texture finish. The front of the box is shown above. All Cobble Hill boxes have this green-and-cream box style. The back of the box has standard info about the Cobble Hill puzzle company.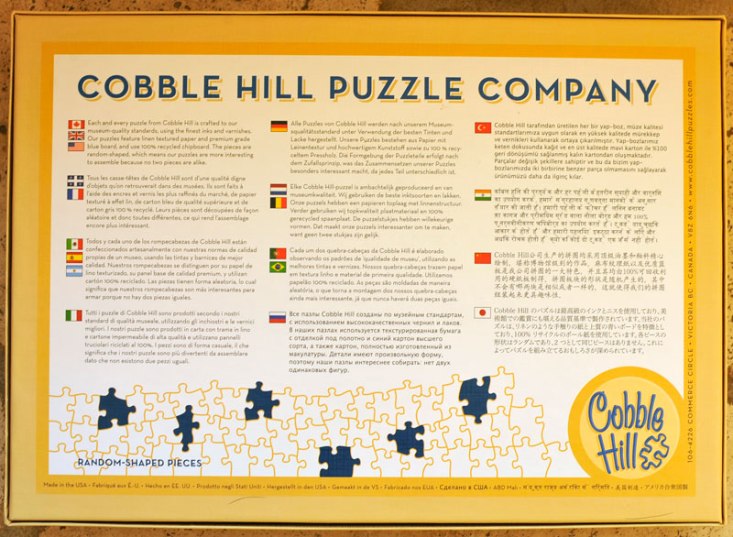 The sides of the box offer various shelving options that show the Cobble Hill logo, a photo of the puzzle, and the puzzle name and artist.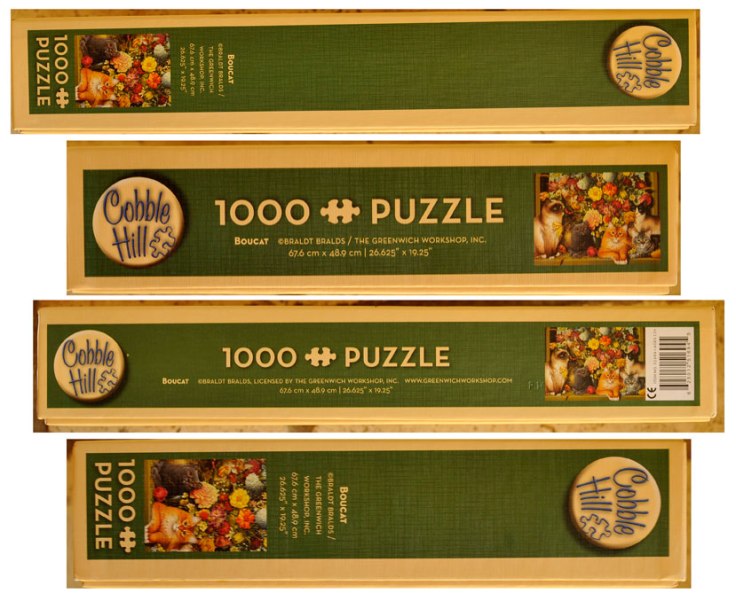 The Image:
This image of cats-and-flowers is ideal for a puzzle. There's a lot of detail in the various flowers and each cat has a different color fur and eyes. I love the refined art style. I wish there were more puzzle available from this artist, Braldt Bralds. I've googled his artwork and quite like it.
Puzzle Quality:
I will be doing a Cobble Hill page for our Brand Comparison soon. This was my first Cobble Hill puzzle, but it won't be my last. The quality is quite good. From the very nice box, to thick pieces, and lovely image reproduction, this puzzle brand is solid. There was very little puzzle dust, and I never had any question whether a piece really fit somewhere or not. The piece cut is a not-quite-standard grid cut with a wide variety of piece shapes, as you can see in the detail close-ups below.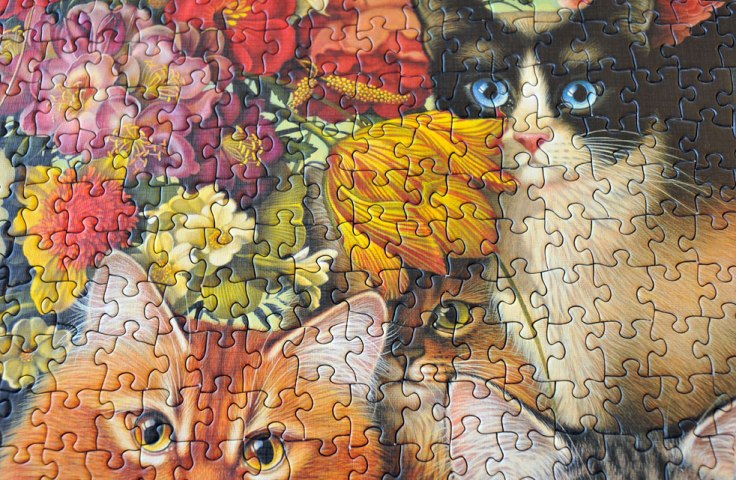 The piece fit is not particularly tight, and you cannot lift sections of the puzzle without the pieces falling apart, so care must be used when moving sections around. But the final 'fit' is smooth and looks attractive.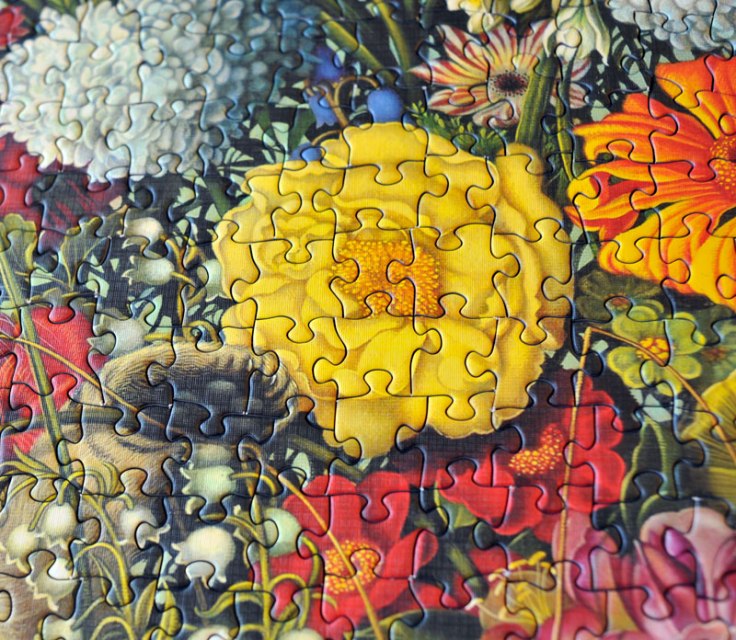 Assembly:
I'd rate this puzzle medium difficulty only due to the level of detail and need to reference the box lid image. But really, each cat's fur has a distinct color/texture, and the flowers are also pretty distinctive, so it's enjoyable and fairly quick puzzle to assemble.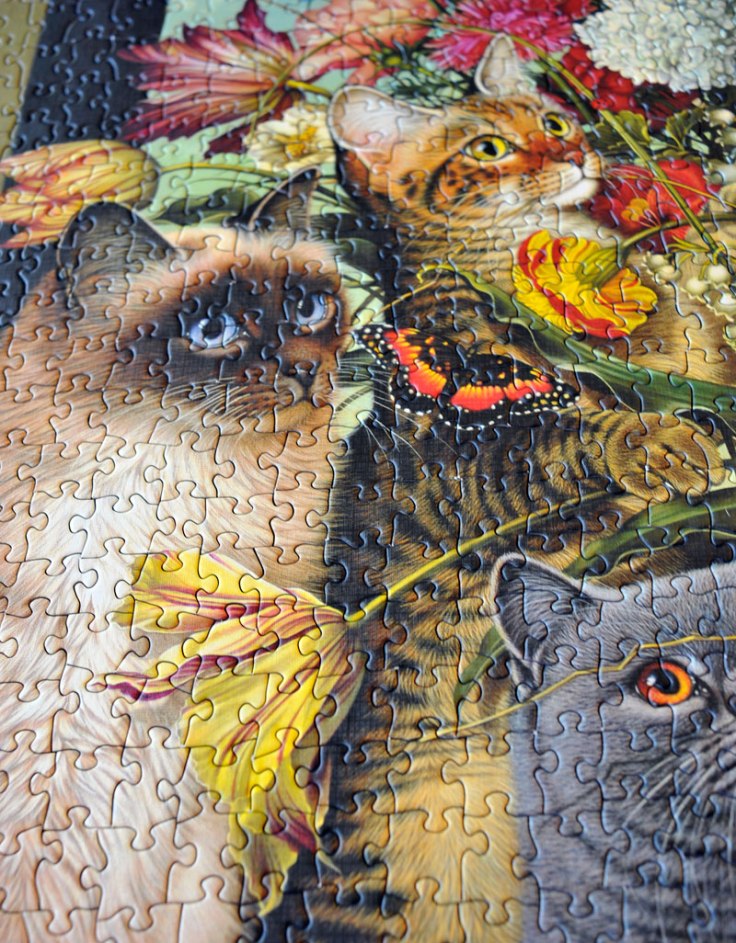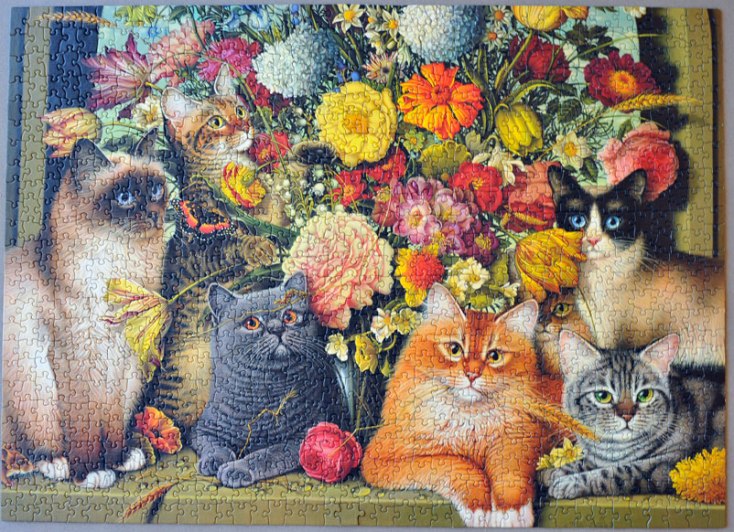 Conclusion:
This is a nice puzzle to try if you've never worked a Cobble Hill puzzle before, or if you are a fan of cats in puzzles. Recommended.
You can purchase "Boucat" at Puzzle Warehouse
JJ