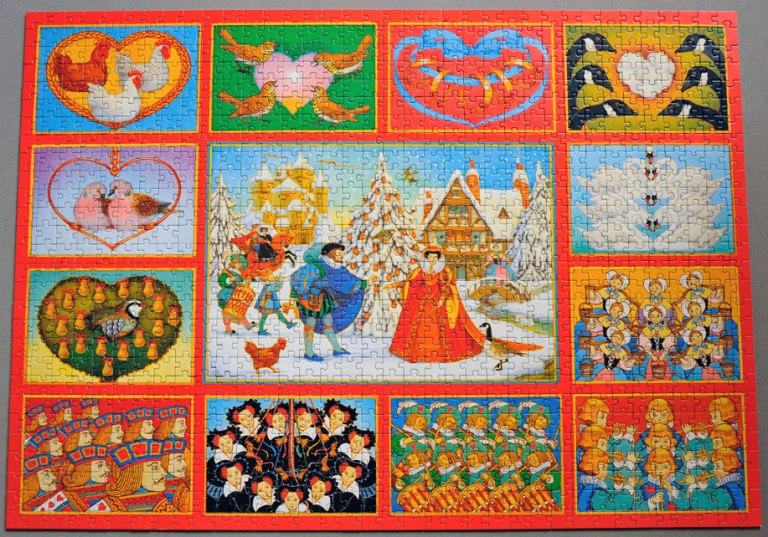 Review: "Twelve Days of Christmas" Ravensburger 1998 Limited Edition Christmas Puzzle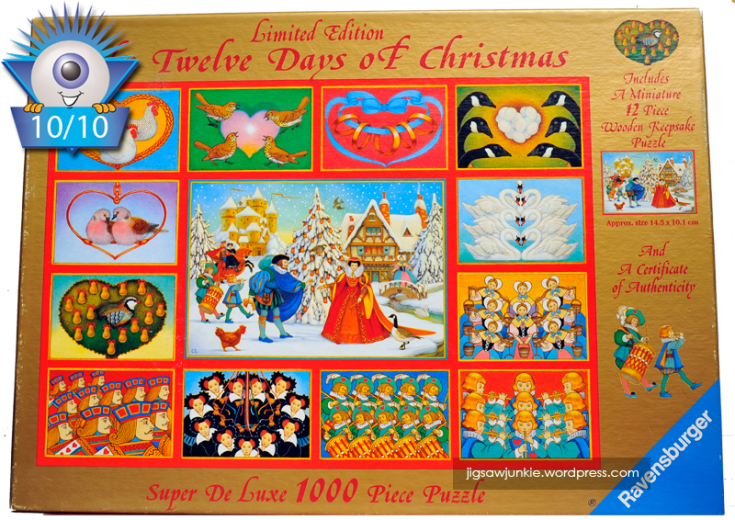 Publisher: Ravensburger (Germany), 1998
Title: "Twelve Days of Christmas" limited edition Christmas puzzle No 2, by artist Carol Lawson 1000 pieces
OUR RATING: 10/10
This is one of my favorites in the limited edition Christmas series by Ravensburger and I was thrilled to find a good copy of it.
Box Quality:
The box is wonderful, with a special design about the limited edition on the back, side (below) and front (above).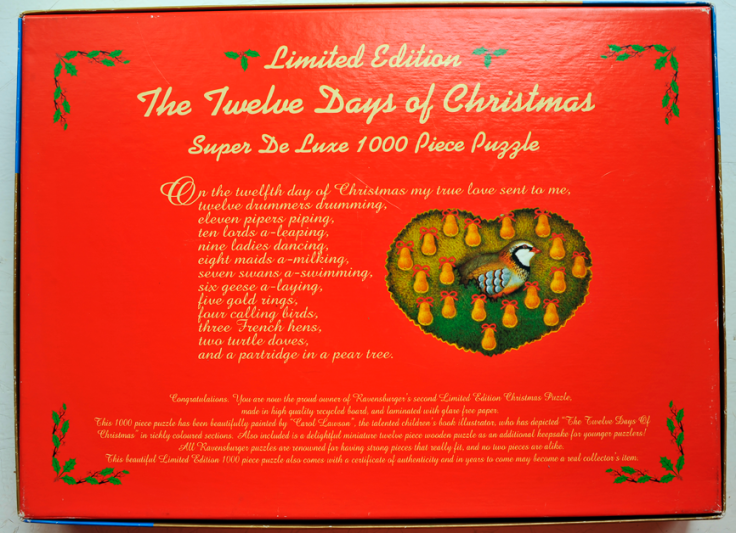 Inside the box is a certificate of authenticity and a little wooden postcard sized puzzle which you can giveaway or keep.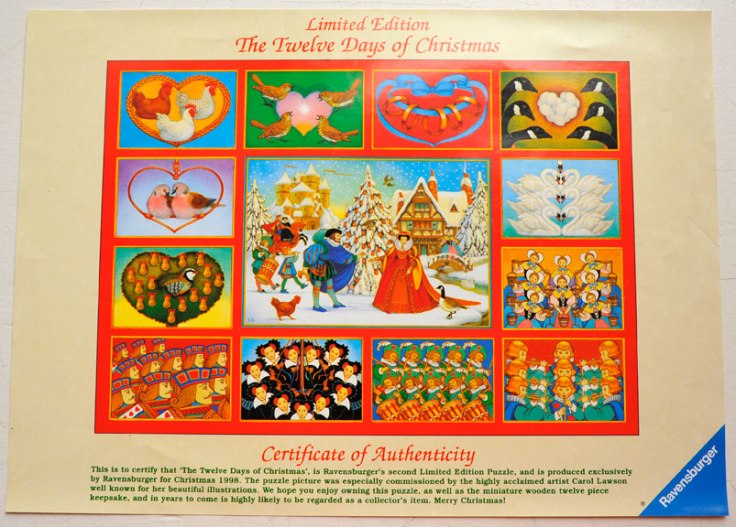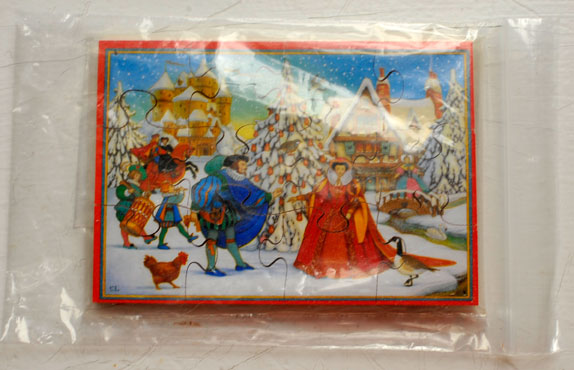 The Image:
I really love this image. It's colorful and the individual little squares make it a super fast puzzle to assemble. I like the simple but polished art style.
Puzzle Quality:
Ravensburger ranked at the top of our brand comparison. So for this puzzle, let me just say that the fact that it was made in 1998 in no way affects the quality. The pieces feel as sturdy and bright as a new puzzle, and there was no odor or any sign of degrading of quality. Yay! As usual with Ravensburger, the pieces feel thick and the interlock is very satisfying. As you can see in the image below, the pieces are cut on a grid but have a nice variety of shapes. The image reproduction is top-notch with good colors and clarity. (Click on any photos in this review for close-ups.)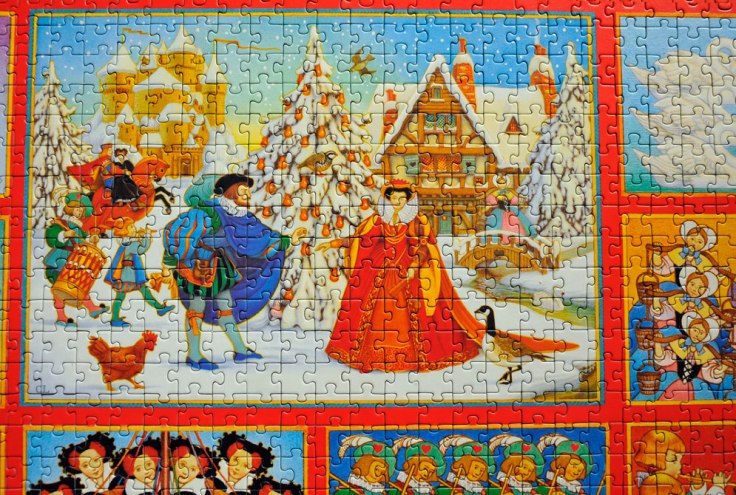 The piece fit is not as tight as Springbok, but it's tight enough to be able to pick up a corner of the completed puzzle and lift it without it falling apart (or falling apart when you try to move completed sections).
Assembly:
This puzzle is very easy. In fact, if you don't often do 1000 piece puzzles, this is a good one for you. Each little square has unique colors, so it's very easy to pull the pieces for that area, and then it's like a mini puzzle to assemble it. The border was the only part of the puzzle that I'd say was more medium difficulty. I wouldn't want to do a puzzle this easy every time, but as a colorful holiday treat, I quite enjoyed it.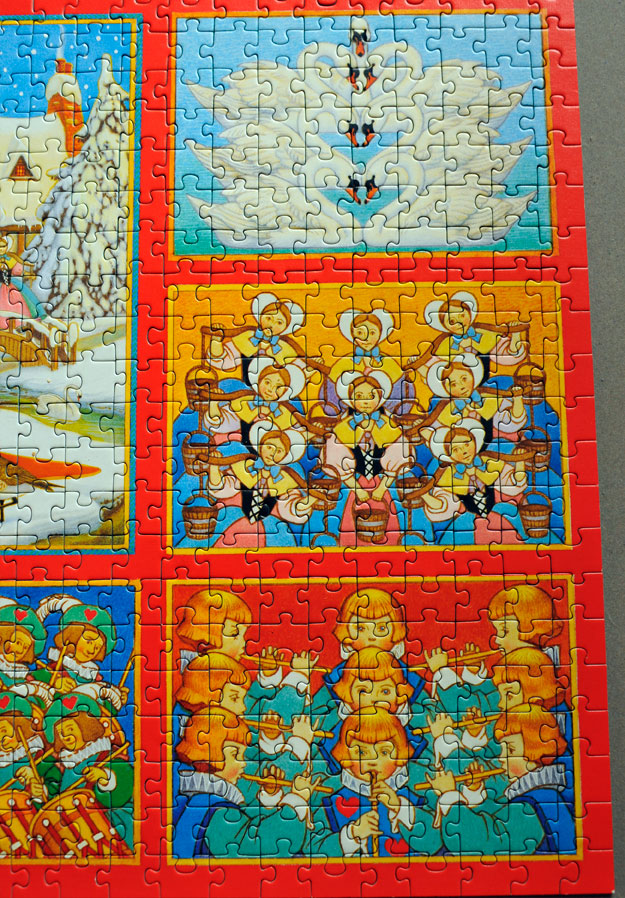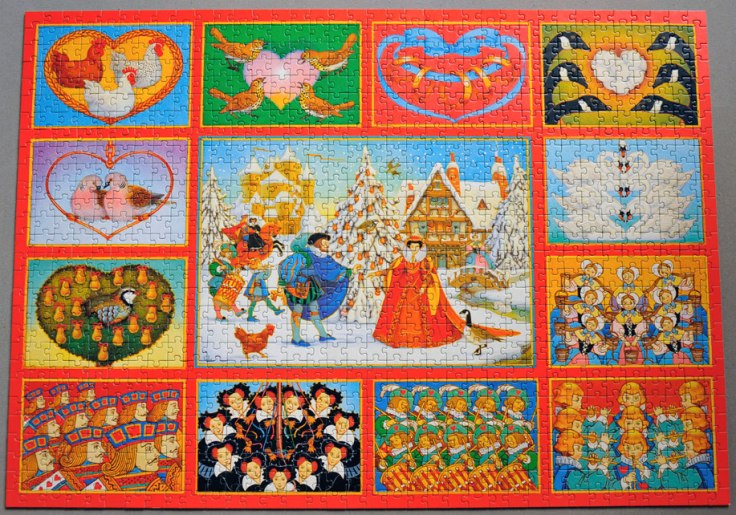 Conclusion:
One of the best of the Ravensburger limited edition Christmas puzzles! Worth it! Recommended to put together and collect as a keepsake.
You can find other Christmas Themed Jigsaw Puzzles here.
JJ