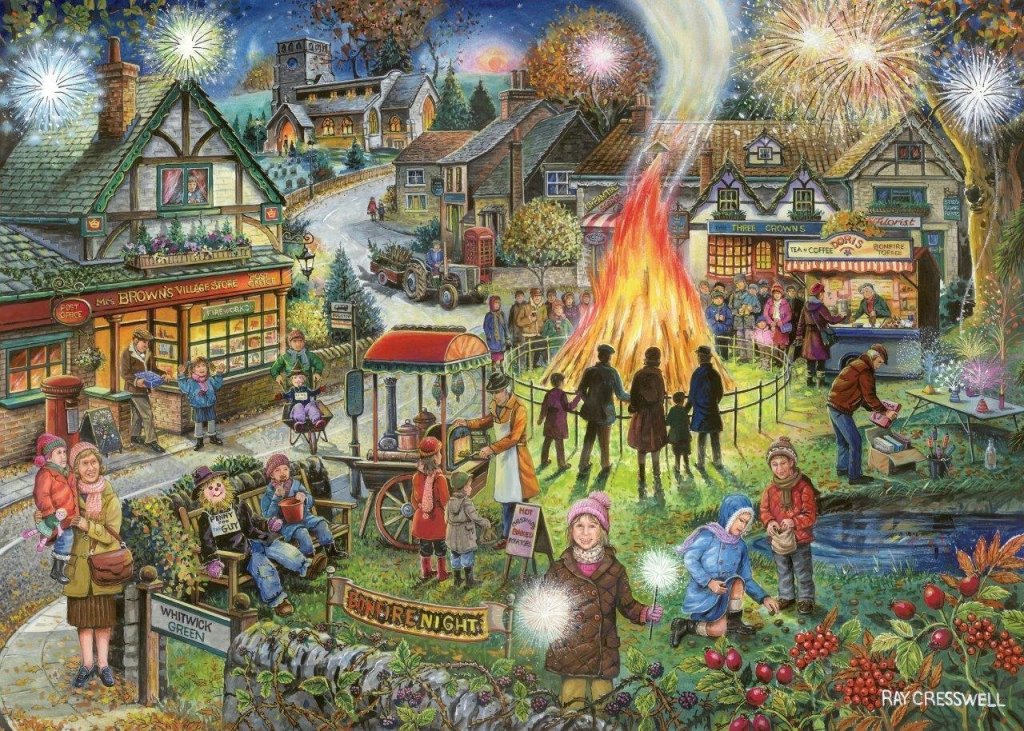 Review: "Autumn Green" by House of Puzzles — 9/10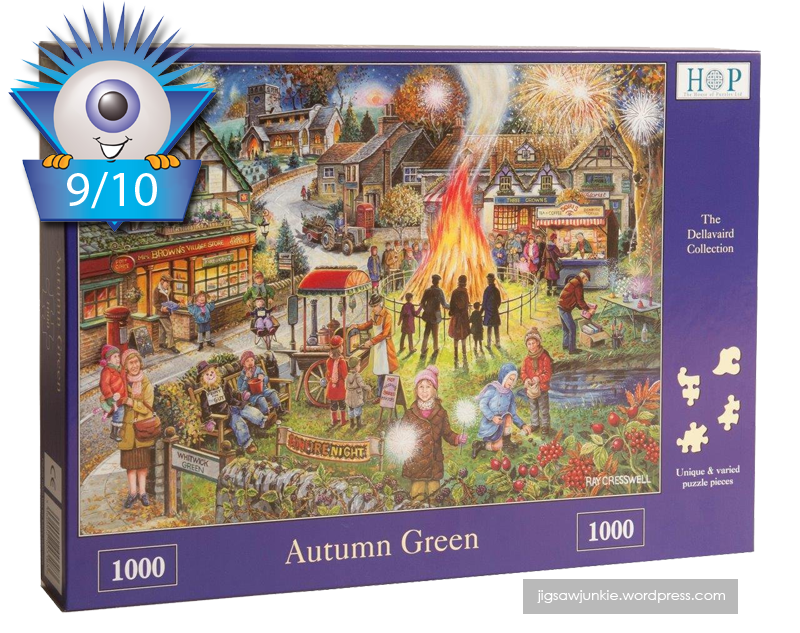 Publisher: House of Puzzles (Scotland), 2014, 1000 pieces
Title: "Autumn Green" Artists: artist Ray Cresswell and puzzle designer Audray McNaught
OUR RATING: 9/10
Box Quality:
The box has an attractive front cover design and a blank bottom. As with all House of Puzzles puzzles, inside the box is the bag of puzzle pieces and a large large full-color brochure of this season's releases (The Dellavaird Collection).
The Image:
Of the twelve puzzles HOP released this past July, this is my favorite. I'm a real fan of artist Ray Cresswell. His images always contain a lot of color and detail and feel very "British cozy". (Also check out my interview with HOP puzzle designer Audray McNaught who designs all the puzzles for HOP).
I love this nighttime scene with the bonfire and all the fireworks in the village square. It feels very festive and fall like. Fortunately, the puzzle itself does not disappoint. As you can see from the completed puzzle below, the colors are vivid and the details are sharp. (click for close-up).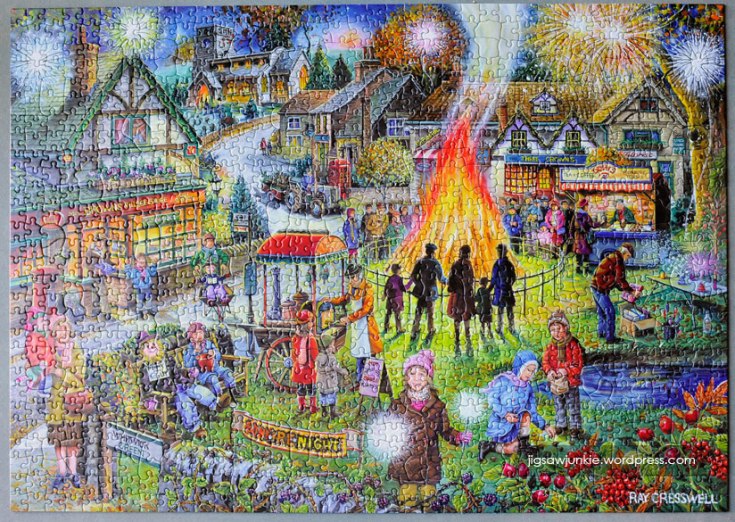 Puzzle Quality:
House of Puzzles ranked highly in our brand comparison and is one of my favorite brands. Their pieces are not quite as thick as Ravensburgers, but they are very close. I particularly love their unusual piece cut, which isn't like any other puzzle company. They have very unusual piece shapes, some with no knobs or holes at all, as you see in the 'fireworks' sign below. I really enjoy the little extra something this adds to a puzzle and it's a nice change from grid-based puzzles like Ravensburger and Gibson.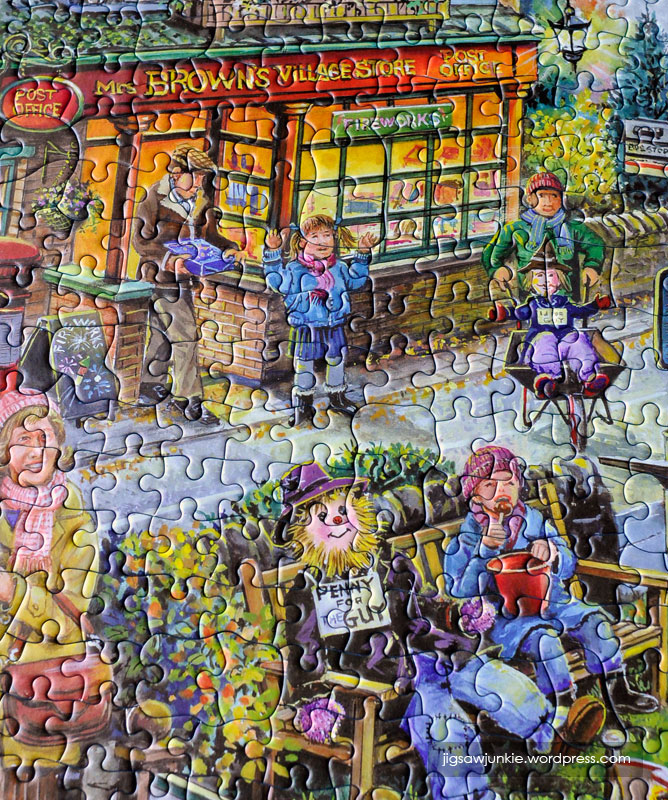 Assembly:
This puzzle is of easy to medium difficulty. With all of these colors and patterns, there's no one area where the assembly gets tedious. The pieces never seem to fit where they don't belong. And it was fun to work the puzzle and see the small details emerge.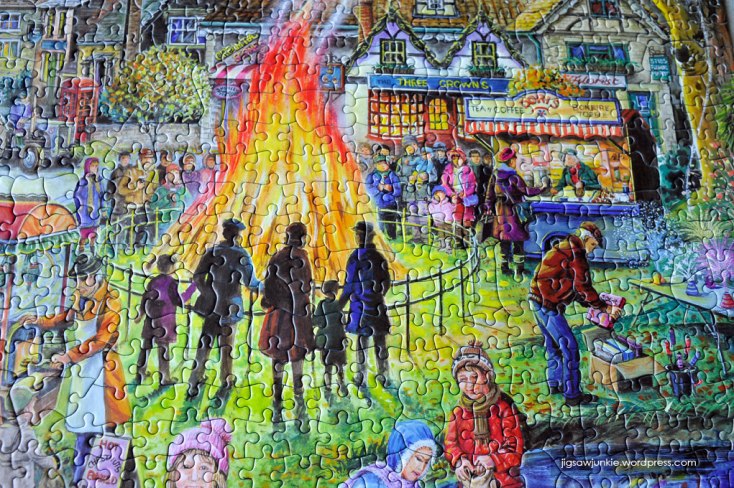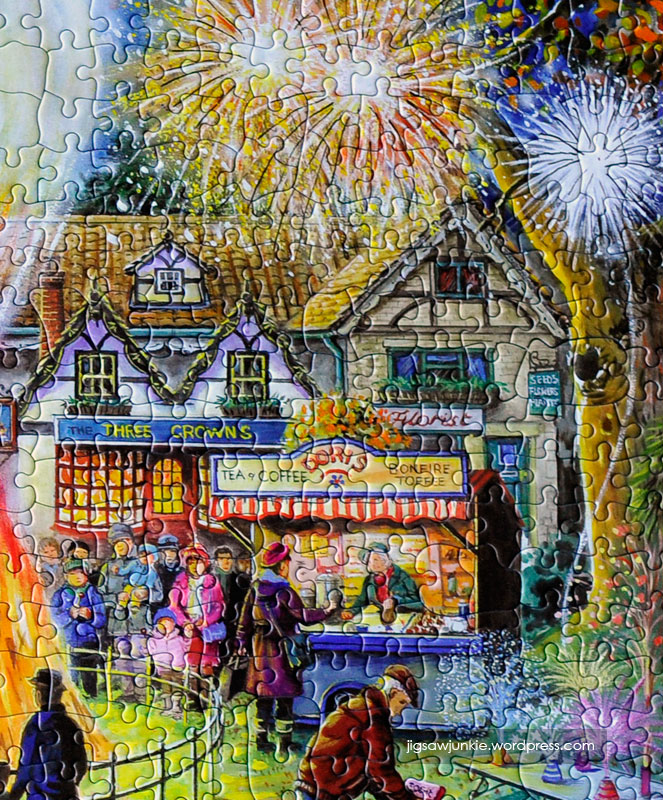 Conclusion:
This is one of my favorites of the new fall puzzles. It's an unusual theme, a high-quality puzzle, and fun to assemble. Reccomended!
JJ