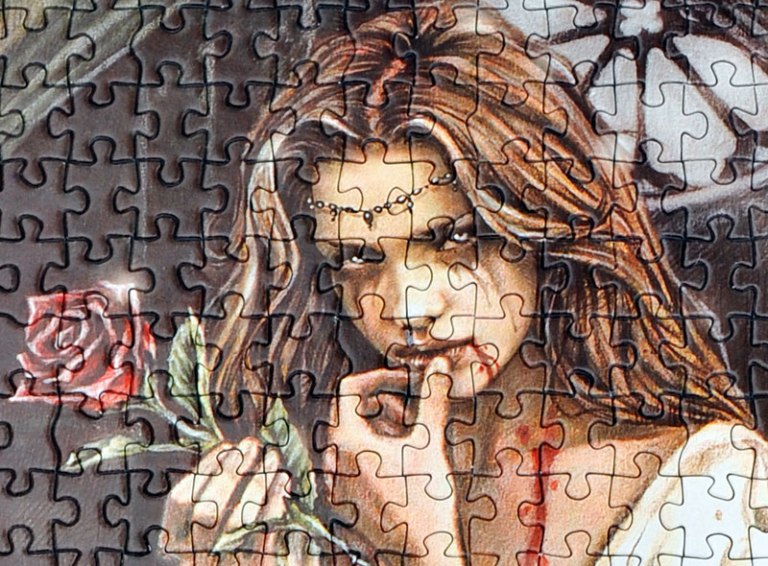 Review: "Guardian Angel" by Educa, 7/10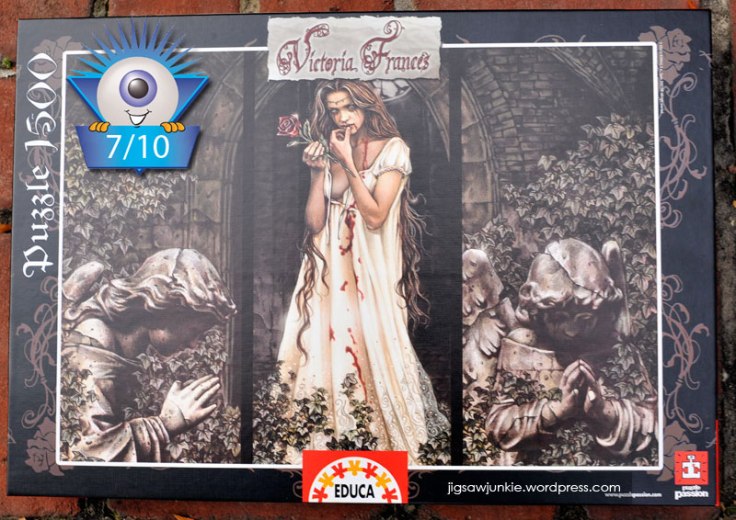 Publisher: Educa (Spain), 2007/2008, 1500 pieces
Title: "Guardian Angel" Artists: Victoria Frances
OUR RATING: 7/10
I picked this puzzle out to start on Halloween night. I've never done a Victoria Frances puzzle before, or really any puzzle this gothic or fantasy in image design. So how was it?
Box Quality:
I really like the Educa box. All their boxes have a black background and the white and red look quite nice on this backdrop. The back of the box has general information about the Educa line.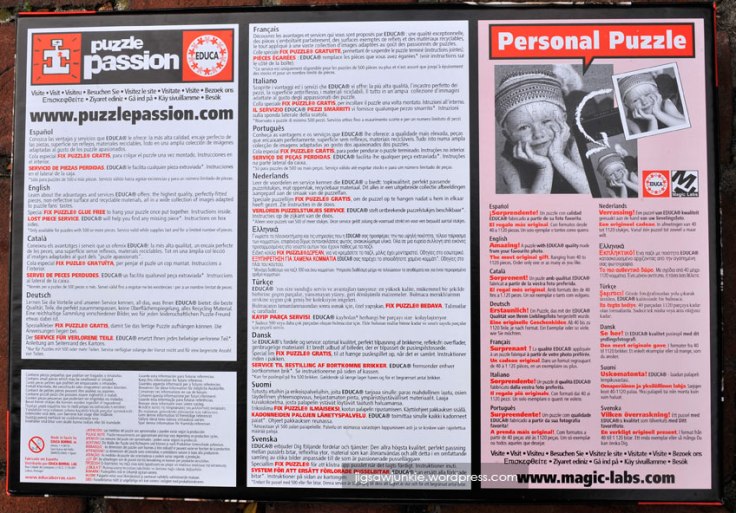 The sides of the box are well designed for storing the puzzle on a shelf vertically, with a small image of the entire puzzle as well as a close-up on both a long and short side. You can also see the brand, piece count, and name of the artist on most sides.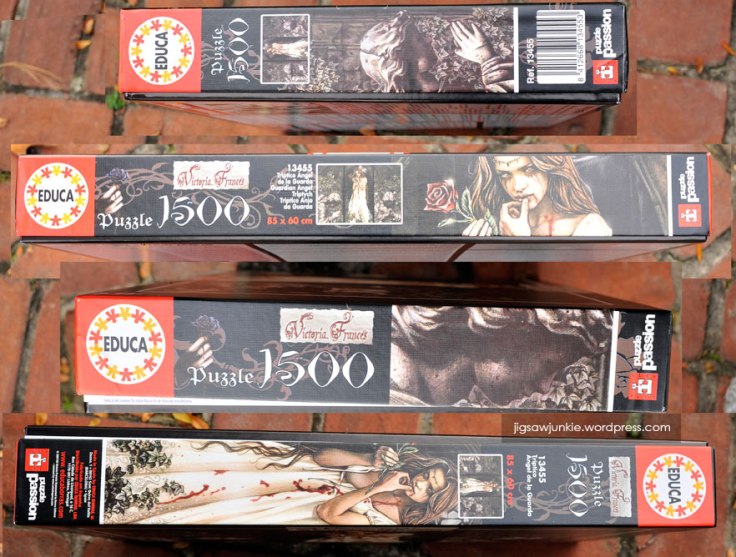 Inside the box is the bag of puzzle pieces as a packet of puzzle glue powder.
The Image:
I quite like the image here and it's ideal for a Halloween type mood. Victoria Frances does a lot of gothic puzzles, and most of her image are quite dark and monochromatic. I chose this puzzle because it seemed to have a little more color in it than her usual, and I thought it wouldn't be has difficult as some of her others. I also really like the triptych design in a puzzle. It feels like 3 separate puzzles put together. The quality of the art is very good.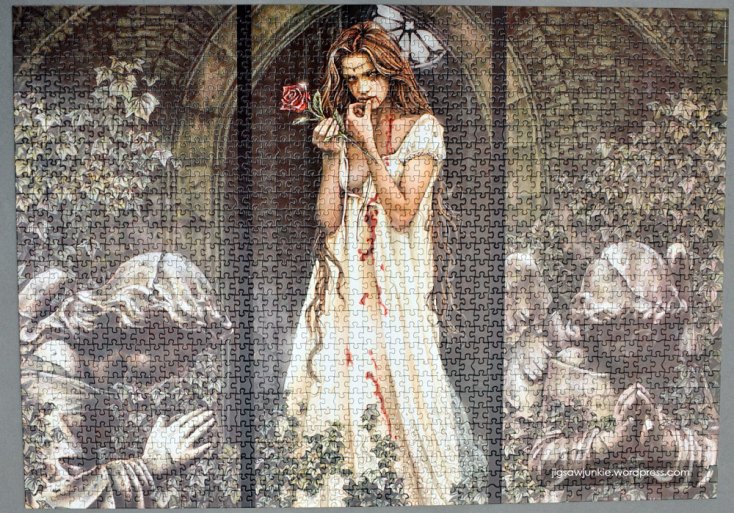 Puzzle Quality:
I will be doing an Educa page for our brand comparison shortly. For the purposes of this review, I'll say that I generally found the Educa quality to be quite good. The box is sturdy and attractive and the puzzle pieces feel thick, like most European brands.
The piece cut is a standard grid, similar to Ravensburger and Jumbo. There was some variation in piece shapes but probably 80% is two-knob, two-hole. Like Gibson, this presents a significant issue which is that many pieces are close enough in shape that they can appear to fit where they do not. In the close-up below, I've circled two pieces which are nearly interchangable. This is a very good photo taken outdoors in morning light, so the differences are not that hard to see. But working on a puzzle under artificial lights in the evening, when you're not this close to the pieces, can be tricky.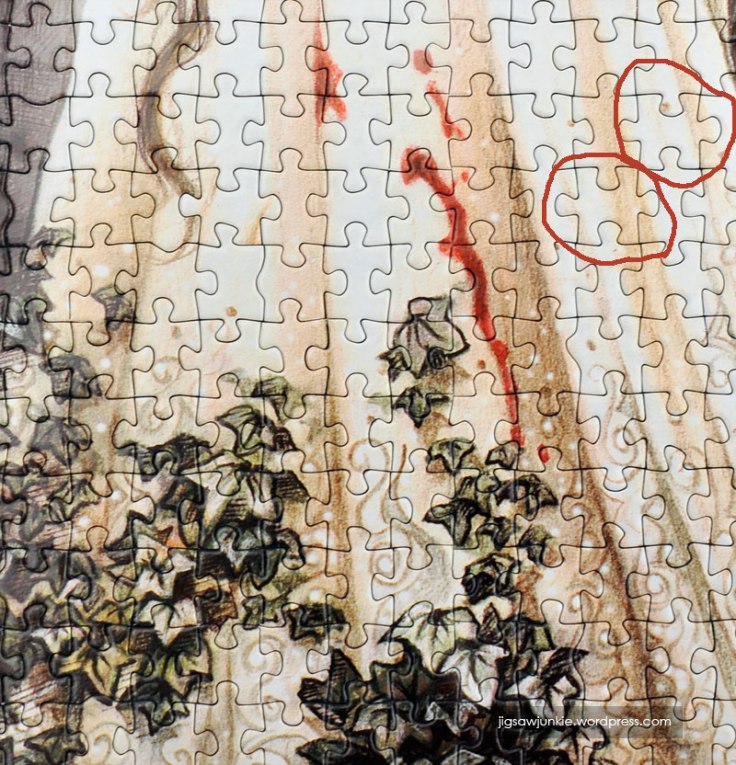 A few things to note about this. First, I didn't find this aspect of the puzzle nearly as difficult as simply the coloring (more about that below). I only had 2 instances in a 1500 piece puzzle where I really thought a piece fit somewhere until, much later, I had another similar piece that I realized went there better. Secondly, some people may consider this a feature of a puzzle brand, in that it adds more challenge. Personally, I don't find confusion over whether a piece fits or not to be a 'fun' aspect of puzzle design, so I tend to ding for that. I prefer a puzzle like Ravensburger where pieces have a very 'sure fit'. But that doesn't mean I wouldn't buy more Educa puzzles. Overall the quality is quite good and this wouldn't be an issue with a puzzle that had more color/texture variations.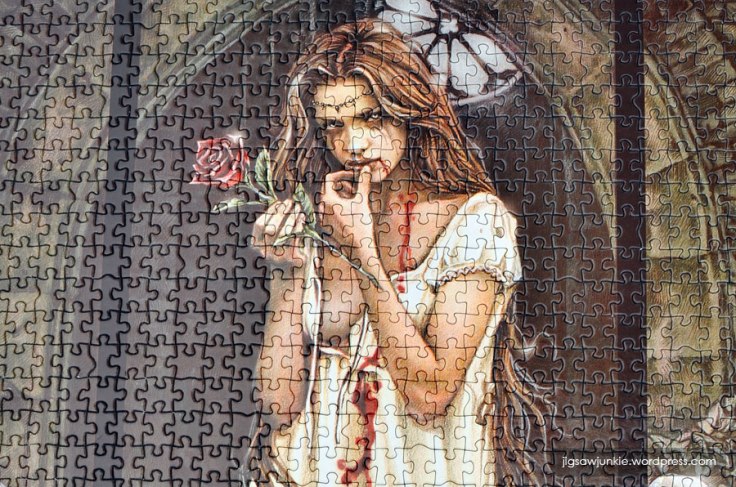 Assembly:
Assembly is where I've really dinged this puzzle review score. In fact, based on assembly alone, the score would be more like 4 or 5, but because I really do love the image, and the overall quality is good, I've scored it 7.
To sum: this is the most difficult puzzle I have ever done! It's extremely challenging, and I don't recommend it unless you are looking for that kind of challenge and are prepared to spend a lot of hours on it. Most 1000 piece puzzles I do take me two to three evenings of assembly while I'm watching TV. This one took me twelve days and, in fact, I did two other puzzles while working on this one, just to take a break and do something fast and fun when I got too frustrated.
The challenge here is really the coloring of the puzzle. I put together the girl figure in the middle first thing, and that wasn't difficult, but the rest of it was. The white-ish statues, gray/black stone walls, and the ivy were all extremely difficult to do under artificial light. I always work on my puzzles at night and I found with this one I *had* to spend some time on it by the window in morning light, because the colors all muddied down to 'dark' or 'white' or 'mottled' at nighttime. The puzzle also has a glossy finish, and you can see even in this pictures taken on an overcast day, the reflection of light can make the colors hard to see.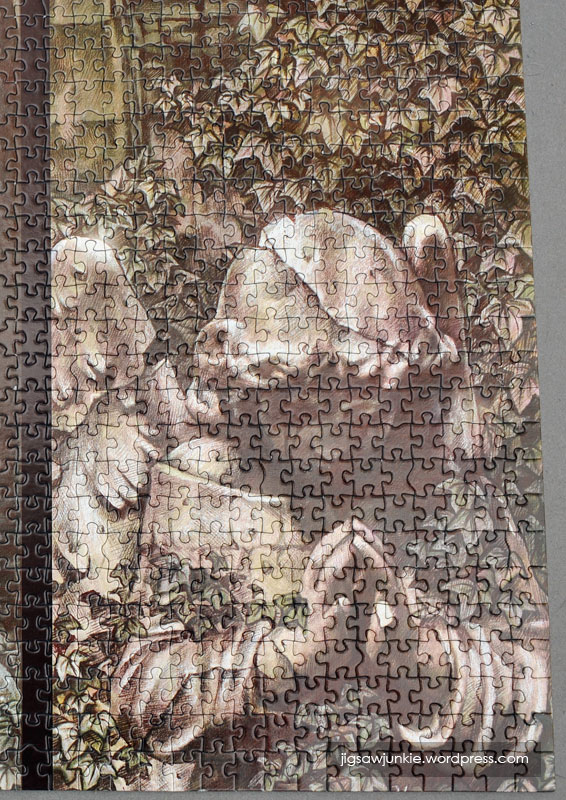 These photos are a bit deceiving, because I took them outside in the morning and also used 'auto tone' in photoshop which sharpened the contrast. At night, the colors are much less distinct, particularly in the stone wall and shadows.
The ivy… wow, that was a total pain in the ass.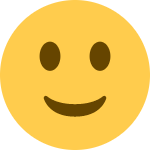 It's obvious which pieces are ivy pieces but disassembled they're all sort of mottled dark green and white. I put the ivy together last and ended up resorting to just trying every piece in every hole.
I came very close to DNFing ('did not finish') this puzzle at one point, when I had the girl and the white bits of the statues done and I realized the entire rest of it was going to be very, very grueling. But I did persevere (after taking some breaks to do other puzzles, as I noted). It was a quite nice sense of accomplishment to finish it. I won't be disassembling this, as I normally do, because I will never want to do it again! LOL. It doesn't exactly fit my house decor, but I'll glue it together and stick it somewhere. In the end, I'm glad I did the puzzle and I will probably try another Victoria Frances in the future when I'm up for a challenge.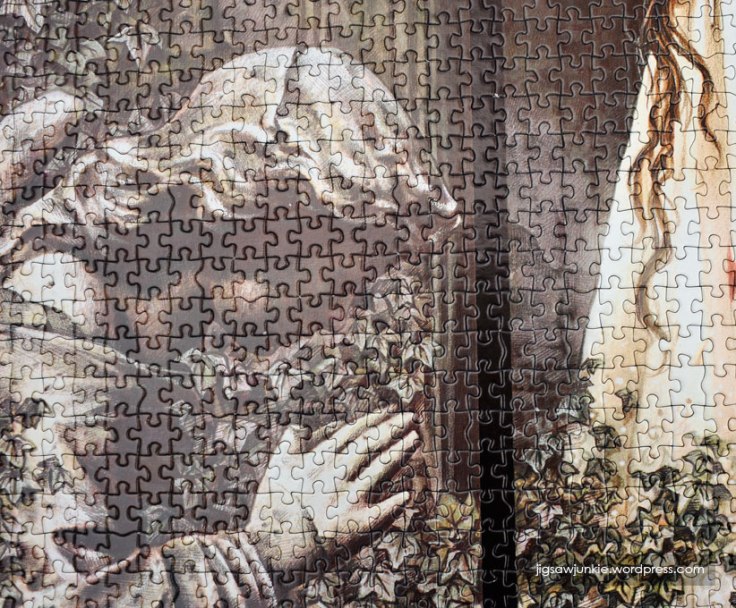 Conclusion:
If you like gothic images like Victoria Frances, and don't mind the challenge of a difficult puzzle, by all means get "Guardian Angel". The quality of the puzzle is good and the final picture is really lovely. If you're not up for a challenge, best skip this one.
Where to find:
You can find even more gothic jigsaw puzzles here.
JJ