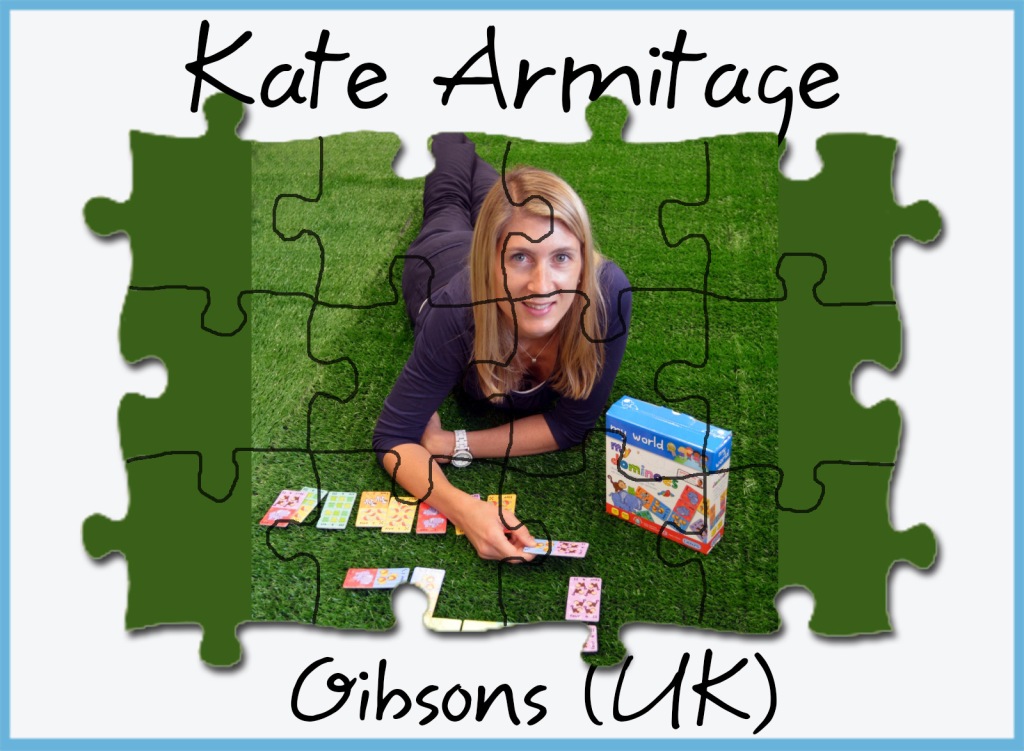 Puzzle Maker Interview: Kate Armitage, Gibsons Puzzles (UK)
I'm very excited to continue our "Puzzle Maker Interviews" with Kate Armitage who works for one of my favorite puzzle brands, Gibsons of the UK. I hope my readers enjoy learning more about puzzle companies as much as I do.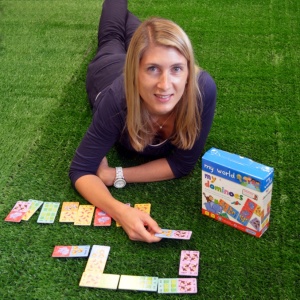 Above: Kate Armitage of Gibsons Puzzles
JJ: Hello! Can you please introduce yourself?
I'm Kate Armitage, Director of Marketing at Gibsons. My great grandfather Harry Percy founded our company in 1919.
JJ: In what way are you involved in the making of Gibsons puzzles?
My role at Gibsons includes overseeing our marketing and product development. On the puzzles side, this involves coming up with new concepts for puzzles, working with artists on new designs, devising puzzle titles and working with a designer to produce packaging.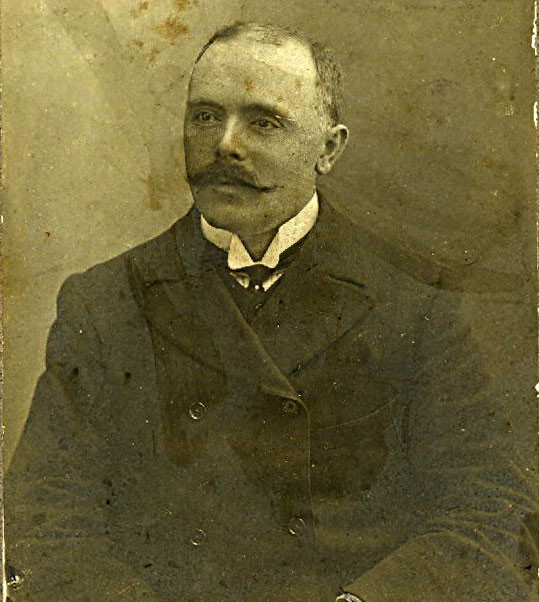 Above: Harry Percy, Gibsons' founder
JJ: Where are Gibsons puzzles designed and manufactured?
They are designed wherever the artist is based, but most of these are in the UK! They are manufactured in the UK and Holland. Many of the ideas come from the team here in the office and we will commission an artist to paint to our brief. As a small family business, we all get involved and it's great that we can act quickly on new ideas.
JJ: Can you tell us about the origin of Gibsons puzzles?
In the early 80s, we introduced our first jigsaw puzzles. Our heritage is as a games company, but my father, Michael Gibson was determined to bring a new, luxurious feel to a decidedly lacklustre jigsaw puzzle market. The result was our high quality, 100% recycled puzzle board and sturdy boxes printed in smart royal blue. Along with the new jigsaws came new themes. Michael dispensed of the dreary subject matters and introduced exciting new imagery, often drawn by specially commissioned artists.
Gibsons originally had only six puzzle pictures in the range which depicted aerial shots of well-known British landmarks, but nowadays, our range has grown to over 250 titles from 2 pieces for children, to 2000 pieces for adults and extra large puzzle pieces which are great if you experience sight or handling difficulties. We've learnt a lot since those early days about what makes a great puzzle!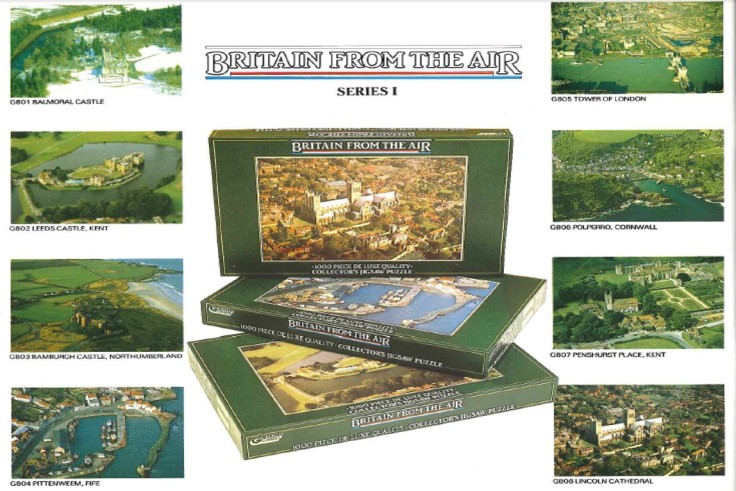 Above: Gibsons first puzzle release from the early 1980's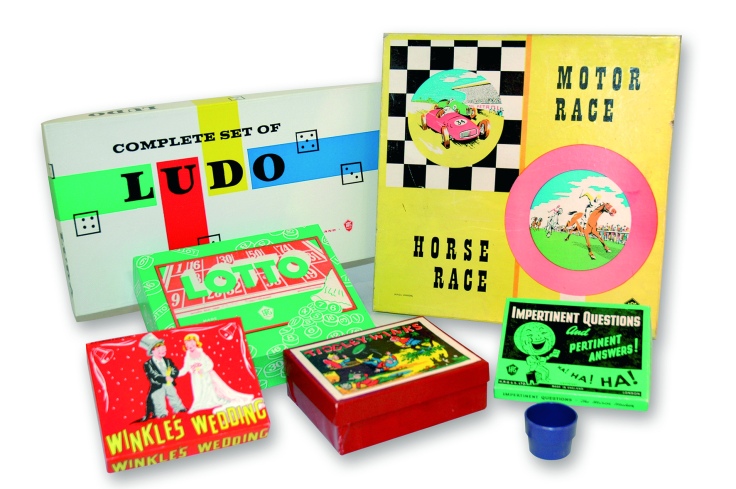 Above: Gibsons games from the 1960's
JJ: Do you like to do jigsaw puzzles yourself? If so, what kind do you enjoy working?
With two young children my time for puzzling is a little limited, but whenever I get the opportunity it is something I enjoy very much. It's very peaceful and therapeutic and takes me away from the hustle and bustle of life for a couple of hours. I puzzle with my children too – we like to start them young at Gibsons! They love our My World range.
JJ: How many new puzzles does Gibsons make in a year and when do you release them?
We make over 60 new puzzles each year, the bulk of which are released in January and the remainder in the Spring and summer.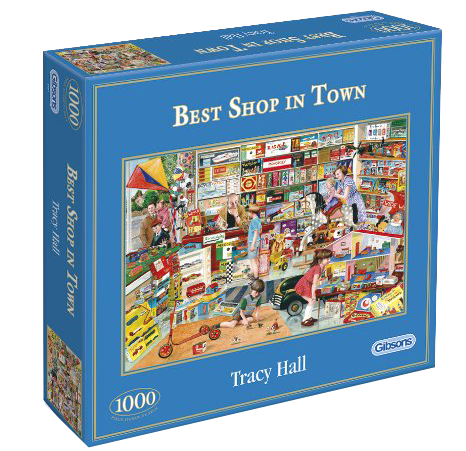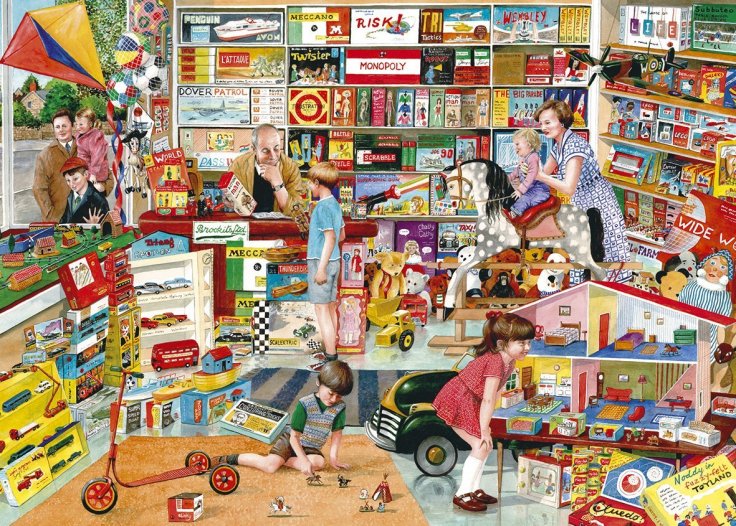 Above: Gibsons 'Best Shop In Town' (British nostalgia). Note Gibsons signature lovely and high-quality royal blue boxes. The back of the box always has information on the puzzle, artist and/or series. Click on the image above for a larger view and check out that detail. Phew!
JJ: What kind of images does Gibsons specialize in?
Our core range includes many British nostalgic scenes, but we also cover wildlife, humour, transport, rural life and farming scenes as well as some much loved brands of the past. We find that puzzlers like escapism and therefore our puzzles usually tell a story. We like to make people smile when they are puzzling whether they are remembering the sort of village they grew up in or laughing at the cheekiness of the cartoon in front of them. The quality of image is extremely important to us and we spend a lot of time searching for artists who can achieve the level of colour, detail and storytelling that really makes a great puzzle.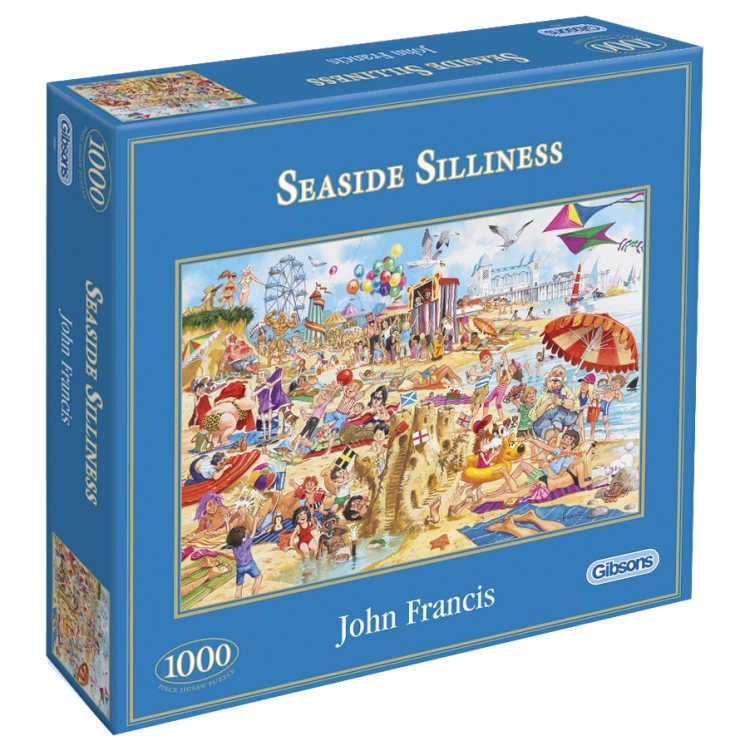 Above: Gibsons 'Seaside Silliness' by John Francis (cartoon puzzle). Lots of color. detail, and humor in this one too.
JJ: What is your philosophy in terms of piece cut? Are Gibsons puzzles cut in a grid or more freeform? Do you try to make them a difficult piece cut or easier?
Traditionally our puzzles have been cut in a grid, but we have been evolving with the demands of our puzzlers. The cutters are regularly changed to reflect the wishes of the public. For example, we are currently updating them to ensure we improve further the differentiation between each piece as we recognize how important this is. We wouldn't be anywhere without those people out there who are doing our puzzles and we love to hear their feedback. Our puzzlers are real letter writers (yes actual pen and paper stuff) and we love to receive them! Customer service is extremely important to us – if we don't listen to our puzzlers, we can't improve.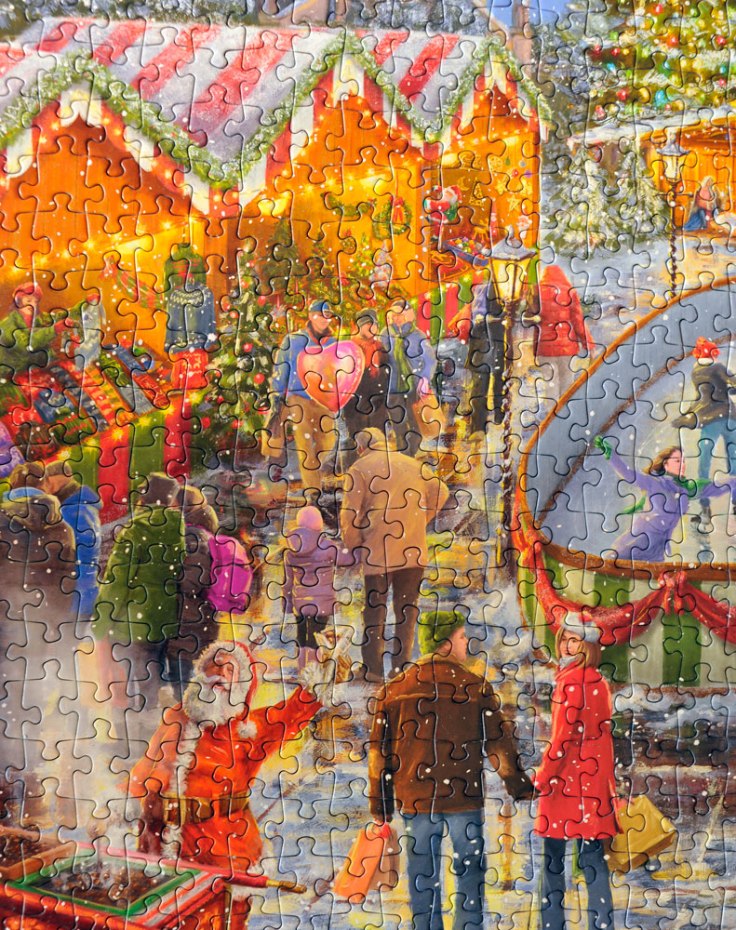 Above: A detail close-up of Gibson's 2014 Christmas puzzle "Christmas Market by Marcello Corti showing their piece cut.
JJ: What are a few of your personal favorite Gibsons puzzles and why?
I love the Christmas Limited Edition. We always get very excited when the artwork arrives in the office as Marcello Corti is such a talented artist and really captures the essence of Christmas.
See our feature page showing all of Gibson's Limited Edition Christmas Puzzles here.
JJ: Who are the artists that you work with and how do you find them?
We work with many artists from the humorous Mike Jupp to the much loved painter of harbor scenes, Terry Harrison. Over the years, some have come to us and some we have found via artists agents and art shows. Sometimes, it will be a case of spotting some artwork in a café or shop and thinking how well that would translate into a puzzle….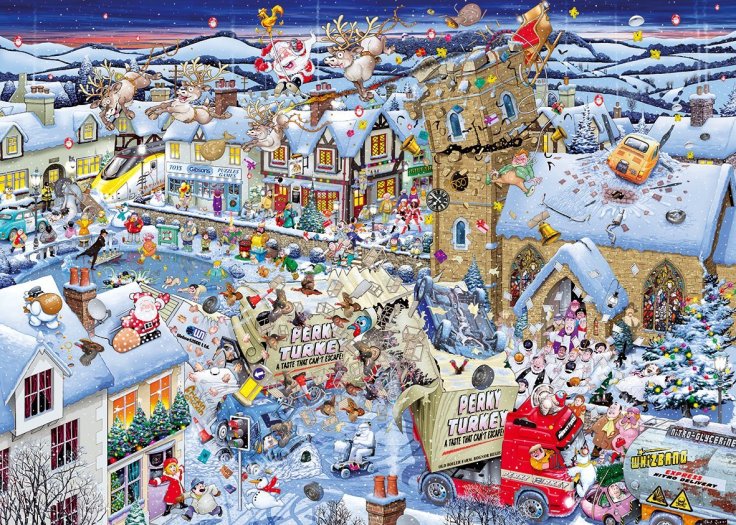 Above: Gibsons puzzle "I Love Christmas" by Mike Jupp. See our Mike Jupp page here.
JJ: What is the future of Gibsons puzzles? Do you have any collections or new lines planned?
We have lots of exciting things planned for the future. Our focus at the moment aside from it being the busy Christmas selling period, is getting all of our new puzzles out for the new year. We will be launching over 50 new puzzles including some fantastic new artists and some old favorites.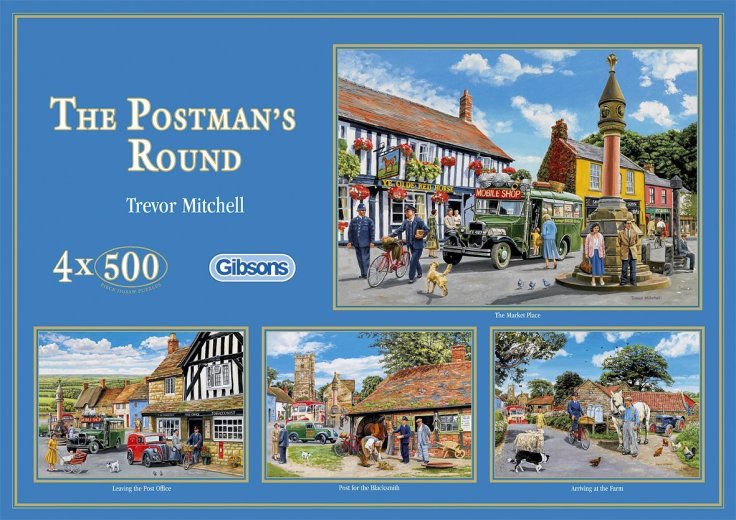 Above: A sample of Gibsons very popular multi-puzzle boxed sets. This one is British nostalgia themed — "The Postman's Round" by Trevor Mitchell
JJ: Can you give us a sneak peek of any upcoming puzzles?
Fans of our multi box puzzles (4x 500 pieces in one box) definitely won't be disappointed!
JJ: Sounds good to me! We did get one sneak peek image of a Jan 2015 puzzle called "Oops! Mudstock" by artist Martin Berry, which is a 'busy cartoon' puzzle in a new series. I'm on board with that. See below.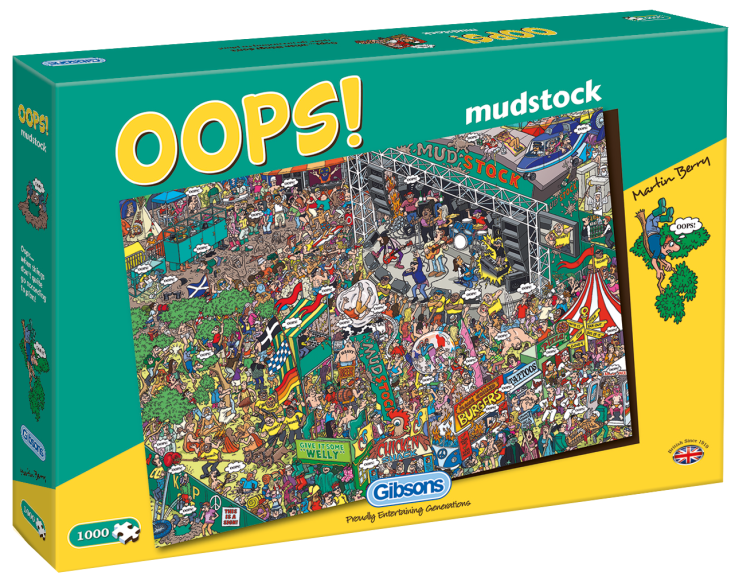 Thank you so much, Kate, for giving us a little insight into Gibsons puzzles! Great work, and we here at JJ are fans!
Some additional links for our readers:
Gibson's official website (you can see their full puzzle range)
Our brand comparison page for Gibsons
Our Gibsons Limited Edition Christmas puzzle page
Our blog reviews and news for Gibson puzzles
JJ