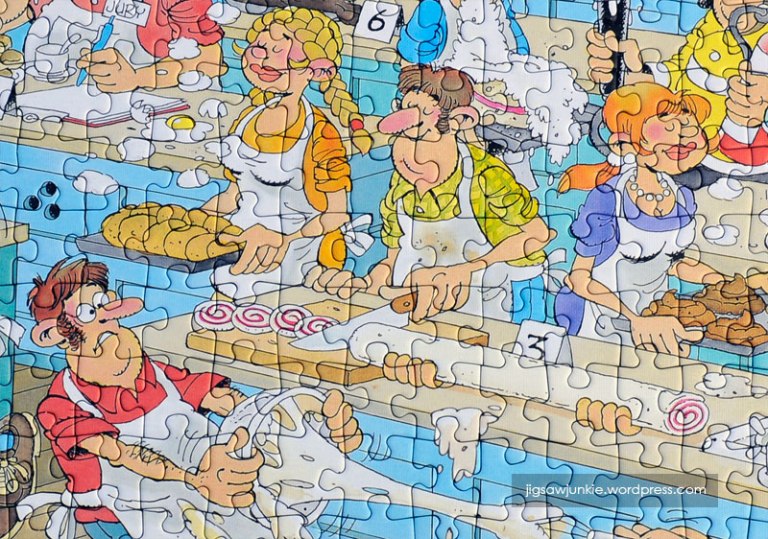 Review: "JVH Food Frenzy: Clash of the Bakers" by Jumbo, 9/10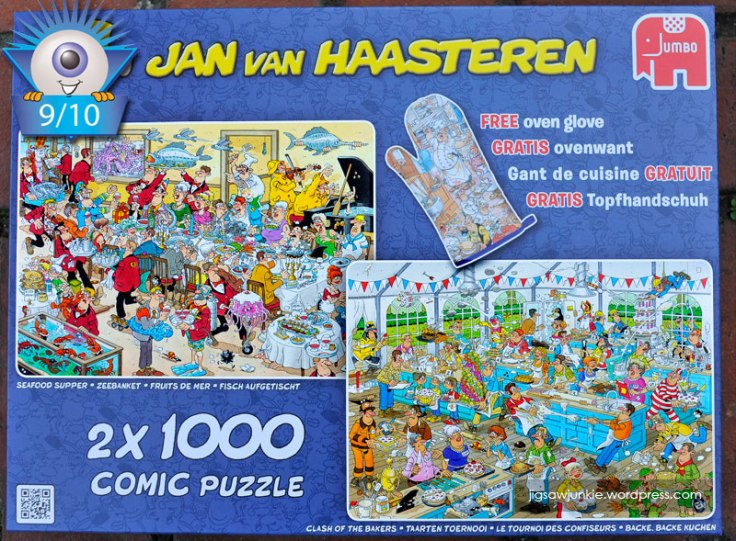 Publisher: Jumbo (Netherlands), 2014, 2 x 1000 pieces
Title: "Food Frenzy: Clash of the Bakers" Artist: Jan Van Haasteren
OUR RATING: 9/10
This was one of my picks for 'best new Fall puzzles' and it didn't disappoint. This review is for "Clash of the Bakers", but there is also a second puzzle in the box "Seafood Supper". "Clash of the Bakers" is a brand new JVH image to my knowledge, never before released. "Seafood Supper" was released previously as a 500 piece puzzle.
For those new to this sort of thing, JVH refers to Dutch cartoon artist Jan Van Haasteren, who has more cartoon puzzles published than any other artist. I think he has over 90 puzzle images in or out of print. His puzzles were one of the first "busy puzzles"–that is, images that have many little figures and lots going on. This makes them fun and challenging to assemble, usually requiring lots of back and forth referencing to the box lid image.
Box Quality:
Jumbo boxes are very sturdy and the JVH puzzles all have the same blue background, which makes them attractive as a set. The back of the box has info on Jan Van Haasteren and shows a few other puzzles in the line.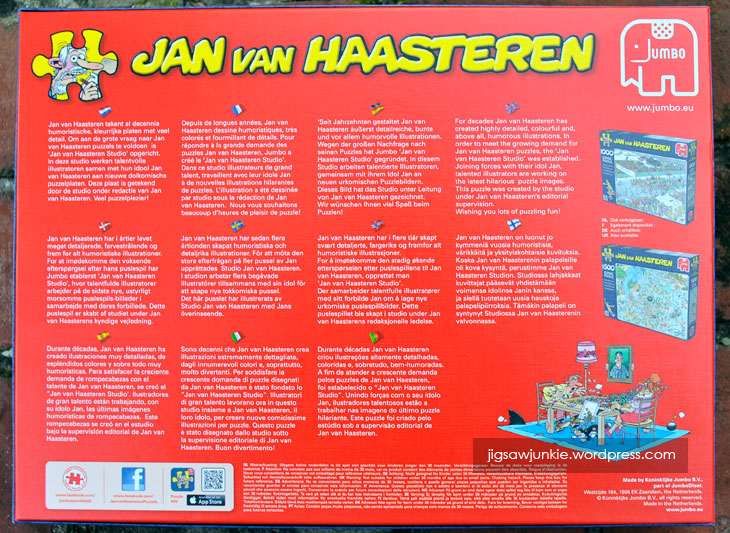 The box sides are nicely designed for vertical shelving with the puzzle image, name, Jumbo logo, and piece size all very visible on all sides.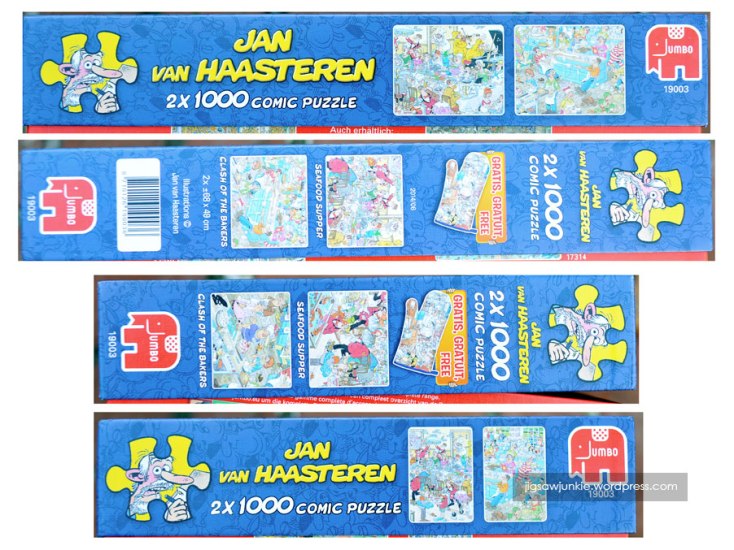 Box Contents:
This is a special edition, part of the celebration of the 30th anniversary of JVH puzzles. The box contains the two 1000 piece puzzles in separate bags with small images in each bag so you know which puzzle is which. The box also contains an oven mitt with a JVH theme, and a little brochrue about JVH's 30th anniversary (which is cool — congrats!). I will definitely save the oven mitt in the box rather than use it, but it's nice to see such nice goodies in the puzzle box.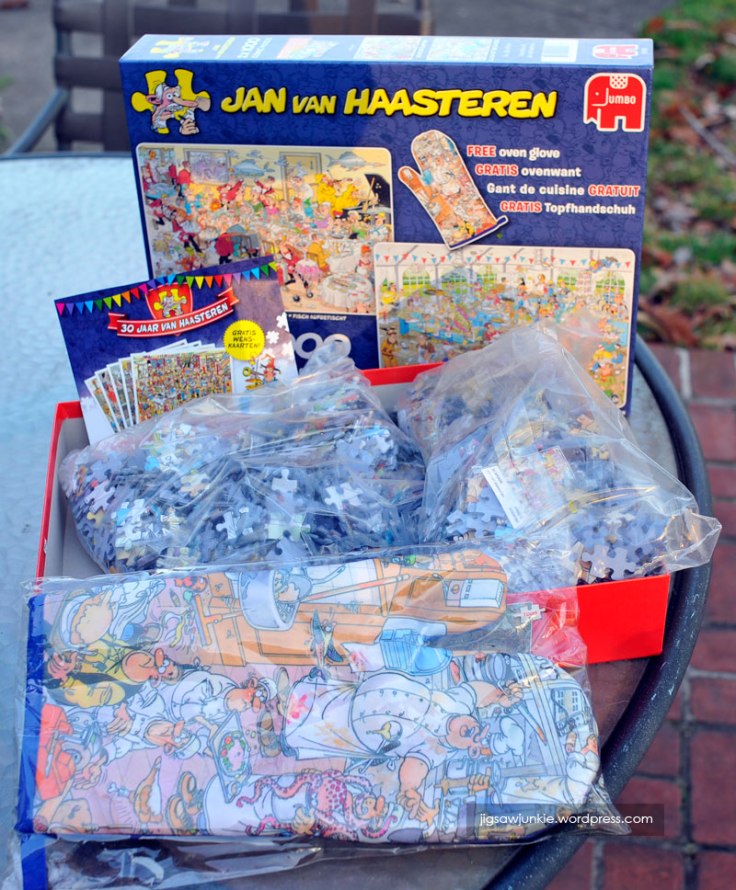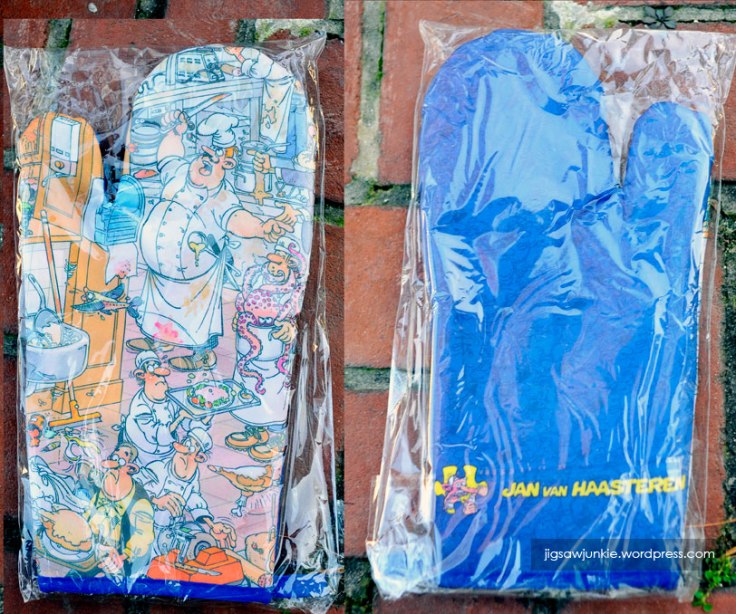 The Image:
I love JVH puzzles and my favorites are the scenes which are more of a medium shot, like this one, without an overwhelming number of figures. So I liked this image as soon as I saw it. The scene is a baking competition and, as always with JVH, there's plenty of humor to be found around the scene. The artwork quality is perfect.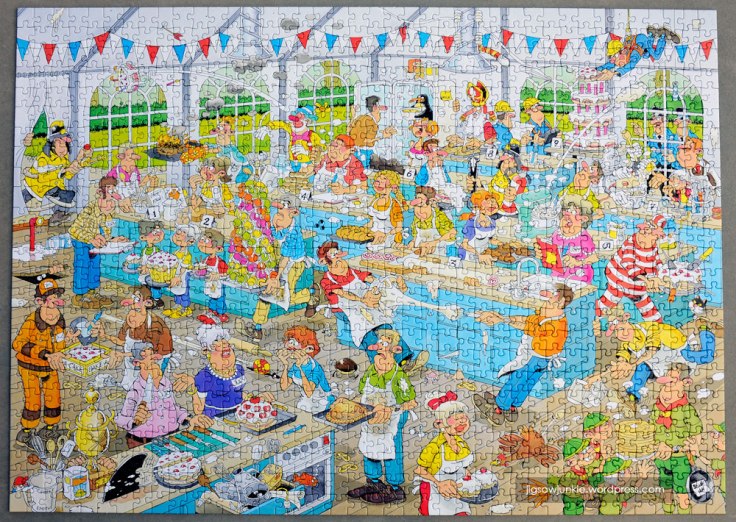 Puzzle Quality:
Jumbo quality is excellent all the way around. They have thick pieces with a nice matte/waxy finish (so no light glare), great color and image reproduction, and very nice boxes.
The piece cut is a standard grid, similar to Ravensburger. There is some variation in piece shapes but there is a great deal of two-knob, two-hole pieces. Nevertheless, the piece fit feels very precise without being tight. There's never any confusion over whether or not a piece fits. The final 'fit' is smooth and seamless. It's a pleasure to work with the thick pieces which just feel good in your hand.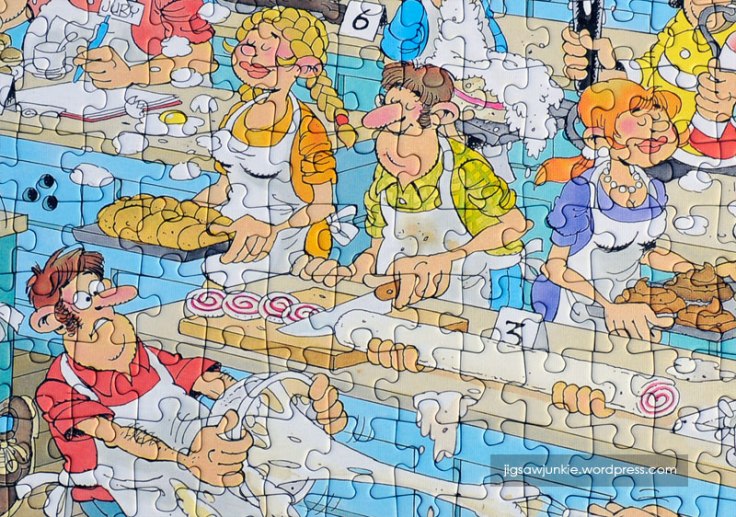 Assembly:
I'd say this was an easy JVH puzzle. Compared to other 1000 piece puzzles, it's of medium difficulty. Although you will want to refer to the box lid often, there's really no confusion over what might go where. All the figures have uniquely colored clothes, and the white walls, green windows, and blue 'stations' provide some nice color backgrounds to focus on while assembling.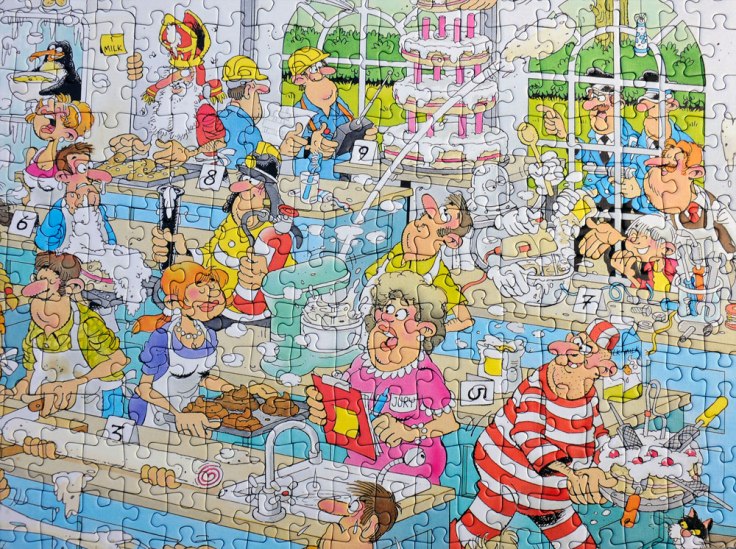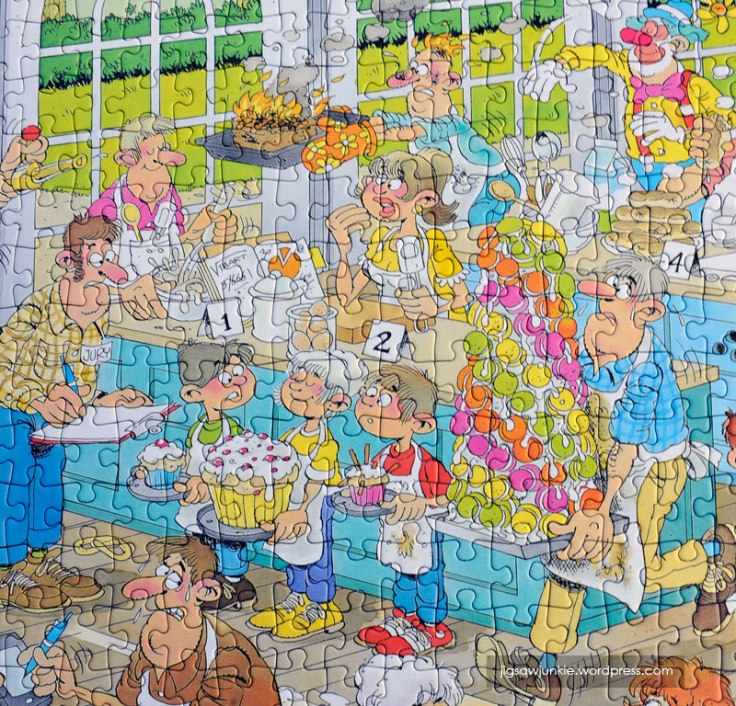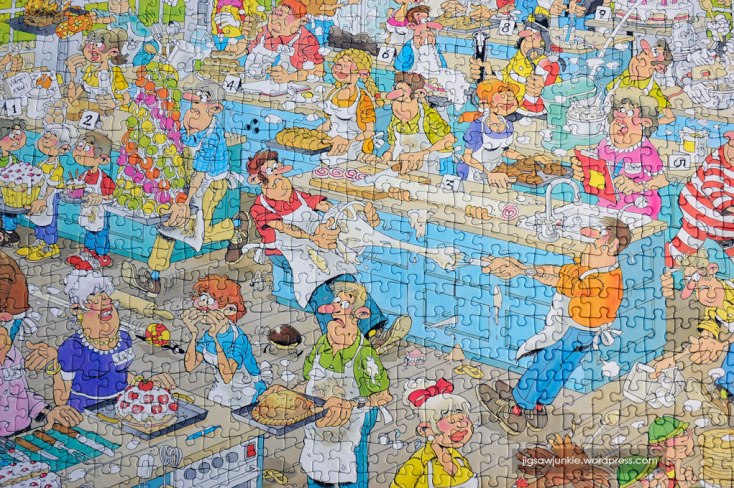 Conclusion:
This is a very special release and a wonderful addition to the JVH family of puzzles. If you like JVH at all, this is a must have! Enjoy it.
JJ