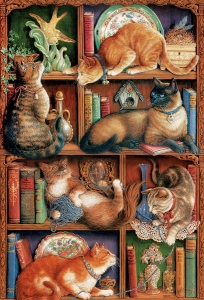 2015 Puzzles: Cobble Hill First Look!
Most puzzle companies release their largest selection of new images in January, making that month a sort of puzzler's late Christmas. We'll be covering 2015 new releases here on Jigsaw Junkie. And the fun has already begun. Cobble Hill has released a sneak peek at their 2015 line-up.
These 'earlybird' puzzles can be ordered from selected retailers now and from pretty much everywhere in January. Here's their two page spread of all their sneak peek puzzles. And here's our brand comparison page for Cobble Hill (summary: very nice quality puzzles) And here are a few of my favorites. CLICK ON ANY OF THESE IMAGES FOR A CLOSE-UP.
Feline Bookcase by artist Janet Kruskamp, 2000 pieces
I like the fact that this is a larger puzzle (2000 pieces) with lots of color and detail. Also: cats and books. What's not to like?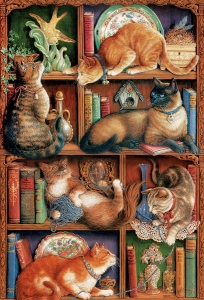 Doodle Town Mount Rushmore, 1000 pieces by artist Cobble Hill Puzzle Company
An interesting cartoon puzzle that has caricatures of all the US presidents. Educational and satirical!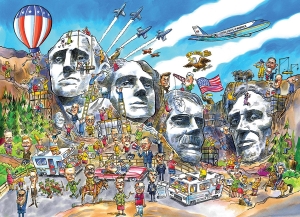 Dog Quotes, 1000 pieces by artist Lucia Guarnotta
If you like collage puzzles, and dogs, this one is a good bet. There's a similar one on cats.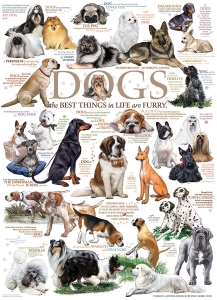 More Cheese Please, 1000 pieces, Artist Cobble Hill Puzzle Company
An interesting collage puzzle with lots of similar colors but different textures. And cheese.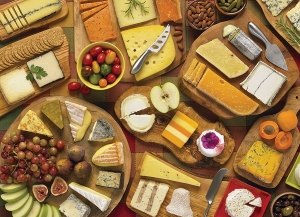 Koi Pond, 1000 pieces by artist Larry Taugher
Maybe my favorite of all these new releases solely based on the picture. Lovely composition.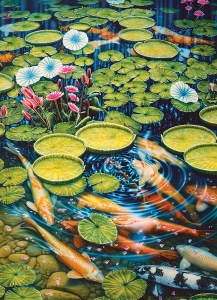 Birds of the Forest, 1000 pieces, by artist Jerry Gadamus
There are several new bird puzzles in the line-up but this is my favorite. Lots of individual colors and details.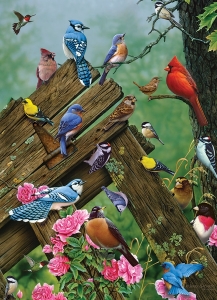 Burgers, 1000 pieces, artist Cobble Hill Puzzle Company
Takes photo collage puzzles to a whole new level of greasiness. It's sort of horrible and fascinating at the same time.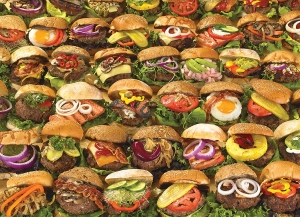 Midnight Messenger, 1000 pieces by artist Anne Stokes
It's nice to see Cobble Hill dabble in fantasy and Anne Stokes is a well-known fantasy artist. Looks like a challenge, too, with all that white.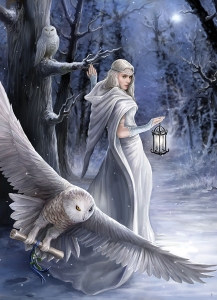 Christmas Presence, 1000 pieces, by artist Myles Pinkney
Last but not least, a new high-detail, storybook sort of Christmas image from Myles Pinkney.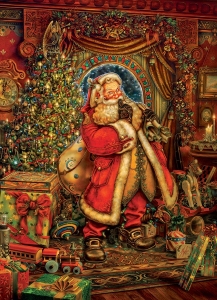 SEE ALL OF THE NEW COBBLE HILL PUZZLES HERE.
What do you think of the line-up? I think Cobble Hill's images are getting more appealing. Do you?
JJ