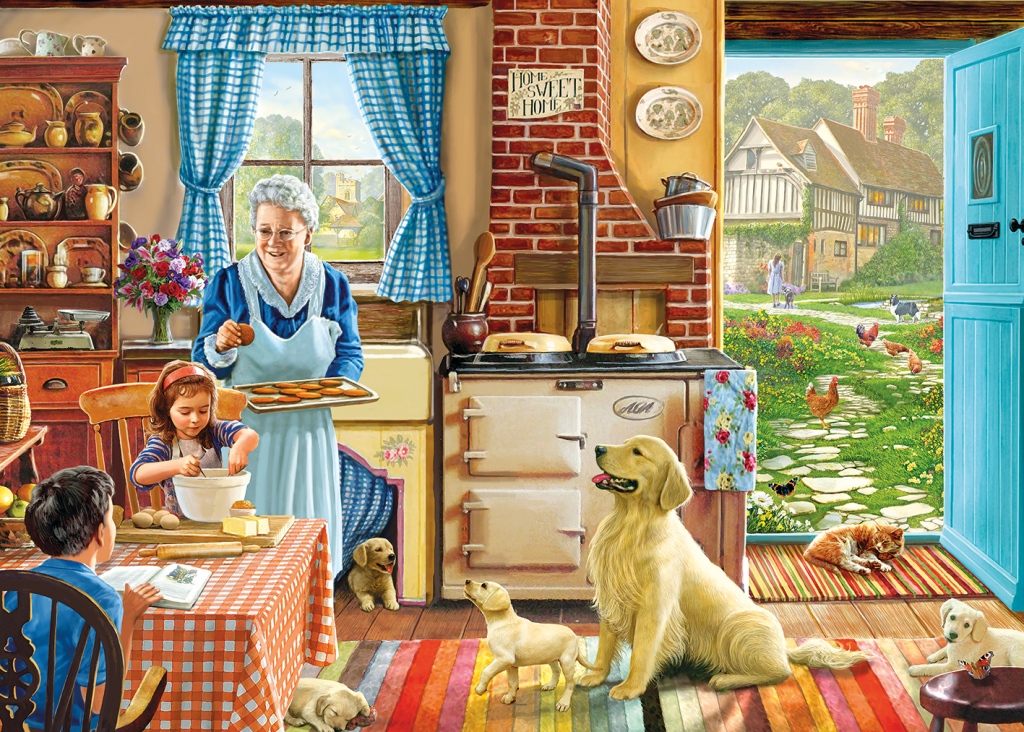 2015 Puzzles: Gibson's First Look!
Whoo hoo! It's so exciting to see the new puzzle images released for 2015. I've been watching the various puzzle maker's sites like a hawk and have already posted the new puzzles from Ravensburger, Heye, Cobble Hill, and some upcoming JVH and Rob Derks images.
The day after Christmas brings us an update to the Gibson website with their new images for Jan 2015. And man, they have outdone themselves! Here are my favorites.
Four new puzzles from artist Steve Crisp
Some of Gibson's British nostalgia artists have very loose art styles that can get blobby in close-up, but not Steve Crisp. His work is sharp and detailed. That's why he's my favorite. The new images are delightful, especially "Home Sweet Home". Gorgeous!
"Home Sweet Home", 1000 or 500XL pieces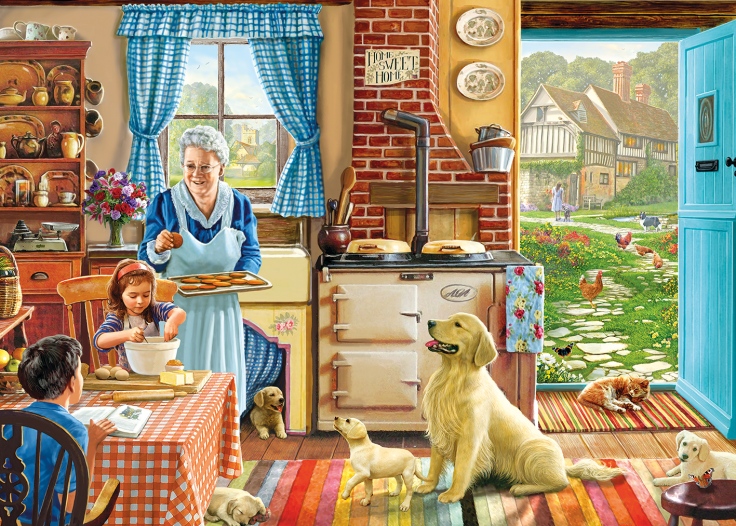 "Hidden Treasures", 1000 pieces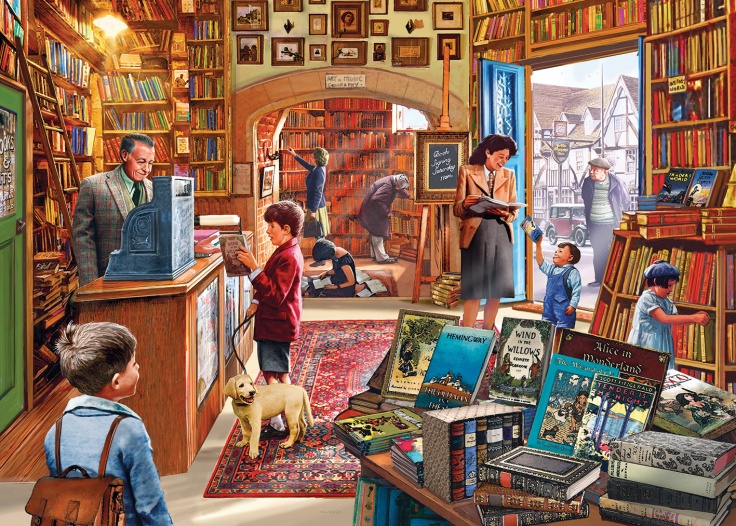 "Rural Life", 1000 pieces or 100 XXL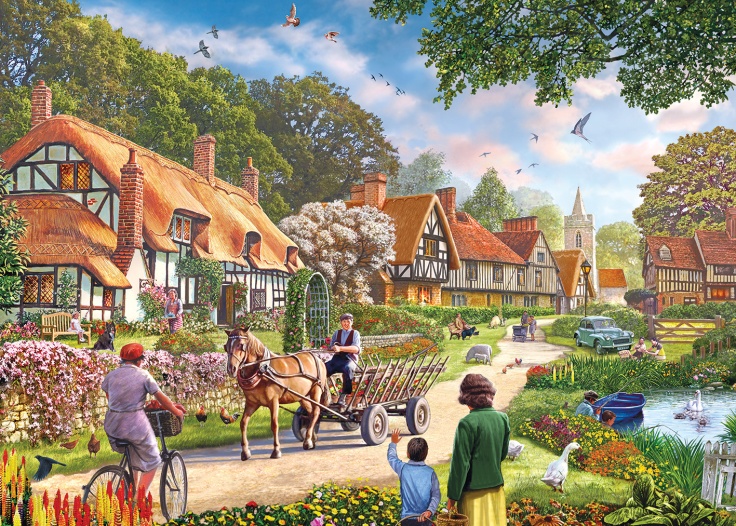 "The Airshow", 1000 pieces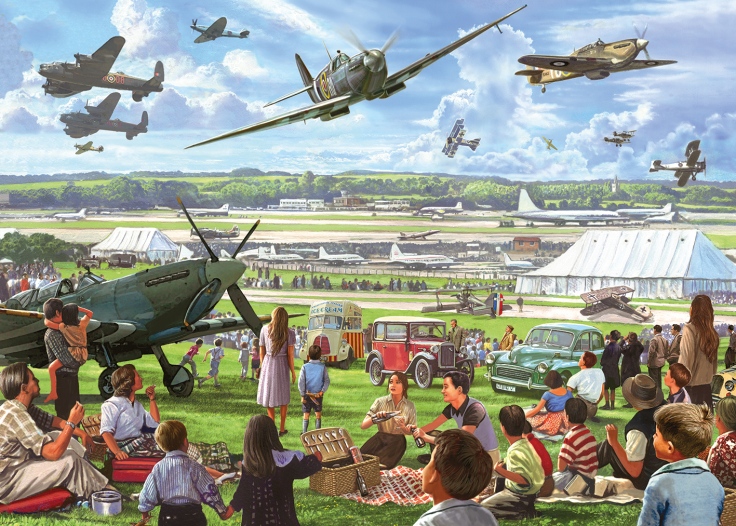 New "Memory Lane" series from artist Steve Noon
Wow! I love this brand new series from Gibson! The scene shows the interior and exterior of a modest family home in different eras. I love all the details and areas of interest. The art style is very appealing. There are two in this new series released in January and hopefully more to come. I also really like the new series box design that has a color/pattern reflecting the era. Awesome job, Gibson!
"Memory Lane: Our House 1950's", 1000 pieces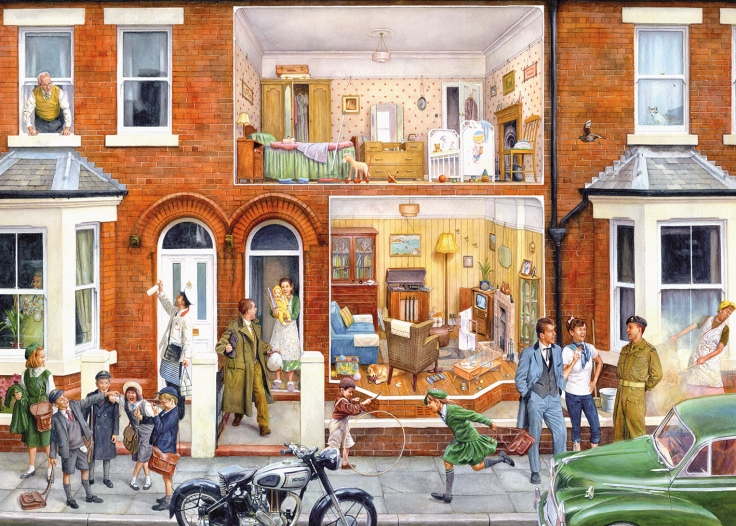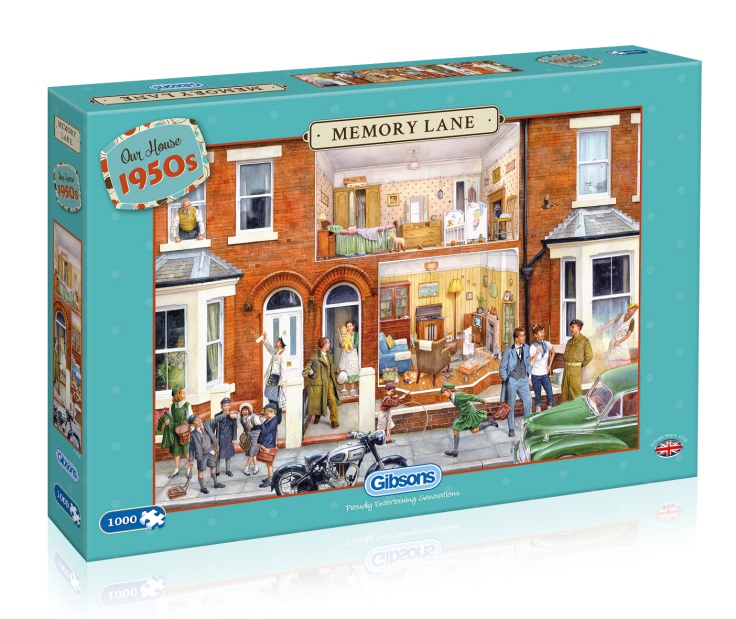 "Memory Lane: Our House 1960's", 1000 pieces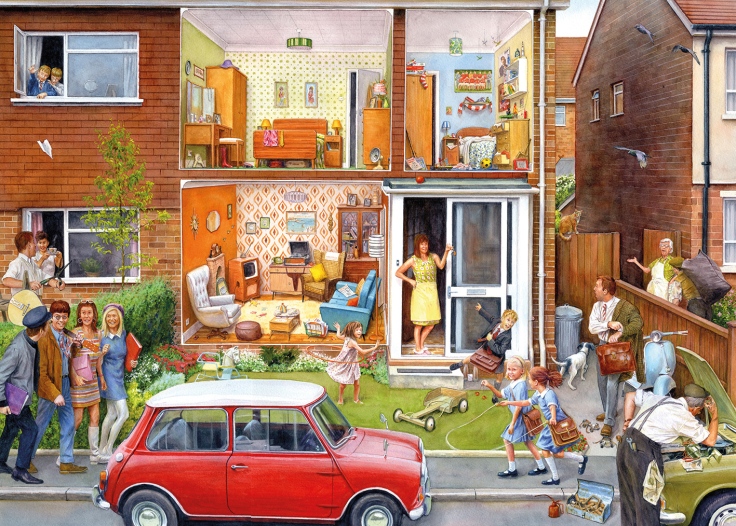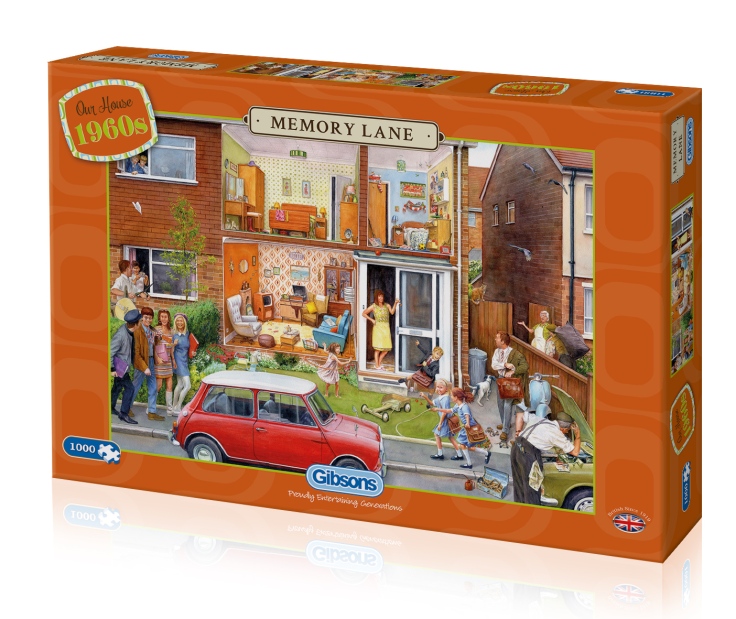 Two new puzzles from artist Tony Ryan
I also like relatively new puzzle artist Tony Ryan, for his level of detail and soft, but not loose, art style. These two new designs are very appealing and offer plenty of interest throughout the scene. They remind me a bit of House of Puzzles images.
"Beads & Buttons", 1000 pieces or 500XL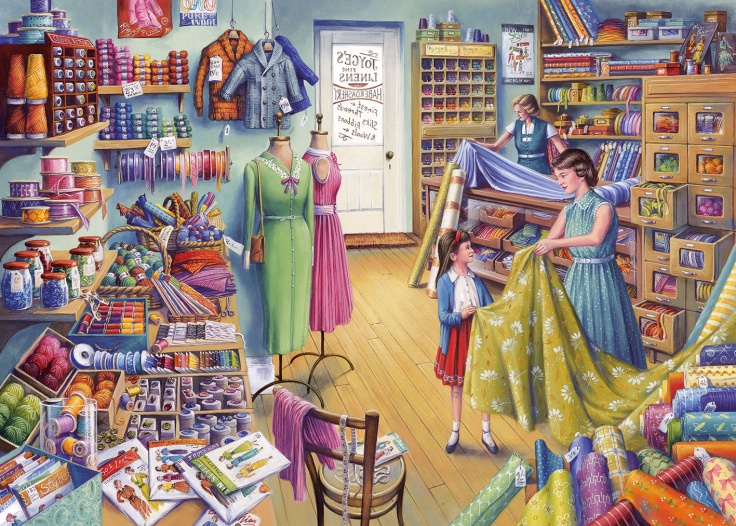 "The Fishing Shed", 1000 pieces
Two new puzzles in 2000 pieces
Both these are lovely images for those who prefer larger puzzles.
"Pick Your Own" by artist Mat Edwards, 2000 pieces or 500 pieces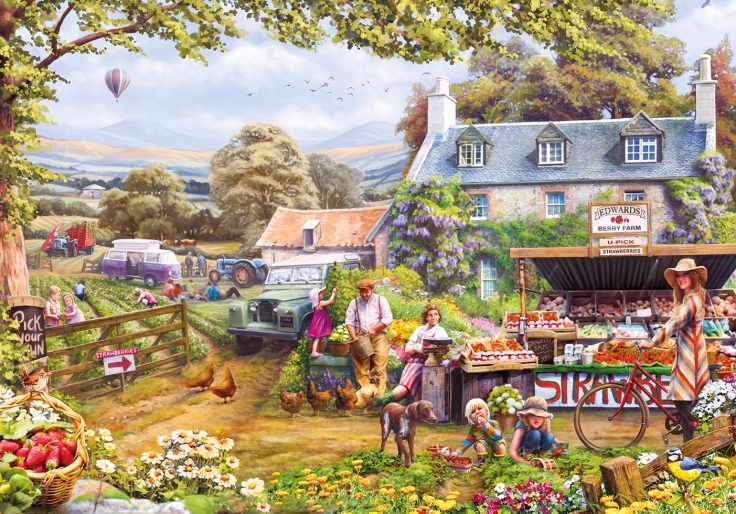 "Twilight Reflections" by artist Evgeny Lushpin, 2000 pieces or 500 pieces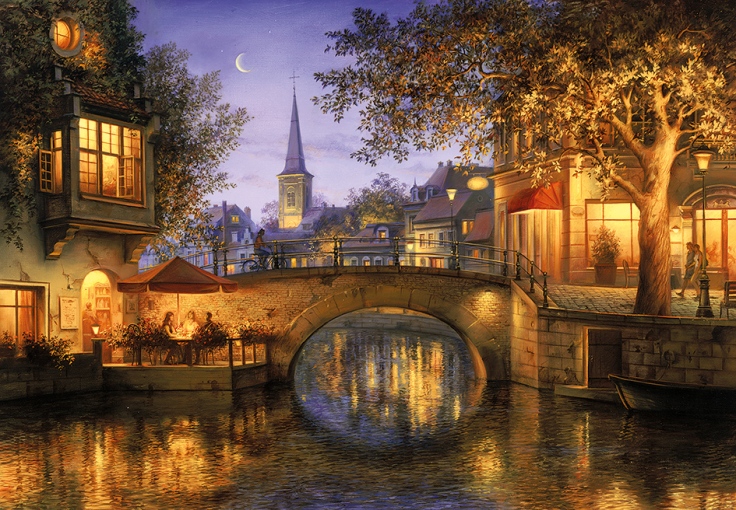 Two new 4-in-1 boxed sets
Previous boxed sets of nostalgia images "The Milkman's Rounds", 'The Postman's Rounds", "Rag and Bone", "A Trip to the Shops", "Time of our Lives", and "Stop Me And Buy One" proved very popular. This year there are two new sets. My favorite is "Bobby's Beat", which depicts a local police bobby's rounds around a small nostalgic British village in summer. I feel like Miss Marple should be in these pictures.
"Bobby's Beat" by artist Trevor Mitchell, 4×500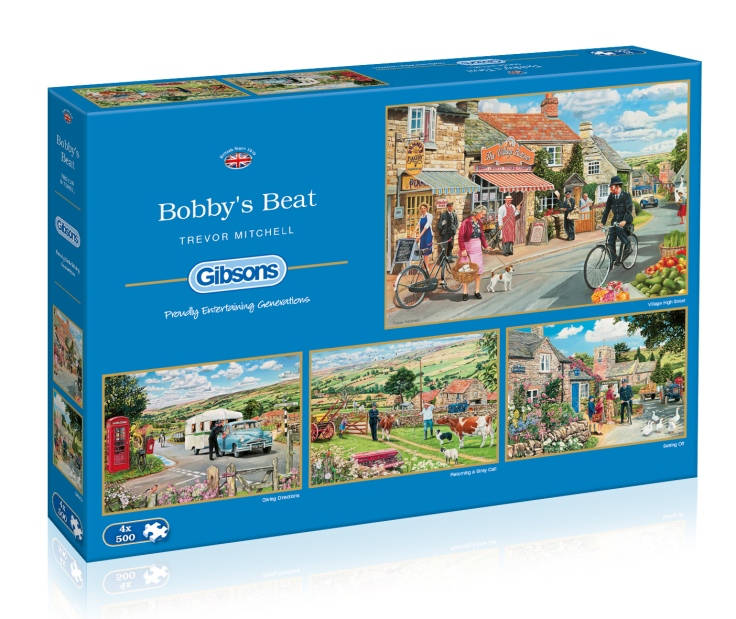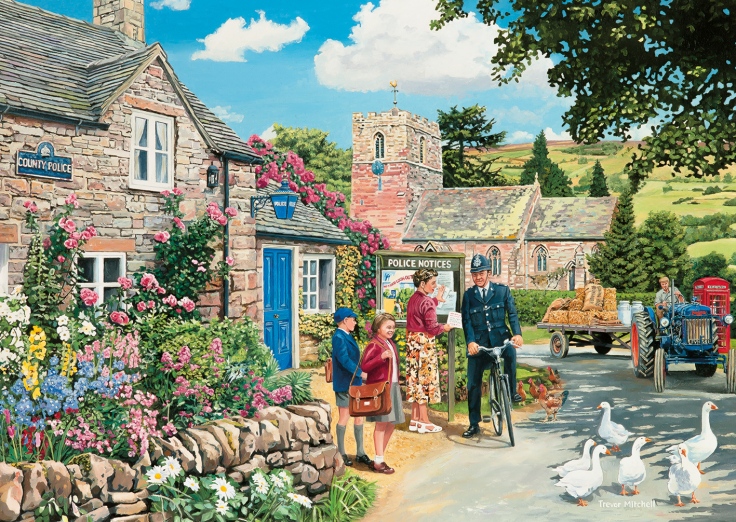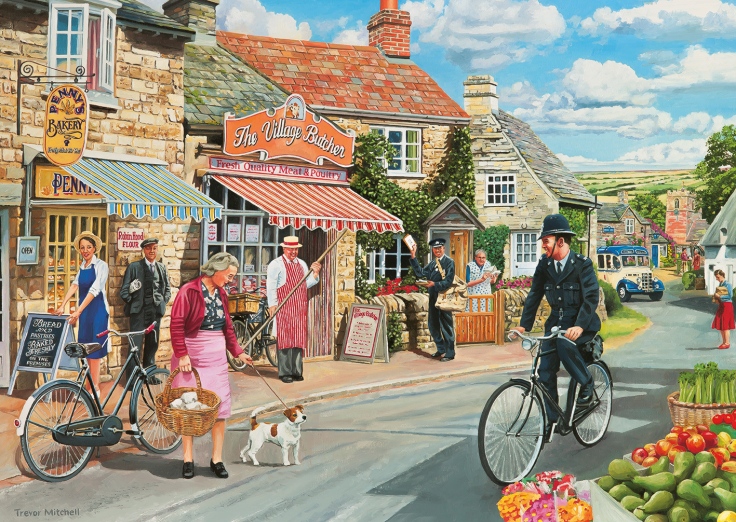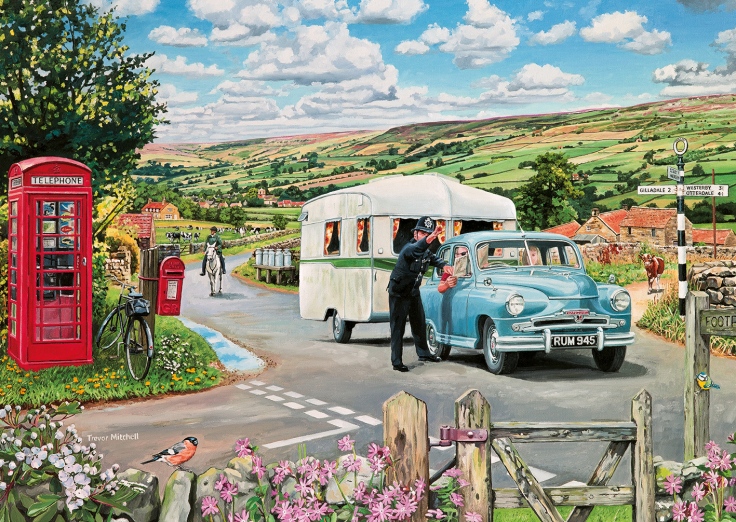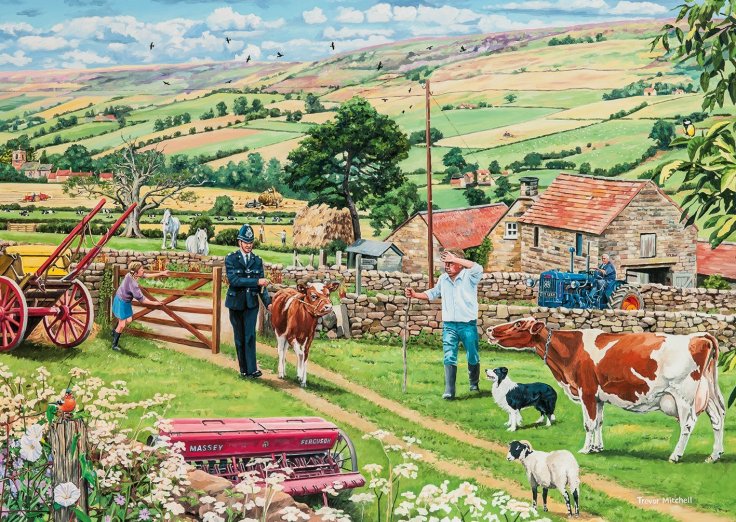 "Out and About" by Kevin Walsh, 4×500
The second set is by Kevin Walsh and has more of a watercolor feel.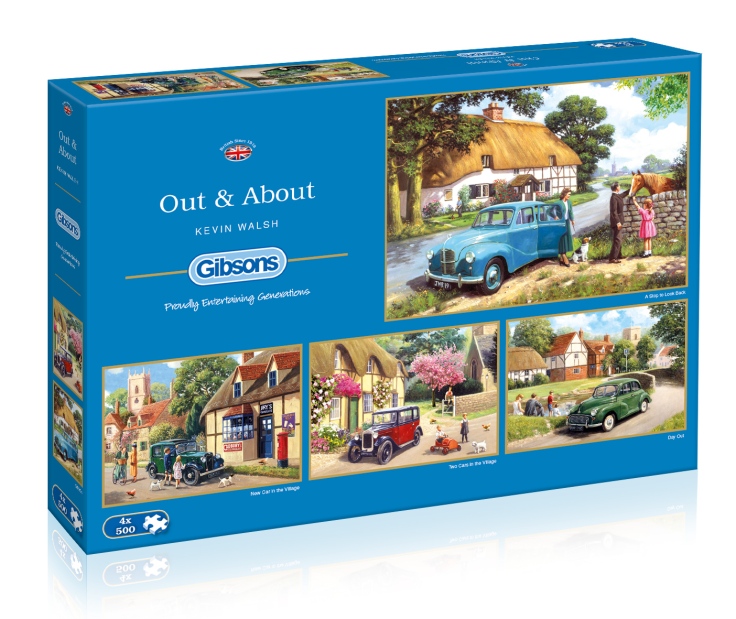 "Catch Us If You Can" by Debbie Cook
I like Debbie Cook's combination of cuteness and detail. This is a brand new image for 2015.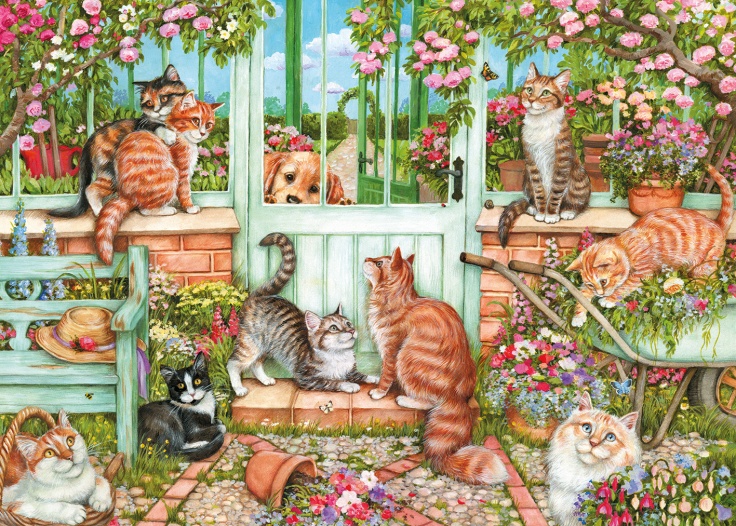 Two new puzzles from Linda Jane Smith
Oh, those crazy cats! Linda Jane Smith's cat images are produced by a number of puzzle manufacturers including Ravensburger, WH Smith, Gibson, and (in the past) Bits and Pieces. Here are two new images for 2015 from Gibson.
"Family Life", 500 pieces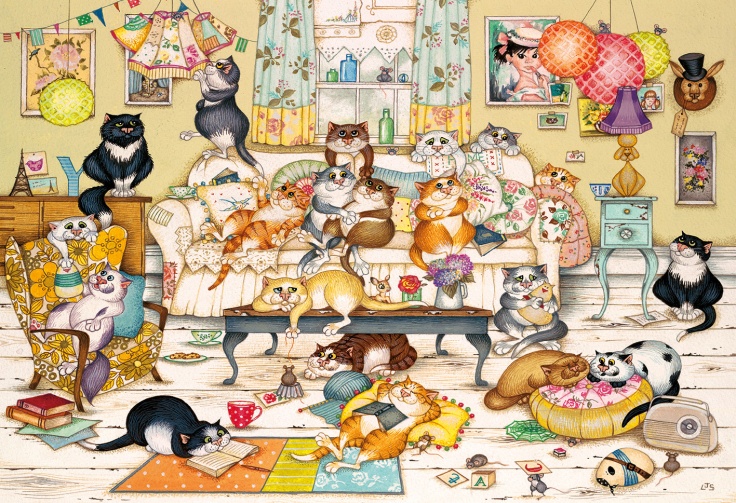 "Purrfect Chocolate", 1000 pieces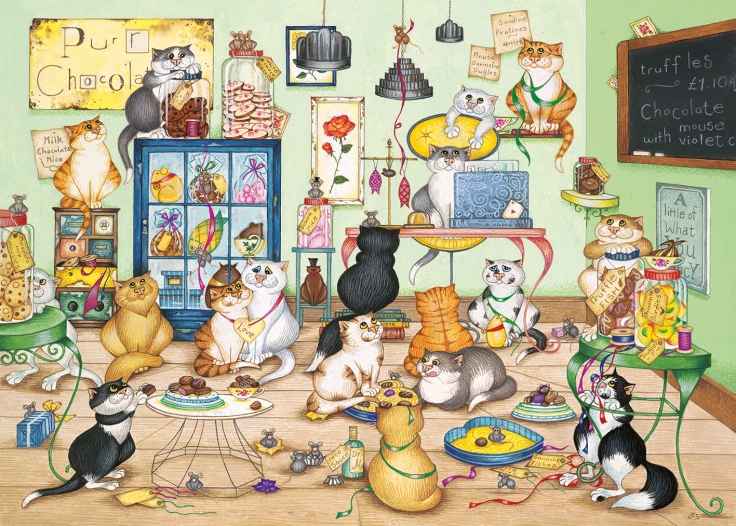 "Upstairs Downstairs" by artist Val Goldfinch, 500 pieces
I always like cutaway designs, and this simple but charming art style reminds me of Gale Pitt. I wish it was available in 1000 pieces too.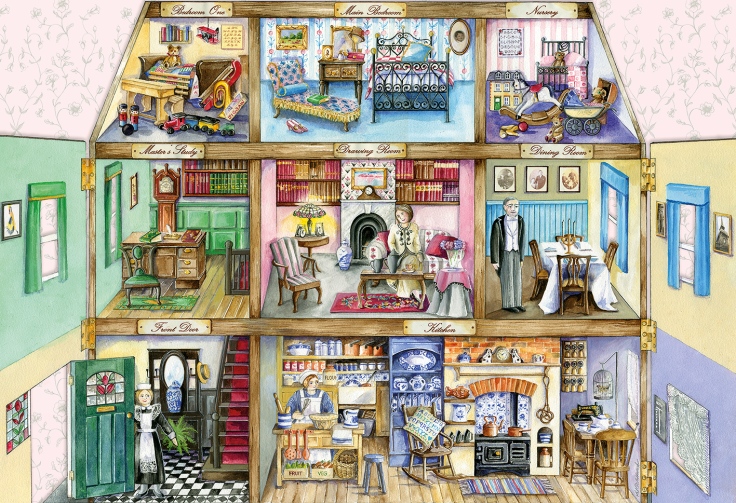 Those are my top pull-outs. Exciting line-up, isn't it? Better start saving those pennies now!
You can see the entire line here.
Where to buy:
Puzzle Warehouse is a great place to find them, as it's the largest jigsaw puzzle store in the world.
JJ