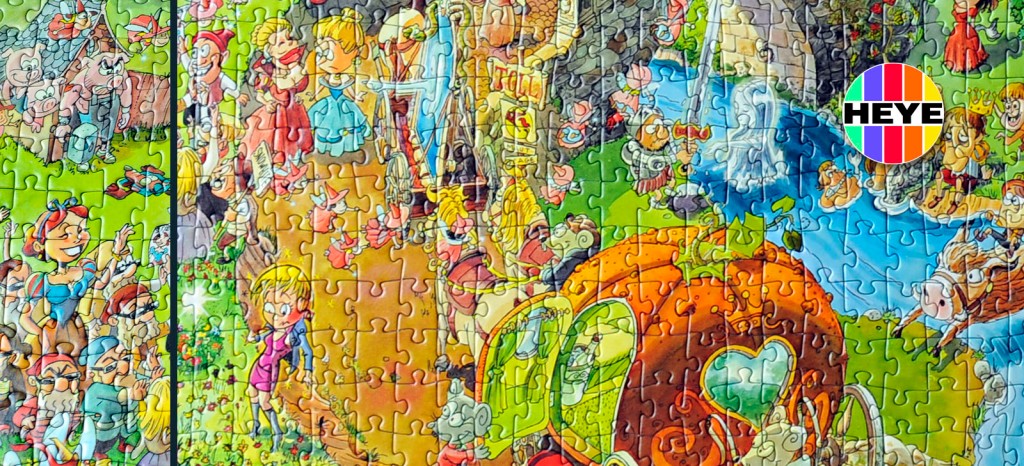 Review: "Fairy Tales", Heye, 9/10
Publisher: Heye (Germany), published 2013
Title: "Fairy Tales", Artist: Hugo Prades, 1500 pieces
OUR RATING: 9/10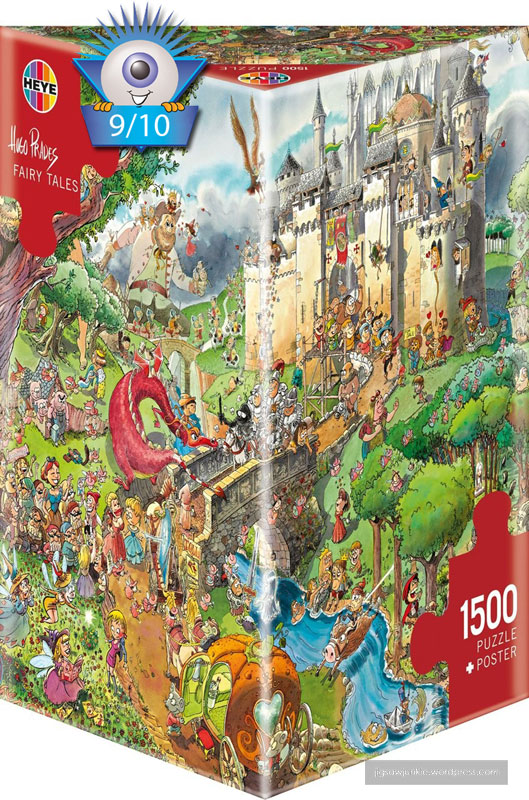 I did this puzzle a while back, but had decent enough photos to do a review for the blog. So here we go!
Box Quality:
I'm a fan of the Heye triangular boxes. If you have a number of Heye puzzles, they store easily and attractively by placing them "end out" on a shelf, using two triangular boxes to make a square (see our Heye page here). The boxes are also different and fun and of beautiful design and quality. You can see the front above. Below is the back.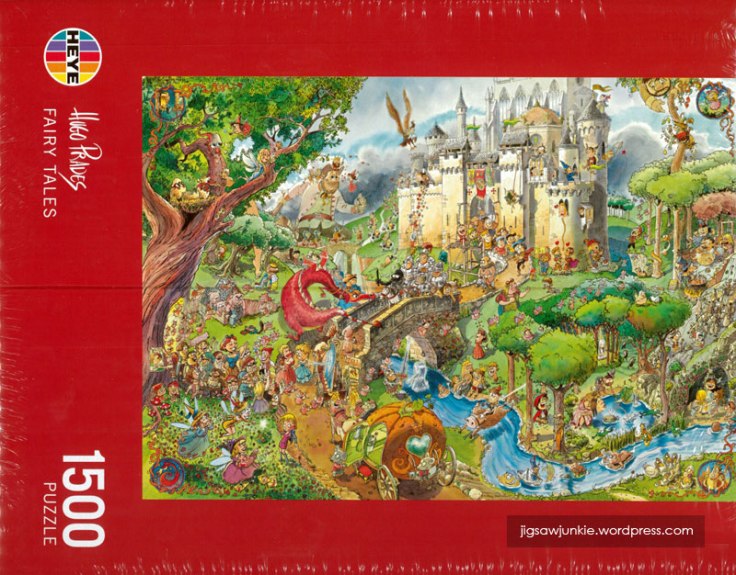 The top has a pull-out from the design and the piece count, so you can tell at a glance what the puzzle is when it's stored end-out on a shelf.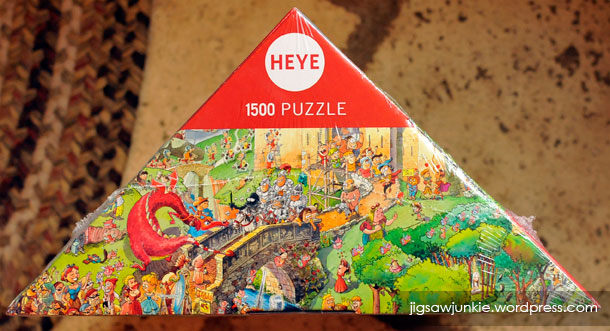 Inside the box there's the bag of puzzle pieces and a very large poster of the image. The poster is a nice keepsake in its own right, and invaluable when working on the puzzle and looking at the fine detail. It's on a very heavy glossy paper, so it holds up to repeated handling. (Unfortunately, I'd already re-shrink-wrapped this puzzle box again before writing this review, so I don't have a photo of the poster.)
The Image:
Hugo Prades, a Spanish cartoonist, is a long-time Heye cartoon artist, and I love all of his puzzles. "Fairy Tales" has a clever theme–a scene filled with humorous takes on fairy tales. The colors are bright and happy. I don't love this image as much as Prades "Walpurgis Night", "Astro World" or "Hotel World", but it's a lot of fun and always a pleasure to get a new Prades puzzle! He has a nice page on his blog showing all the Heye puzles he's done.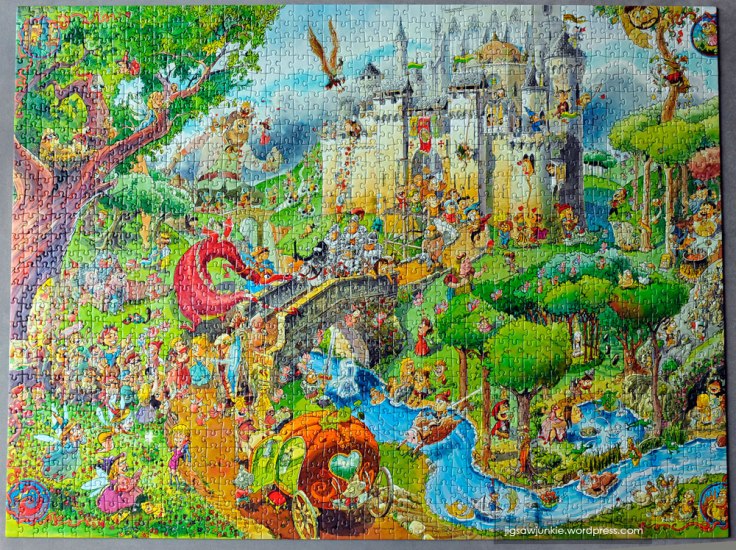 Puzzle Quality:
Heye is a no-brainer trusted quality brand for me. You can see my Heye brand comparison here for details. Suffice it to say this is a solid German company with a level of craftsmanship that's impeccable. The puzzle pieces are thick and the image reproduction is sharp and colorful. (Click on image below for close-up.)
The puzzle cut is a standard grid, but there's lots of variety in the pieces and the grid lines aren't entirely straight, as you can see in the close-up below. The puzzle has a solid fit that is never confusing. You never think a piece fits where it does not.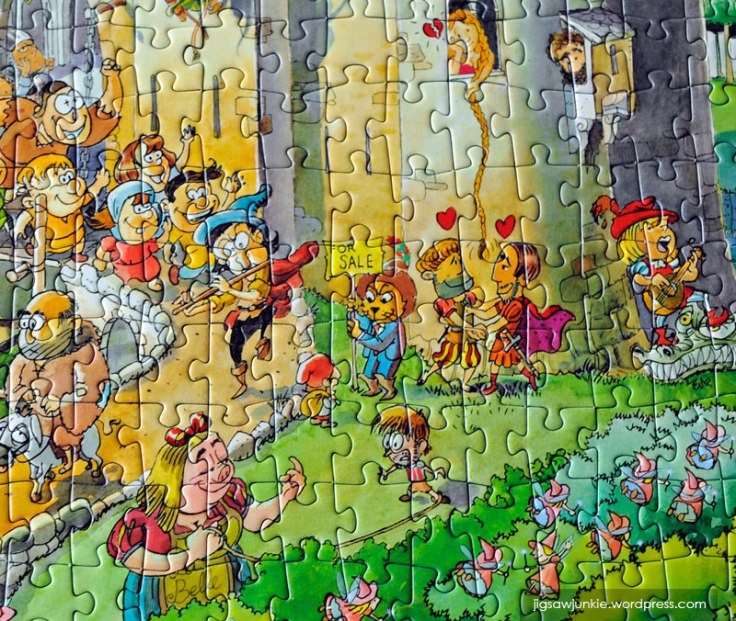 Assembly:
I'd rate this puzzle as 'medium to difficult'. Heye puzzles, like JVH puzzles, are filled with detail, so you need to refer between a piece and the poster image to see where a piece goes rather than work on large areas of color and pattern. The dragon and castle in this image are fairly straight forward to assemble, as are the orange pumpkin and blue stream. But most of the figures are surrounded by green, so you do need to work from the poster a lot.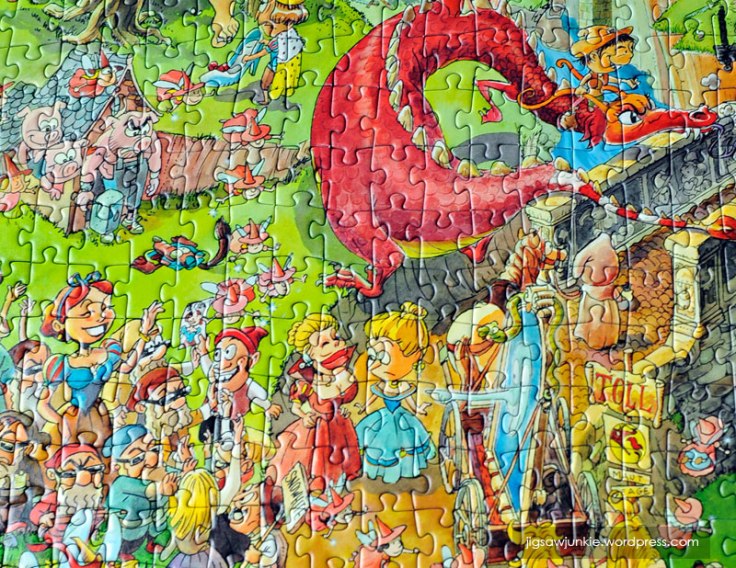 Above: The red dragon is one of the easiest bits to assemble. As well as the orange pumpkin coach (below).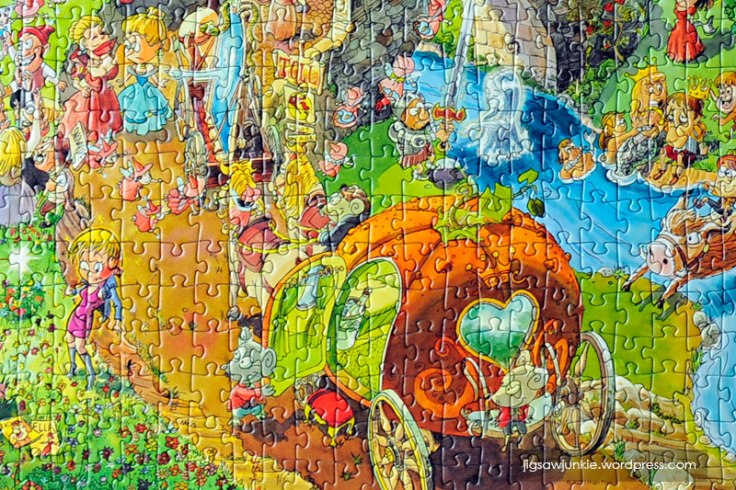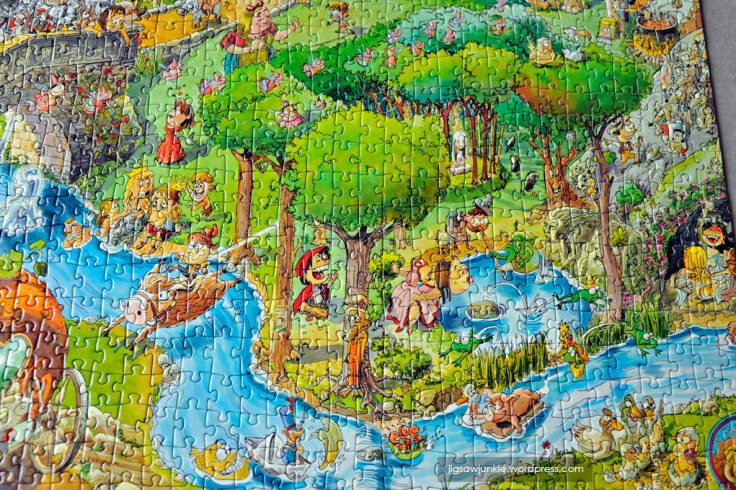 Above: The blue stream is also easier to figure out than all the green.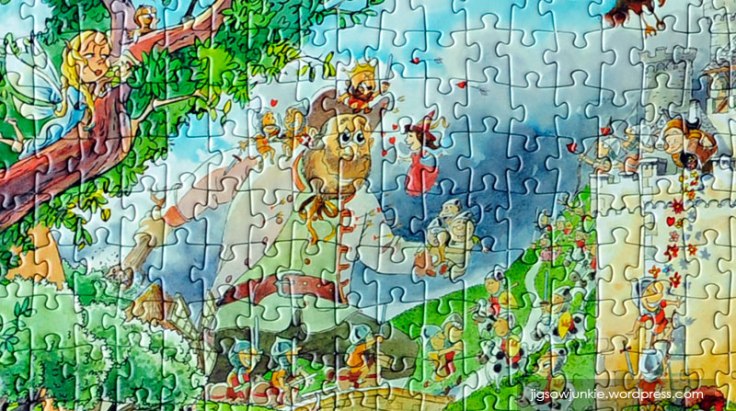 Above: There are references to a lot of specific fairy tales (Pinocchio, Cinderella, Rapunzel, the Ugly Duckling, The Princess and the Frog, etc). But there are a lot of silly generic fairies roaming around the scene too.
Conclusion:
"Fairy Tales" is another very solid cartoon puzzle from Heye and a nice size at 1500 pieces. I always look forward to their new cartoon releases and hope we get more Prades, Loup, and Degano for years to come.
JJ