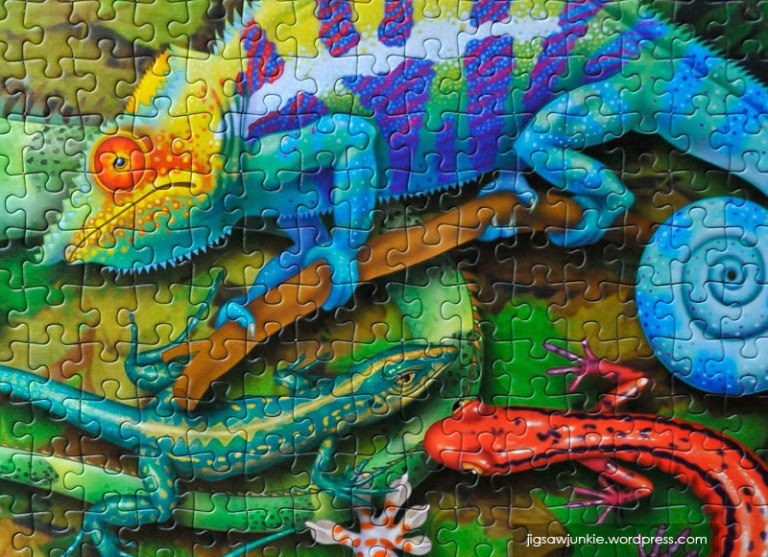 Review: "Salamanders", Piatnik, 9/10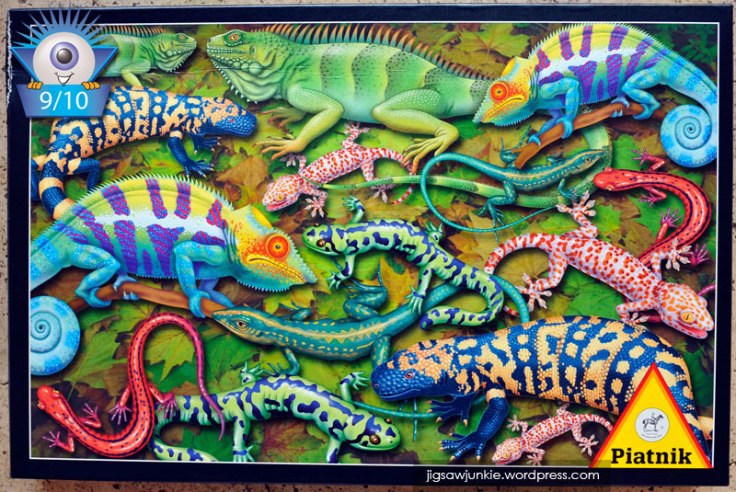 Publisher: Piatnik (Austria), 2011, 1000 pieces
Title: "Salamanders", Artist: Ogdemli/Feldmann Design/Rosenthal Represents
OUR RATING: 9/10. Assembly time: 8.5 hours
I've done several Piatnik puzzles in the past, but always the cartoon ones. "Salamanders" is a puzzle I've been wanting to work for some time. I put the brand comparison for Piatnik up here, but this is the full review for "Salamanders".
Box Quality:
The Piatnik box is similar to many European brands– rectangular and sturdy with good packaging design. The Piatnik brand usually has black backgrounds and the image is large enough on the front of the box to be the reference while working the puzzle. See the front of the box above. Below is the back, which acts as a catalogue, showing other puzzles in the current line-up. Not as nice as specific info on the puzzle and artist but better than a black back!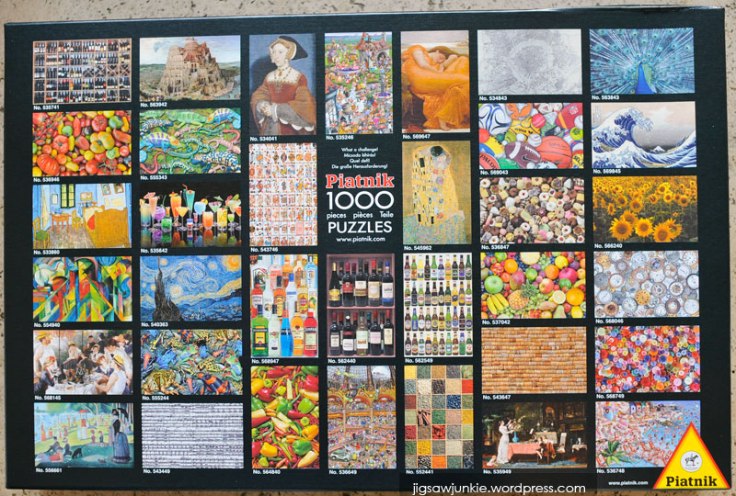 Sides:
All four sides are ideal for shelving, giving you plenty of options. They show the puzzle image, name and artist (small), piece count, and Piatnik logo. They also show the piece and final puzzle size.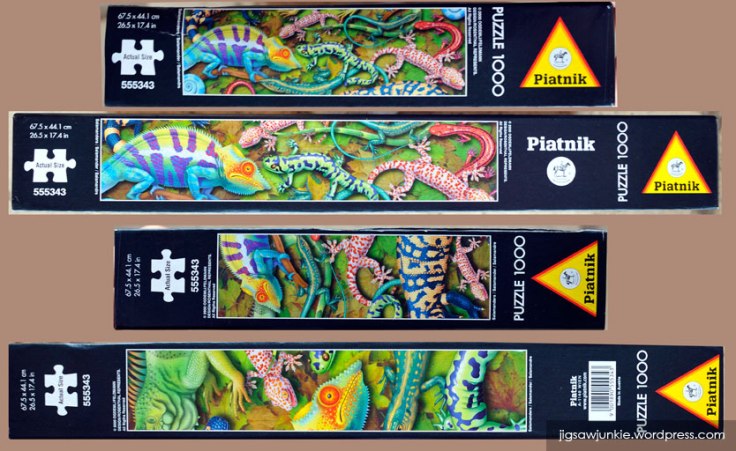 Inside the box:
Nothing comes inside the box except the bag of puzzle pieces. There's little puzzle dust and the pieces are fully separated and in excellent condition open opening.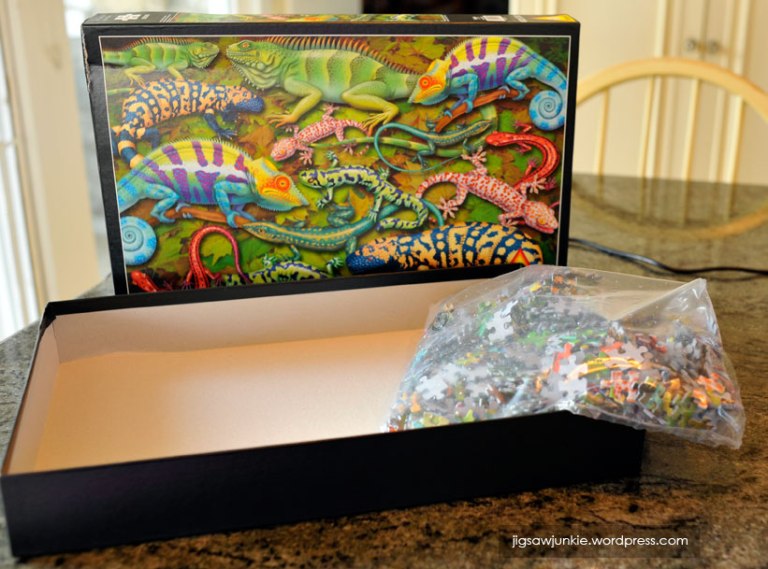 The Image:
I was drawn to this image immediately when I first saw it. Though I can't say 'insect' or 'reptile' puzzles are a favorite of mine, this one appealed to me because it's a cartoony illustration. I love the bright colors and patterns of the salamanders and the picture composition. It looks like a perfect collage-type image for a puzzle.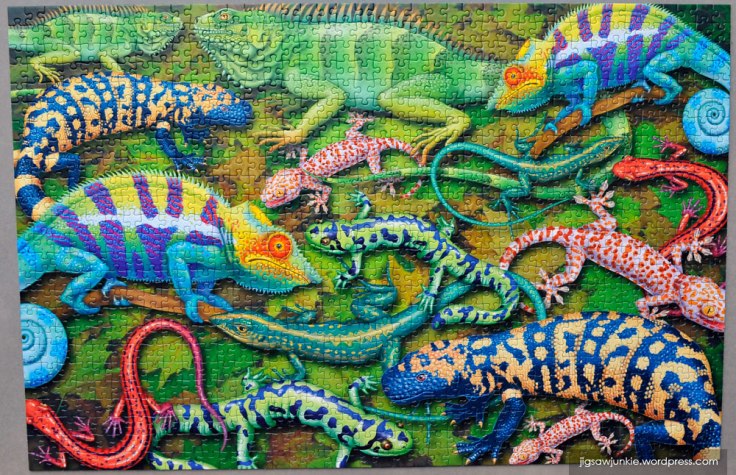 Puzzle Quality:
The Piatnik puzzle quality is good with thick-feeling pieces. Piatnik puzzles are grid cut, and mostly consist of two-knob/two-hole pieces. But the fit is pretty tight and you can move pieces around without them falling apart. There is enough variation in the pieces that there was never any question about whether a piece fit or not. The fit reminds me of Jumbo (which is good). You can see our full brand comparison here.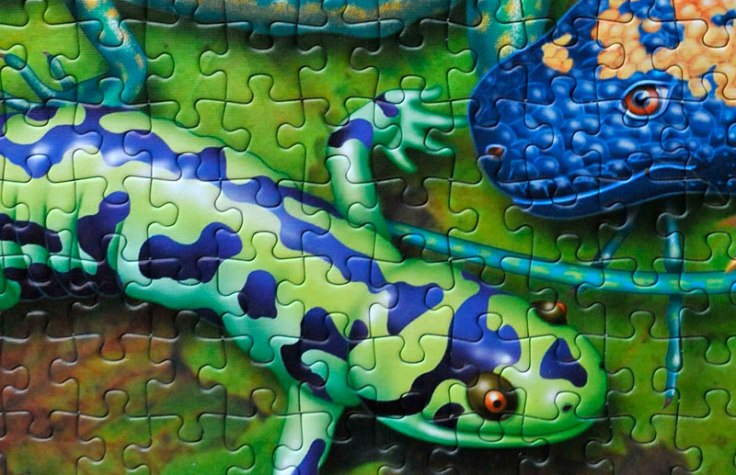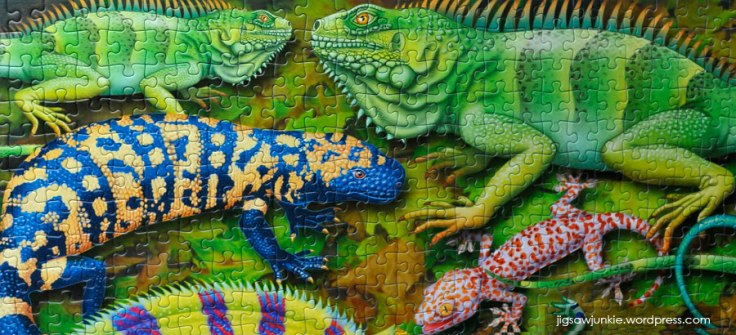 Assembly:
This puzzle was tougher than I expected, and it took me longer than the average 1000 piece puzzle. The salamander's patterns are clear to identify, but there's more than one salamander of each kind, and the patterns are repeating, so it's trickier than you'd think. I enjoyed the level of challenge and found it quite fun. I pieced together the brightest salamanders first and tackled the greens last.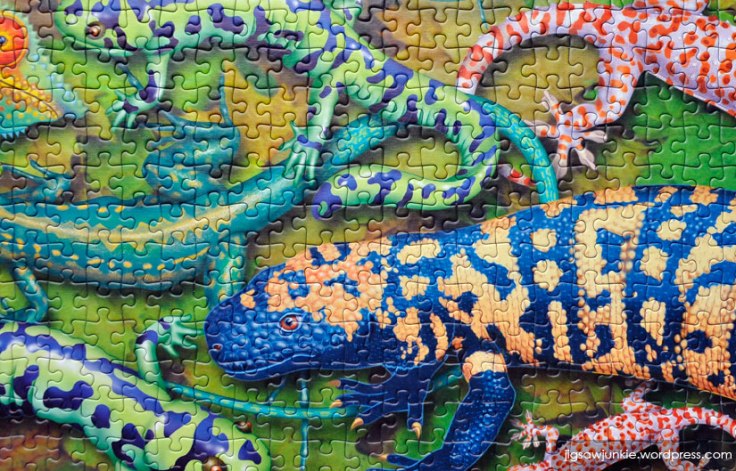 Conclusion:
I definitely recommend this puzzle as something different and fun. Best of all, it's easy to find and reasonably priced.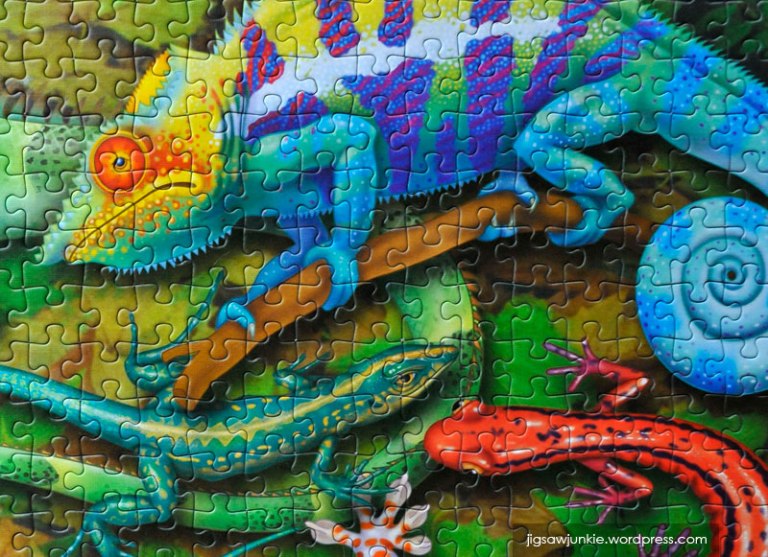 If you like this puzzle, also check out "Frogs" by Piatnik by the same artist: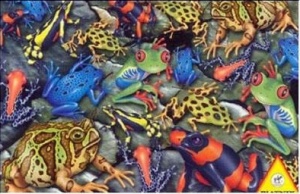 JJ