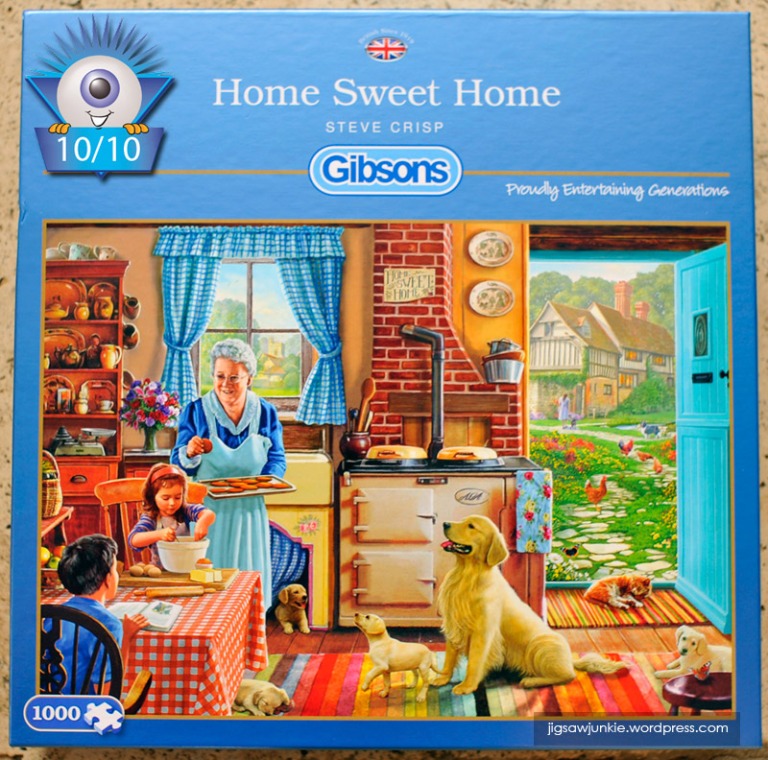 Review: "Home Sweet Home", Gibsons, 10/10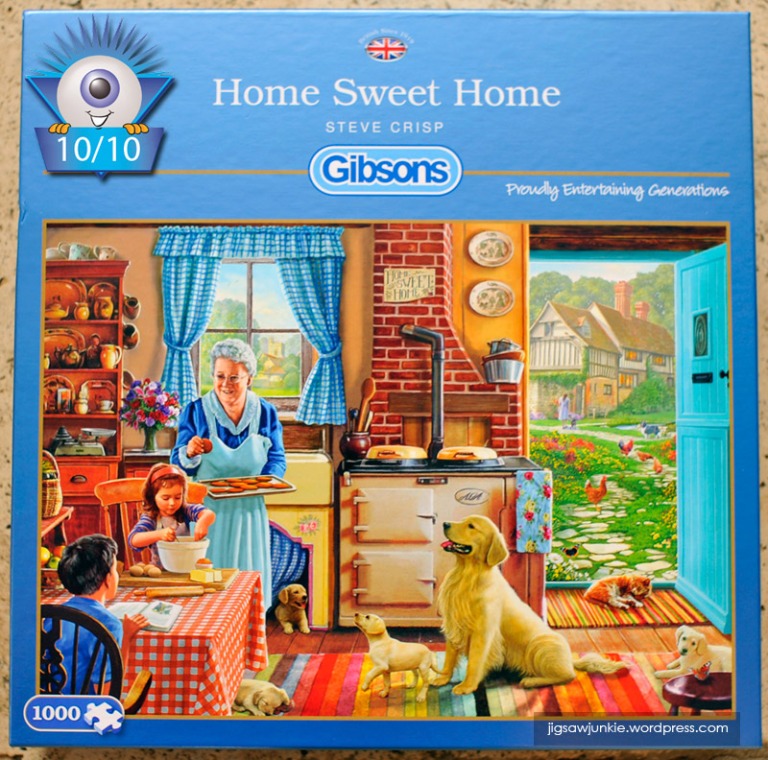 Publisher: Gibsons (UK), published Jan 2015
Title: "Home Sweet Home", Artist: Steve Crisp, 1000 pieces (also available in 500 pieces)
OUR RATING: 10/10

This was my favorite image of Gibsons amazing new 2015 releases, so it snuck to the front of my TBD list when it arrived. It did not disappoint!
Box Quality:
You can see the front of the box above. Gibsons has some of the best boxes in the business. They're sturdy and most have their consistent royal blue background. I like that they have the name of the puzzle image and the artist on the front of the box. And they don't use a generic back. The back has information on this particular puzzle and artist. Nice! This is a box that will hold up beautifully in a collection. They have the year of release on the bottom of the back, too, which I like to have for posterity.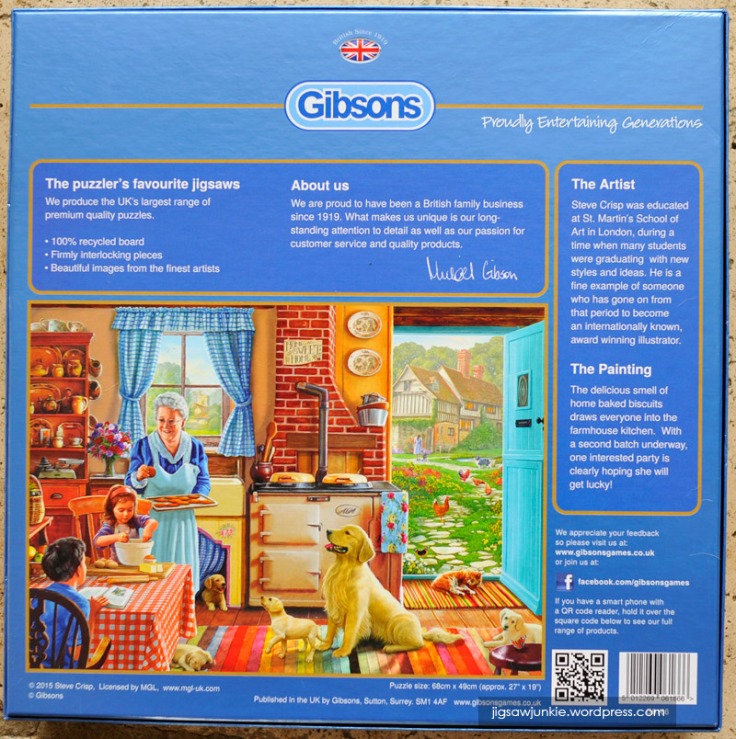 Sides:
The box sides have just the critical info — the name of the puzzle and artist, piece count, Gibsons logo, and part of the puzzle image. This box looks great on a shelf and you can tell at a glance what the puzzle is and who made it without having to pull it out.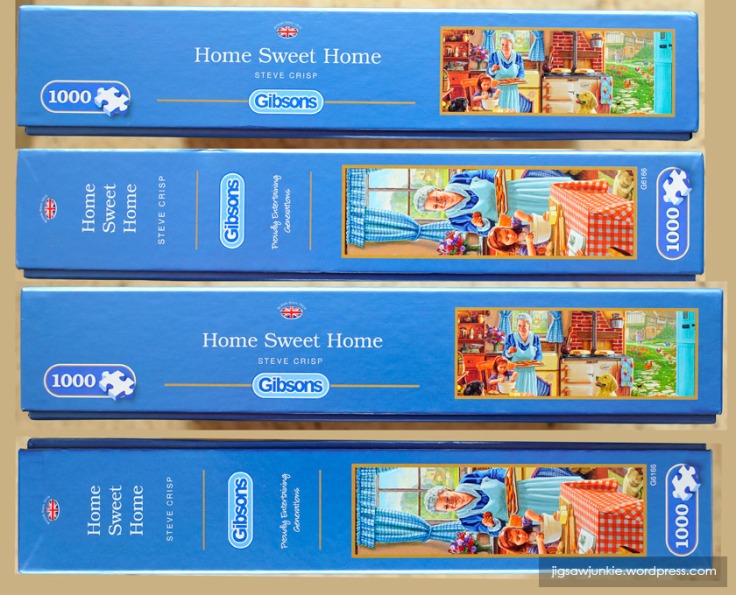 Inside:
Inside the box there is nothing except the bag of puzzle pieces and a black and white guarantee slip. In the past, Gibsons has included a small color catalog of their puzzle line in their boxes, so this is a bit disappointing. As usual, though, the bag of puzzle pieces was in excellent condition with no puzzle dust, no damage to the pieces and everything fully separated.
The Image:
Steve Crisp is one of my favorite British nostalgia puzzle artists. He has a more detailed and 'finished' style than many other puzzle artists, which can be on the sketchy/brush-strokey side. There's also a softness or sweetness to his images that I like. This particular image is one of his best. It's a cozy/homey British scene that manages to incorporate so many wonderful colors and patterns, making it ideal for assembly. I love the open doorway and the glimpse outside, which is almost a mini-puzzle by itself. Dogs, Grandma and cookies. The fluff factor overfloweth!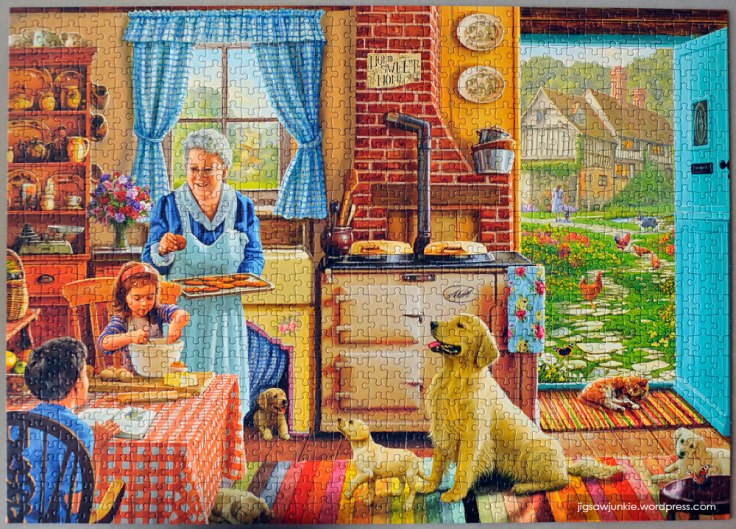 Puzzle Quality:
You can see my Gibsons brand comparison here for details. Everytime I do a Gibsons, after having done other brands, I'm reminded of how fabulous their quality is. Their pieces are even a bit thicker than Ravensburger, and have a non-glare almost waxy finish over the top of the pieces that feels great in your hand. Everything about the brand is quality.
The one 'flaw' I noted with Gibsons in my brand review is also true of this puzzle. That is, their puzzles have some pieces that are basically interchangable on 2 or even 3 sides. In fact, I've had a piece fully 'sunk' on all 4 sides and only realized later that it wasn't right when it's 'twin' piece didn't quite go in the left-over spot. In this particular puzzle this occurred, just to name one place, at the top of the open doorframe where the pieces had a bit of the brown wood and blue sky on them (see image of open door below). Several pieces in that area were nearly completely interchangable. In other words — pieces appear to fit where they do not.
By now, I've gotten more used to this aspect of Gibsons, and it can be seen as an additional challenge to getting the puzzle 'right'. I always figure it out in the end. In this image there were only a few pieces that were interchangeable in each location, not like the sky of "Hop Country" where there were more than a dozen blue pieces. So I am not marking off anything for this. It didn't hurt my enjoyment of this puzzle.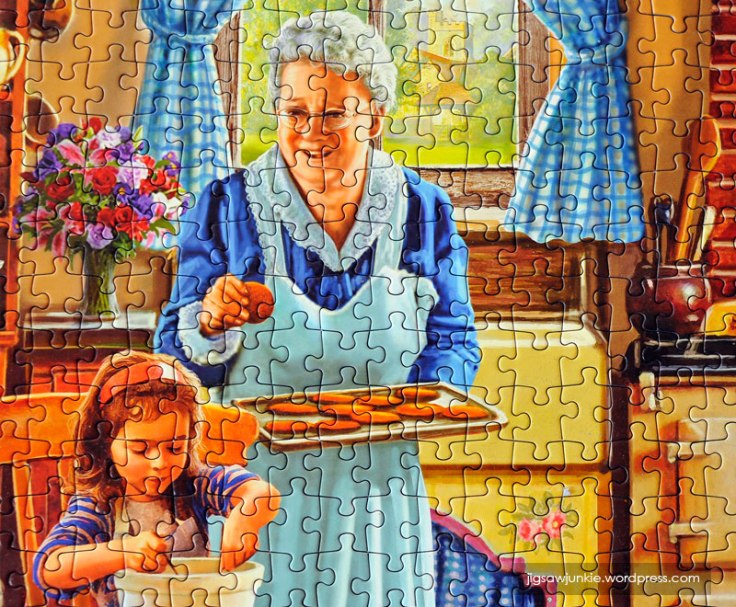 Above: Here. Relax and have a cookie.
Assembly:
This is an easy puzzle and very fun to assemble. I did the puzzle in 2 evenings, which is about as fast as I do a 1000 piecer. After putting together the border, there are a number of color patterns you can pick out to tackle next–the blue checked curtains, the aqua door, the striped rug, the red checked tablecloth. The scene out the doorway is fun to assemble by itself since the green of the grass and the buildings are obvious.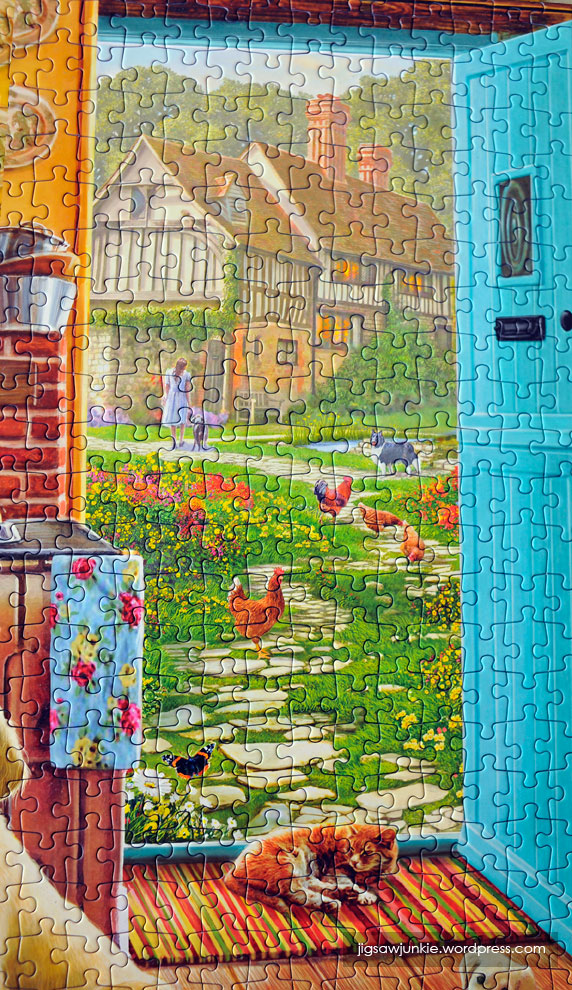 Above: You can see at the top of the doorway where several pieces are nearly interchangable. Took me a few tries to get it right.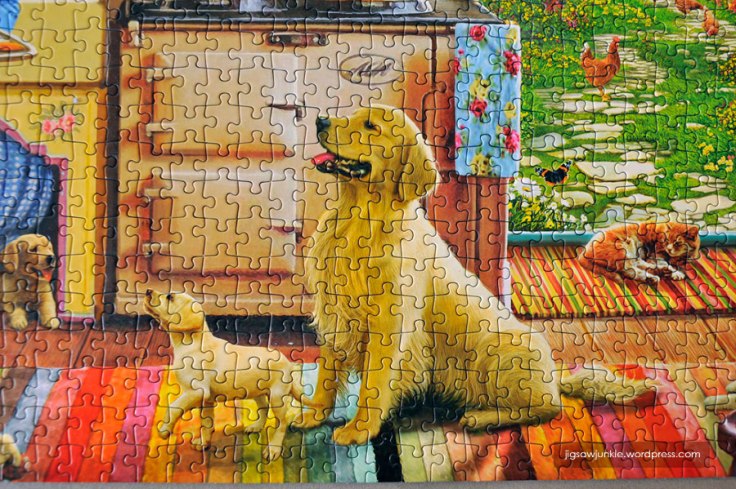 There's a nice selection of 'animal fur' in this puzzle too and the wall areas have slightly different shades.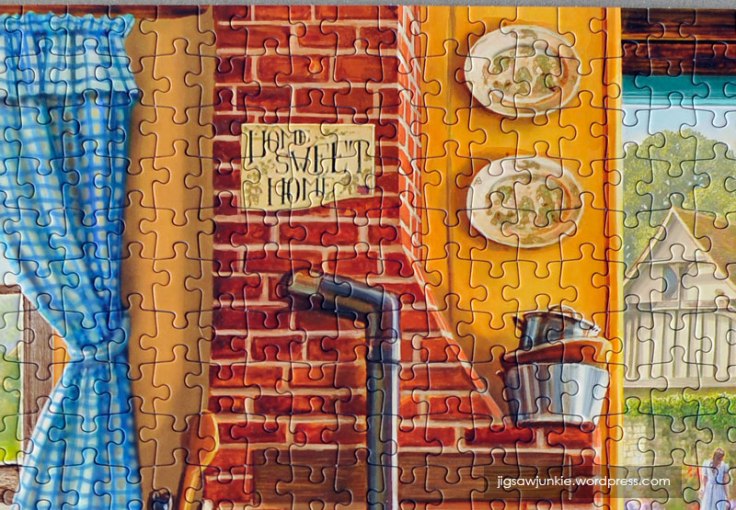 Conclusion:
If you like this image at all, then you'll really want to pick up this puzzle. The quality is amazing and it's simply a joy to put together. The final result is quite attractive too.
JJ