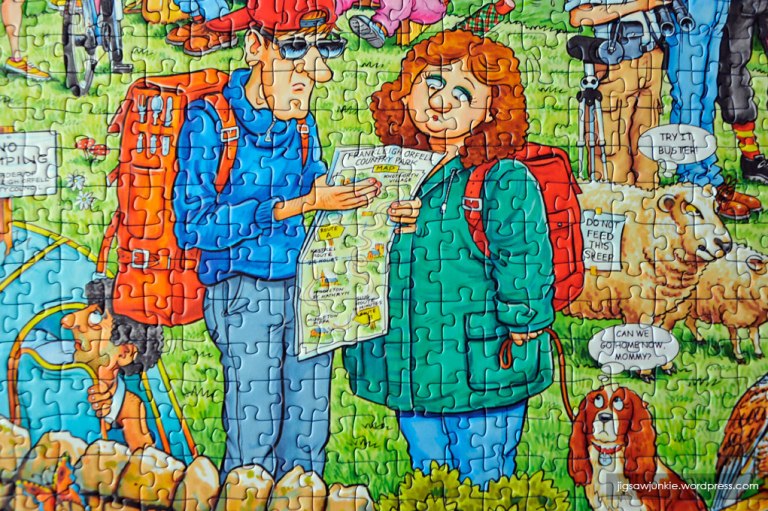 Review: "Best of British #12 – The County Park", Ravensburger, 10/10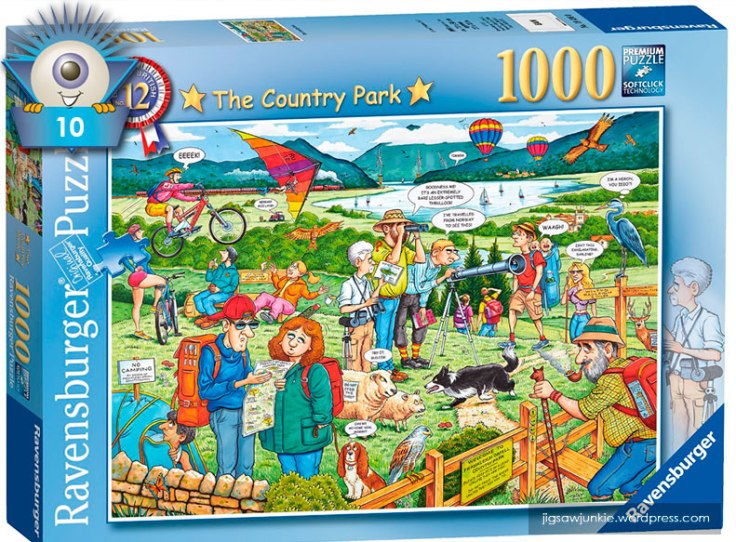 Publisher: Ravensburger (Germany), published Feb 2015
Title: "Best of British #12: The County Park", Artist: Geoff Tristram, 1000 pieces
OUR RATING: 10

I love the "Best of British" series because they're both humorous cartoon puzzles and British/Anglophile puzzles at once. And of course, the artwork by Geoff Tristram (see our interview with Geoff here) is always clean, creative, and funny.
Box Quality: (10/10)
The box gets a perfect score. You can see the front above. As always, Ravensburger boxes are high quality, thick, and with excellent graphic design.
The back of the box, shown below, is a generic Ravensburger back. However, this is compensated for by the goodies inside.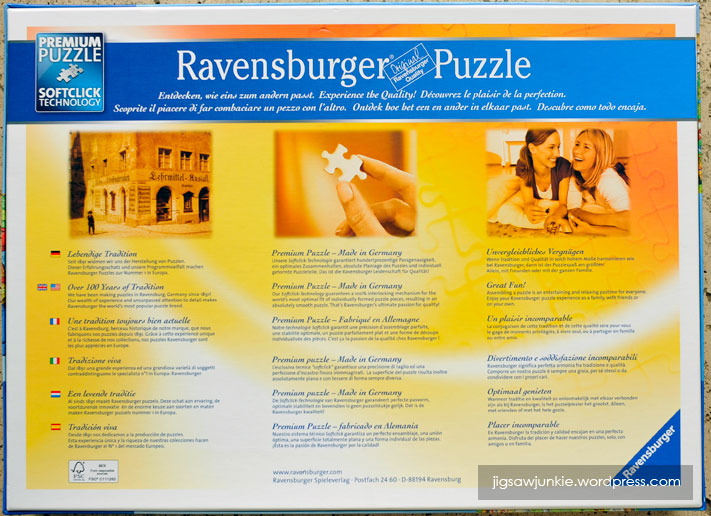 Sides:
The sides of the box are really great for shelving, though I would have liked to have seen the series logo "Best of British" and the number (#12) on the sides as well, so you could line up the series and see the order at a glance.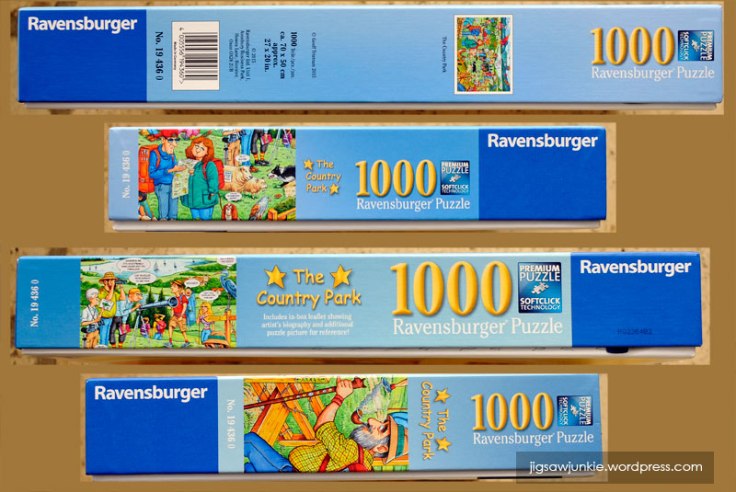 Inside:
This box scored so highly because it comes with lots of goodies. There's a sheet on the "Best of British" series, one on the "What If?" series, plus a small color catalog and a Ravensburger warranty slip. Very nice!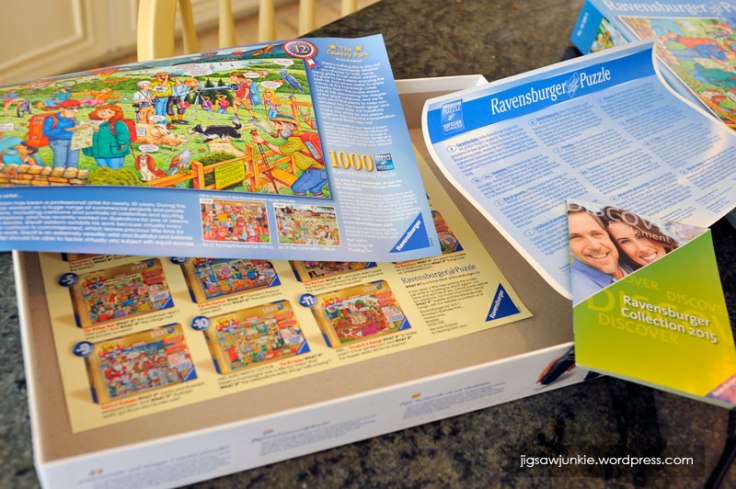 Puzzle Quality: (10)
You can see my Ravensburger brand comparison here. This is our highest ranked brand. Though the puzzle cut is a standard grid, which I don't like as well as a random cut, there's a wide variety of piece shapes, never confusion over whether a piece fits or not, thick pieces, a special 'soft click technology' fit, and a matte, non-glare finish.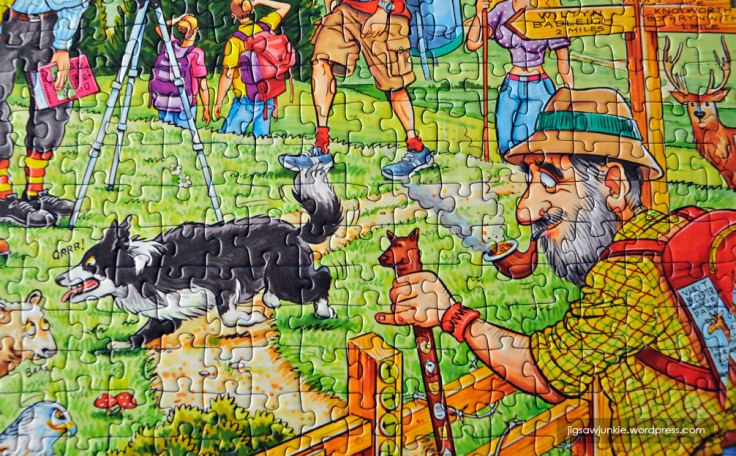 Click on the picture above for a close-up of the piece shapes
The Image: (10)
Well, I love the Best of British series in general (you can see them all here). I have them all and they're fun to collect. I particularly like this scene because I love walking and hiking so this park image is right up my alley. There're lots of little jokes throughout the image like the names of the towns, the clueless bird watchers, etc. As always, Geoff Tristram has a very clean and crisp style and good use of color.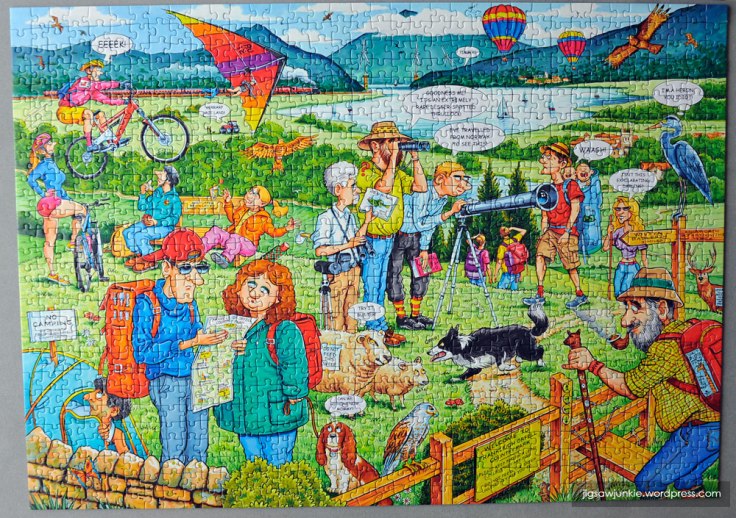 Assembly: (10)
This is a very easy puzzle, but sometimes that's just what the doctor ordered, especially after finishing something large and complicated. This is an excellent image for a puzzle because there's very little space where there isn't something unique going on. You always know where a piece goes. I like the colors on the clothing, the lake, the fence, and other details around the scene that spread out the visual interest.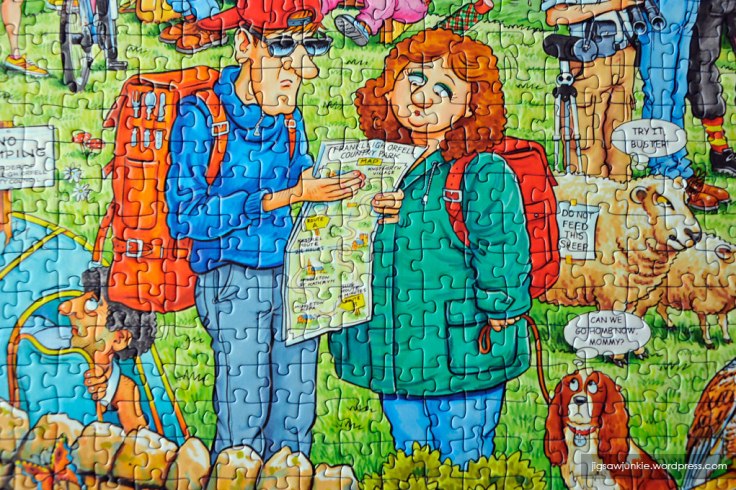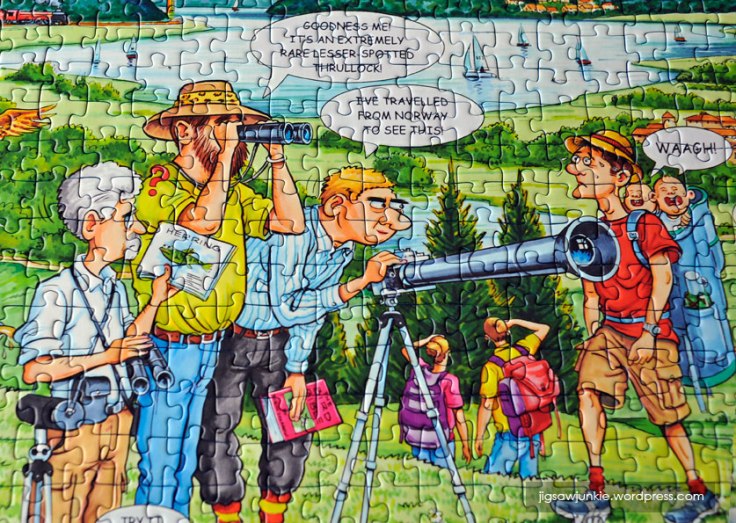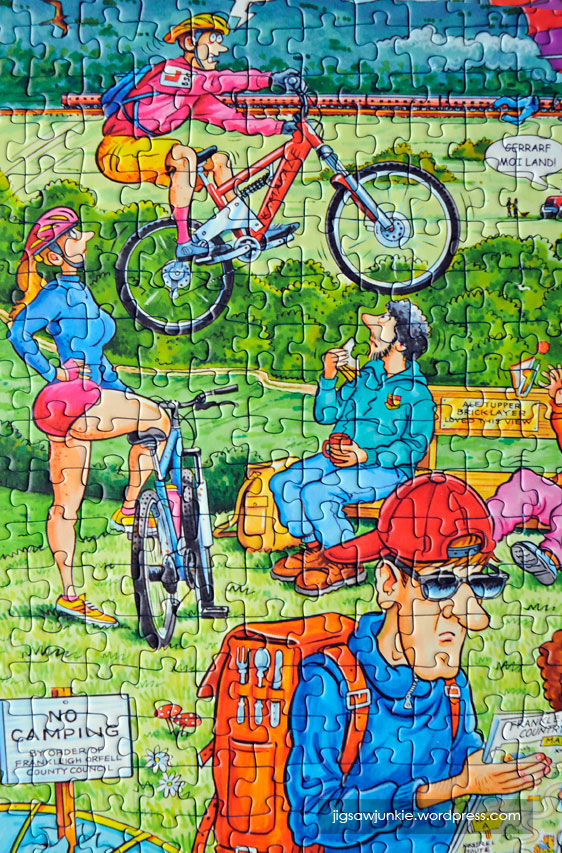 Conclusion:
If you like cartoon puzzles, give the "Best of British" series a try. This is a good one to start with. If you already collect the series, you'll be very pleased with the new addition. Highly recommended!
Final Score:

JJ