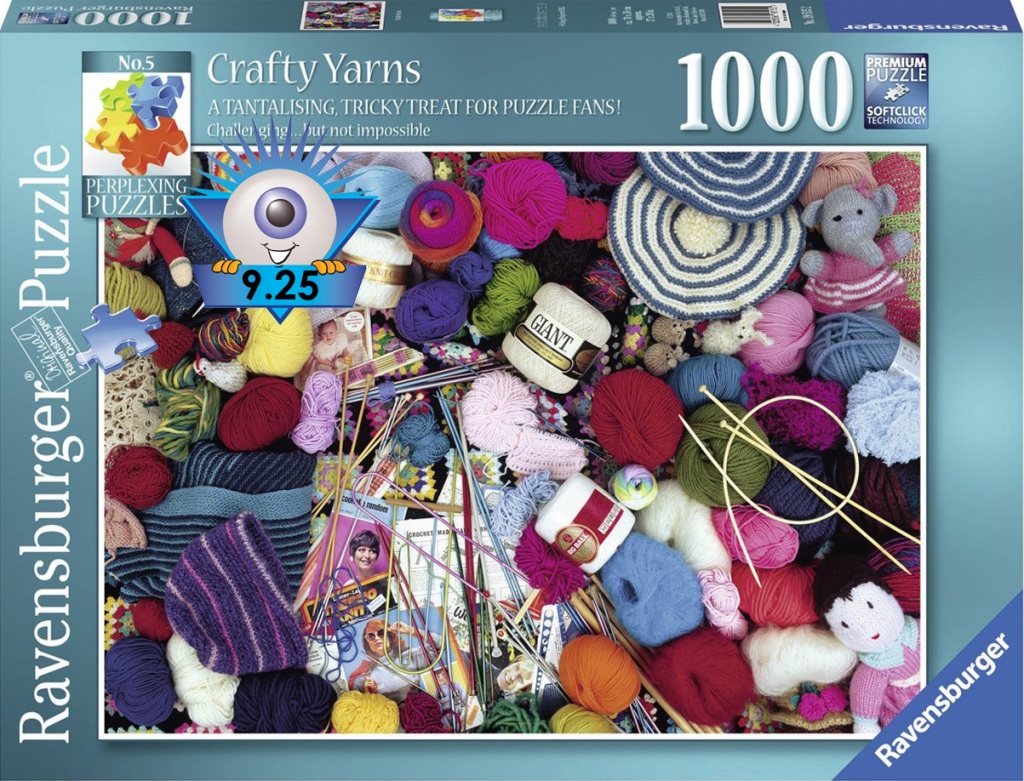 Review: "Crafty Yarns" by Ravensburger, 9.25/10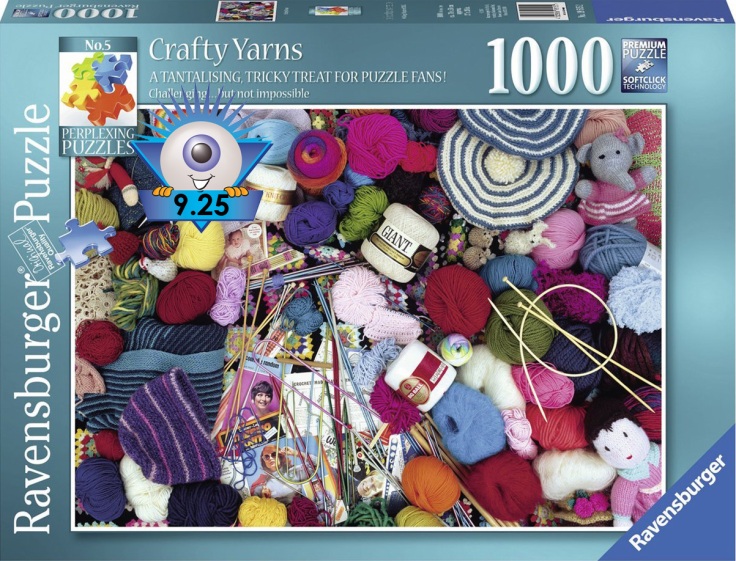 Publisher: Ravensburger (Germany), published 2015
Title: "Crafty Yarns: Perplexing Puzzle No 5", 1000 pieces
OUR RATING: 9.25

The "Perplexing Puzzle" series from Ravensburger features collage photographs with repeating colors and elements. The idea being that the puzzle is more challenging, but the challenge isn't in the piece cut but in the layout of the image itself. "Crafy Yarns" is Nbr 5 in the series and was released Jan/Feb 2015.
Box Quality: (10/10)
Ravensburger does excellent boxes. They feel like a high-end board game. The box itself is rectangular and very sturdy. You can see the front of the box above. Below is the bottom: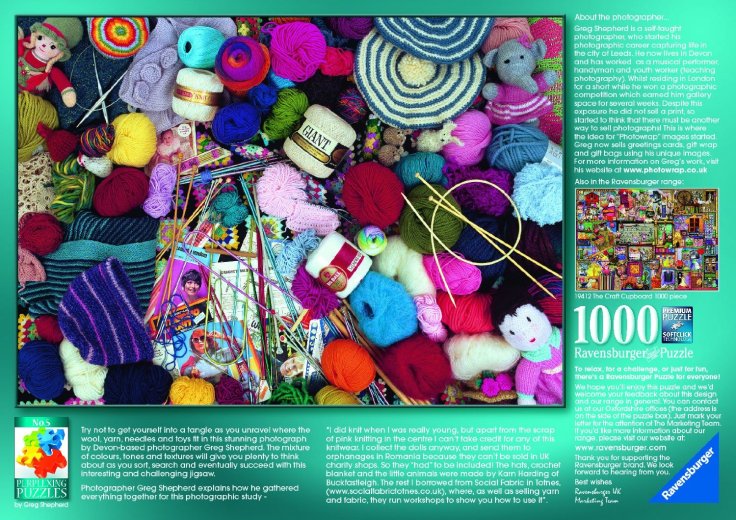 As you can see, the bottom of the box is custom for this puzzle and includes information on the puzzle and on other puzzles in the Ravensburger line.
Inside the box, you get the bag of puzzle pieces, a small color catalog of Ravensburger's 2015 colleciton, a large data sheet on the puzzle, with the puzzle image (like a small poster), and another color sheet on Ravensburger quality and guarantee. I love that they have the series name and logo on front, back, and all four sides, making it nice to shelve the series together.
Puzzle Quality: (10)
You can see my Ravensburger brand comparison here. Suffice it to say, the Ravensburger brand is excellent with thick pieces, a grid cut that has a lot of variety in the pieces, and a nice matte, non-glare finish. There is never confusion over whether a piece fits or not. Their patented "soft click" technology gives a little extra 'oomph' when fitting a piece.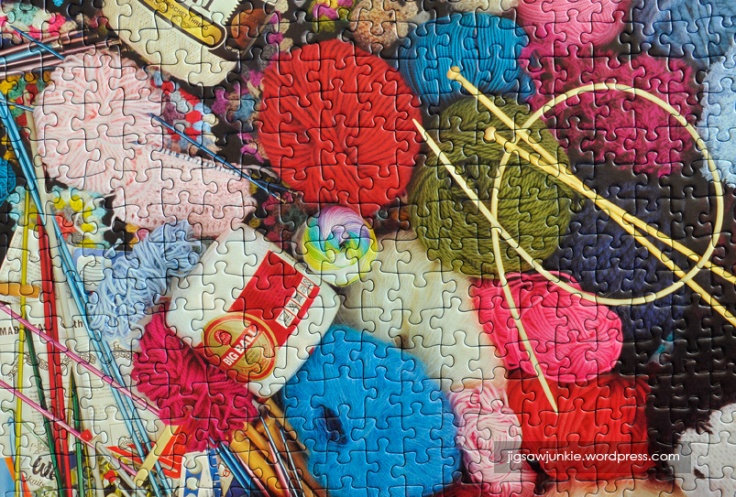 Click on the picture above for a close-up of the piece shapes
The Image: (8)
I generally prefer illustrated images over photographic, but I like the idea behind the "Perplexing Puzzles" series. I like that this image contains similar colors and textures dotted here and there over the picture. And the vintage yarn theme is nice. It should appeal to a lot of puzzlers.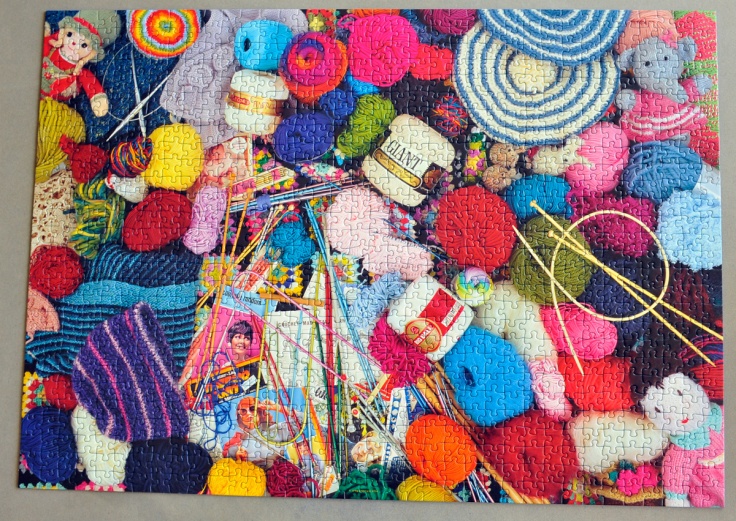 Assembly: (9)
I found the puzzle quite quick and fun to assemble. I did the border, and then assembled all the 'pinks', then the 'reds', etc. Even though there are multiple balls of yarn in each color, once you have the individual balls assembled, there's enough difference in their position or other factors that you can tell where it goes in the image.
As far as "perplexing" goes, I would rate this puzzle just a step above easy. But that was fine with me. I think some of the earlier puzzles in this series were more difficult. For me, it was a simple and enjoyable puzzle to put together in two evenings while I had the TV on.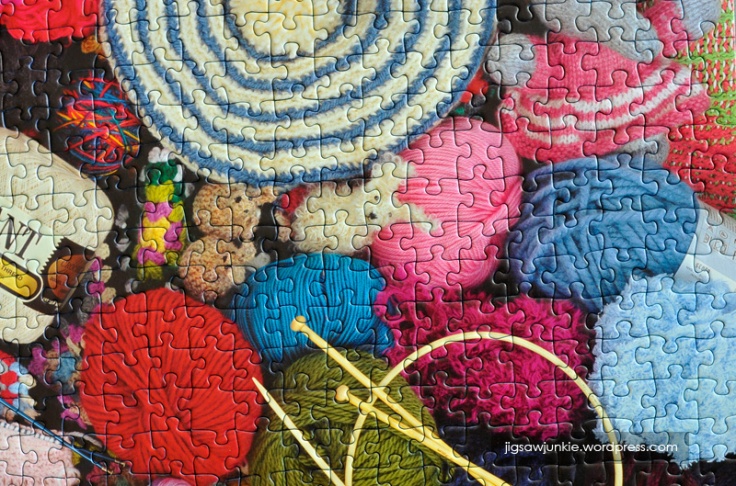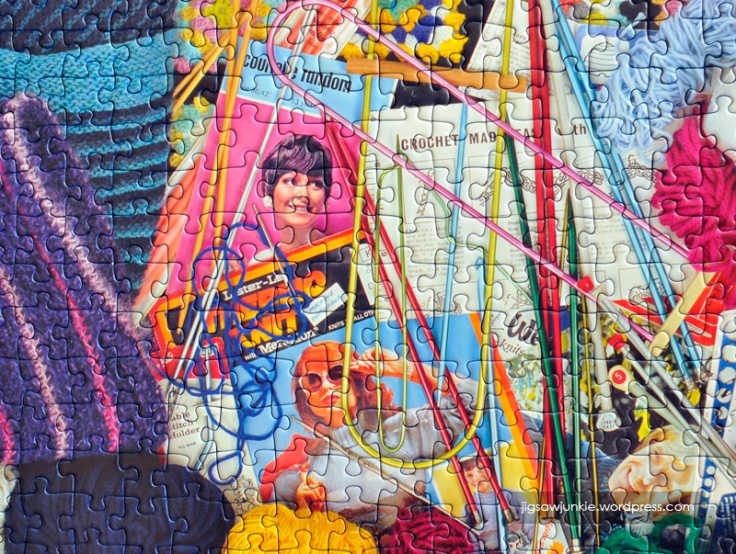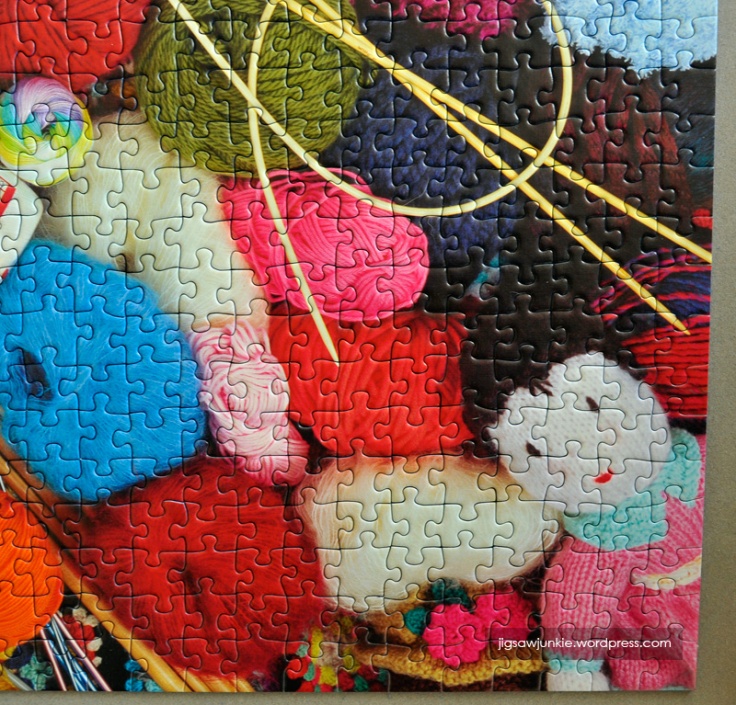 Conclusion:
The final score is high, 9.25. If this image appeals to you, it's definitely a quality puzzle to buy.
Final Score:

JJ