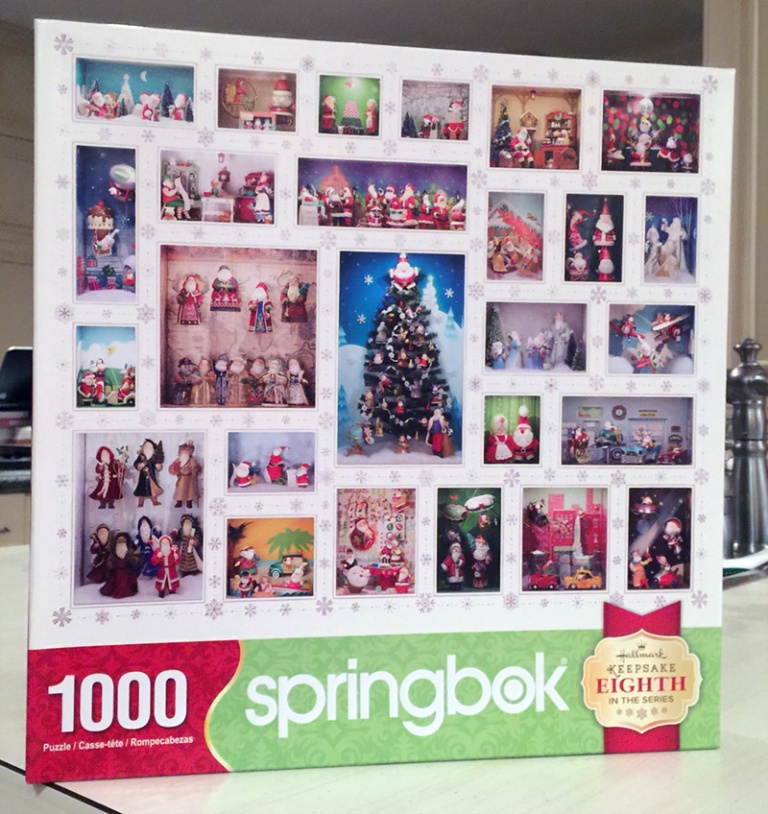 Review: "Santa's World Hallmark Keepsake" by Springbok 8.5/10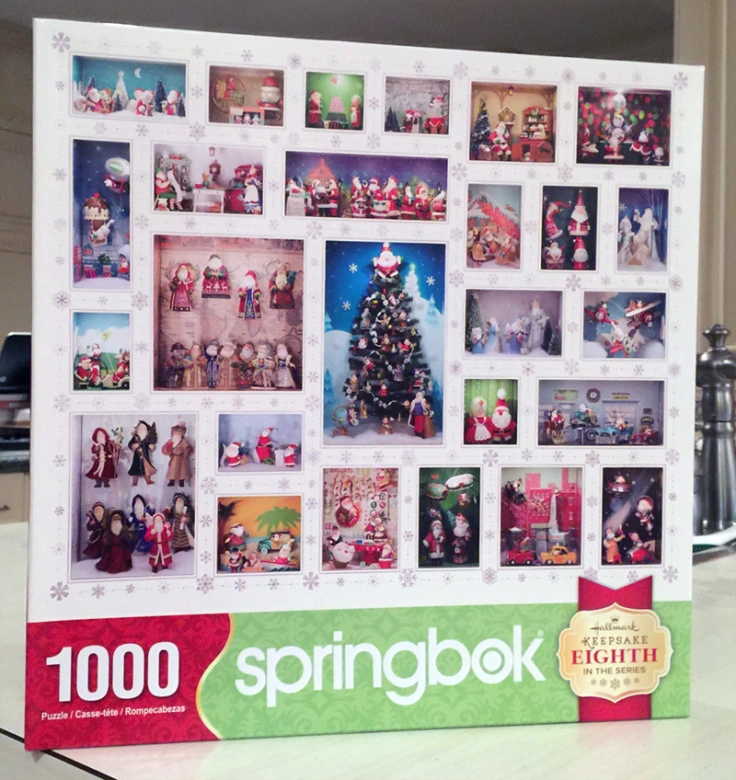 Publisher: Springbok (US), published 2015
Title: "Santa's World Hallmark Keepsake", 1000 pieces
OUR RATING: 8.5/10

Box Quality:
The Springbok box is quick thick and sturdy and square in shape.
Inside:
Inside the box is a bag with the puzzle pieces (in excellent condition, no damage, puzzle dust, or unseparated pieces), a small warranty card and a Hallmark postcard.
The Image:
This is the 8th in a series of Christmas puzzles with a Hallmark Keepsake Ornament theme. You can read our review of last year's puzzle here. This year's puzzle has a collage style with lots of separate boxes containing vignettes. Each vignette centers around a Hallmark ornament (mostly Santas). (Click on any of the images in this review for a closer look.)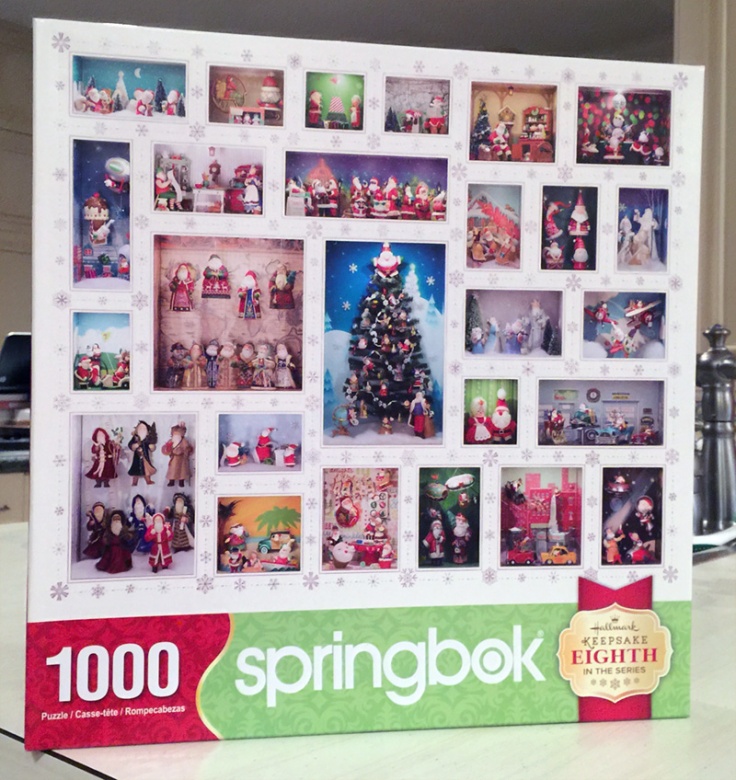 Puzzle Quality:
You can see my Springbok brand comparison for details. Springbok pieces are thick and have a random/non-grid cut. I really enjoy the crazy variety of piece shapes. It makes the puzzle a lot more interesting. The puzzle also holds together very tightly, so you can pick it up easily when it's done without it falling apart. The pieces have a bit of gloss to them, so they're slightly reflective under strong light.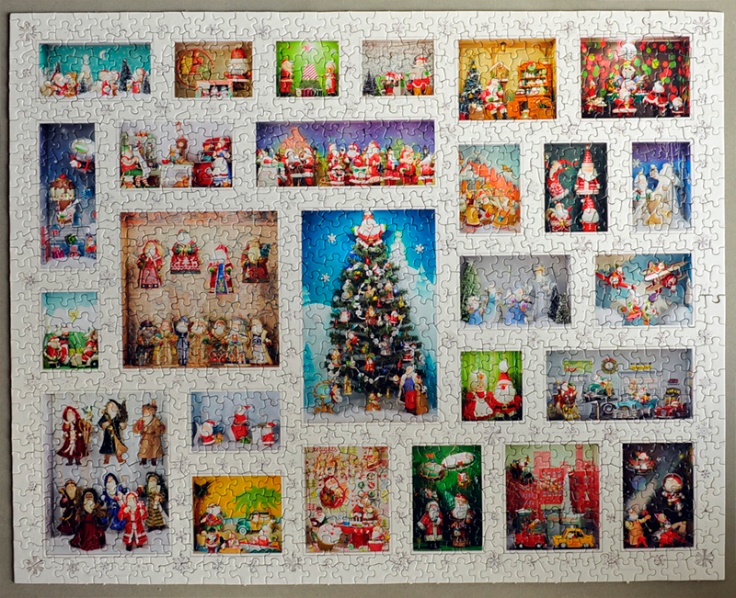 Assembly:
This is an easy puzzle to assemble because of all the small vignettes. The vignettes have different colored backgrounds, which almost makes it like putting together a lot of small puzzles instead of one large one. One tricky bit is the white border. I knew the border would be difficult, so I didn't assemble it first like I normally do. Instead, I assembled various vignettes first, then the connections between them, and I ended up doing the border last. There is a slight 'snowflake' pattern to the edge which means you have some clue as to what pieces go next to each other. It was actually nice to have this little bit of challenge since the main puzzle was quite easy.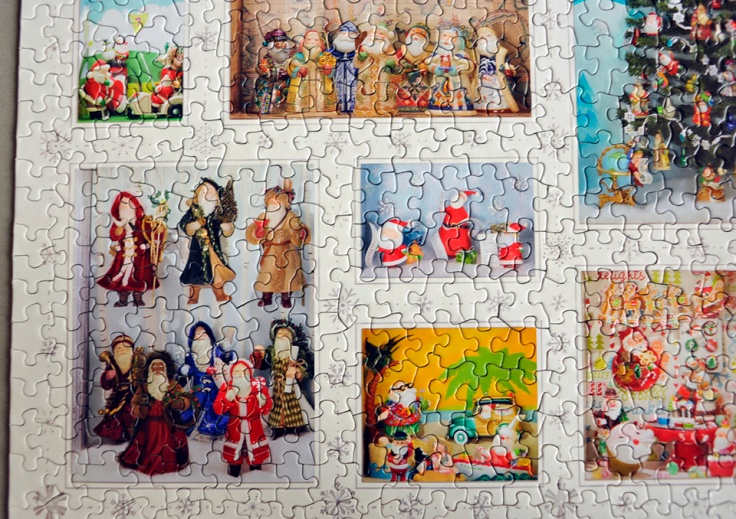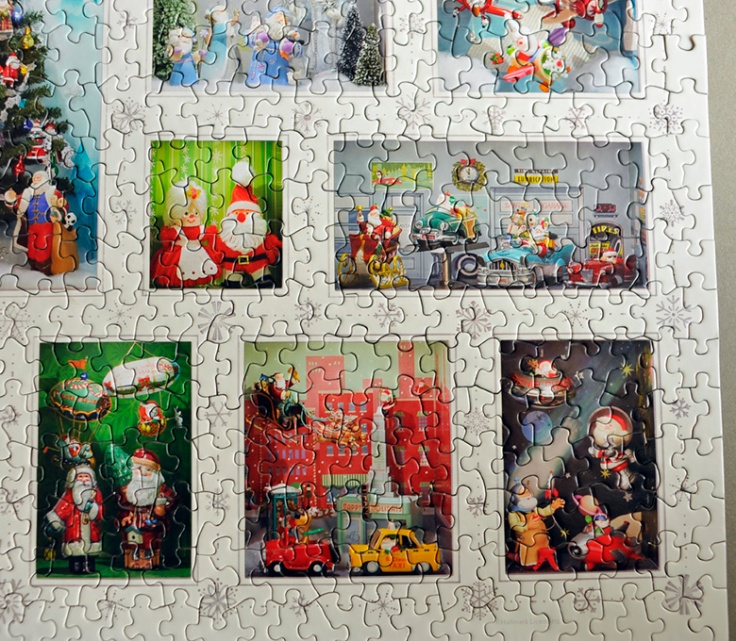 Conclusion:
If you collect this series, this is a must have and a good addition to the lot. If you've never done one of these before and want to try one, this is a good one to start with if you want an easy puzzle. For my money, I think last year's Ornament puzzle edges this one out in terms of overall interest and a wee bit more challenge.

Where to find:
JJ