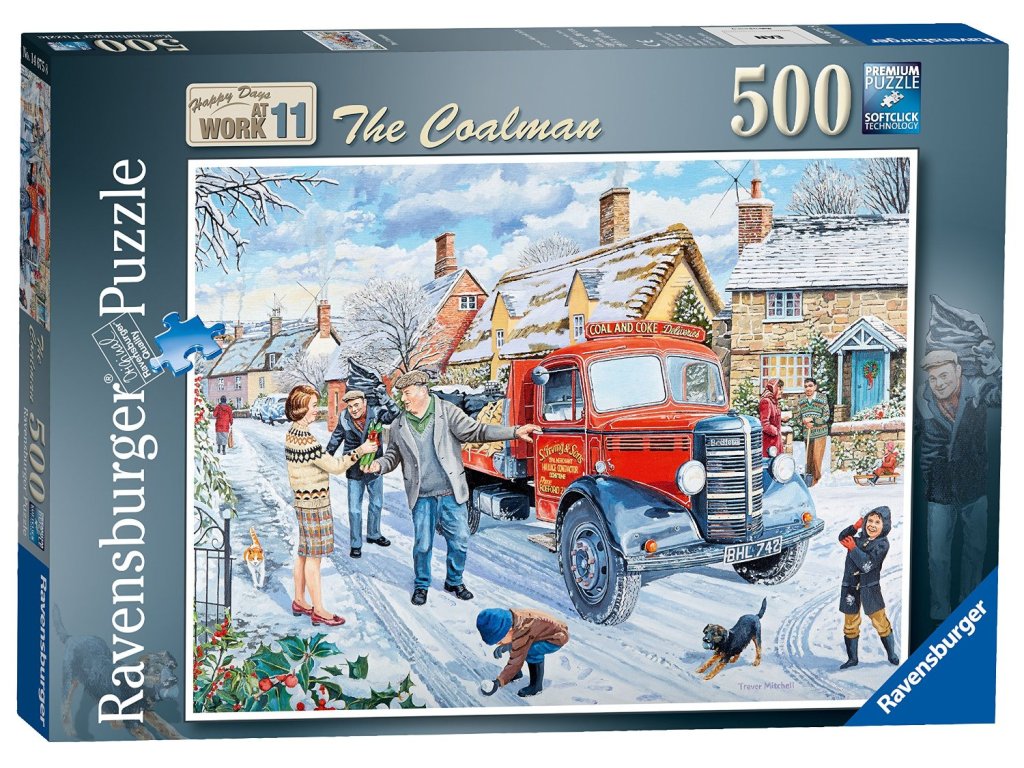 Ravensburger – New Winter 2016 Puzzles
I posted a link to the new Ravensburger 2016 catalogue a week or so ago. I still don't have great pictures of the new puzzles, but since I'm working on a 2016 master page, I'm going to post the best pictures I could get from the online pdf catalogue.
These are my picks from the new 2016 puzzles. You can see the entire 2016 catalogue here.
NEW WHAT IF? PUZZLES (art by Geoff Tristram)
2 new "What If?" puzzles were released at the end of 2015 and 1 is in the catalogue for release early in 2016. For those unfamiliar with the "What If?" series, they are similar to Wasgij puzzles in that the image you assemble is not the same as the box image, but a 'what if' spin on the image. This is a very high quality line very competitive (or even better than) Wasgij.
What If? #12: The Cake Off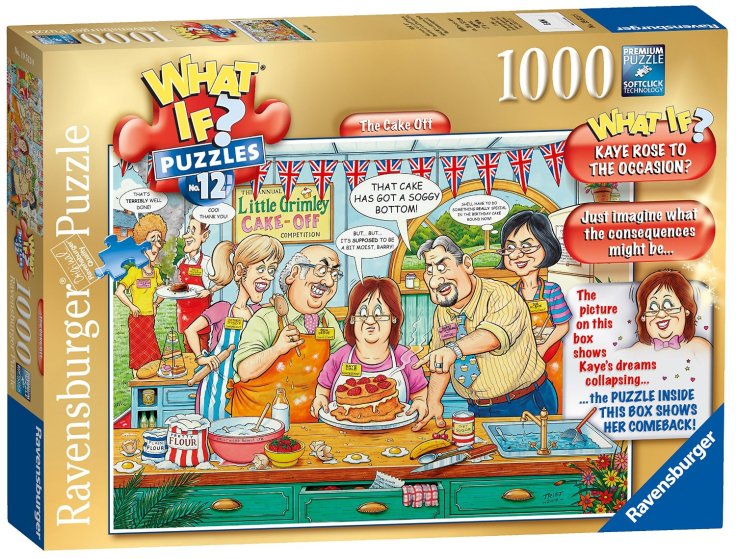 What If? #13: The Safari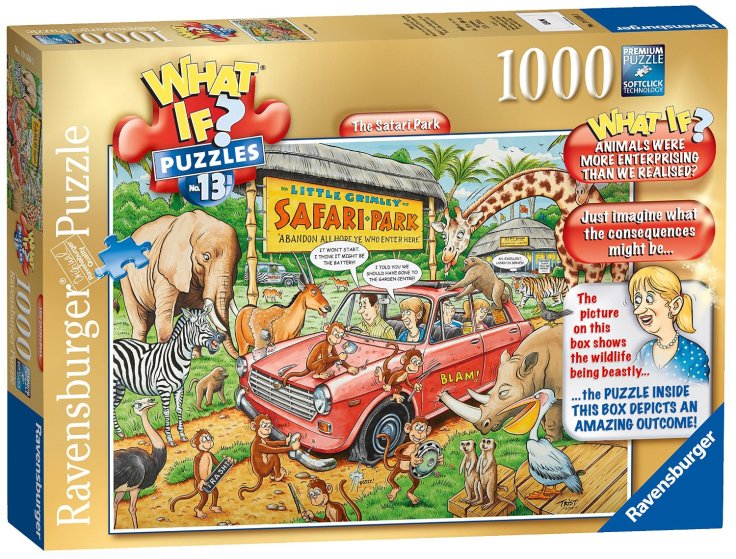 What If? #14: The Valuation Day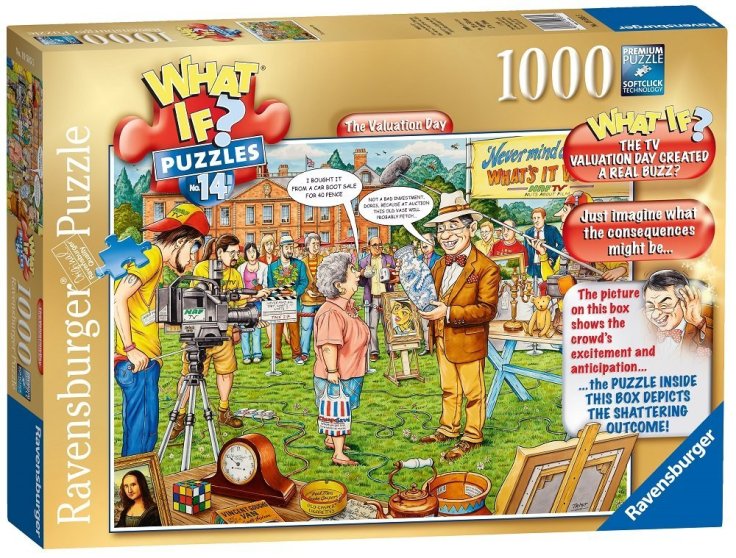 NEW "BEST OF BRITISH" PUZZLES (art by Geoff Tristram)
This is a series of humorous cartoon puzzles about British life.
Best of British #14: Fit 4 Nothing (500 pieces)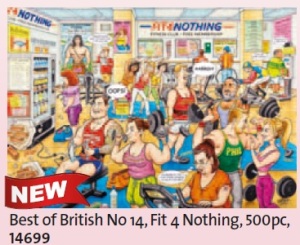 Best of British No 15 "The Supermarket" , 1000 pieces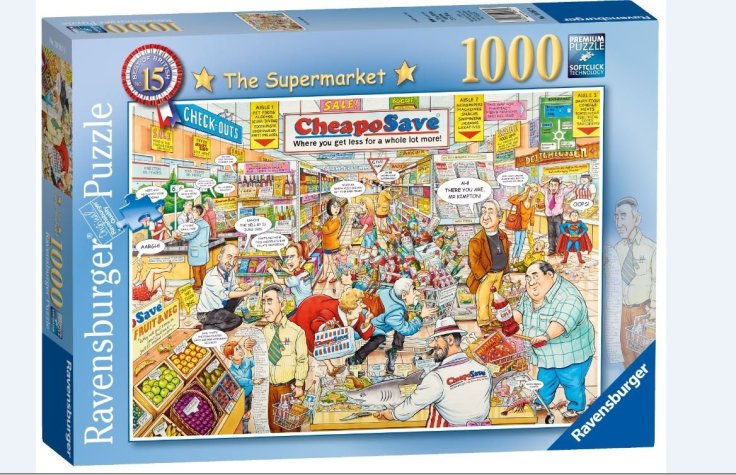 NEW COLIN THOMPSON
"The Inventor's Cupboard" by Colin Thompson (1000 Pieces)
Colin Thompson is a Ravensburger staple and his images are always colorful and packed with detail.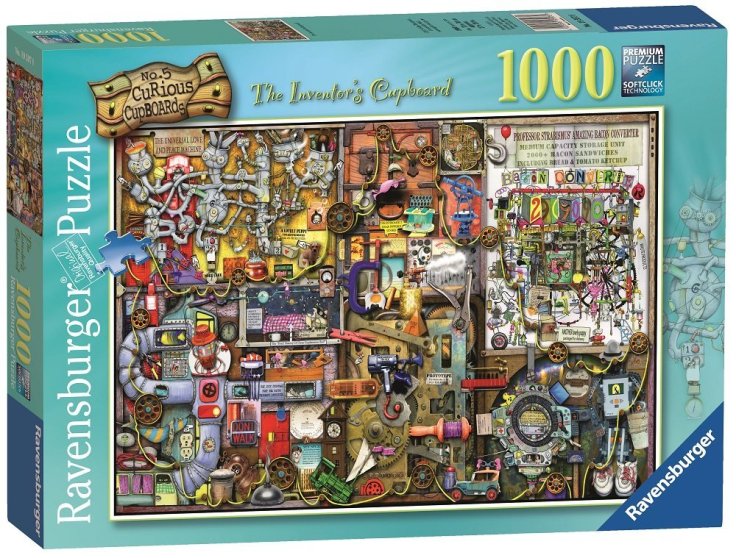 NEW AIMEE STEWART
"Museum of Wonder" by Aimee Stewart (1000 Pieces)
Aimee Stewart is another Ravensburger regular. This museum-themed puzzle looks fantastic.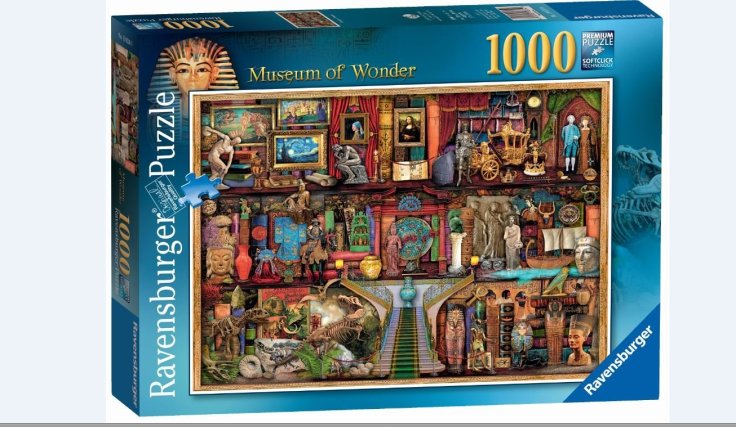 NEW HAPPY DAYS AT WORK
The Teacher and The Coalman (both 500 pieces)
Trevor Mitchell is a quintessential British life artist who also does a lot of puzzles for Gibsons. His Happy Days at Work series shows various jobs during the 1960's. Even though the puzzles are only 500 pieces, since there are a number of them, you can fix a few together to get a 1000, 1500, or 2000 piece challenge.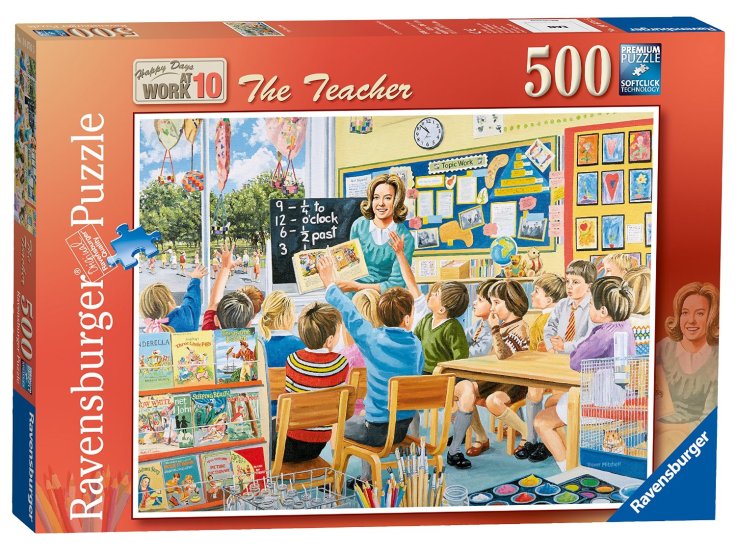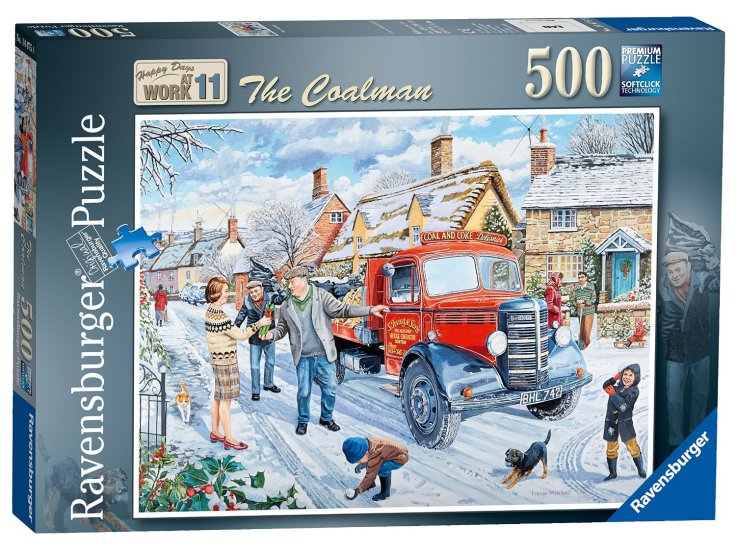 Perplexing Series: Cooking Up a Feast, 1000 pieces
This series is photographic with crowded collage images.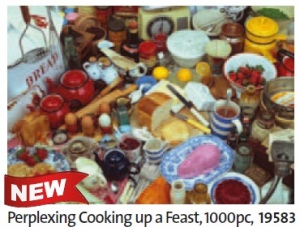 Linda Jane Smith Cat's Puzzles – "The Caravan", 1000 pieces and "On the Carousel", 500 pieces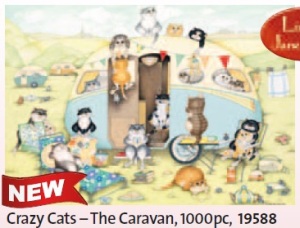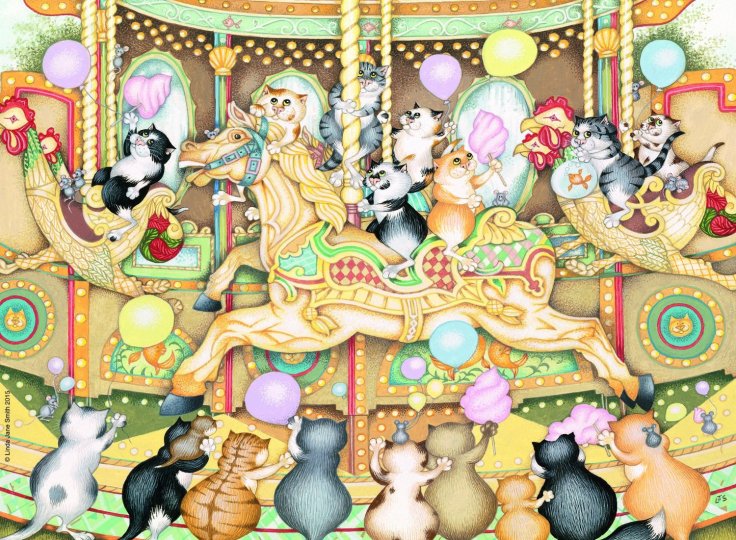 "Country Diary", 1000 pieces
This is a very pretty nature puzzle. I'm guessing the artist is Roy Trower, but I'm not sure yet.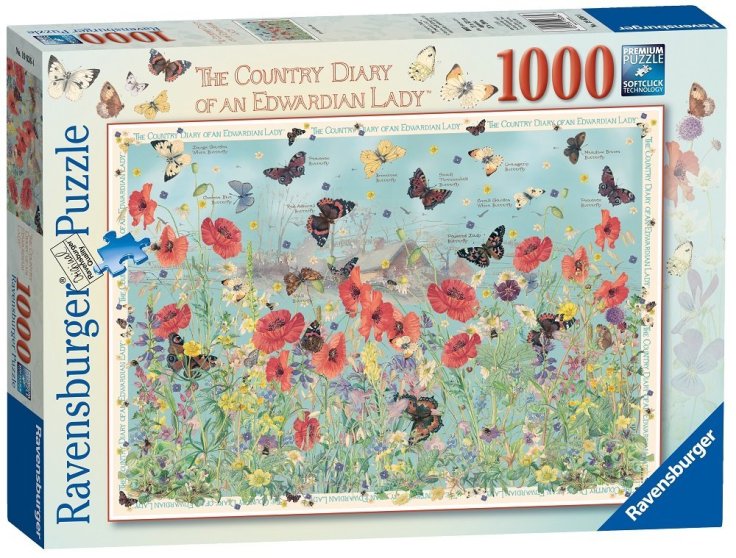 "Tea Time Treats" 2×500 piece puzzles
Colorful and busy! This is another set you can mix together to get a 1000 piece challenge.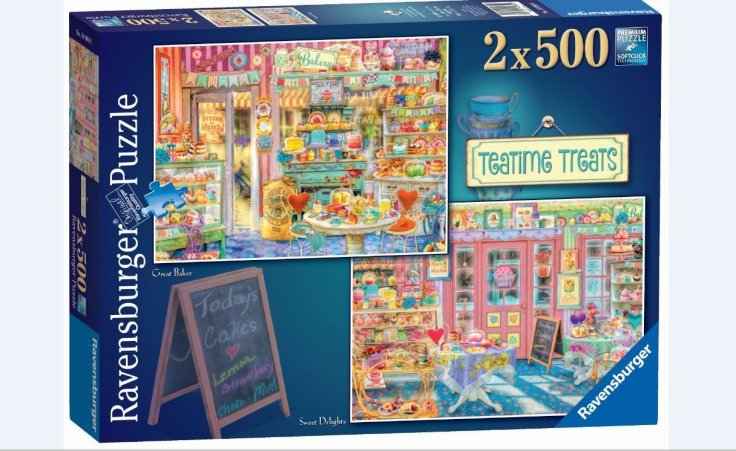 "Farm Services" by Trevor Mitchell, 1000 Pieces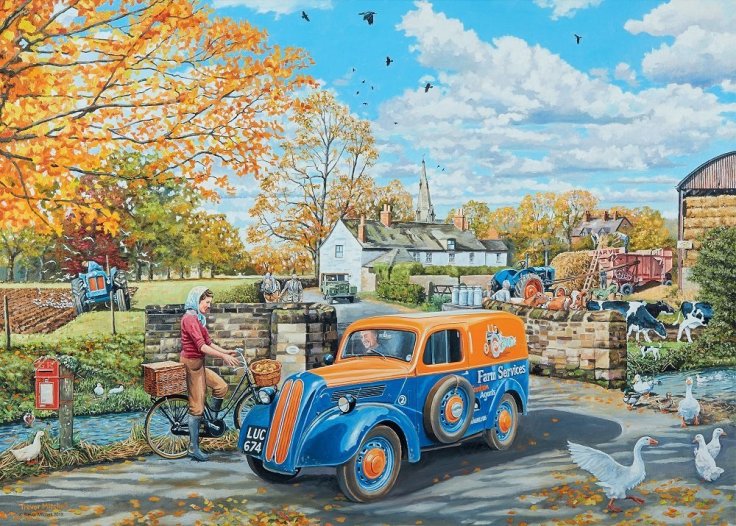 "The Cottage Garden" No 2 and No 3, 500 pieces each
It looks like there will be 4 of these, one for each season. They could be mixed together to form 2000 pieces or just mounted together.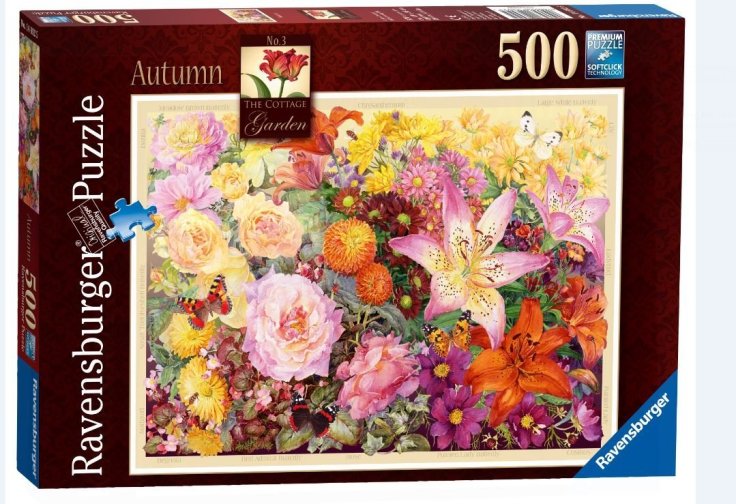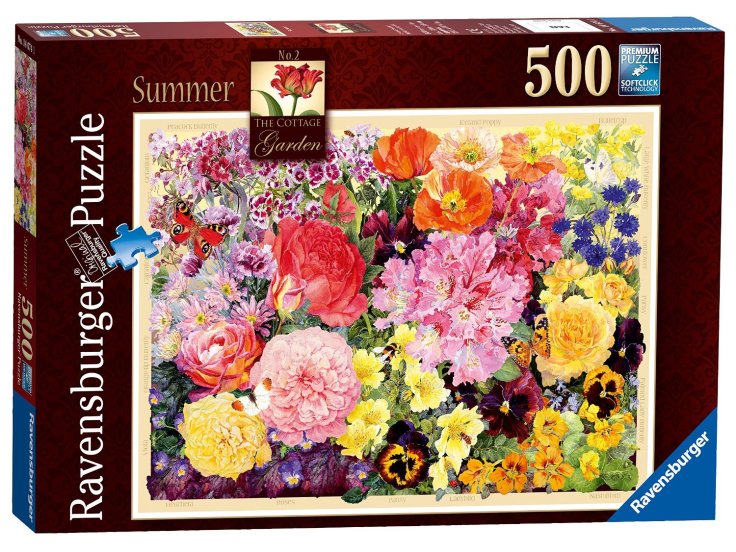 Shaped Eiffel Tower (960 pieces) and Big Ben puzzle (1155 pieces)
I'm happy to see Ravensburger offering shaped puzzles in larger piece counts. I'll definitely be checking these out.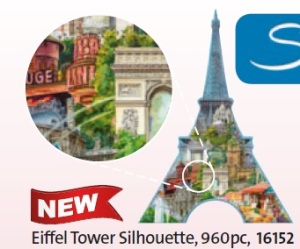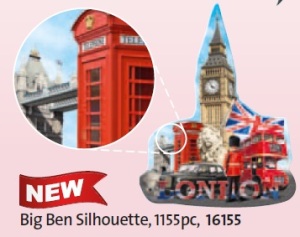 "Is He Watching" and "My Haven: The Craft Shed" both in 1000 pieces by artist Steve Read
I love these two images but already have them. Buffalo Games (US) offers both of them in 2000 pieces, which I prefer. But if you're in the market for 1000 piece versions, or simply prefer the known quantity (quality?) that is Ravensburger, you may be interested in these.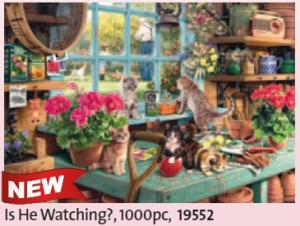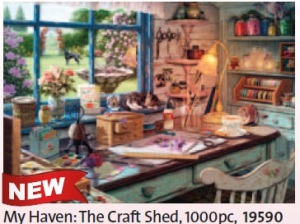 Nadia Strelkina puzzles
Similarly, Ravensburger is carrying several new fantasy puzzles this year by Nadia Strelkina. These images were previously released by Lafayette Puzzle Co in 750 pieces with gold foil. These images are amazing so if you're not into the gold foil, I'd recommend the new Ravensburger ones.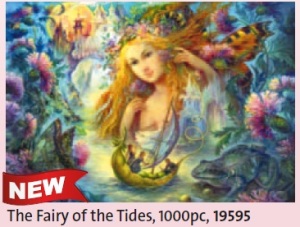 You can see the entire 2016 catalogue here.
JJ