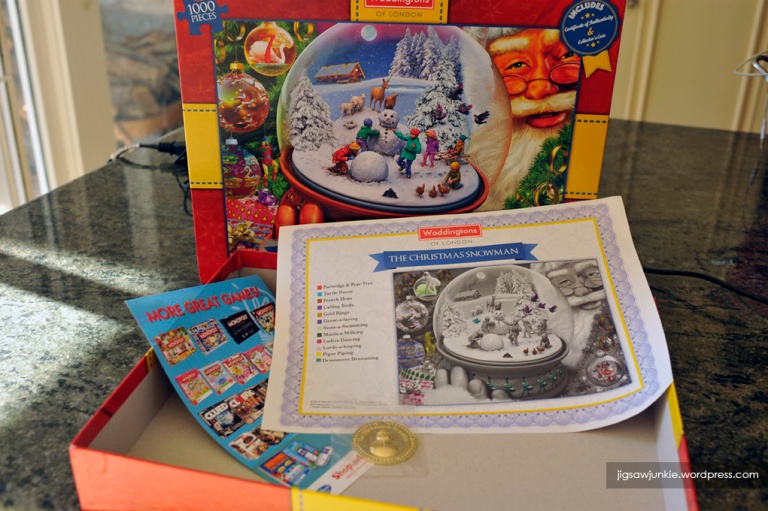 Review: "The Christmas Snowman", Waddington's – 8.75/10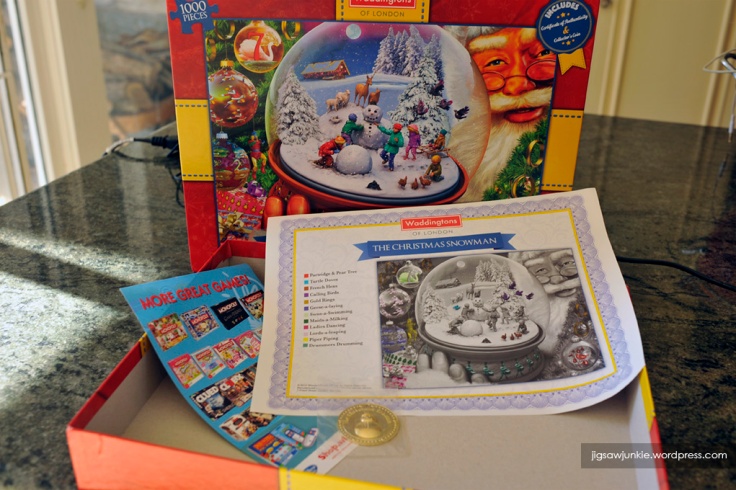 Publisher: Waddington's (UK), published 2015
Title: "The Christmas Snowman", Waddington's 2015 limited edition Christmas puzzle, 1000 pieces
OUR RATING: 8.75/10

Box Quality: (9/10)
The box is quick thick and sturdy, rectangular in shape. The back has unique information about the puzzle. Along with the goodies inside, this is definitely a box worthy of a 10 ranking. However, I deducted 1 point for a pet peeve of mine — no artist name. The box says the image was "commissioned by Waddington's" just for this puzzle, which is fantastic. (In general I find commissioned art much more unique and puzzle-ideal than images puzzle companies buy out of image catalogs). However, I would still like to know the name of the artist because I follow specific artist's puzzles. So yeah, one point off for that. Otherwise an outstanding box in every way.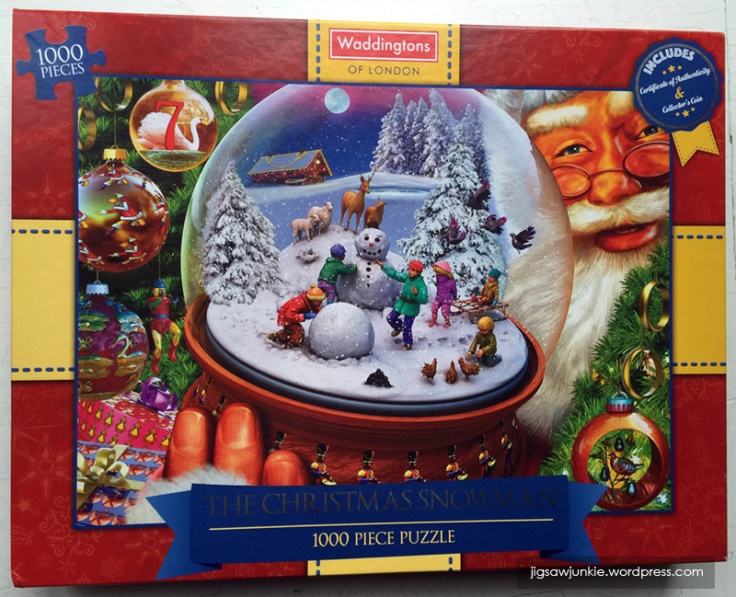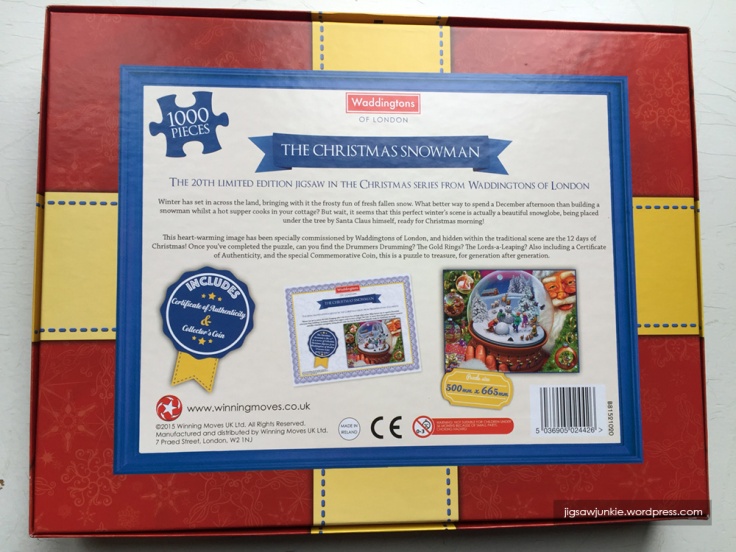 Inside:
Inside the box is a bag with the puzzle pieces (in excellent condition, no damage, puzzle dust, or unseparated pieces), a 'keepsake coin', a certificate of authenticity which has the 'solution' on where to find the 12 days of Christmas images within the puzzle (see the top picture in this article), and a small brochure page (of games, not other puzzles).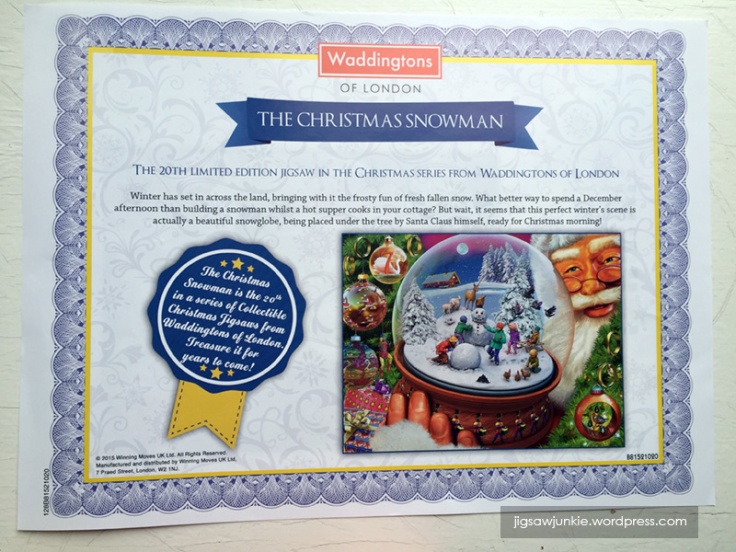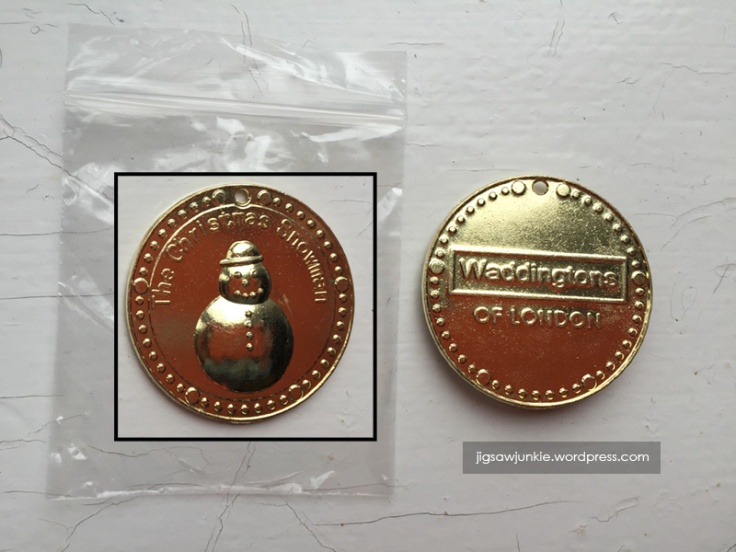 The Image:
This is the 20th in a series of Christmas puzzles released under the Waddington's name. I love the limited edition Christmas puzzles, and Waddington's is at the top of the list. You can see our Waddington's Christmas puzzle page here. You can read our review of last year's puzzle here. I like this year's image more than last year's. Of course, art is subjective, but I love this image with it's central snow globe vignette and then the other areas around it with large ornaments and gifts.
The only quibble I have with this image is that Santa's skin is very orange. It's certainly easy to find those pieces! But the skin tone is unnatural. All the other colors in this image are beautiful though.
(Click on any of the images in this review for a closer look.)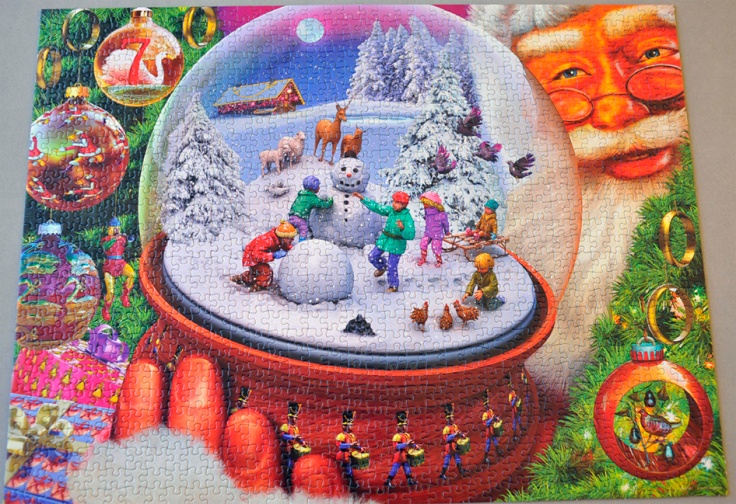 Puzzle Quality: (8/10)
When I began the puzzle, the pieces felt thinner to me compared to Ravensburger and Gibsons. However, they are quite hard and sturdy. They don't bend and I had no quality issues with image lift, bend tabs, etc. It's a grid-cut puzzle, but there's a nice variety of piece shapes, as you can see in the image below. I never had any question about whether or not a piece fit. The pieces have a bit of gloss to them, so they're slightly reflective under strong light. The colors and crispness of the image were good other than the 'orange Santa' issue mentioned above. Overall, the quality is good.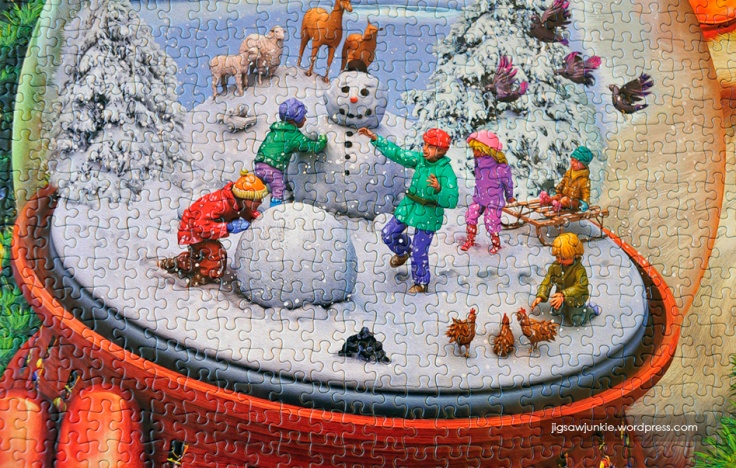 Assembly: (8/10)
This is an easy puzzle to assemble. There's not much in the way of a challenge here, but it's a pleasant way to spend some hours over the Christmas holiday, especially as a group/family experience. I assembled the border first, then the snow globe and Santa. The rest of the puzzle filled in easily since there are distinct areas of color/textures (such as the pink gift box). The green pine needles areas were not large enough to be difficult.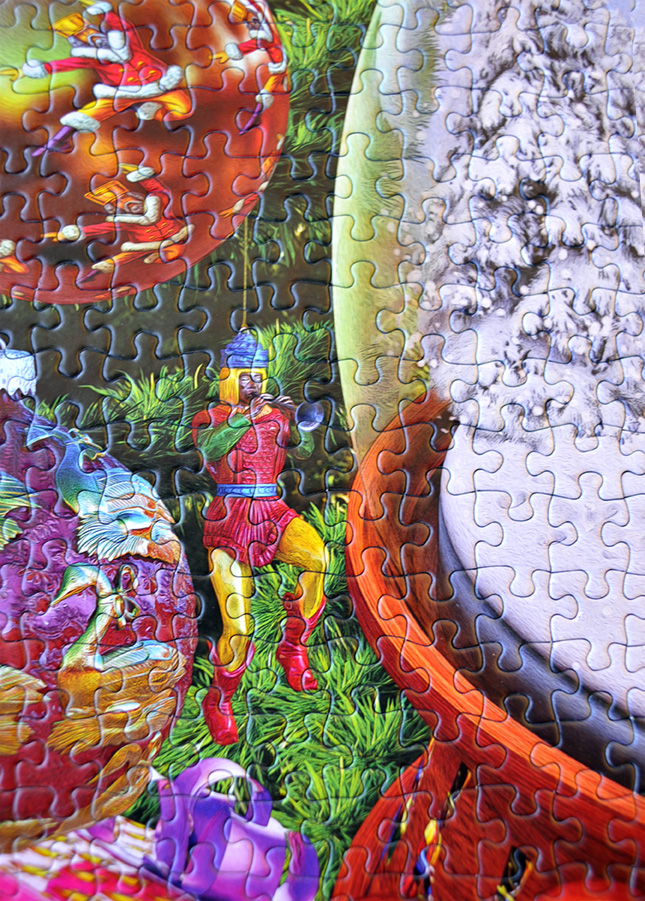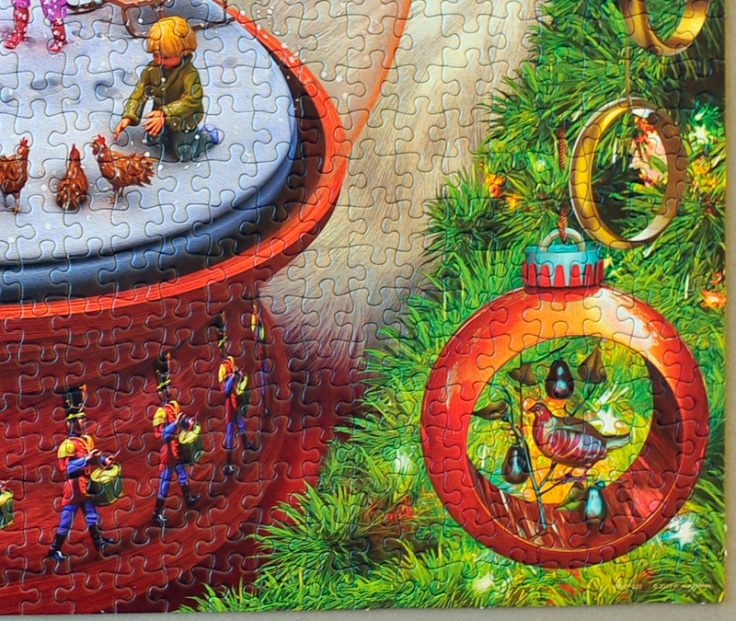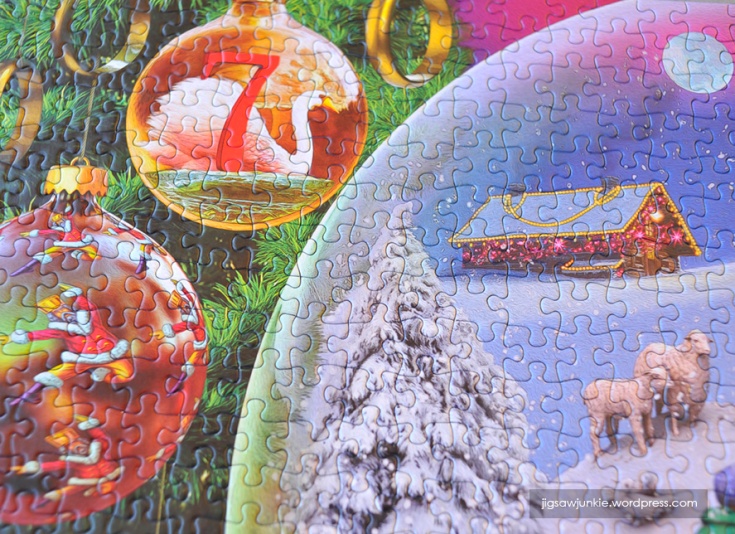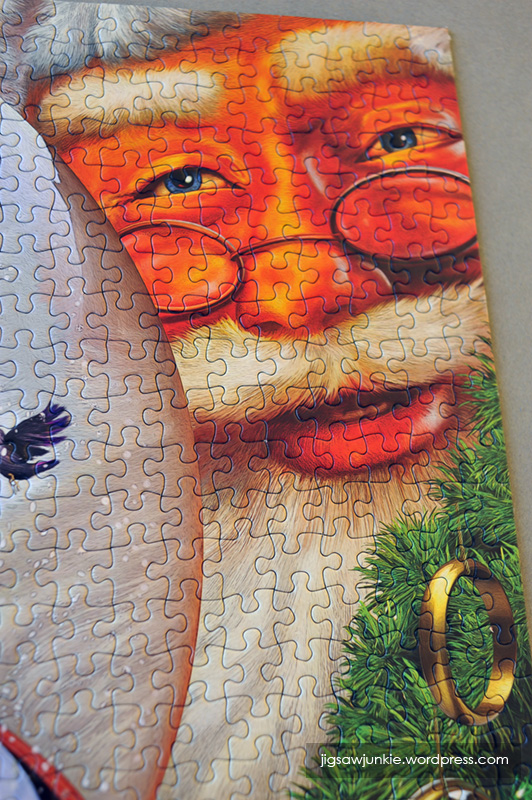 Conclusion:
A real winner from Waddington's this year! I continue to highly recommend this Christmas series and hope they continue indefinitely. I awarded the puzzle 1 bonus point for being a special limited edition series.

You can also find other great Christmas Puzzles Here
JJ